Saturdays on the Porch #44
Saturdays on the Porch #44 features this week's fashion looks and more from Our Southern Home for life and home.
Latest from OSH
This post may contain affiliate links. If you purchase something using one of my links, I may earn a small commission from the retailer costing you nothing more. You can read more on my disclosure page. YOU WILL FIND A SHOP THE LOOK FOR OUR HOME AT THE BOTTOM!
Check out last week's Saturdays on the Porch.
Saturdays on the Porch #44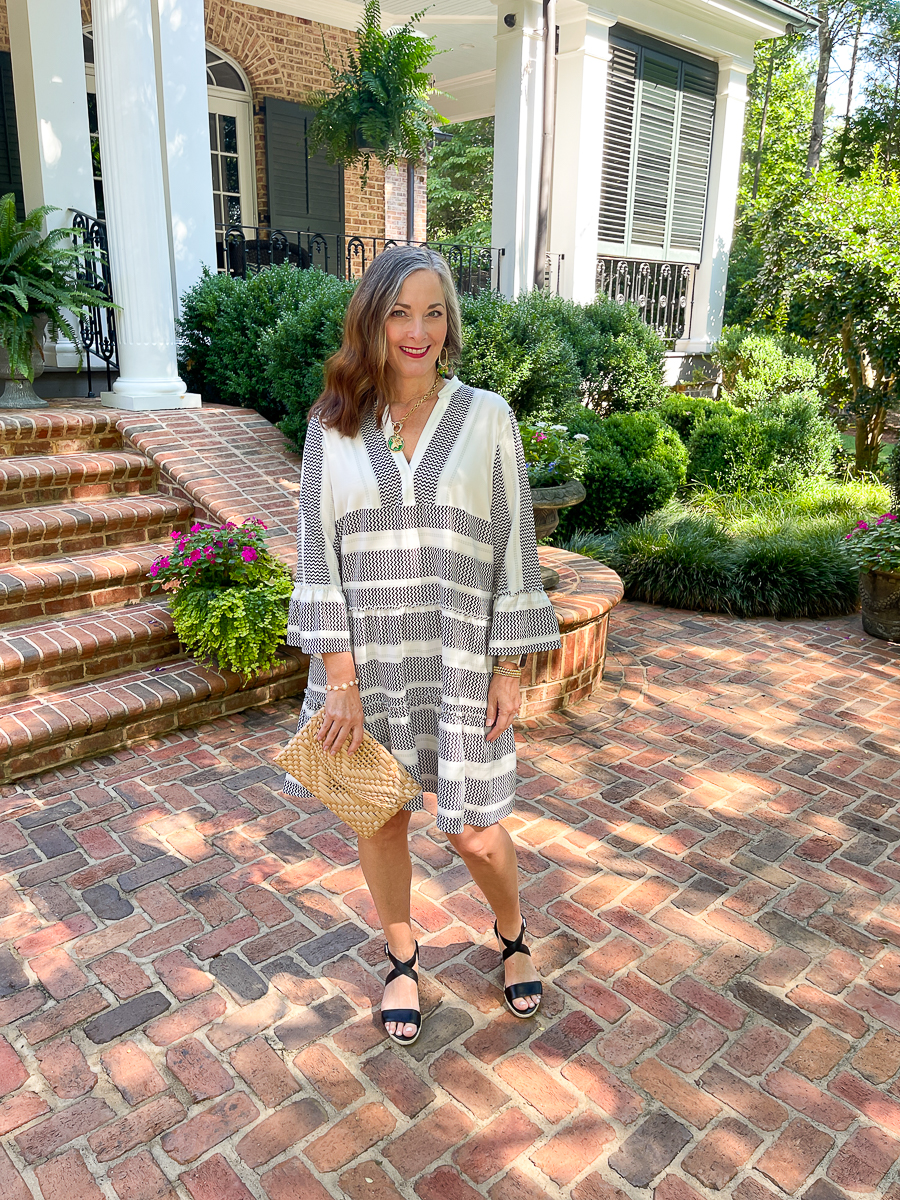 If you shop the dress link above be sure to use my code JLBJREF to get 10% off your first order.
This dress comes in BLACK and RED.
Happiest of Saturdays to you!
The past two weeks have been insanely busy.
I did manage to take a few outfit shots to share with you.
I received this dress in May and have worn it many times. The first time that I wore it was to my nephew's rehearsal dinner in late May. I've also worn it to church and in France.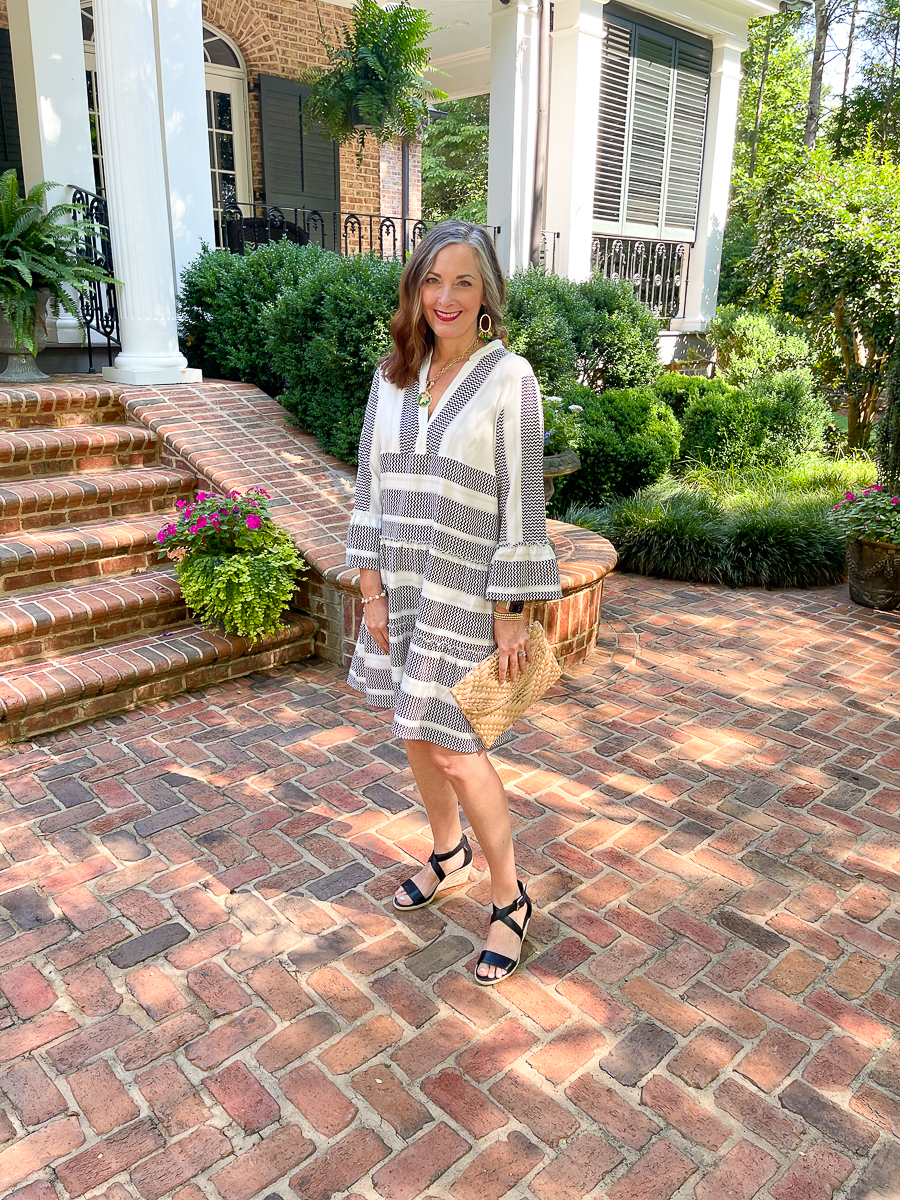 If you shop the dress link above be sure to use my code JLBJREF to get 10% off your first order.
It's very lightweight and pretty perfect.
It comes right above my knee on me.
In the south, I could see myself wearing this dress most of the year, especially in spring, summer, and fall.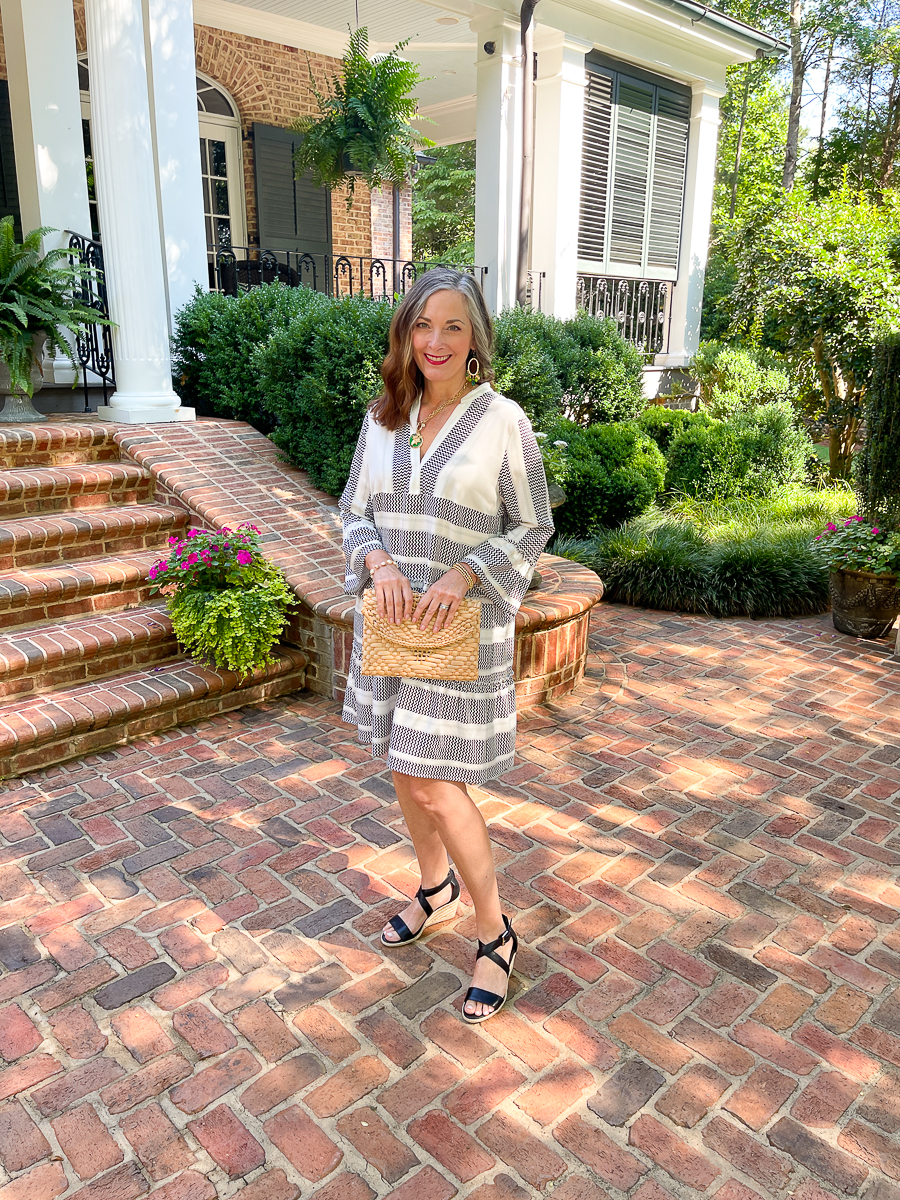 If you shop the dress link above be sure to use my code JLBJREF to get 10% off your first order.
I have worn it with summer wedges, black heeled sandals, sneakers, and walking sandals.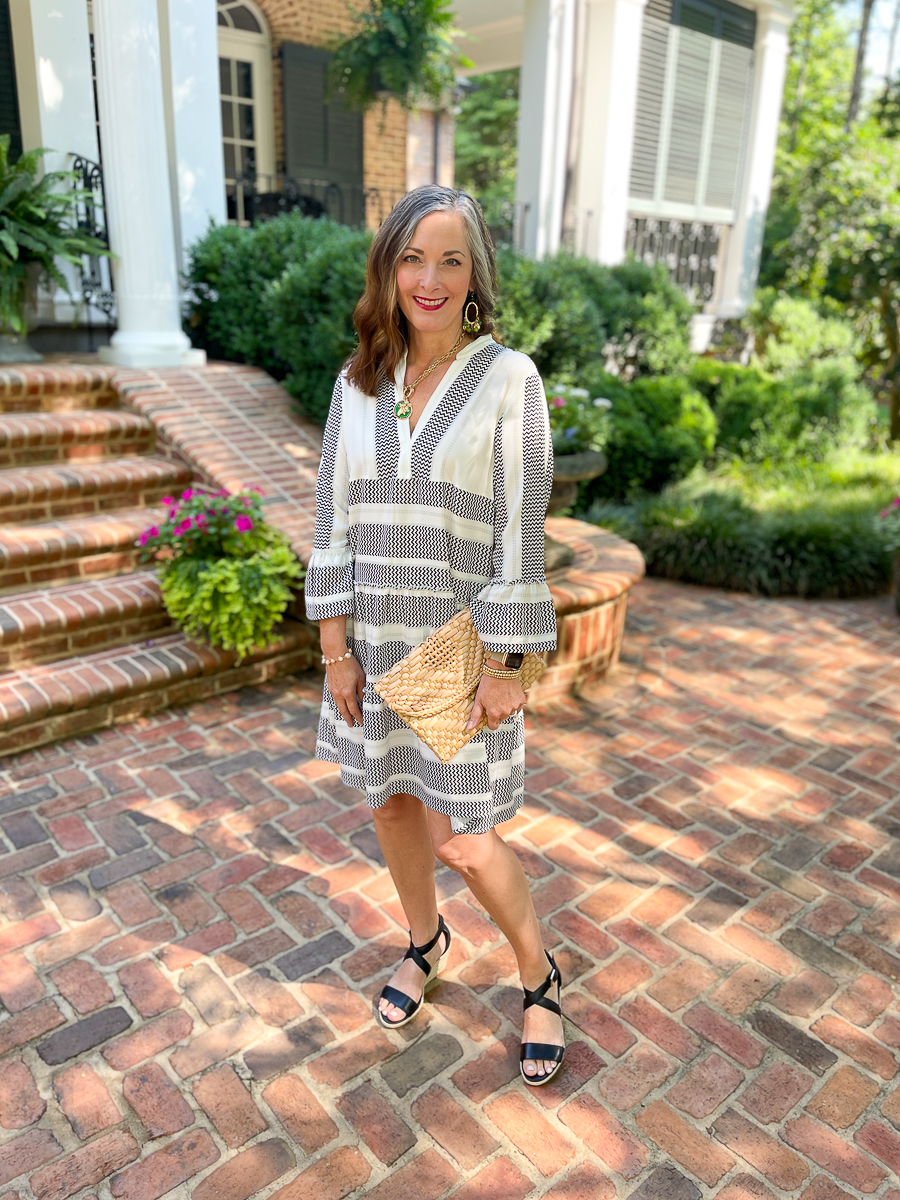 If you shop the dress link above be sure to use my code JLBJREF to get 10% off your first order.
My necklace and earrings are from Chico's this spring. It is now sold out. I LOVE Chico's jewelry. It is high quality and sells out quickly.
Fit Tip: I am wearing a size medium in the dress.
Last weekend, our son got married near Charlotte, NC.
Ashlyn had bridal portraits on Wednesday. It was a long day. Hair and makeup were at 4. We didn't get home until almost 10 pm! I can't wait to see the photos. She looked absolutely stunning.
Hair and makeup were essentially the trial run for the big day. I was so impressed. We actually had the owner of the company. She was precious, professional, and very attentive. The entire process was just over an hour.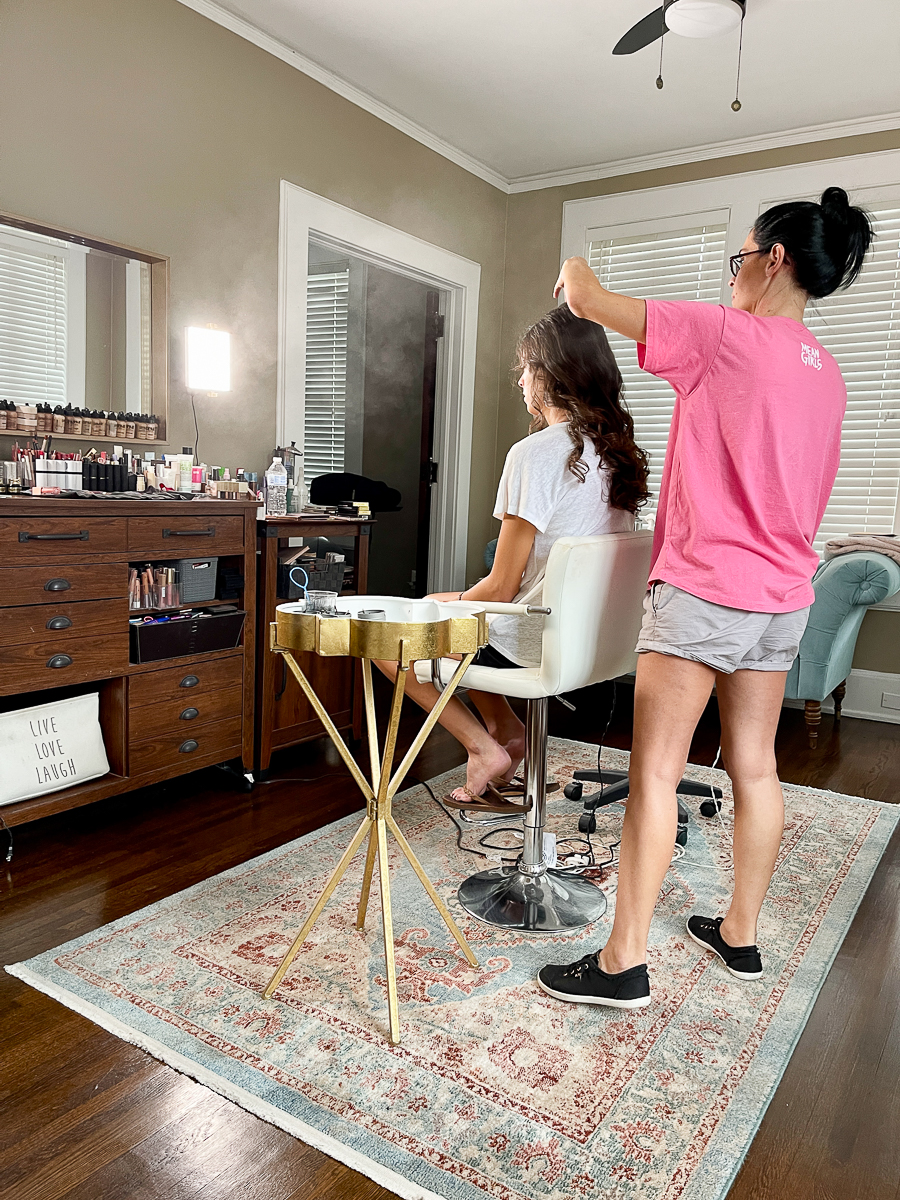 She took extensive notes of color/products used and photos for the stylist the day of since she wasn't available.
I was surprised to see that a few of the products that they use are available on Amazon and the drugstore. I knew that we wanted to buy the lip color so we would have it for touchups on the wedding day.
Ashlyn was just a bridesmaid at a friend's wedding. The same company did hair and makeup. All the girls raved about this lipstick. It literally stayed on all day through the night. They could even add a bit of gloss or chapstick for a little sheen.
Needless to say, I'll be ordering the following products! I'm going to list the colors that she recommended for Ashlyn.
Affordable Makeup Options
This liquid lipstick stays on!!!
The stylist also recommended this affordable brand. She used this exact color on Ashlyn.
The gloss that she likes to use is the color Moon #3 by Maybelline.
The only other item that she recommended having on hand was this powder for any shine in the color Natural.
Needless to say, I have ordered all of the above items in a few colors for me as well!
Wedding of Woods and Morgan
They had a lovely wedding in Fort Mill. we started things off by hosting the rehearsal dinner last Friday night at Sullivan's Steakhouse.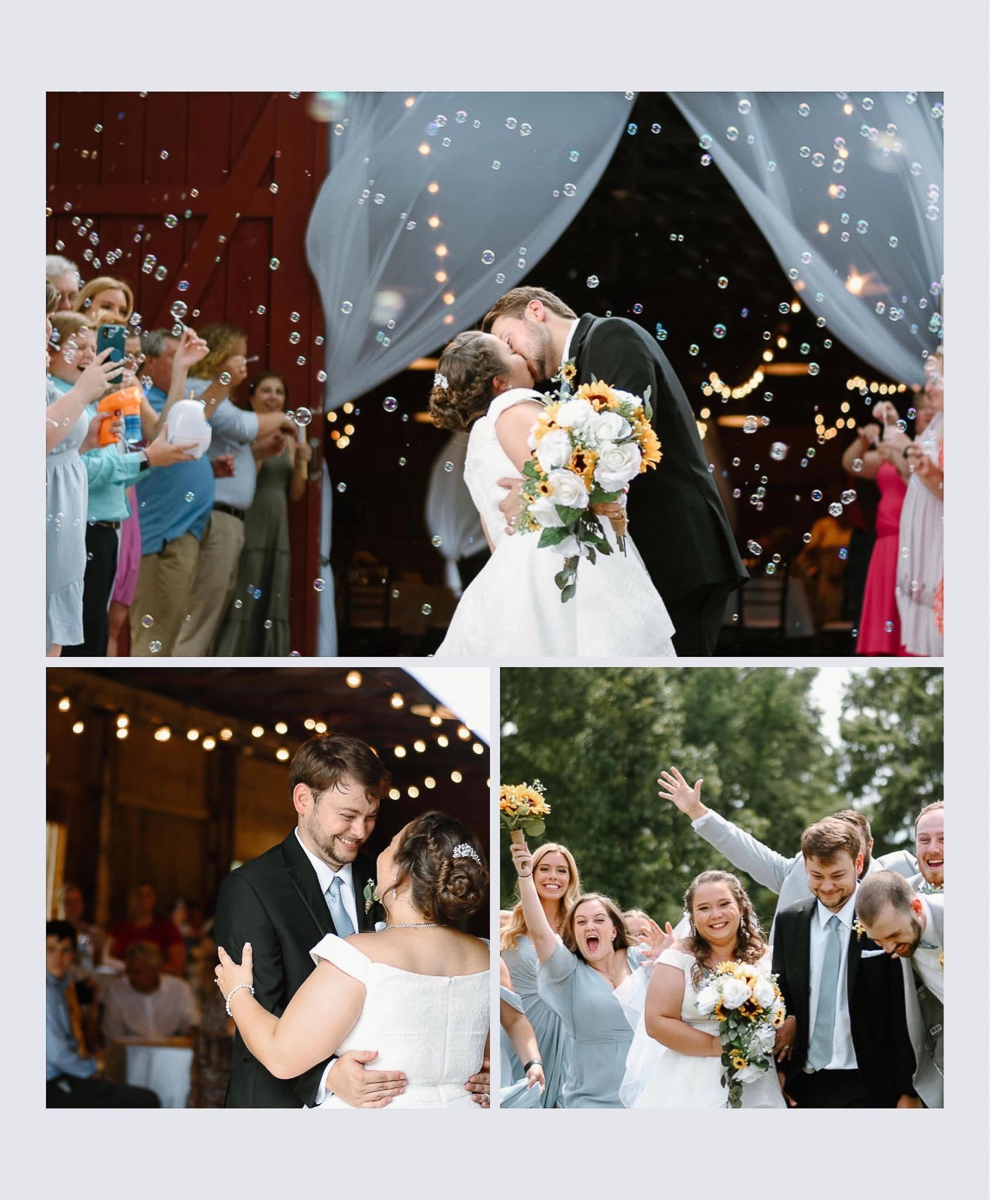 I'll share a bit more in a separate post when I have more photos. Unfortunately, I was having trouble with my iPhone and a lot of the candid and family shots that were taken on my phone at the reception are just blank white screens. I'll share more when the professional photos come back.
I bought my dress in early summer for the wedding. It was a casual wedding so I didn't want anything that screamed mother of the groom. I'd been wanting a Tuckernuck dress forever so this was the opportunity to splurge a bit. I will get a lot of wear out of it.
I got so many compliments on it. It's comfortable and just so feminine. I ordered it in a small and a medium. I ended up going with the small.
Fit Tip: I am wearing a small in the Tuckernuck dress for the wedding.
In the Kitchen
It's time to get back on track after France and the wedding festivities. We are getting back to our meals of protein and veggies.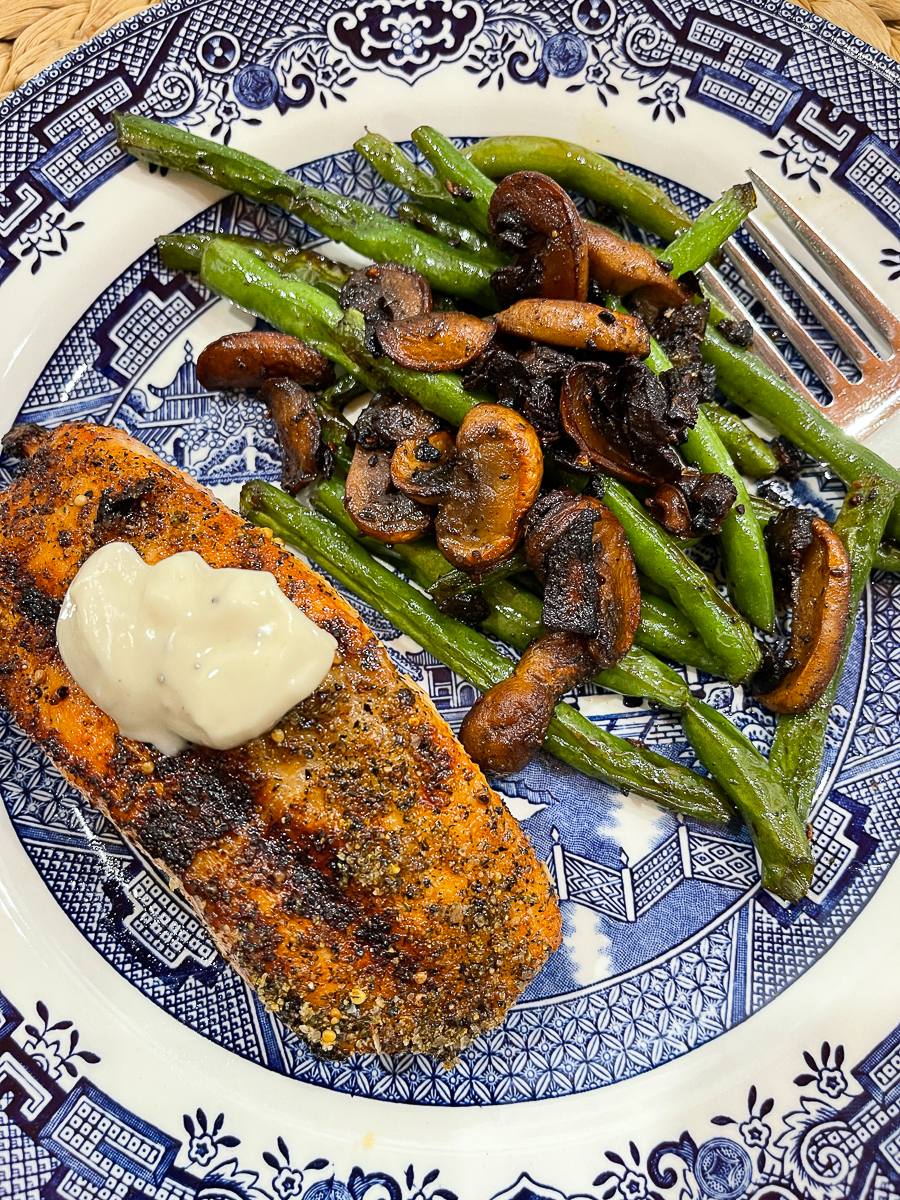 No recipe here, but I need to write up a post for the green beans we do frequently. I could eat salmon several times per week. It is my favorite!
What I'm Reading
I love to read AND listen to books. If you are looking for a way to get more steps in with your walking…..listen to books! You will want to keep walking to listen. I also listen while doing chores around the house. I will use my earbuds while walking, While in the house I will use a bluetooth speaker that I can carry around with me or our Alexa.
I read actual printed books as well as on Kindle. I prefer my Kindle, but it is nice to hold a real book occasionally.
I've had my Audible membership for a while, and LOVE it! It gives me one book credit per month.
Let me share with you how I read on Kindle and listen to books as well. Get yourself a library card!
Then add the LIBBY and HOOPLA apps to your phone.
I will typically check to see if a book is available there first before using my credit or buying. Using these 2 apps with your library card is FREE!!! I love FREE.
There may be a waitlist if it is a newer title or popular. That's ok. Sometimes the wait can be lengthy. If I'm not willing to wait, I will just purchase. If it is new or popular, you NEED to finish the book in the allowed checkout time. Sometimes you can renew, and sometimes you may have to get back in the queue. If that happens, when it is available again…..it will download where you left off.
Get in the habit of always carrying a book with you to get in a little extra time. That way if you are waiting at the doctor's office or to get your car serviced….you are prepared!
It is my goal to read more than 12, but these are my must-reads for the year.
What We've Bought
What Caught My Eye
Isn't this the prettiest bathroom!
Whether you are looking for a cottage to rent or a fabulous Instagram account…..look no further!
Simply southern entry foyer is so pretty!
Have a fabulous weekend! XO, Christy
Buffer