Spring in the Family Room
Welcome to…….
Spring in the Family Room
This week is the week of the fabulous Spring Home Tour organized by Marty from A Stroll Thru Life. Marty has put together a rather eclectic tour which will give you a little taste of various decorating styles. I've been blow away each day.
If you are coming over from Mallory at Style Your Senses then WELCOME!. I am so happy you have joined me.
I hope you are following me on Instagram. I've been sharing a lot on our new flip house projects. I am in love with it! I'll be sharing the before photos next week here on the blog.
I had so hoped to unveil my kitchen remodel in this tour, but I just couldn't get it all done. You might be able to peek in a few of the pics and see the change. The refresh is just done with paint. The only thing left to paint is the large island. I'm saving that beast for last! Every thing that was green in terms of moldings, windows and cabinets is now Grand Teton White by Ben Moore. After 11 years of green, things are looking nice and bright in there. I can't wait to be finished. It is taking FOREVER!
I decided to share our family room with a few spring touches.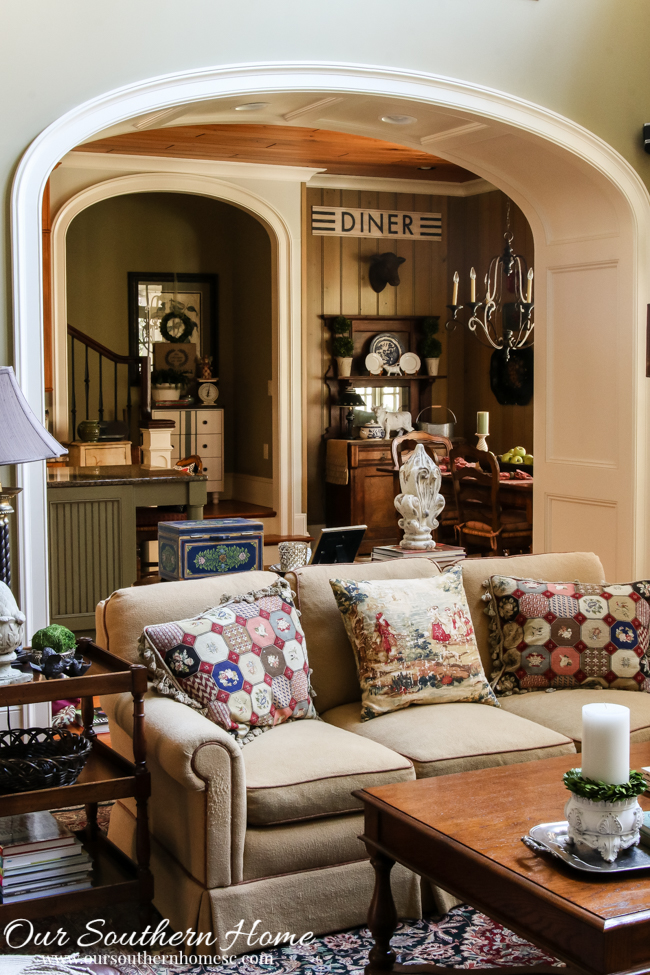 The family room is open to the kitchen via the large arch. Eleven years later, and I still adore our Abberley Lane house plan by John Tee for Southern Living. If you look into the kitchen you will see the green island. All of the molding and trim used to be that color. I didn't dislike it, I was simply ready for a change.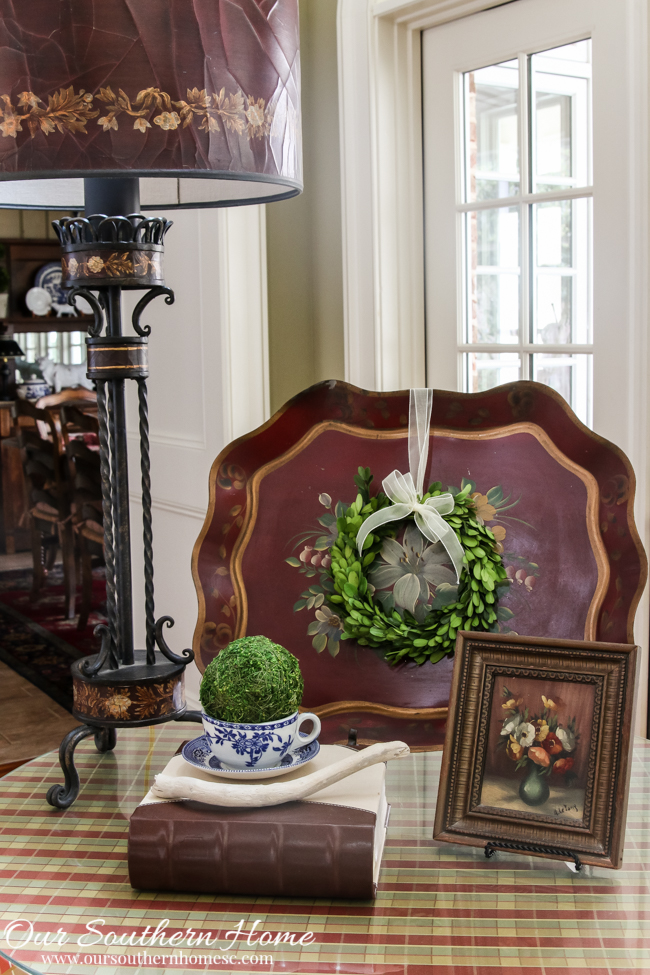 For spring, I added my blue and white antique tea cups and saucers with the moss balls in a couple of places. Even the little boxwood wreath from Decor Steals brightens things. I have used my collection of little vintage oil paintings all over the house. You can usually find these very reasonably priced on eBay.
You know how painting one room seems to create a chain reaction? I plan to paint the family room this summer. It's going to be a big job in that it is 2 stories. At least it will just be the wall color. When I do that, I plan to sew a new neutral tablecloth round for this table. I still love this silk one for fall and winter.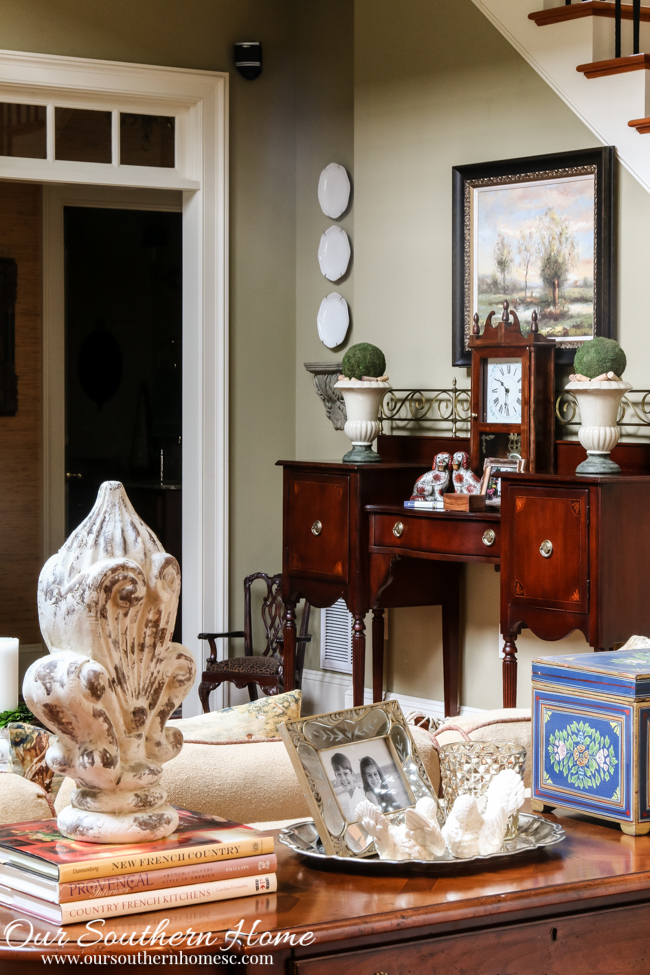 The large server against the wall actually goes with our dining room furniture. When we moved into this house, it wouldn't fit. It has lived on this wall ever since. I've toyed with the idea of just selling it, but had hated to remove it from the set. Decisions, decisions……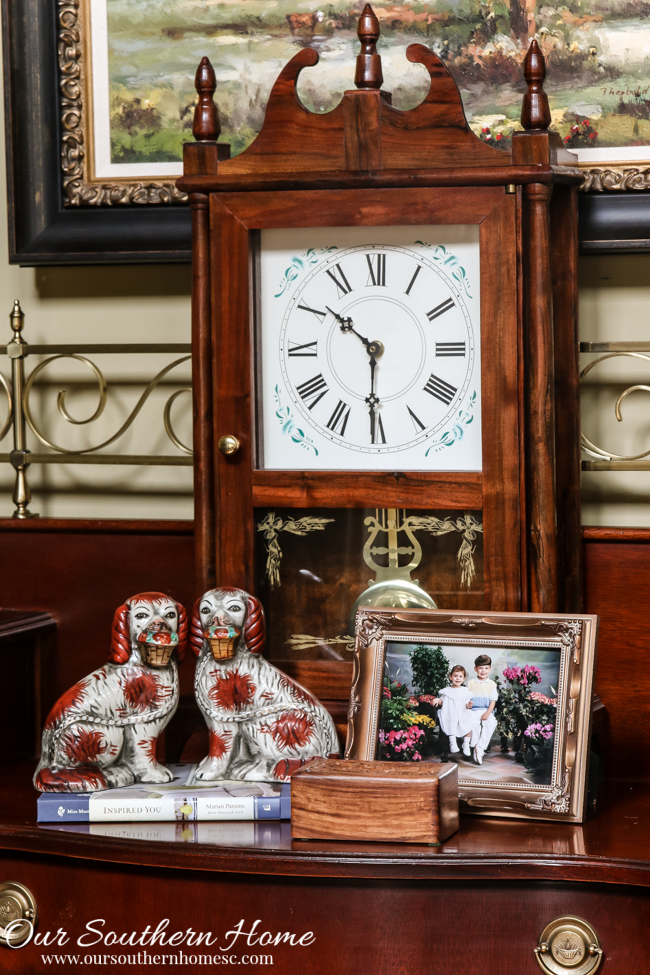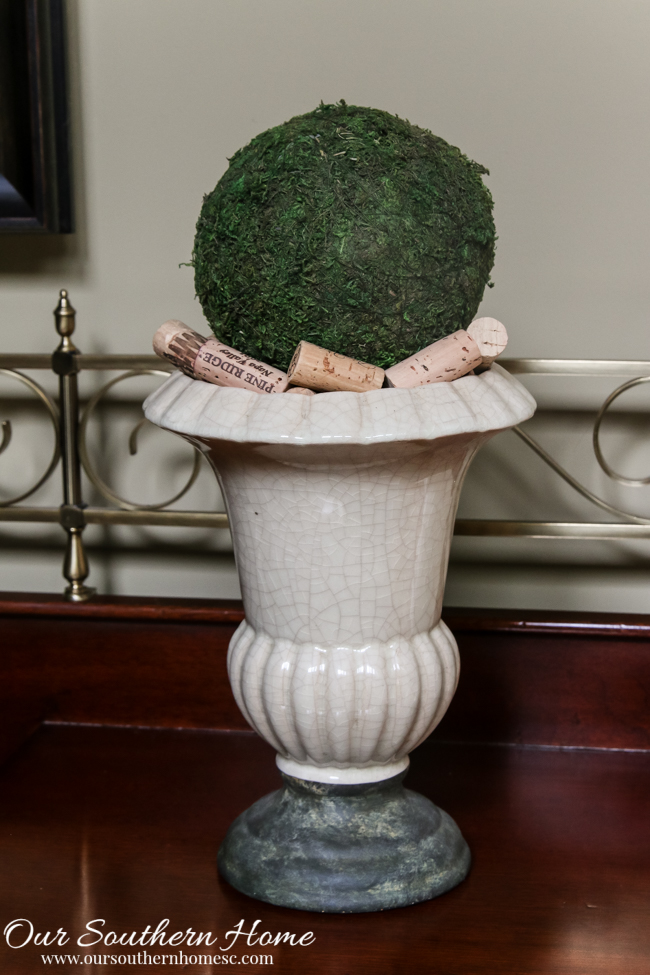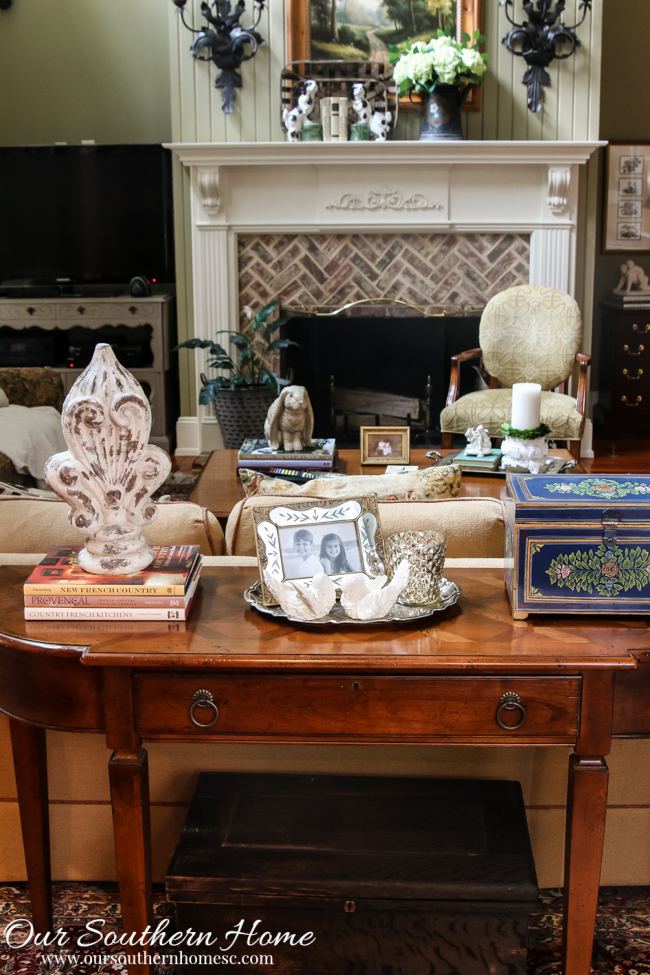 During the colder months, I had a runner on this console table. I removed it for spring to have a lighter feel. You'll notice that I've used a lot of my thrift store silver in this room.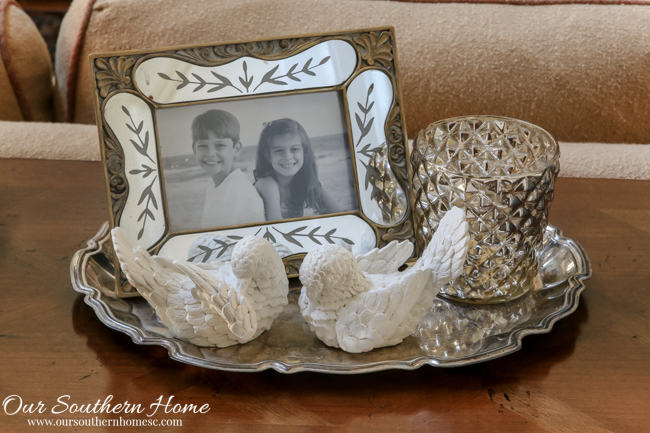 This is one of my favorite photos from when my teens were younger.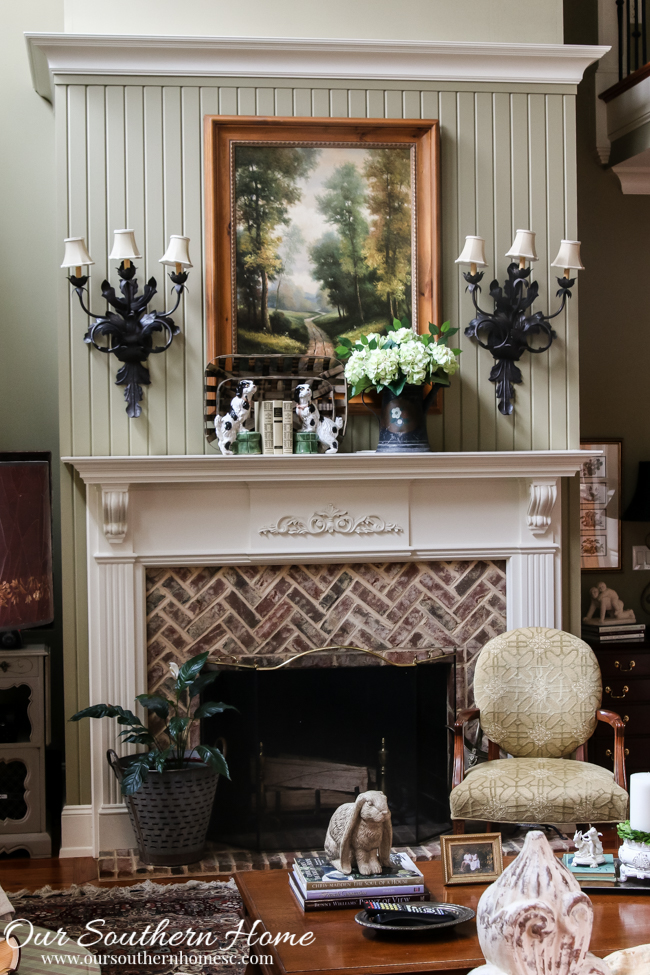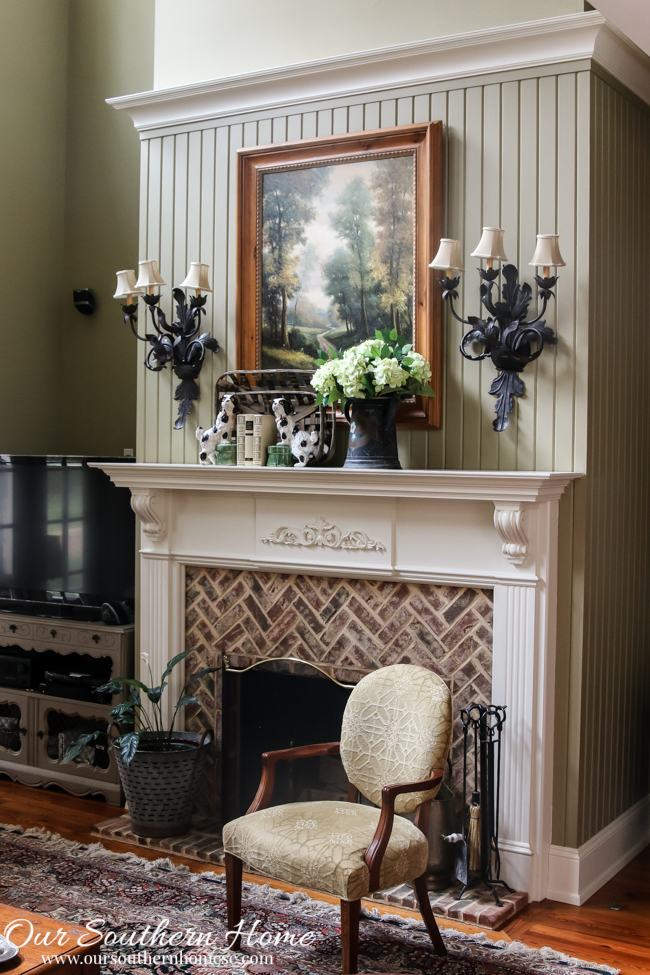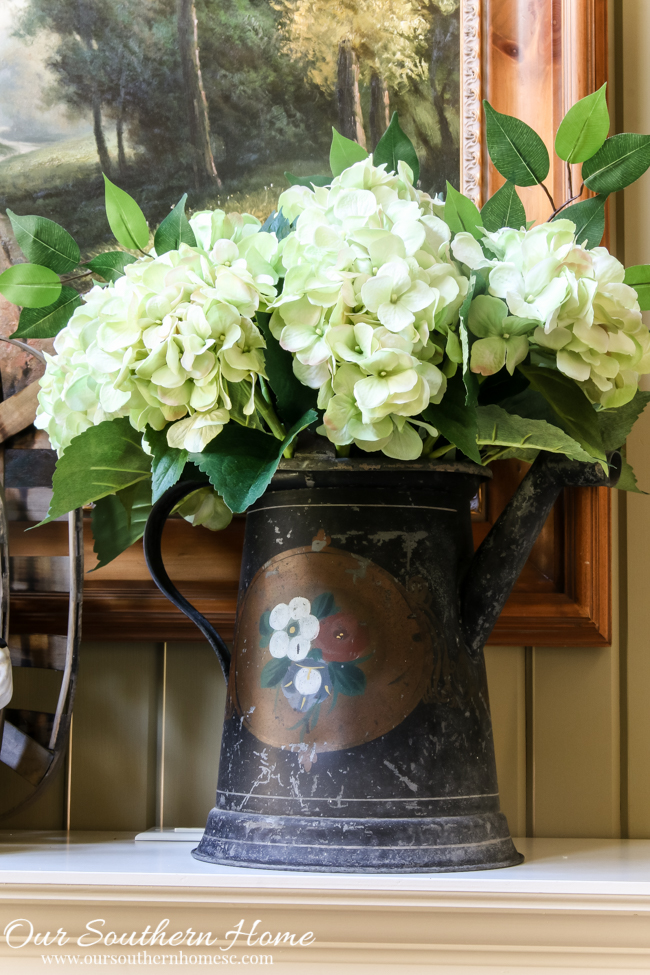 This antique watering can had me at tole. I've collected tole platters for years. This was the perfect addition. Here's a little secret. The hydrangea are from Hobby Lobby. I've decided that until the flowers from the yard are available, it is perfectly acceptable to use faux flowers in certain areas. They look so real. No one is going to go trying to check these out on a mantel that is kind of tall. I do prefer to use real flowers on the coffee table on occasion. I'm loving these. I've been finding some very real looking flowers lately at Hobby Lobby and other craft stores. They are pricier so try to use a coupon. I'm sure Oprah would have a fit!!!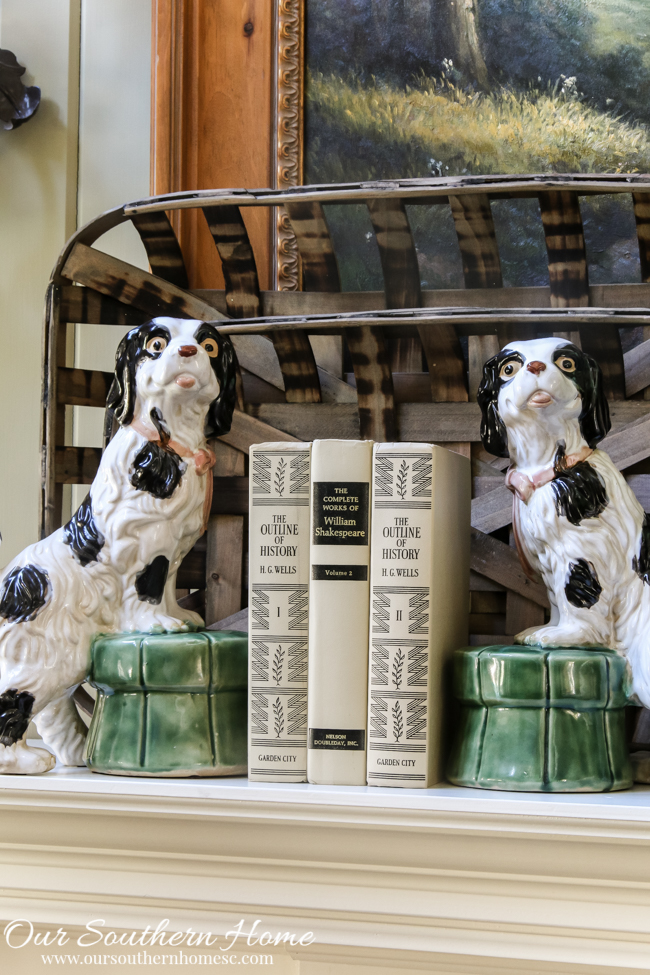 I have gotten the most use out of these tobacco baskets from Decor Steals. They are such a great value! I pulled some off-white books from the office and added them to the mantel for more lighter colored touches.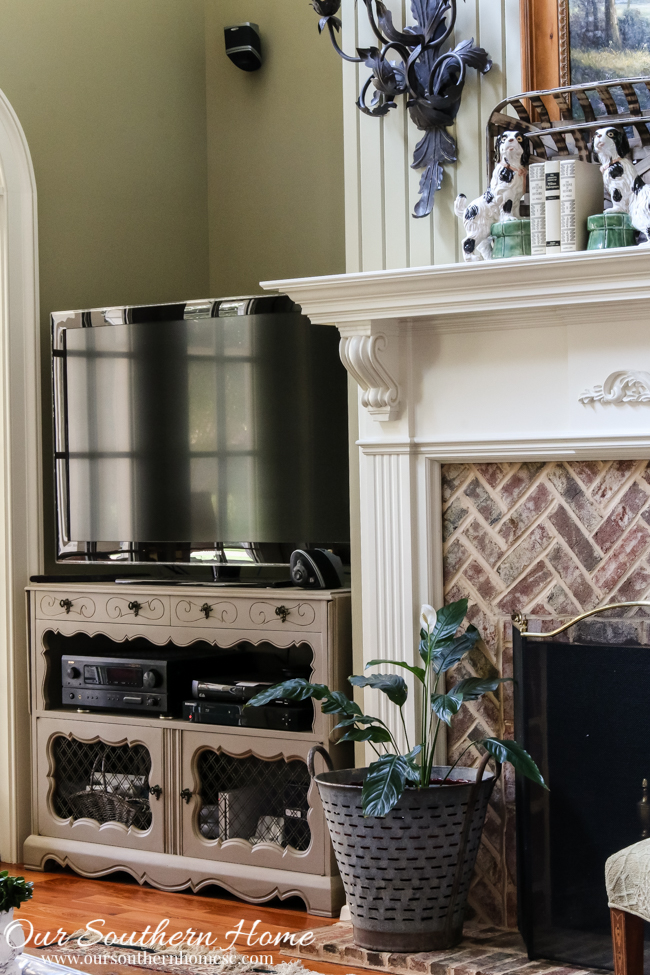 I exchanged the firewood in the olive bucket (also from Decor Steals) to a plant. I also cleaned out the fireplace from our many real, wood burning fires. I also place some fresh logs in there. Don't like just a black hole.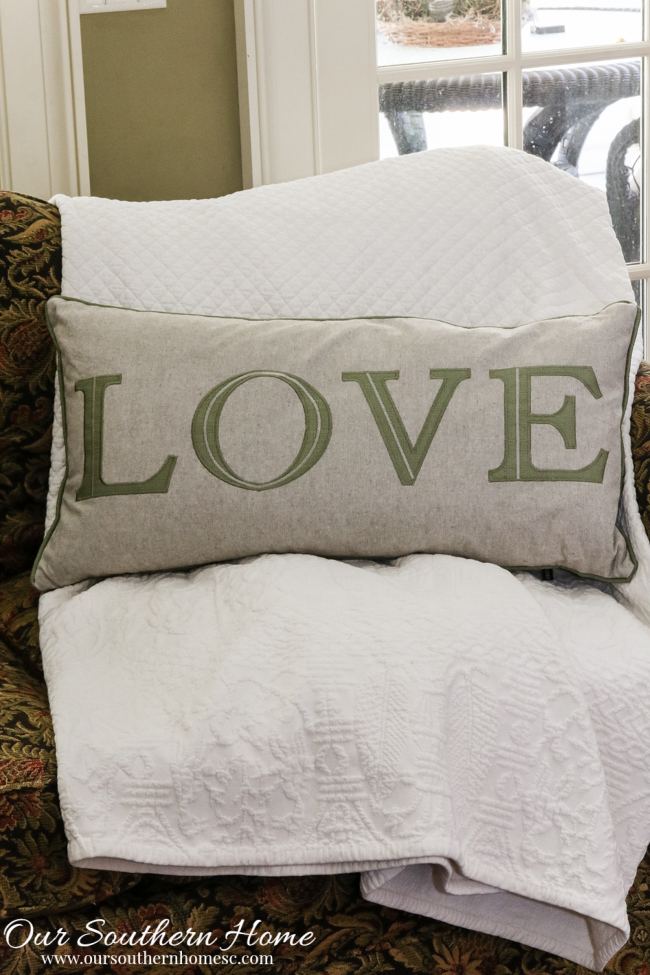 This love seat is very dark. It is a goal to sew a slip cover one day for it. Until that miraculous day, I've tossed a folder matelasse bedspread over one side and this new fun pillow that I picked up at Marshall's. Here's a (affilate link) link to a similar LOVE pillow. I really like its vintage style.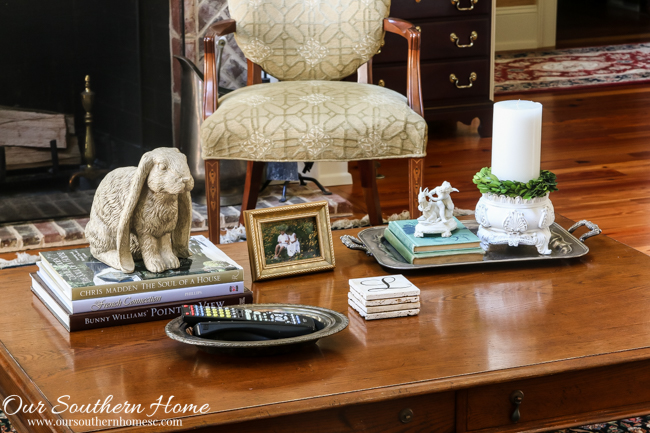 More silver on the coffee table. I borrowed this rabbit in honor of Easter from my daughter's room. She uses it as a door stop.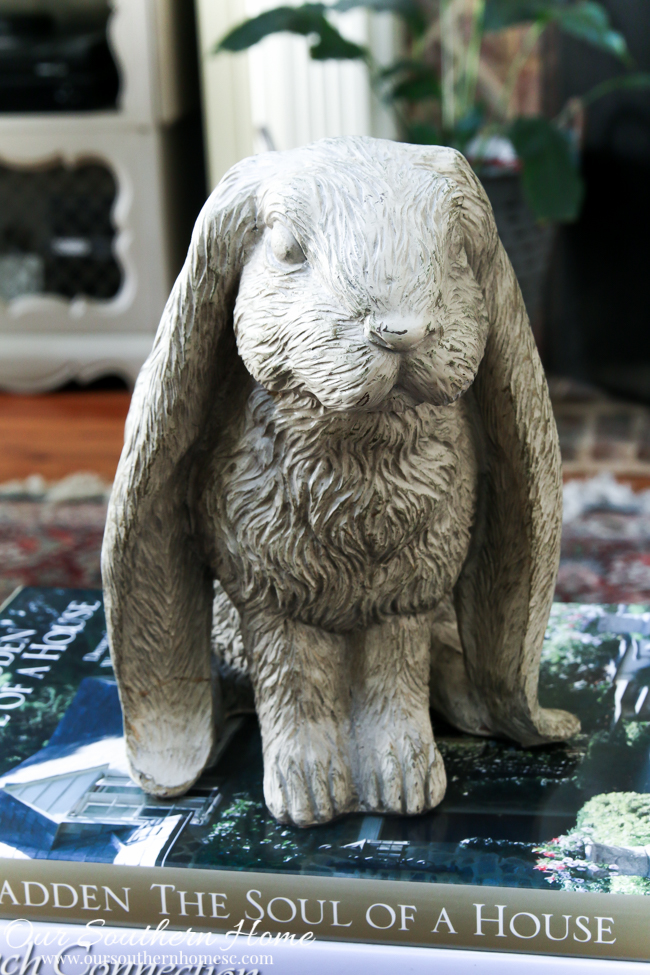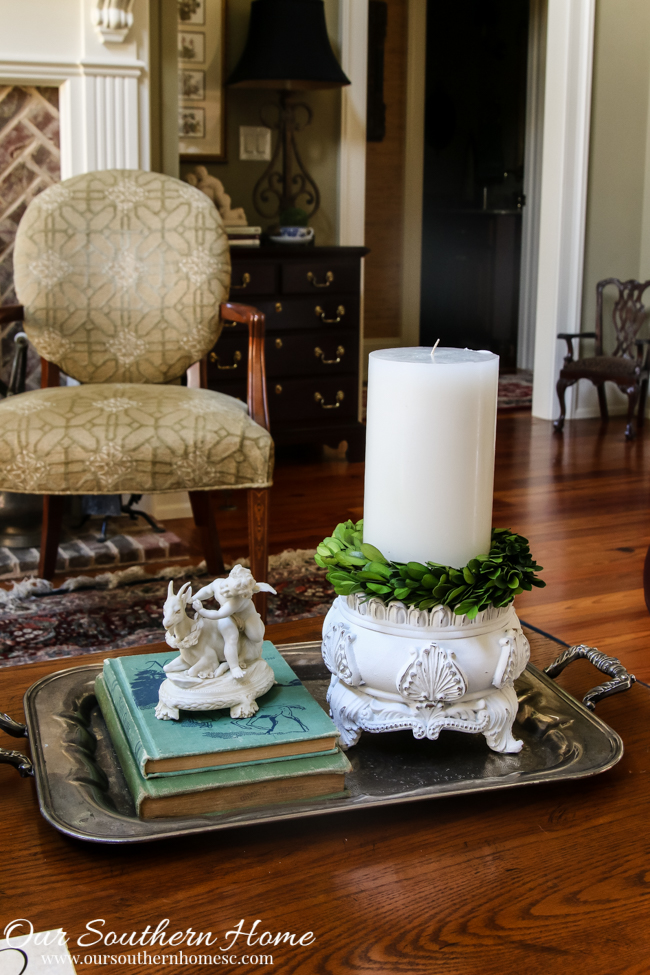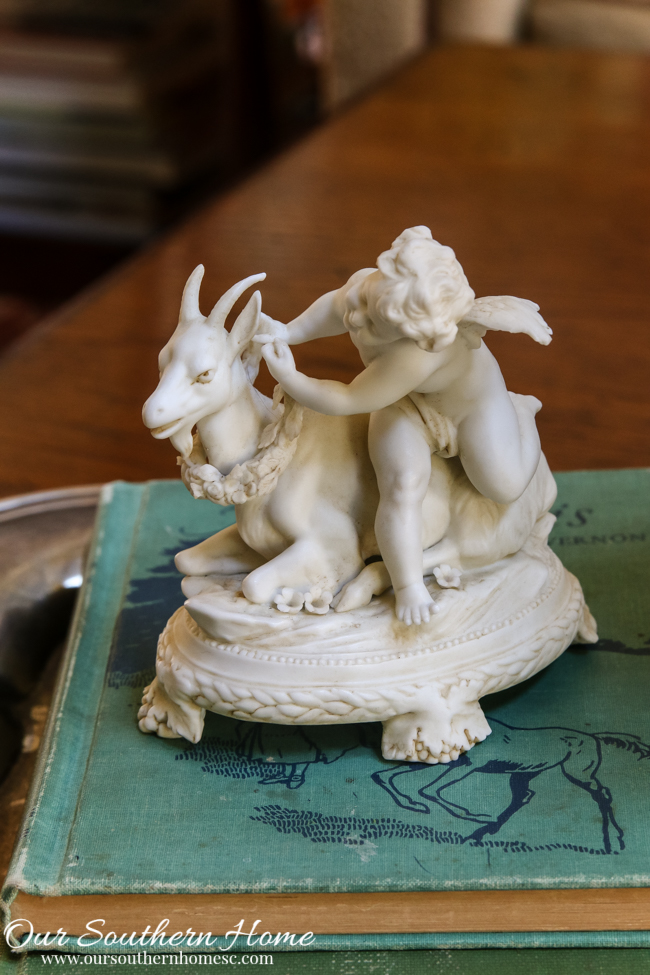 My mom recently gave me this antique figurine. I grew up on a dairy goat farm. Mom used to collect goat things. This is one that she thought I'd actually like. 🙂 It's perfect here to add a few white touches. I'm sure when the kids are home for summer, I'll be putting it back in the china cabinet. I sure don't want it broken!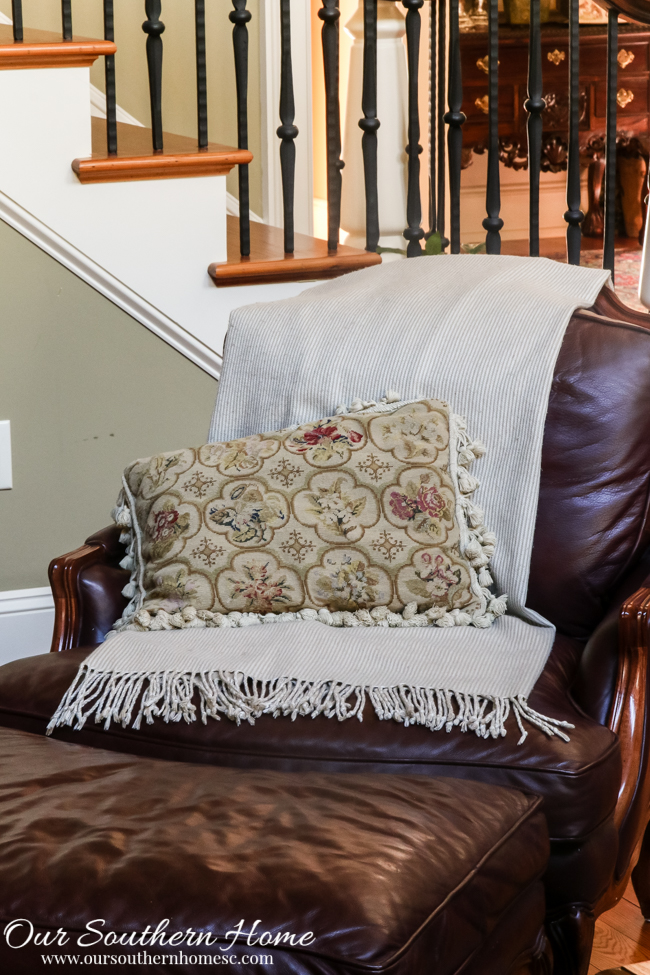 I changed out my darker throw for this lighter version from Target. Here is an affiliate link to a similar one from Target.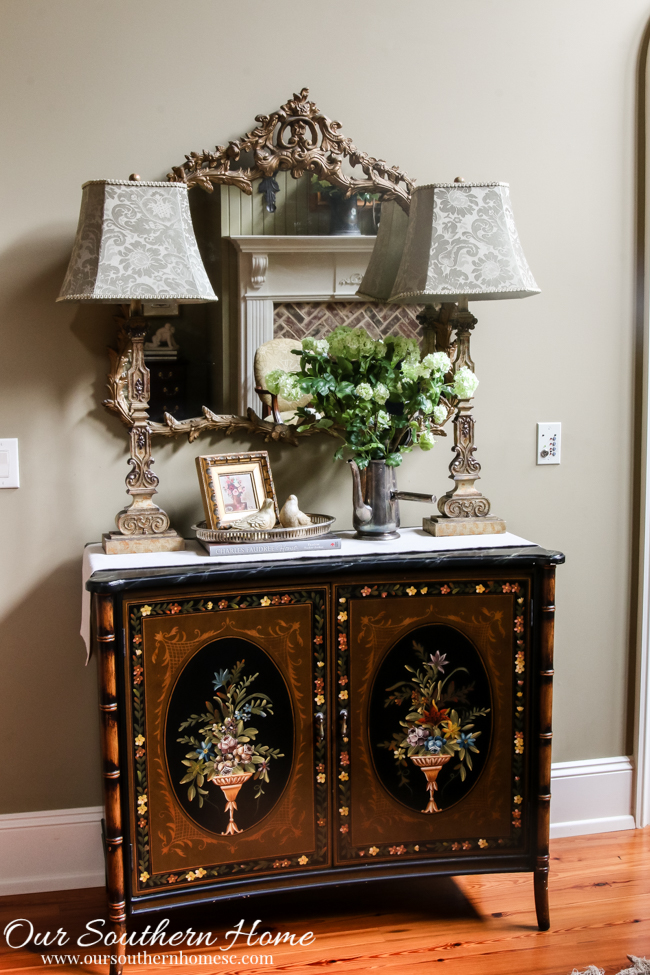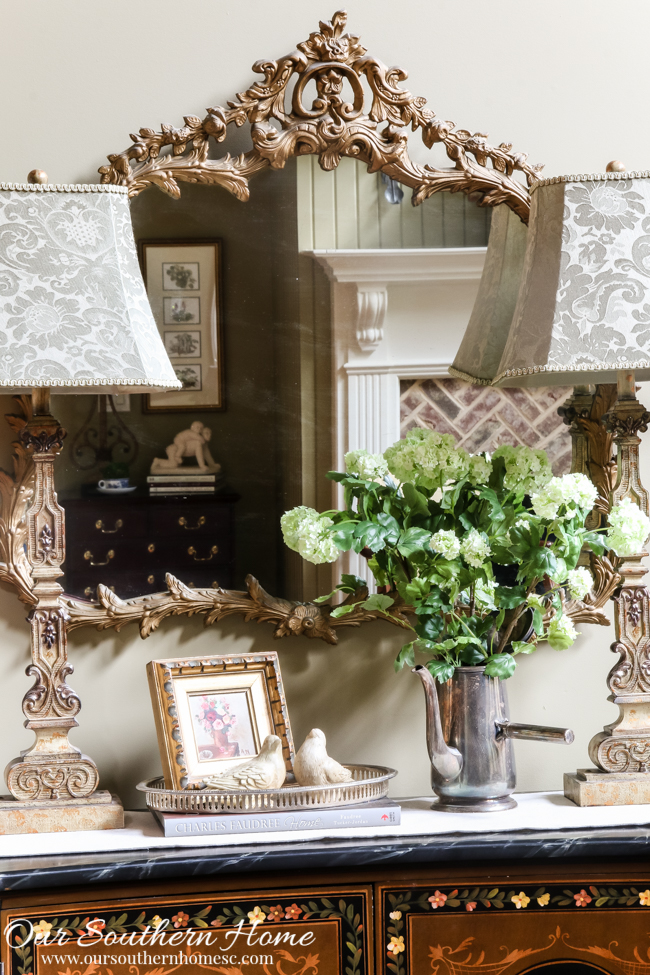 I added a runner to the top of this dark and more formal cabinet. Notice more of my silver. The coffee pot was actually my moms. She gave it to me a long time ago. It had been packed away. It's perfect for more flowers.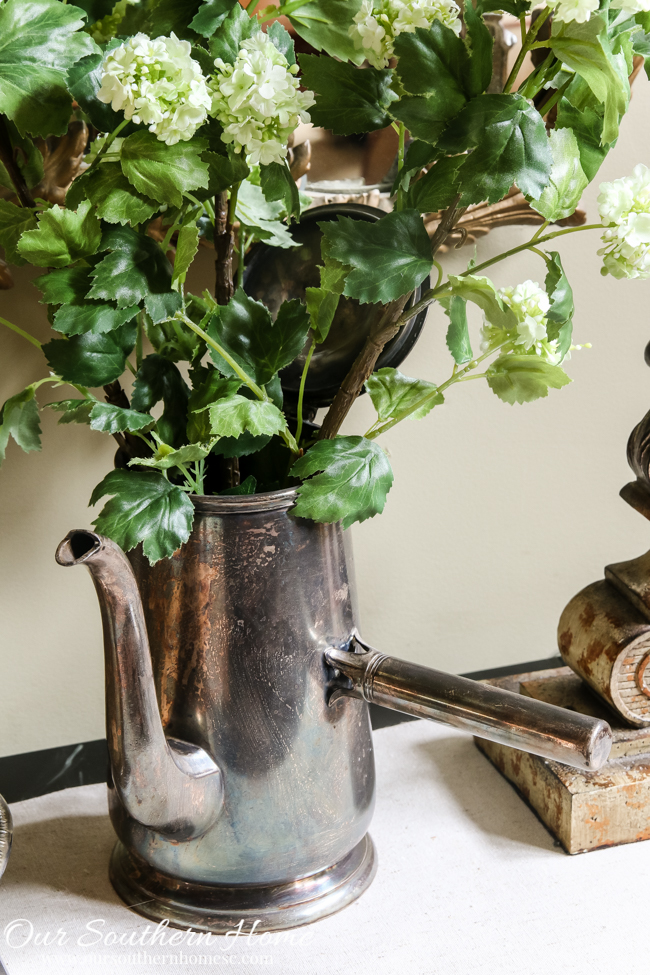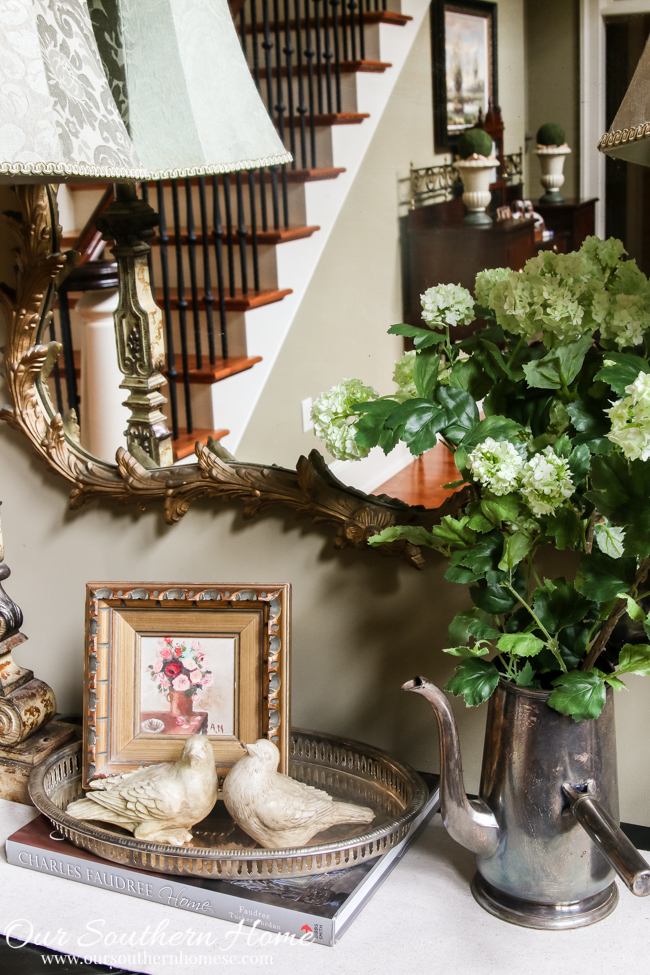 More vintage oil paintings from eBay.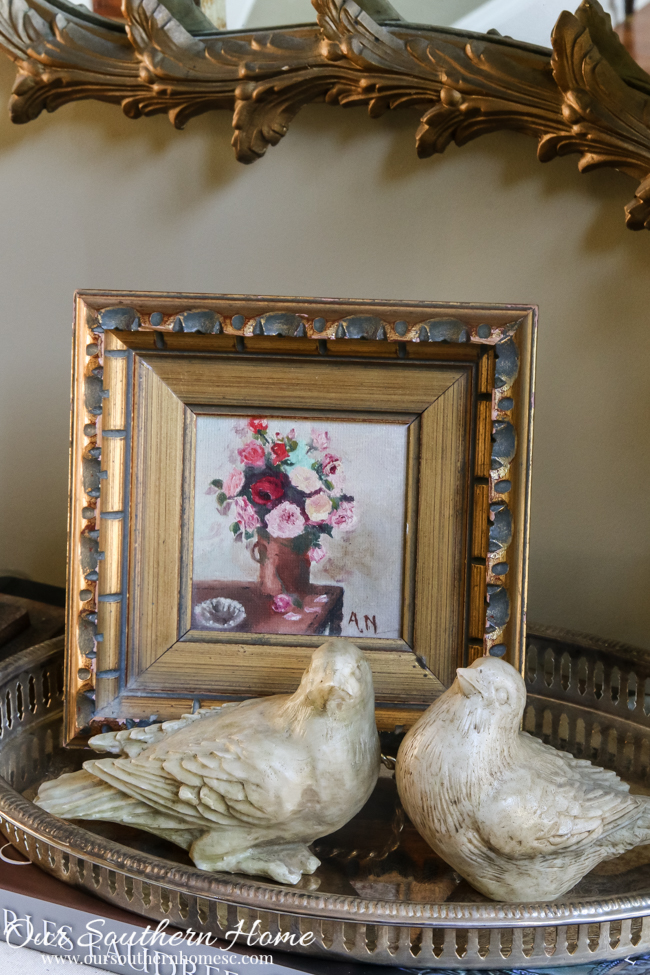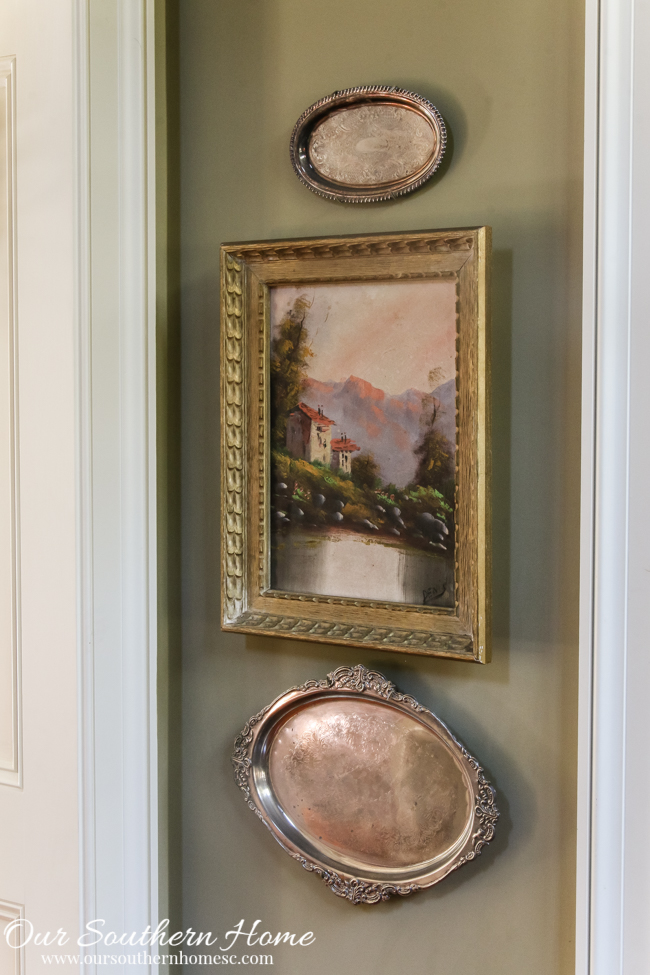 I've even hung thrift store silver on the walls. It's easy when you use the (affiliate link) Command Strips
.
Thanks so very much for stopping by for a visit!
Now it's time to go visit the beautiful spring tour over at Simple Details.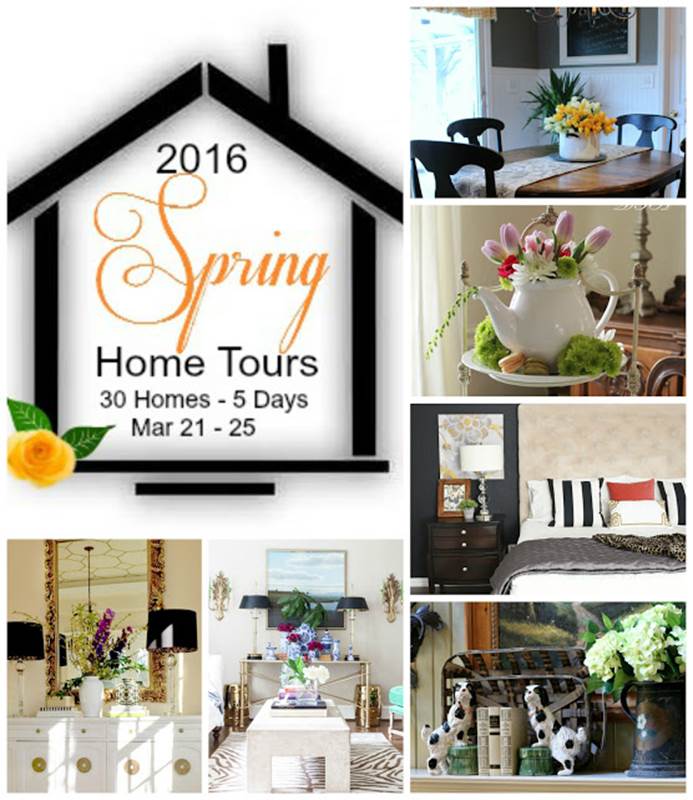 I have a full list of the tour lineup for each day this week HERE.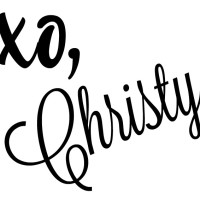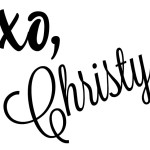 Buffer