Spring Touches in the Home
We've had one long cold, rainy winter here in the south. While spring is in the air, I haven't packed up the winter clothes just yet. Hints of spring in our neck of the woods always happen early in that southern weather in our area can be a bit of a rollercoaster. Trees and daffodils came forward quite a few weeks ago. Our zoysia grass is starting to turn green. I am so very ready! Now is the time to start moving to lighter and brighter decor in our home.
Today I'm going to share with you ways that I add Spring Touches in the Home.
Be sure to follow all the way to the end of the post for the links for the tour this week!
This post contains affiliate links. You can read my complete disclosure policy HERE.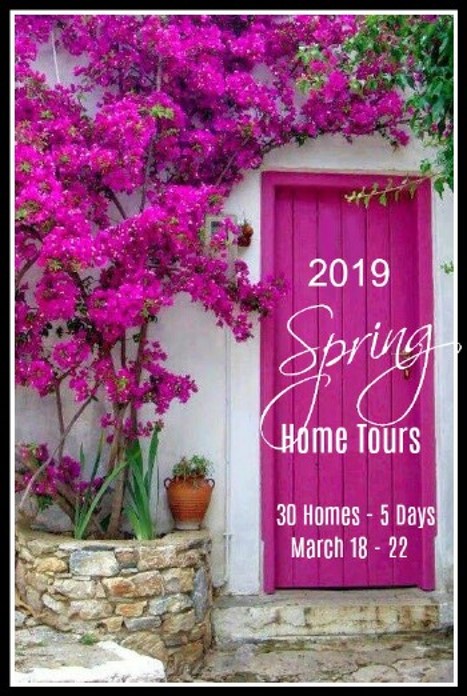 I'd like to thank my long-time blogging friend, Marty from A Stroll Thru Life, for organizing another wonderful tour. You are sure to be inspired. I love this tour each and every season because it is very eclectic. There is something for every style!
If you are visiting from the gorgeous home of Alicia at Thrifty and Chic, welcome!!!
Let's get started with spring touches in our home!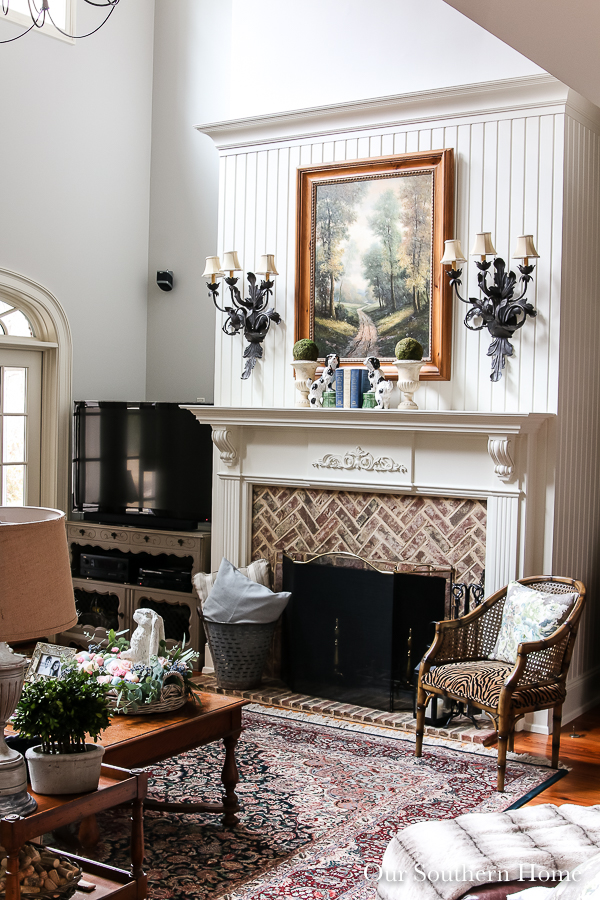 I loved the winter mantel so much that I didn't even change it for spring. I like the fresh, clean look. So if it's not broken, then don't fix it!
Decorating Tip: For spring, less is more on the mantel. Go for a light and airy look.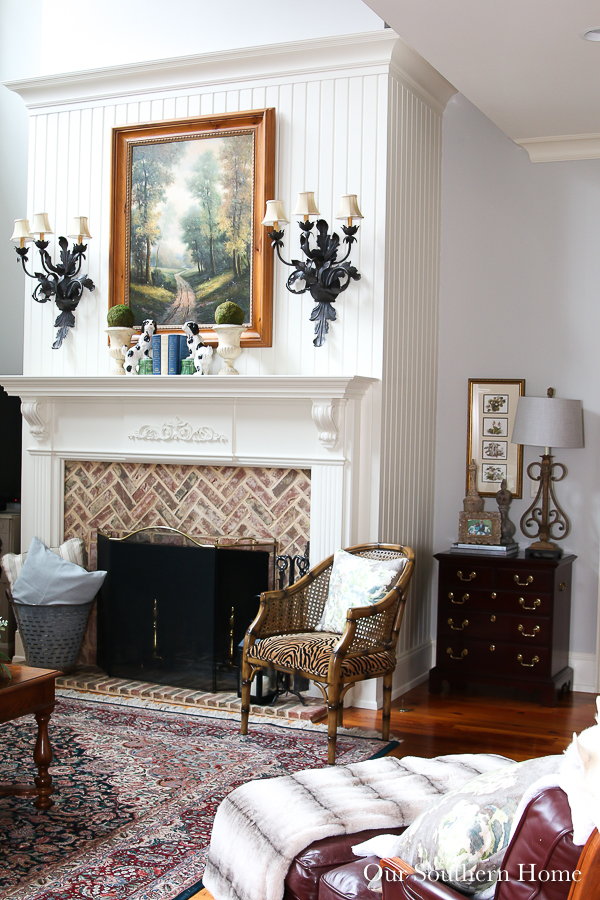 Gone is the wood for the real wood burning fire replaced with a few pillows for frequent floor time.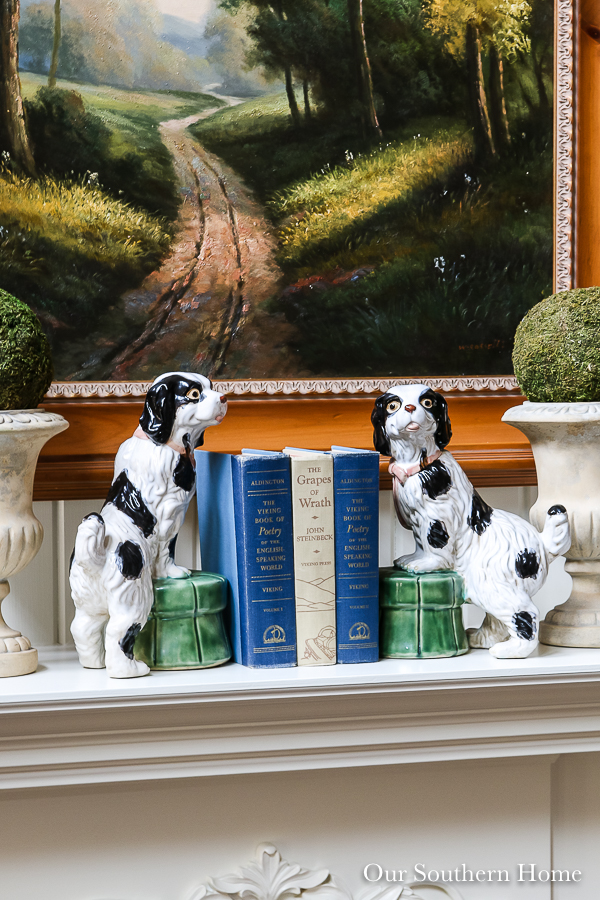 I love the look of old books. Many new hardback books have beautiful covers as well. I frequently remove jackets if I need a few books for decorating. Just put them in a safe place so that you can put them back on if desired.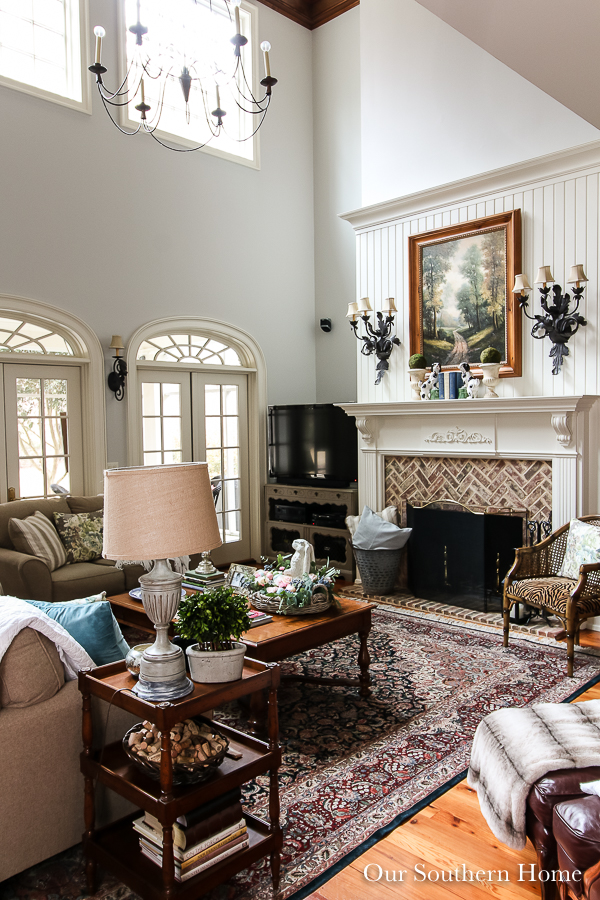 As much as I'd love to change out rugs, it will never happen. We purchased this heirloom quality rug over 20 years ago and it's here for life. I have been thinking of purchasing a lighter rug to add under the coffee table to lighten things up for summer. Layered rugs are fabulous.
Decorating Tip: Work with what you have! I pull colors from the rug to decorate for the seasons. All of the colors of the pillows are in the rug so it all works.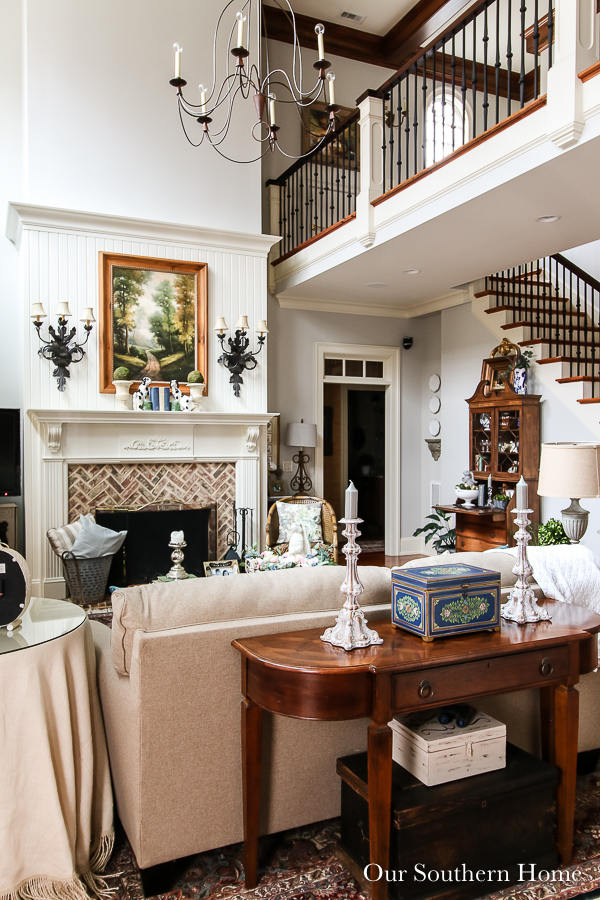 Decorating Tip: Paint can work wonders for a room! Last year, this living space was green. Painting it Agreeable Gray totally changed the look and feel of the room even with using the same decor!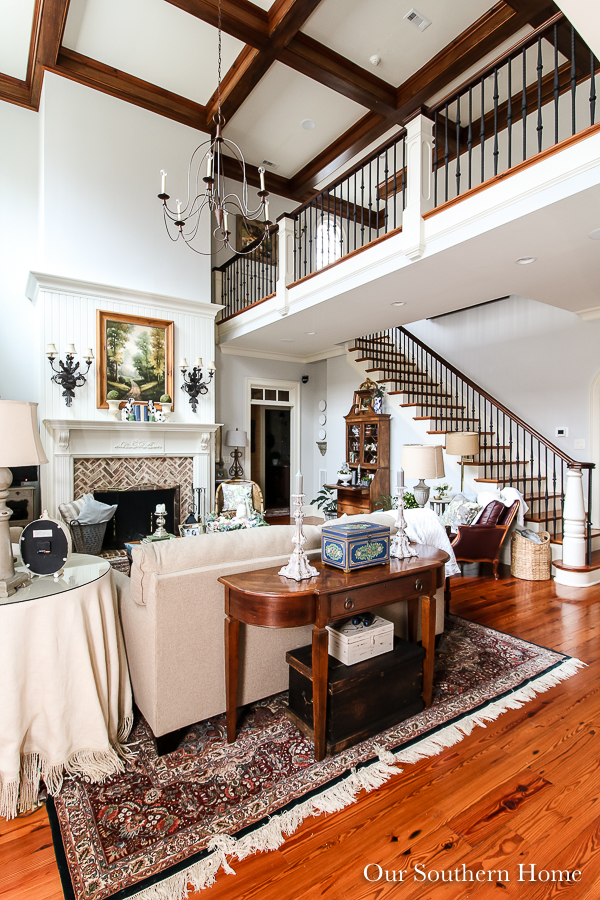 Here is a wide angle look so you can see the ceiling. We built in 2004, so glad we went with relatively classic elements. They will be relevant for years to come.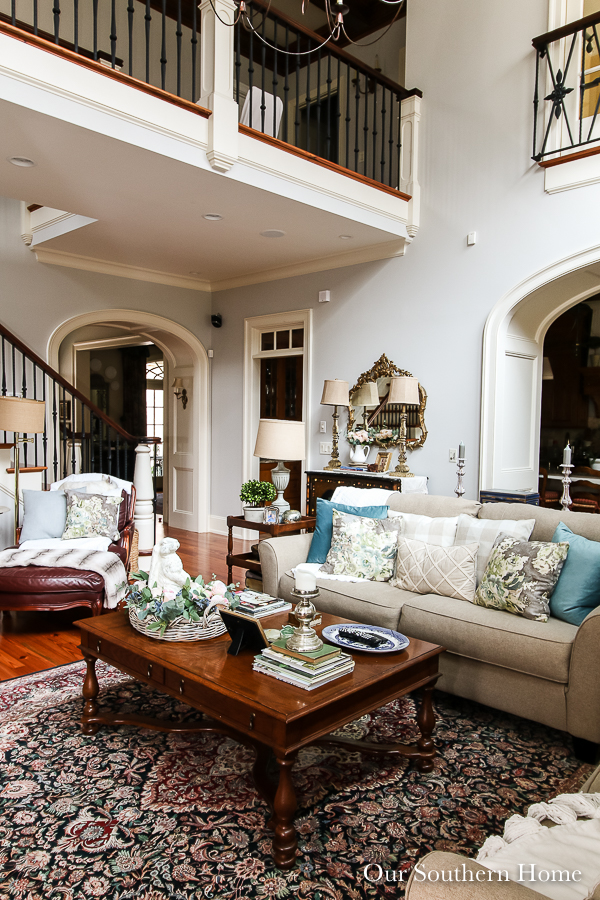 Decorating Tip: I haven't bought new pillows in a while. I buy pillow cases instead. They are so much easier to store! Be sure to check below for the sources. Amazon and Etsy are great sources for pillow covers.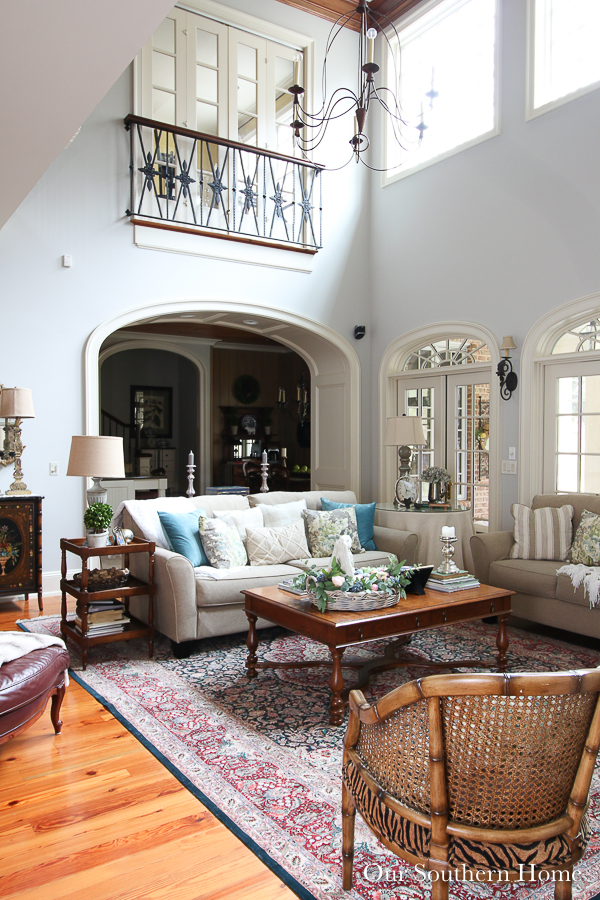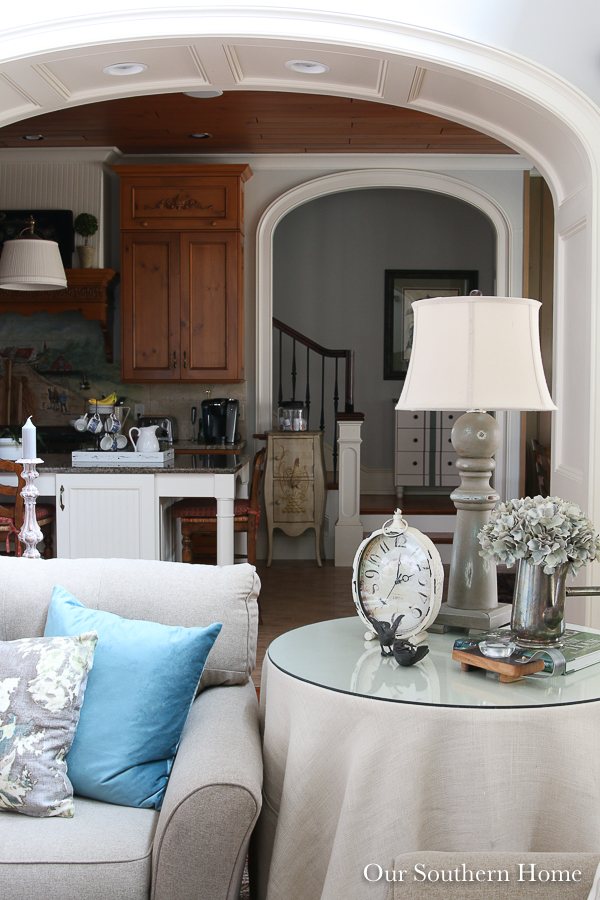 This lamp was from the thrift store and the very first feature that I had back when I started my blog in 2012! I was so freaking excited! That lamp was the best $3 purchase ever.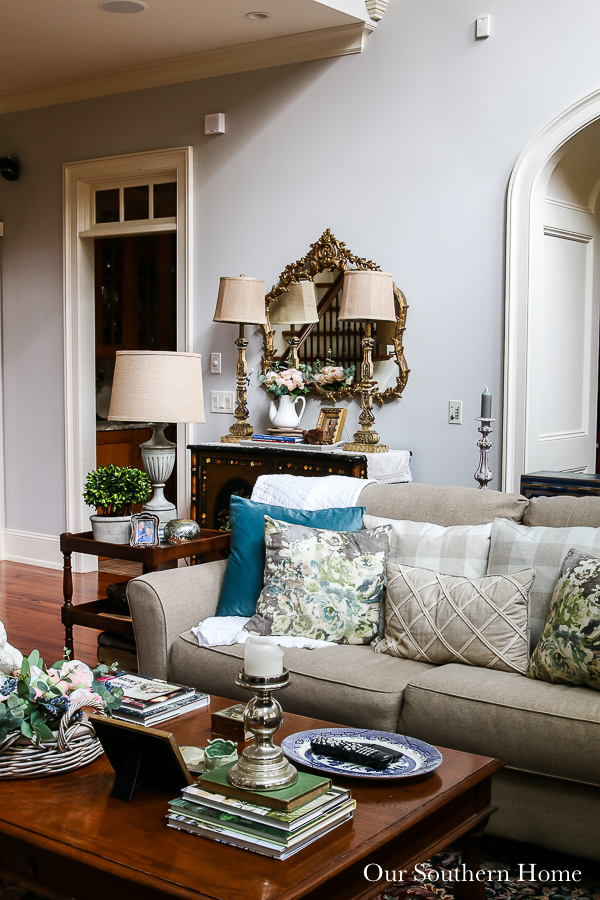 I am just realizing that I have quite a few thrift store lamps. The one on the side table is another favorite with a fun paint finish. Pillow covers used in the room can be found online and at affordable prices!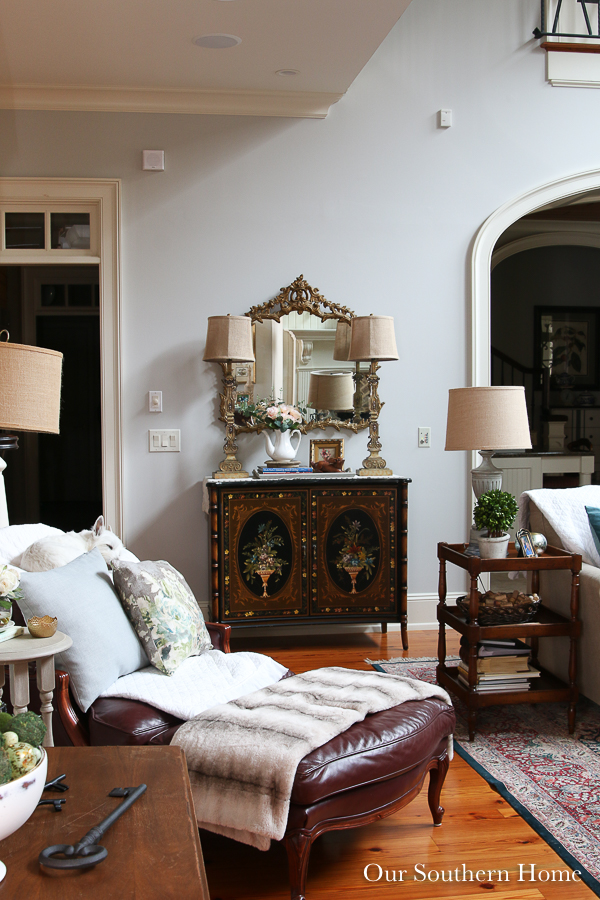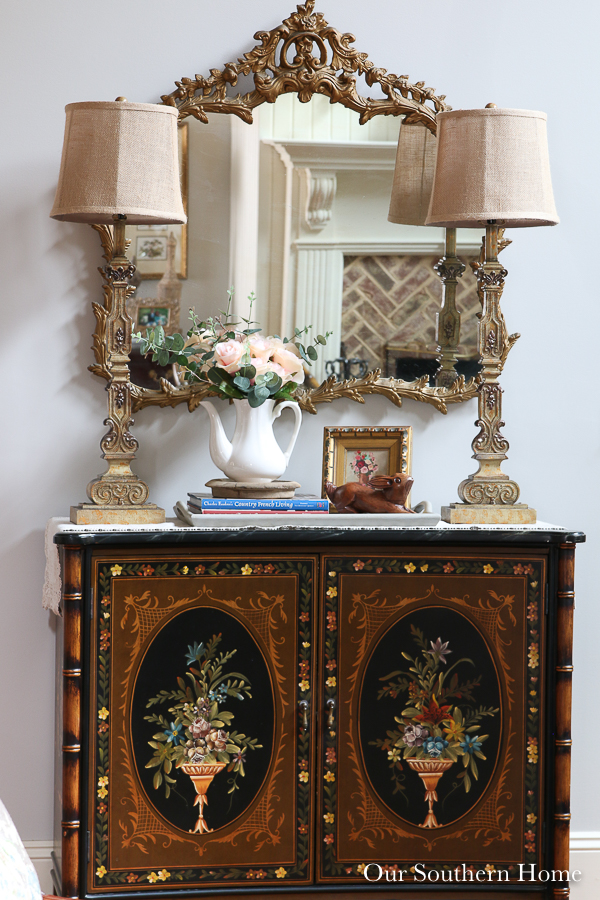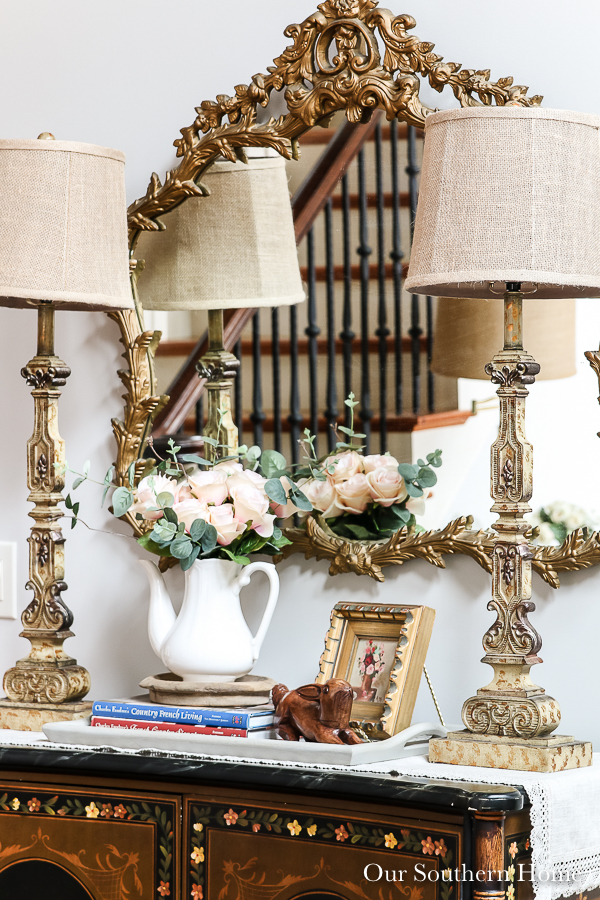 We have an open foyer so this table acts as an entry table. It's fun to change up.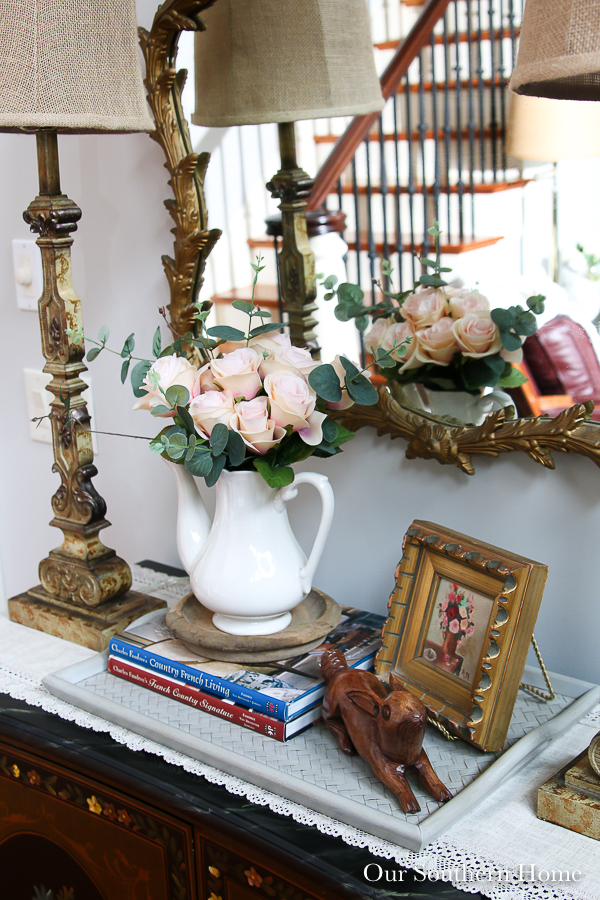 This tray was a recent thrift store makeover. That cute little carved rabbit is a new addition down in the family room. My daughter is away at college so I went into her room and borrowed it! She immediately noticed when she was home this past weekend!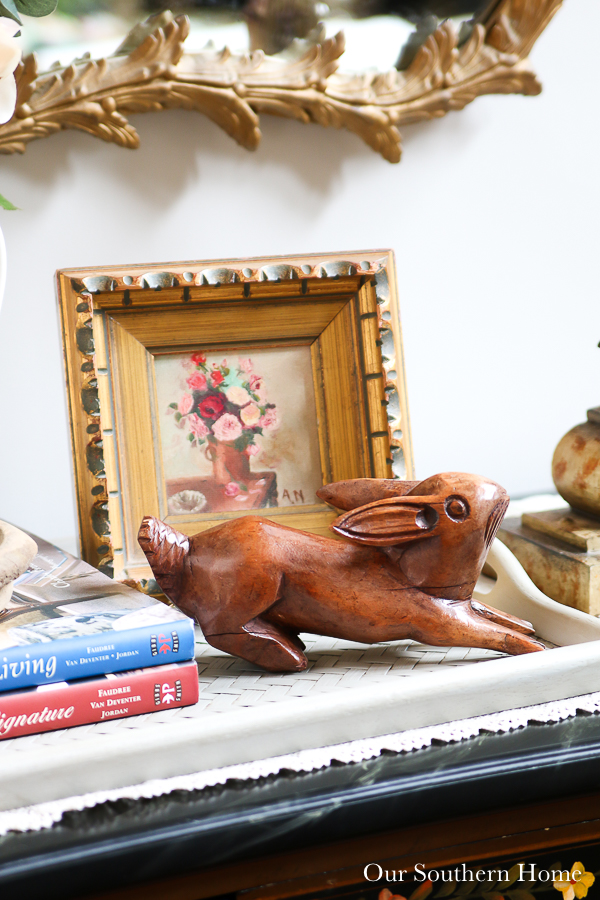 We brought the rabbit home for her from a trip that we took to Jamaica with friends a few years ago.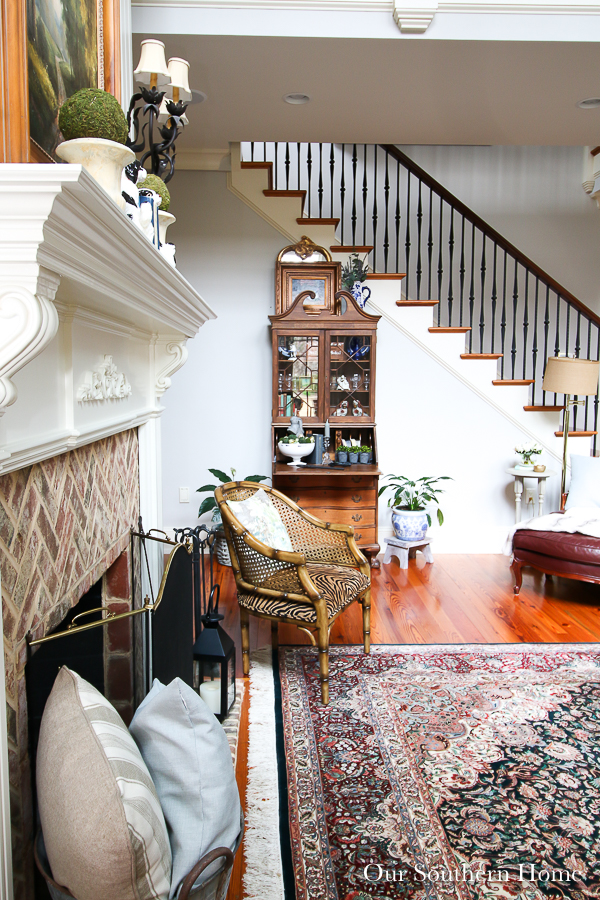 I've really been enjoying decorating that sweet little secretary that I picked up on Craigslist last spring.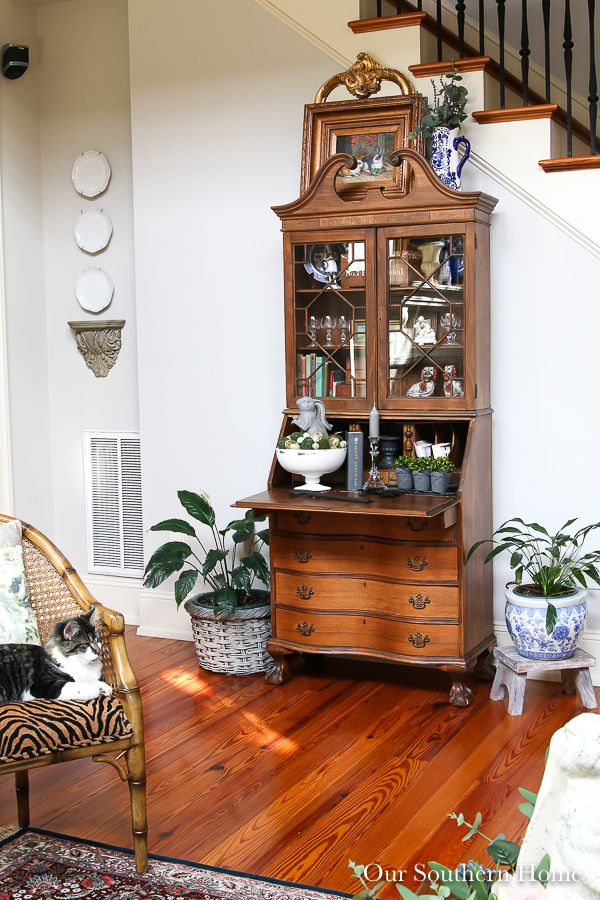 Since we sold our dining room hutch, it gives me a little space to display a few family treasures safely. That little 8 month old, Jack, sitting in the chair is still discovering things and learning the rules.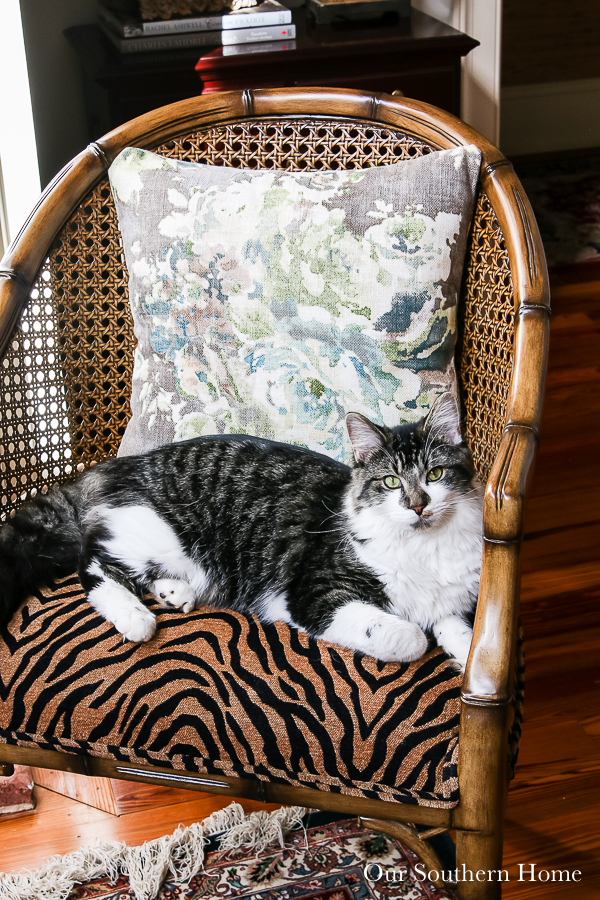 Isn't he a cutie!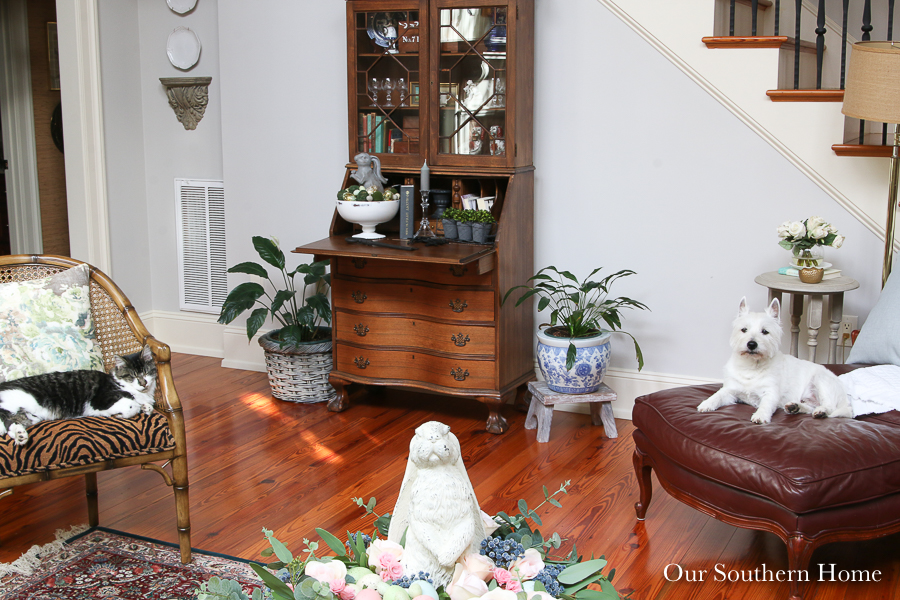 I seriously can't pull out my camera for blog work without them both wanting to be the center of attention. If you go through the photos in this room, you'll find Bentley asleep on the back of the leather chair. I no longer make them leave the room. I just shoot it like it is.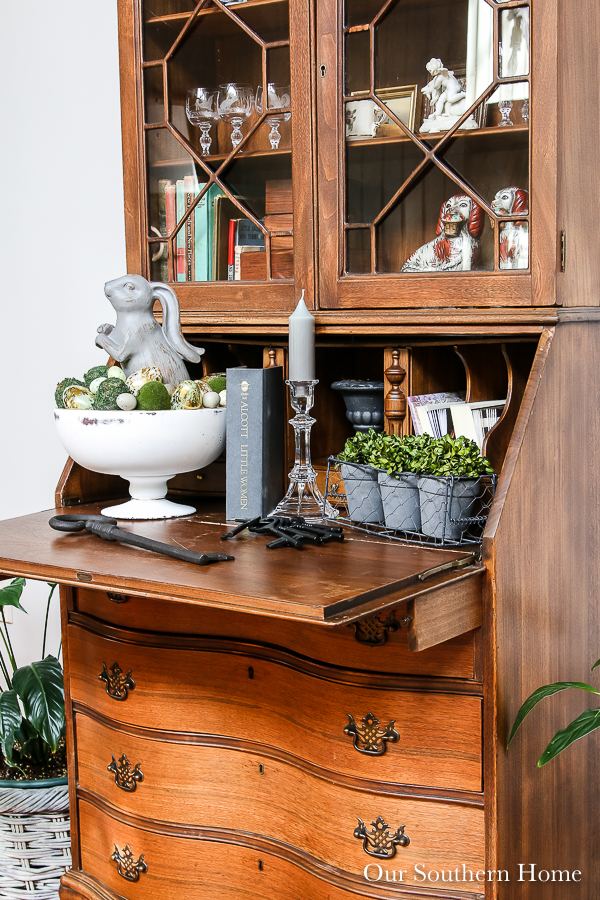 This month's thrift store makeover is this pedestal bowl makeover. It's perfect for the little Easter goodies!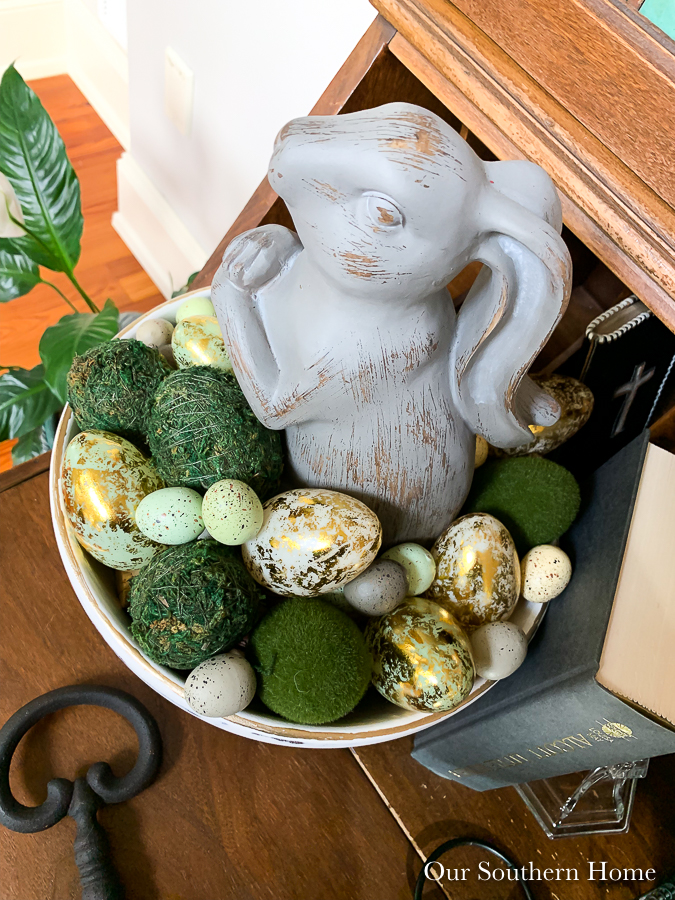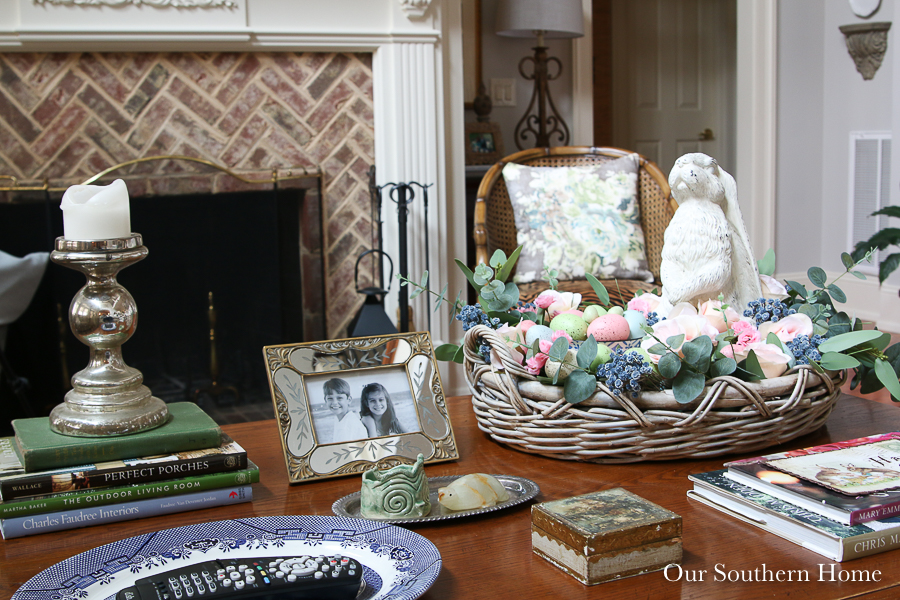 I typically don't do a lot of Easter except on the dining tables. We spend a lot of time in here so I thought it would be fun to put the basket centerpiece that I just made in here opposed to the formal dining room table.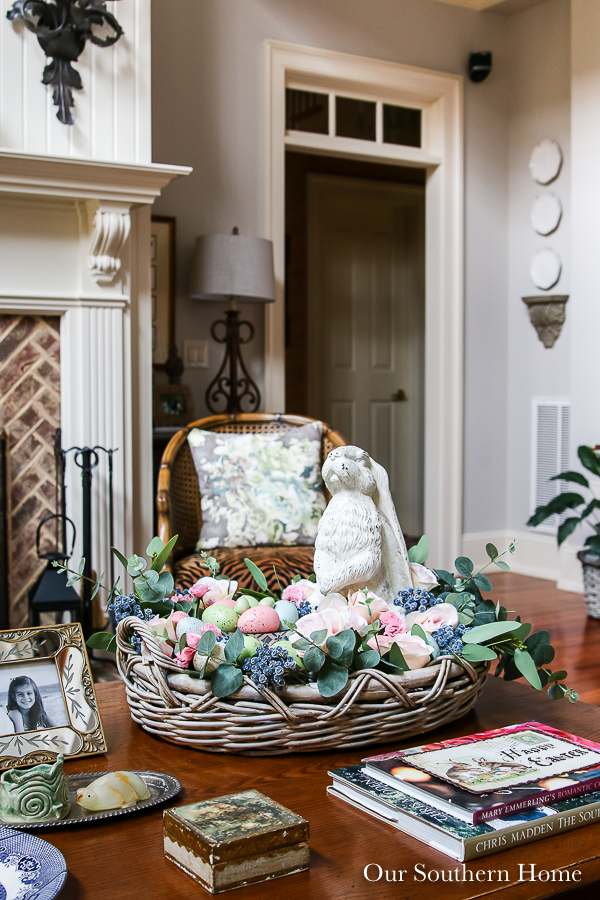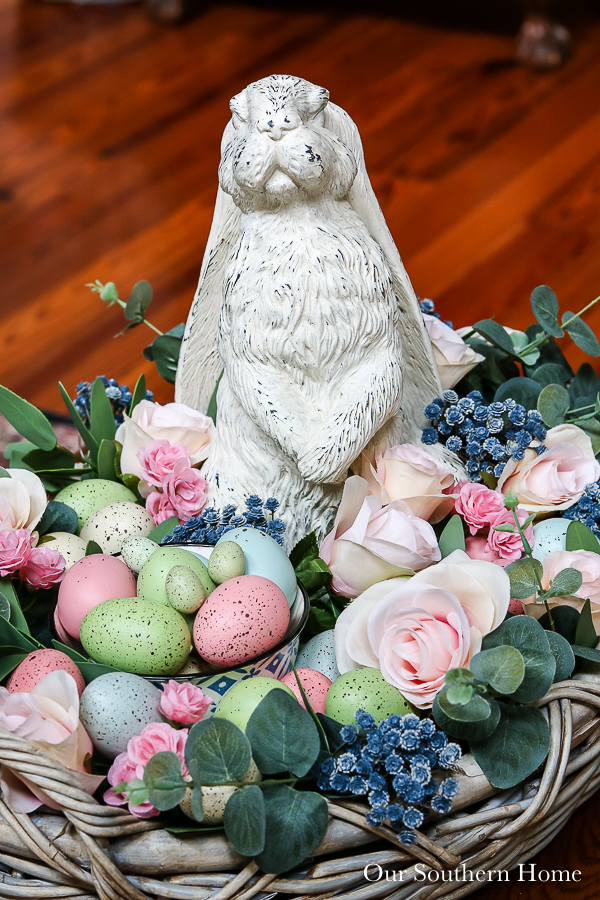 You can read all about how to create this Easter Centerpiece HERE.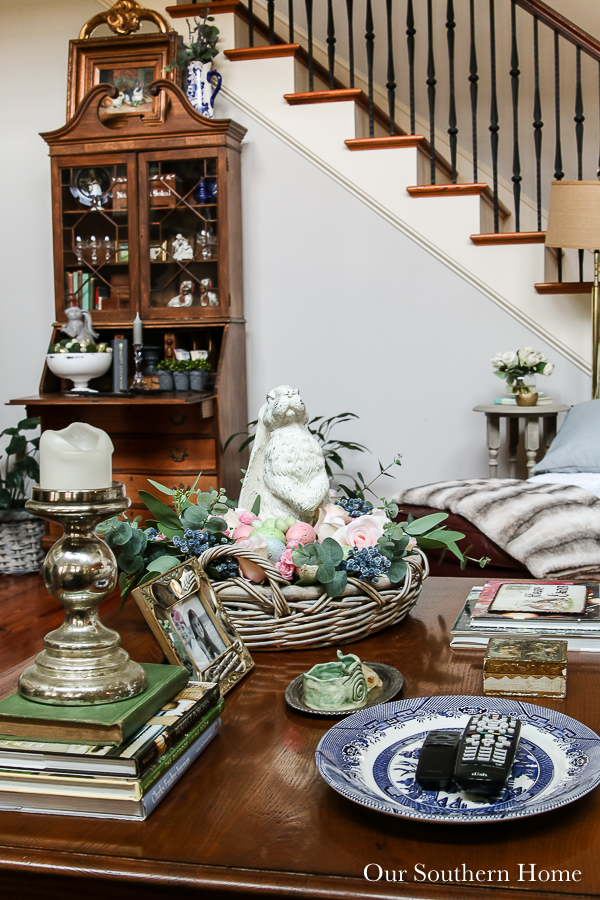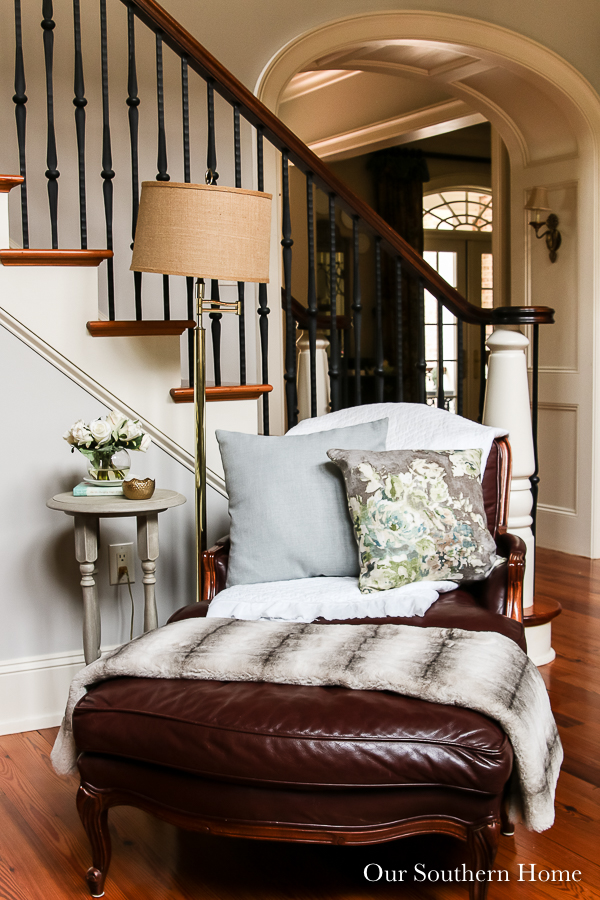 This is where I've been cozying up reading all of the other spring posts from the tours this week!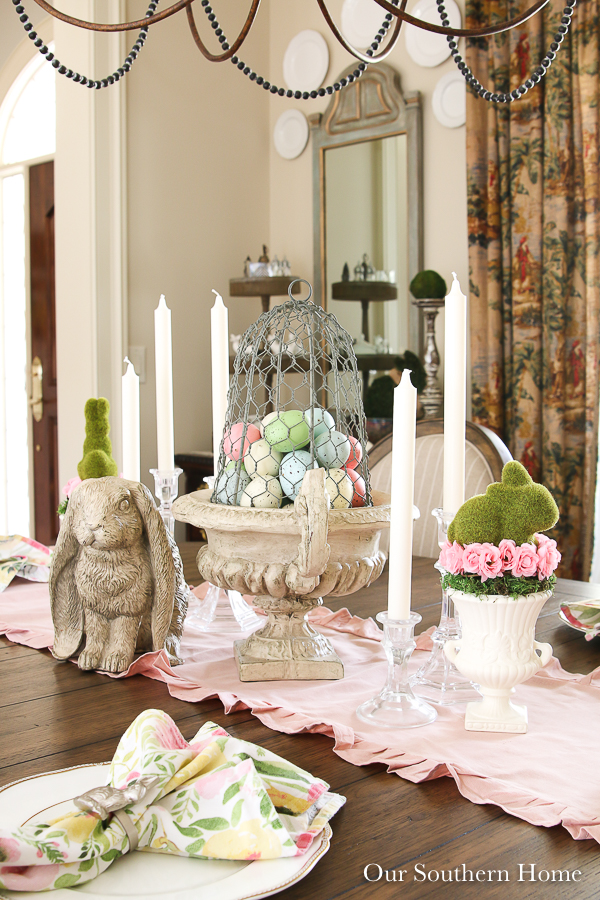 The family room post ended up being so much longer than I planned so here is a sneak peek at the dining room! I'll share that in another post this week! Be sure to sign up for emails so you get notified for NEW blog posts.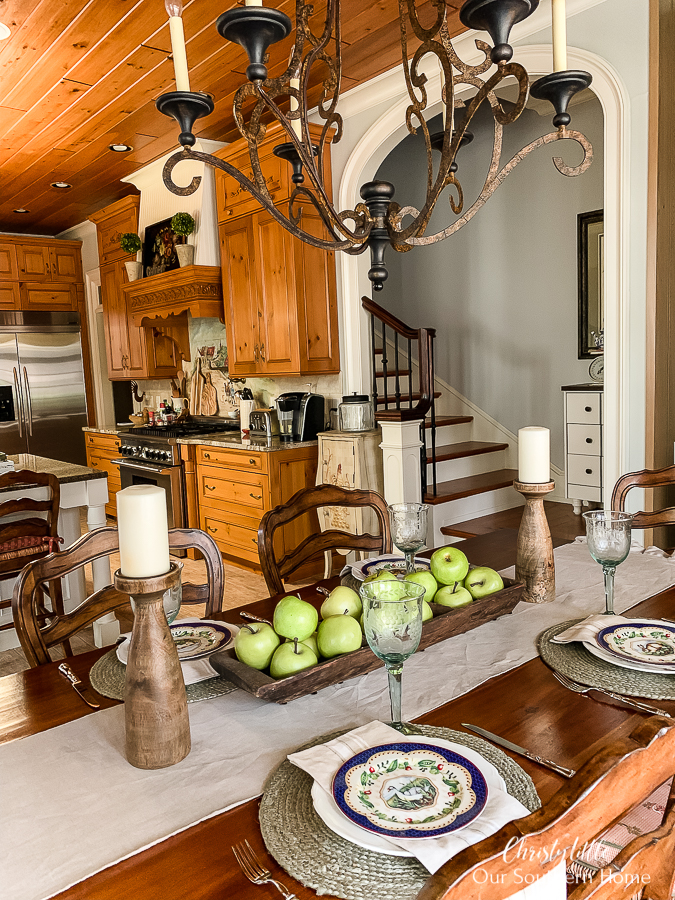 Tour our spring kitchen HERE.
Adding spring touches to the home does not need to be a daunting task. Even "shopping" your home and moving accessories around can give you a new look!
Up next on the tour is the fabulous home of The Chronicles of Home. Jen's home and blog are truly inspiring!
I'm building a YouTube channel! I'd love for your to follow me over there!


Visit the other blogs on the spring tour!

Monday
A Stroll Thru Life, Setting For Four, Cuckoo4Design, Pink Peppermint Design, Southern Hospitality, Nesting With Grace

Tuesday
Inspiration For Moms , Decor To Adore, House By Hoff , ZDesign At Home , Duke Manor Farm, Remodelando La Casa

Wednesday
Our Southern Home , The Chronicles Of Home, Monica Wants It, Follow The Yellow Brick Home, Hymns & Verses , Thrifty & Chic

Thursday
11 Magnolia Lane , Thistlewood Farms , Clean & Scentsible, Seeking Lavender Lane, Sincerely Marie Designs, Haneens Haven

Friday
Our Fifth House, Decorating Delirium, White Arrow Homes, Life On Cedar Lane, Modern Glam, Far Above Rubies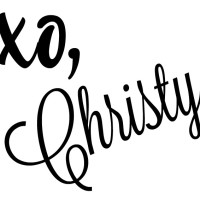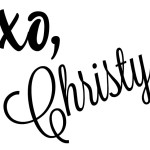 Buffer