Saturdays on the Porch #35
Saturdays on the Porch #35 featuring this week's fashion looks and more from Our Southern Home for life and home.
Latest from OSH
Saturdays on the Porch #35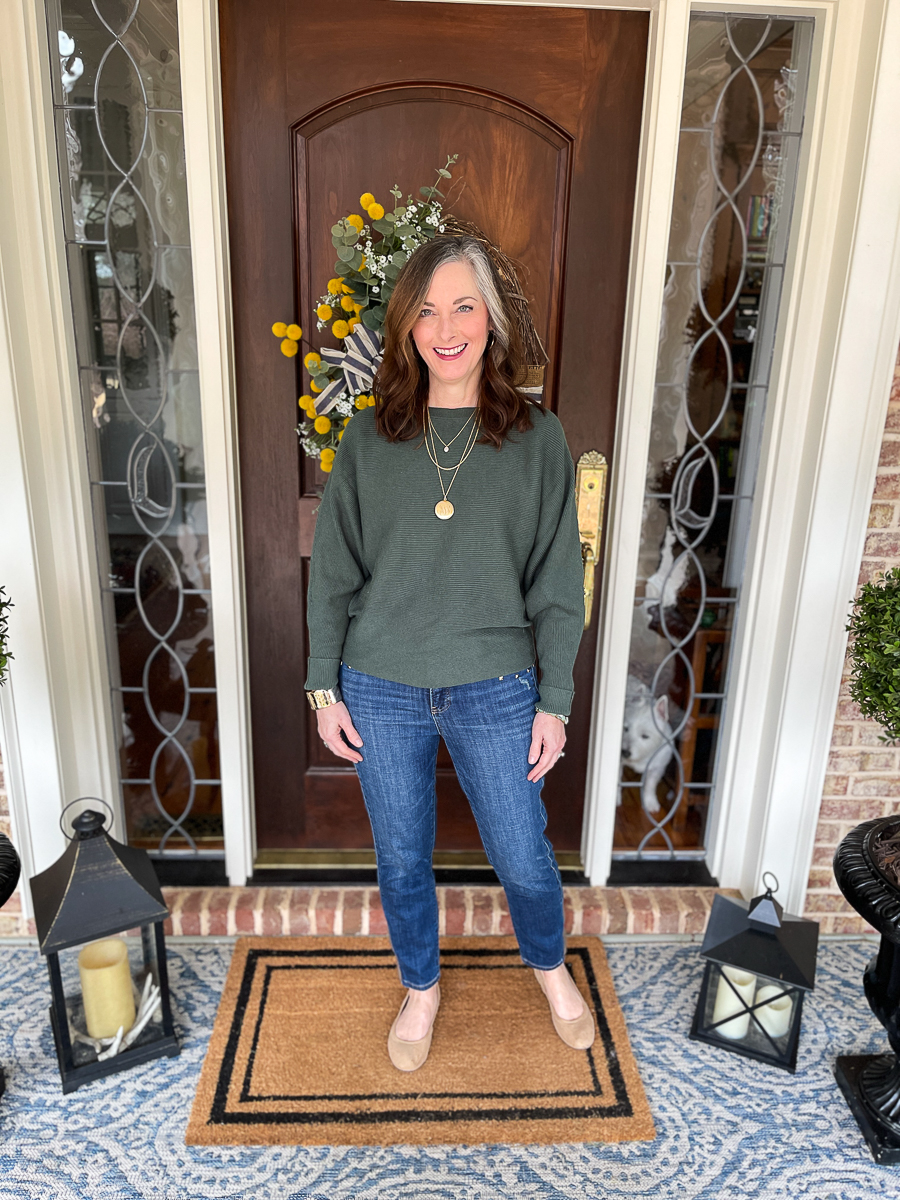 Jeans | Sweater | Ballet Flats | Bracelet | Earrings | Door Mat | Topiaries | Similar Lanterns | Similar Rug
Happy Saturday everyone! I hope you have had an amazing week.
We went car shopping this week.
We actually started the process last week. Our car has about 180K on it so it is time. It's been a bit of sticker shock. We are looking at used around 1 year old. It's a 2021 will less than 4,000 miles. Would you believe that the used car that we like is more expensive than a brand new 2022 model? 2022 would take about 6 months to get here with the chip shortages. We don't want to wait that long with summer travel soon upon us.
We ended up buying a brand new car that was available. Used cars cost MORE than brand new right now.
The outfit above is what I wore yesterday to run errands.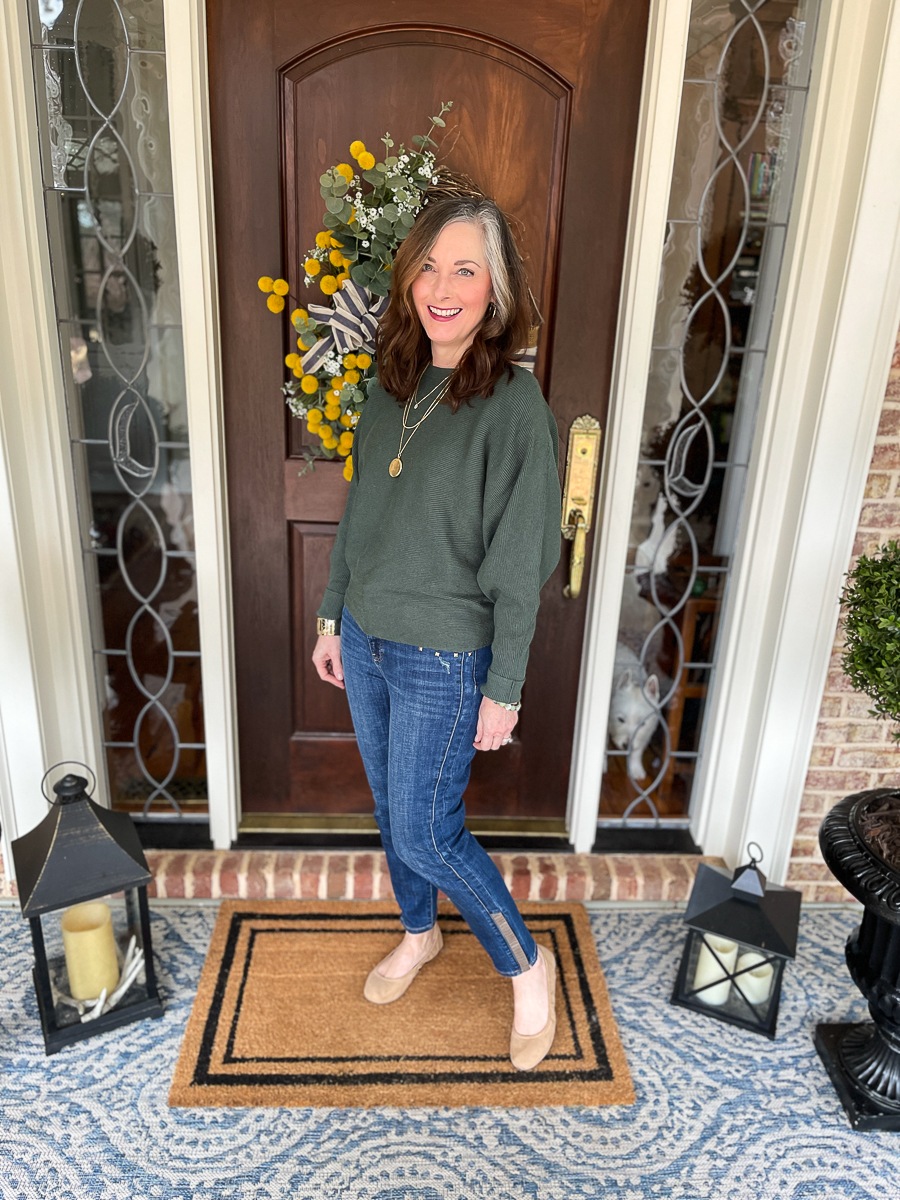 Faux Topiaries | Similar Urns | Similar Lanterns | Similar Rug | Door Mat | Jeans | Sweater | Ballet Flats | Bracelet
I really love these jeans from Chico's. I prefer them with a ballet flat or a heel if dressing up. They've really got some fun details like the studs around the front pockets and the gold inset at the pocket and around the ankles. You can't go wrong with any Chico's jeans. I consistently wear a .5 in their sizing for jeans. I personally wait for sales.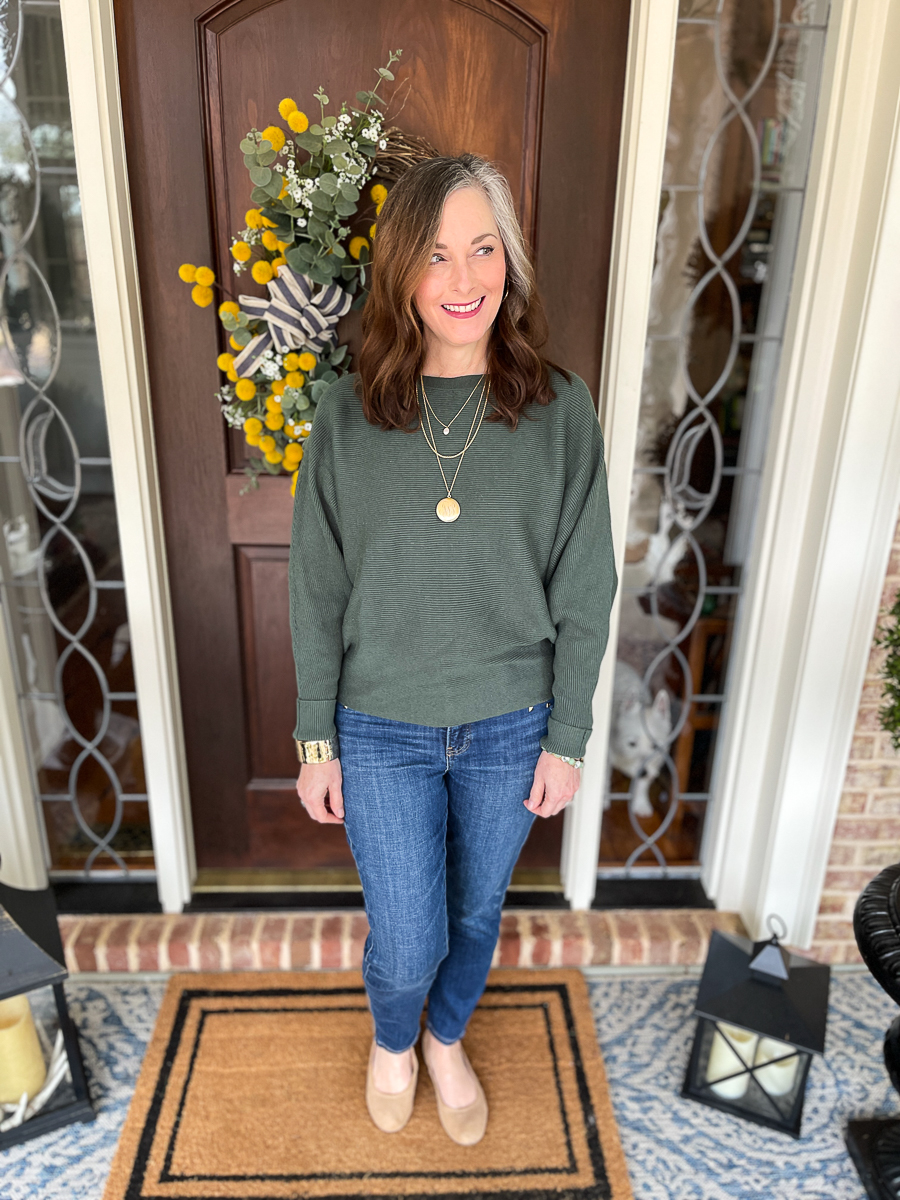 Fit Tip: Jeans are a size .5. Love the fit of the girlfriend jean. The sweater is a medium. I could have worn a small, but I like the looser body fit. The sleeves are a little long, but I just roll them up. Size up 1/2 a size in the ballet flat.
The green sweater is sold out. I got it back in October. It is available in a pretty light pink which is perfect for spring.
The ballet flats are inexpensive from Amazon. I have 3 pairs. I wouldn't sightsee in them or stand all day in them, but I find them very comfortable for errands or an evening out.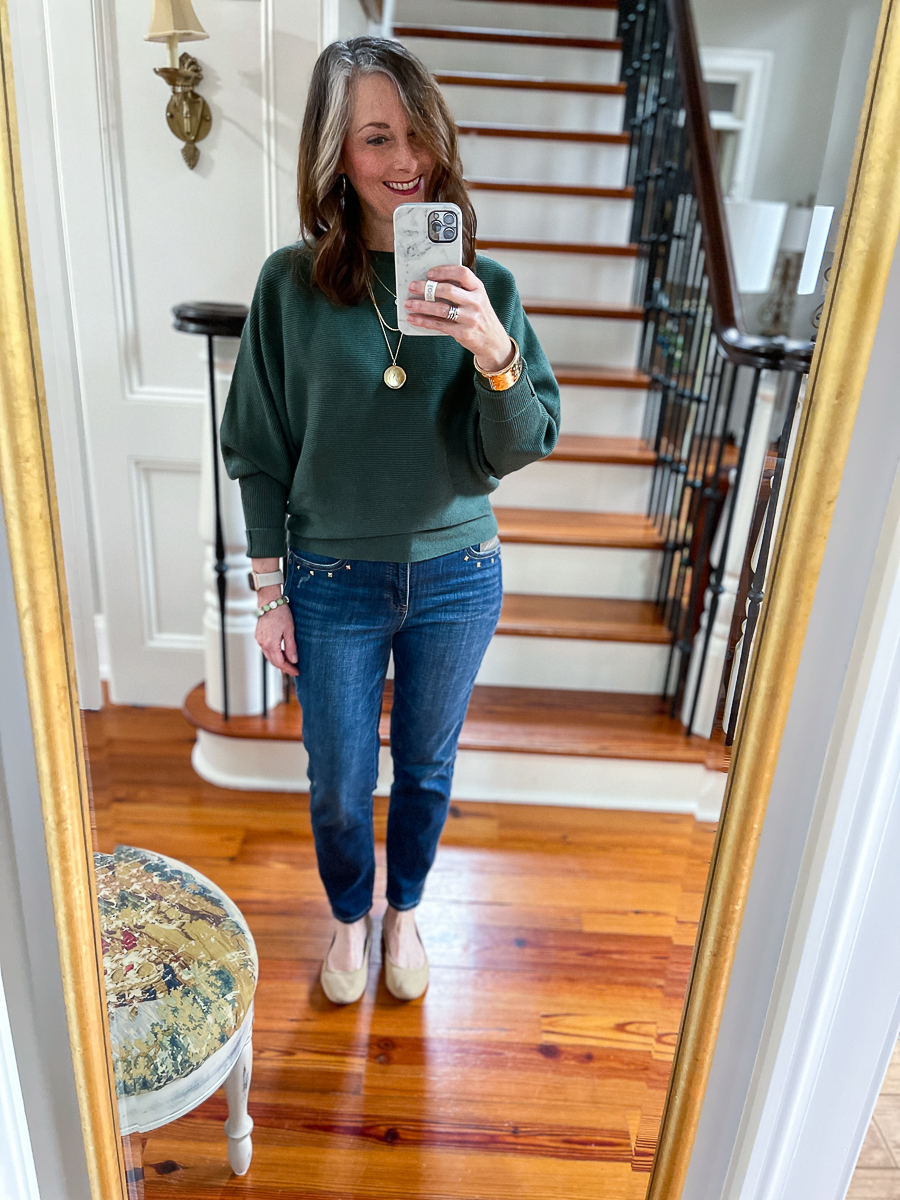 Mirror | Jeans | Sweater | Ballet Flats | Bracelet
My hair is really transforming oddly. I've got these strong gray areas around my face and sprinkling elsewhere. My hair is so much healthier! I'm still on the fence, but don't hate it.
Icon Laser
My skin cancer surgeon recommended that I do some laser treatments on my face for the area of my MOHS scar. I asked for this for Christmas.
It is actually not as expensive as I thought it would be.
I went this week for my first treatment. The surgery had caused a lot of broken capillaries around the scar which was causing a lot of redness in the area.
I have other areas of broken capillaries in the area around my nose and cheek as well.
I decided to go big or go home with the treatment. I had the technician laser any areas on my face that she felt would work well.
It was only $100 which I found reasonable.
I had some lasering done over 10 years ago, and it has changed drastically.
They can adjust the heat that is applied. It feels hot. There were a couple of times that I had to ask for a break when going over an area multiple times.
I have a few areas that have turned a dark, red-purple. This will fade away. Some of the smaller capillaries just disappeared.
My goal is less makeup to cover these areas. I just want to use a little concealer here and there or a tinted moisturizer.
You can treat capillaries every 2 weeks. The scar is one time per month.
She said it would take 2-3 times.
Already, the redness has toned down considerably. I am very happy with the results of my first session.
I am not going again until mid-March.
I did have some swelling on my scar area. this concerned me at first, but it has been gradually going down.
I will keep you posted.
Cooking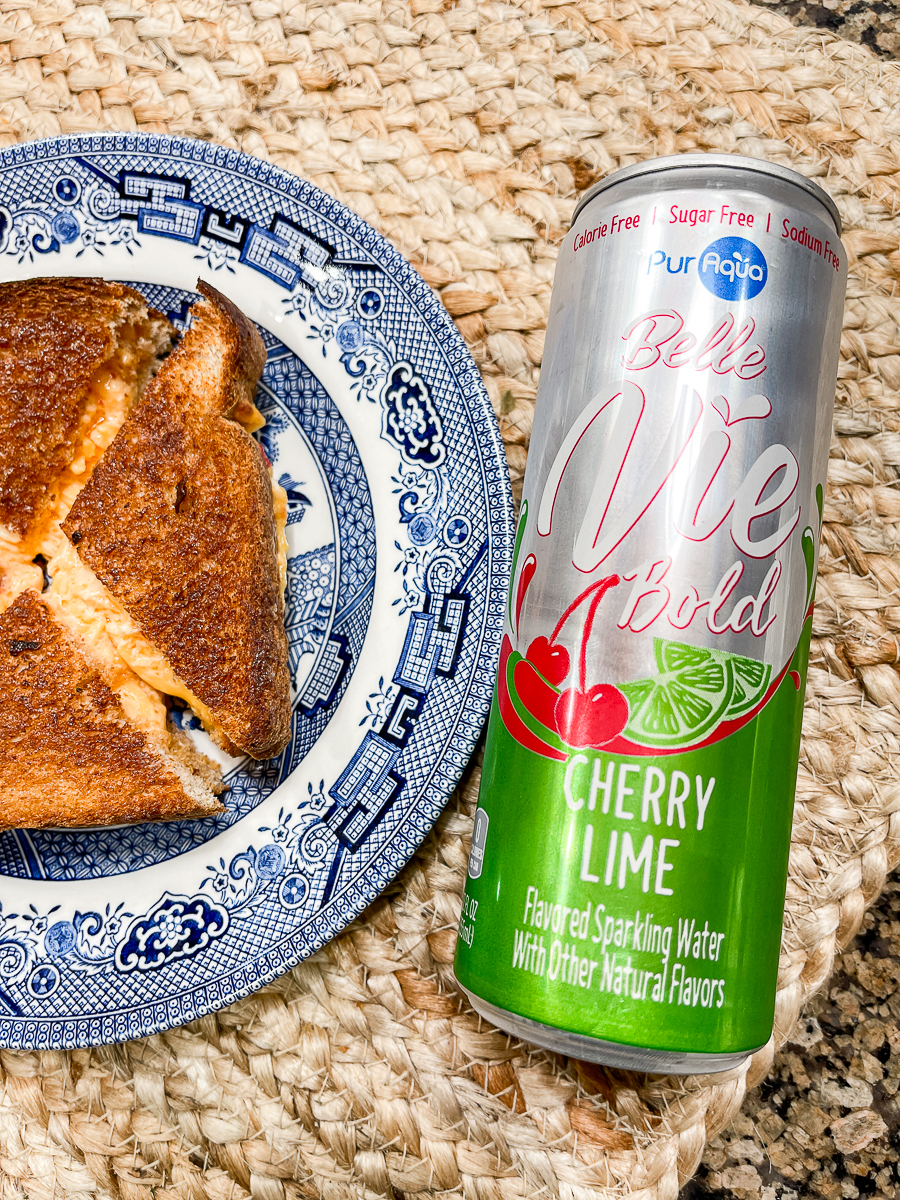 I average 1-2 of these sparkling waters per day. There is no sugar, nothing diet, and no caffeine. They're hands down our favorite Aldi purchase.
On a typical day, I have one cup of coffee with my collagen powder, 1-2 sparkling waters, and lots of regular water. I will occasionally drink a glass of wine while cooking dinner.
We are still experimenting with our air fryer. We made a grilled pimento cheese in it, and it was fabulous! I need to do a blog post on it.
Spread mayonnaise on each side for even browning. No, it doesn't taste like mayo. Add your pimento cheese. Air fry at 375 degrees for 5 minutes on each side.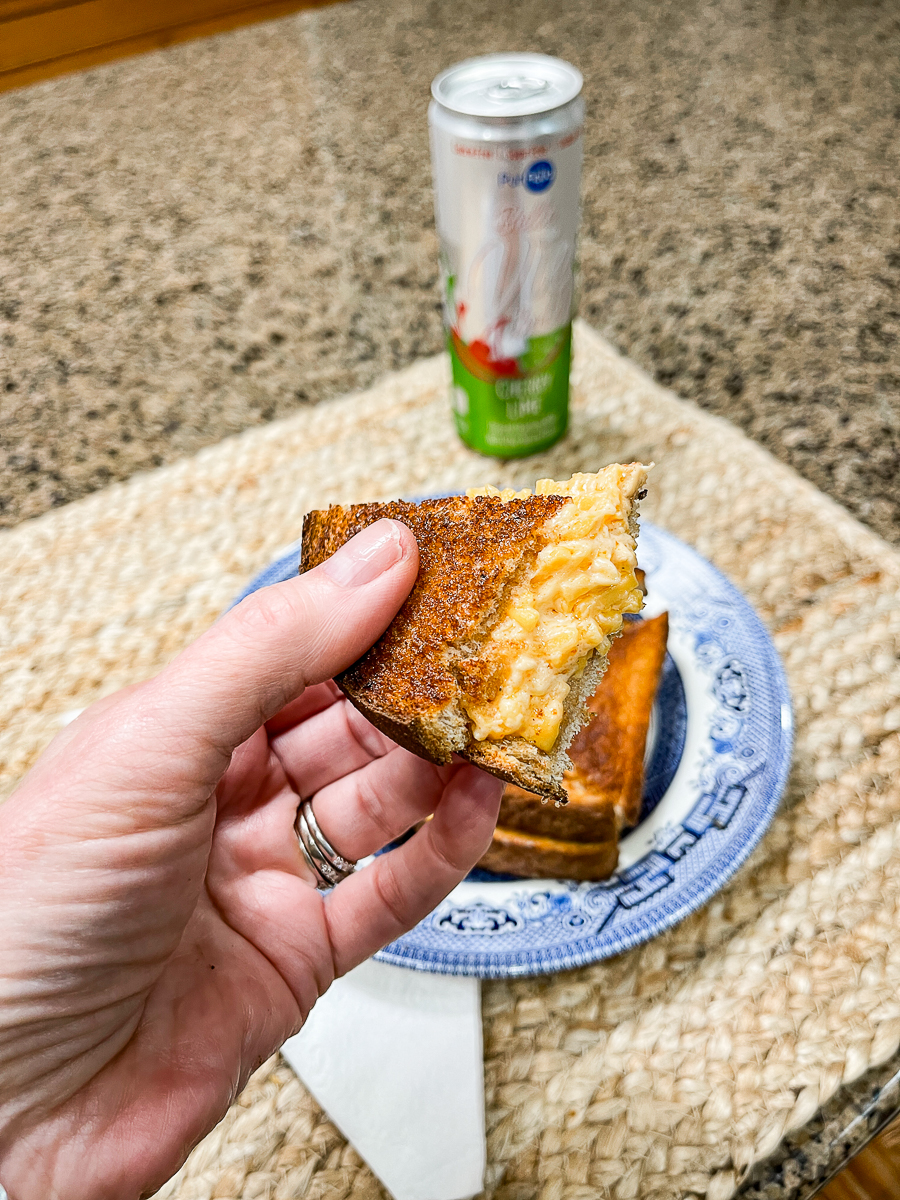 It's so yummy!!!!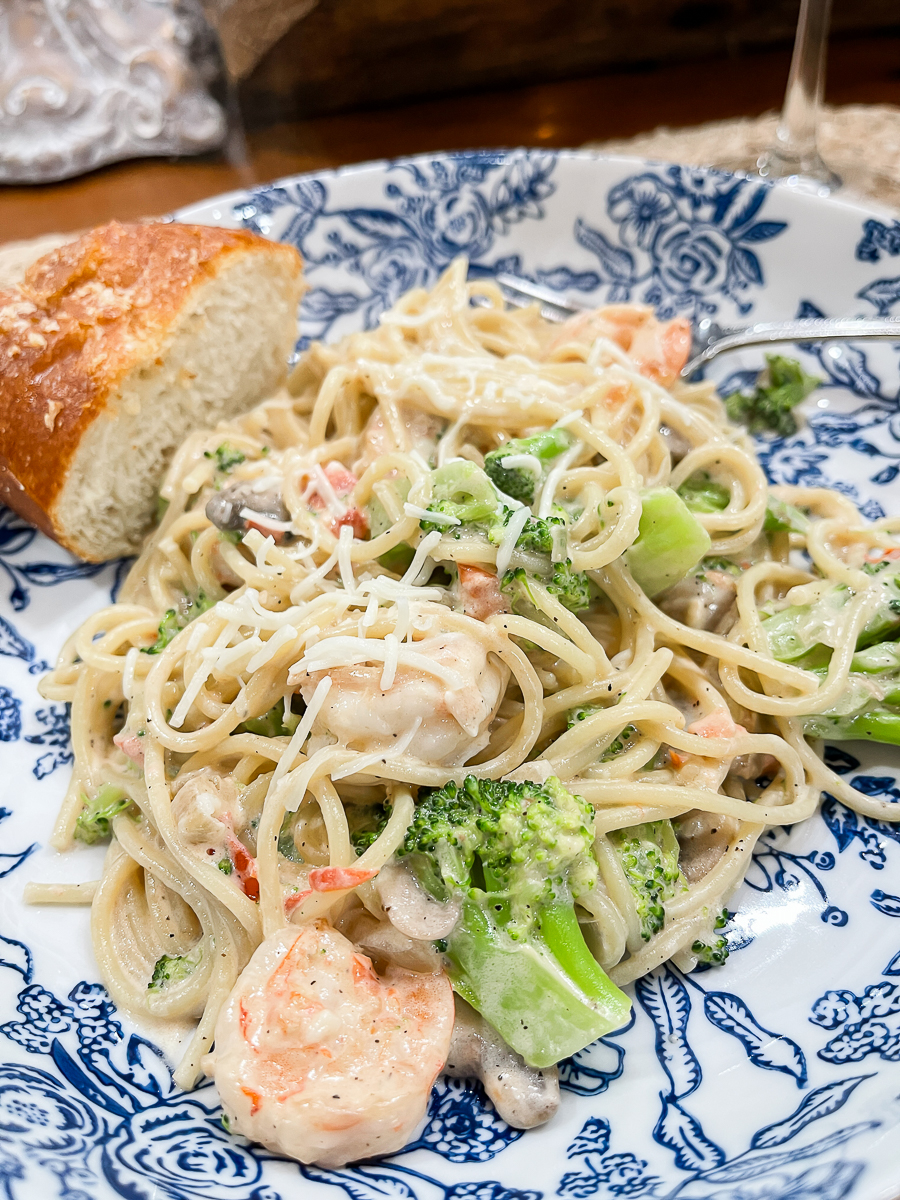 Rarely do I make a pasta dish by following a recipe. I pretty much create as I go. I like to use what I have. It's great for a quick night.
My family loved this one. Ashlyn even said that it was her new favorite. Now I just need to recreate it for a blog post.
I try to keep a bag of frozen, uncooked shrimp on hand.
Other ingredients are spaghetti noodles, broccoli, onion, garlic, mushrooms, heavy whipping cream, Italian cheese grated mixture, salt, pepper, butter, and a little crushed red pepper.
Ashlyn's 23rd Birthday
Ashlyn turned 23 at the end of January.
We started the day off with a full breakfast on the special birthday set that they've used since they were kids. I can't believe that they haven't been broken!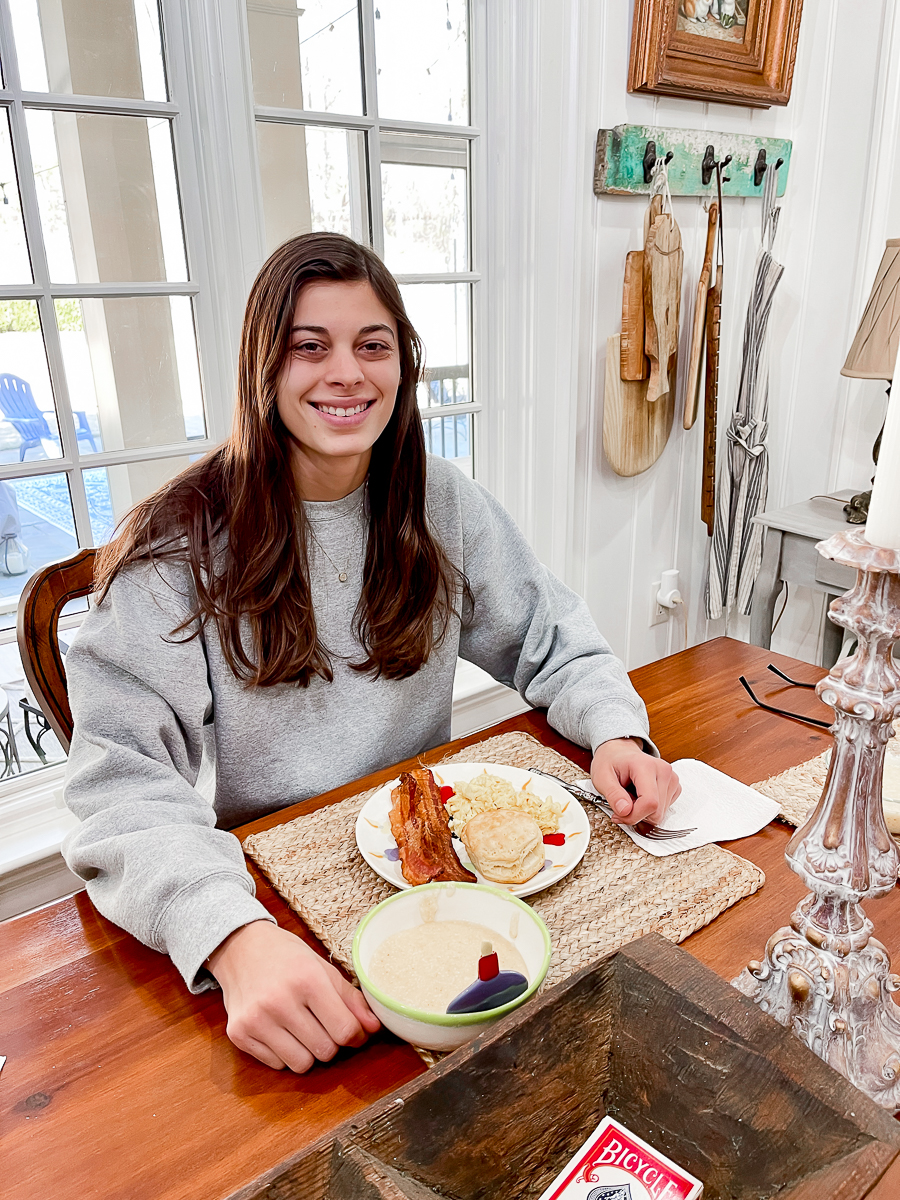 She's a grits snob and made them for us. She got it down to a science. They are the best stovetop grits. Note to self, to have her write a recipe.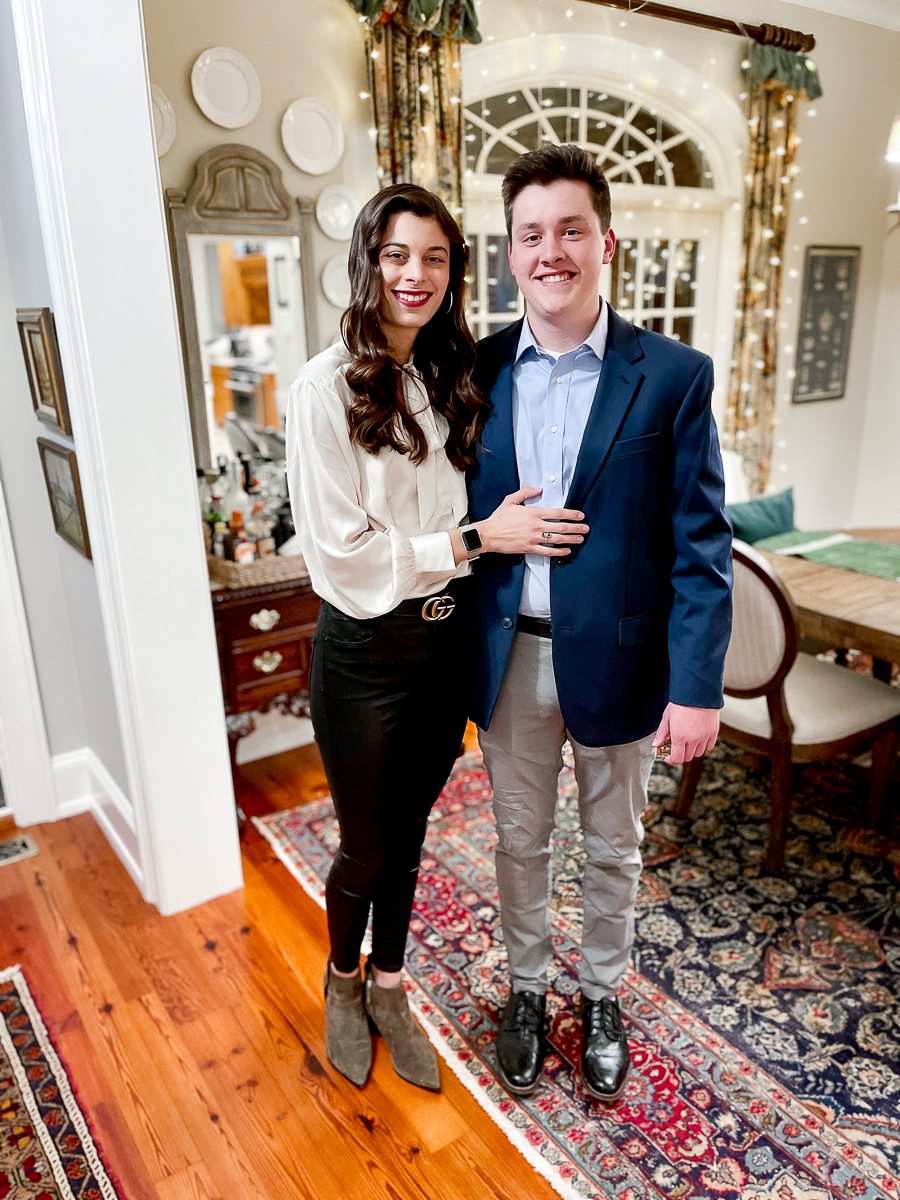 Ashlyn Bow Blouse | Tim's Blazer | Curtain Lights
I have the blouse in a small and Ashlyn has it in a medium for length. I'm 5-5ish and she is 6 feet.
Later that evening, Tim picked Ashlyn up for a fancy dinner in downtown Greenville. Tim looks handsome in the blazer that we gave him for Christmas.
The next evening, we had a family birthday dinner at mom's house.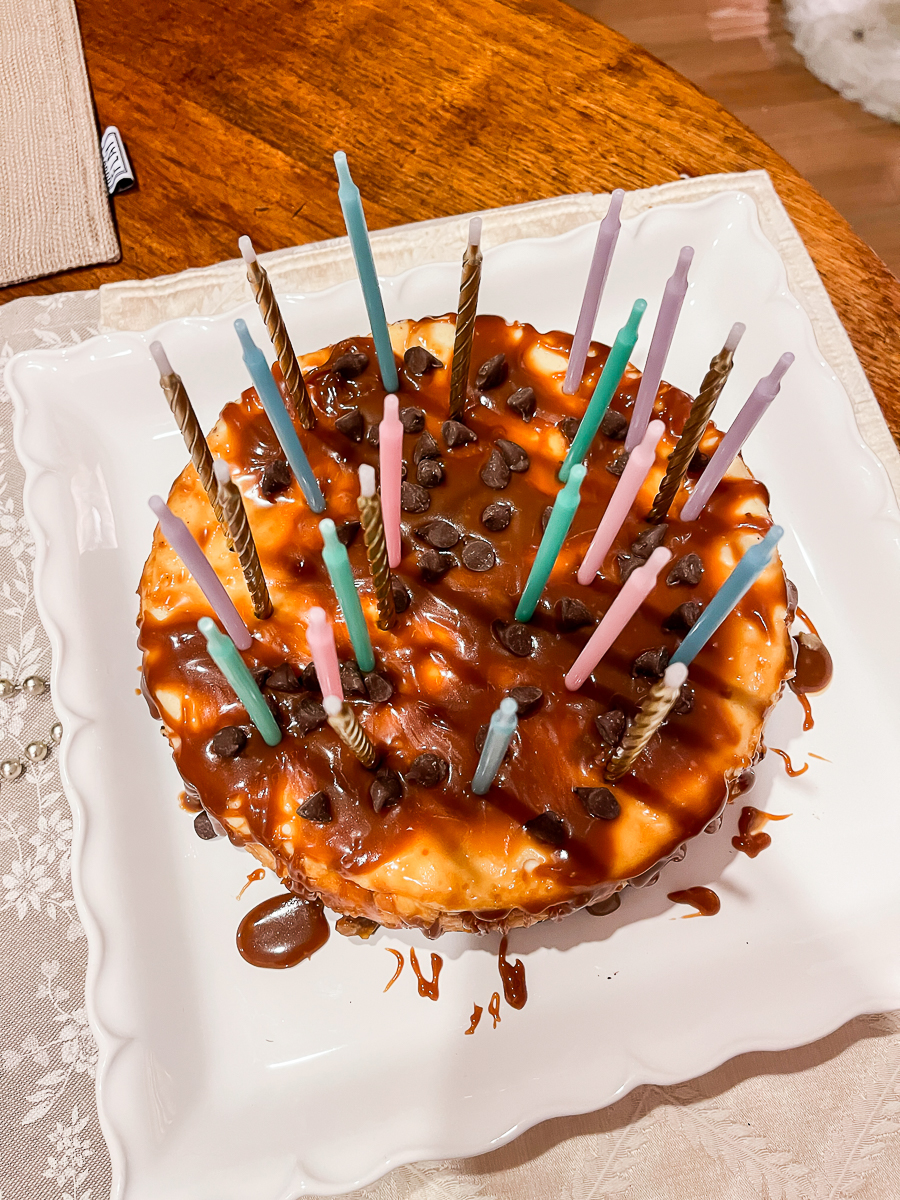 Ashlyn requested a cheesecake this year for her birthday. We looked together and decided on this recipe. It was my very first cheesecake. Y'all it was simple AND so incredible good!
Next Saturday is the big day! We are going wedding dress shopping!
What I'm Reading
It Ends With Us: This book draws you in immediately. I am enjoying it. I will warn you, it does have a bit of language and some cover your eyes sexy moments. It's a New York bestseller, and I can see why. I can't put it down.
What We've Bought
What Caught My Eye
This air fryer appetizer looks so good!!!
This fireplace is gorgeous!!!
Gray hair inspiration!
I'm pretty obsessed with this neutral fashion look for spring.
This bar area is gorgeous from the wallpaper to the blue cabinet color.
I hope you have an amazing weekend! XO,Christy
Buffer