Saturdays on the Porch #29
Saturdays on the Porch #29 featuring this week's fashion looks and more from Our Southern Home for life and home.
Happy weekend to you! I can't believe we are about to close out October! Do you have big Halloween plans? Nothing here. We will just hang out and maybe watch a movie.
We've definitely been having serious fall temps the last couple of days, and I am loving it.
I've worn light weaters several times and actually wore booties for the first time this season! Y'all I seriously love sweater season.
Latest at OSH
Saturdays on the Porch #29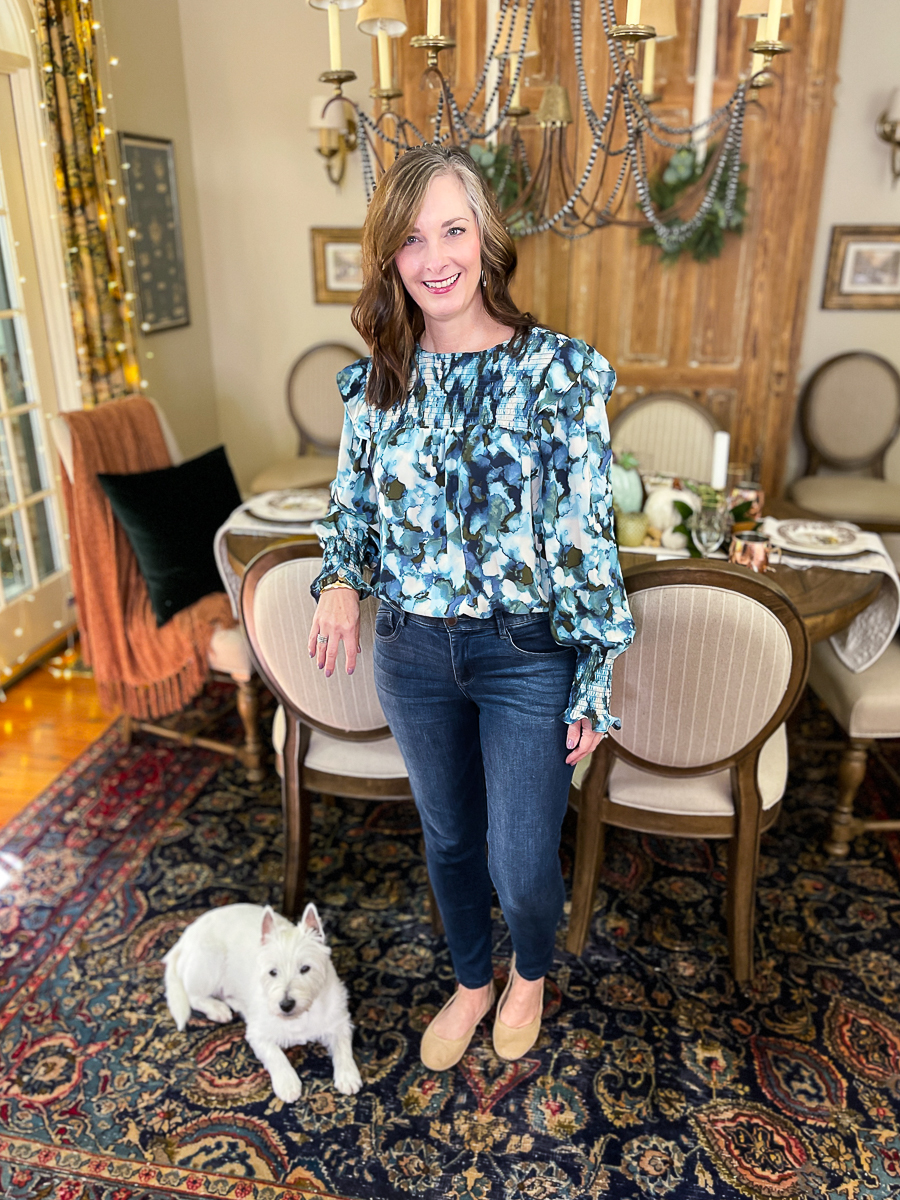 Smocked Blouse | Jeans | Ballet Flats | Gold Bracelet | Earrings | Curtain Lights
With the weather starting to get cooler, you may see more indoor photos on the occasion than porch fashion shots for fall and winter.
Just know that the concept of the "Saturdays on the Porch" is that of a few friends hanging out and chatting about the week.
Maybe it's the little girl in me, but I love a pretty blouse with smocking. I find it romantic especially when ruffles are added. I have an upcoming sponsored post with Belk, and this blouse is part of the campaign.
Y'all I love this blouse for fall. I can wear it to church with pants or a skirt, but I really like it paired with jeans and ballet flats. It will be a pretty look for Thanksgiving dinner.
The jeans are the ones that are on repeat. They have stretch and are very comfortable.
Fit Tip: I am wearing a medium in the blouse. I probably could have worn a small, but I like the length and fit. I could easily wear it untucked and it falls mid-hip. The jeans are true to size 8. With the ballet flats, I size up a 1/2 size in them. I have these in 3 colors.


Yesterday, Ashlyn and I went to the mall for her to find a couple of dresses. She needed a white dress for her December graduation from Clemson, and a dress for her engagement photos with Tim.
I wore this green sweater and love it. I am sorry that I don't have a photo of me in it yet. I have it in a medium. The sleeves are long, but I like the way it fits around my hips and waist.
Ashlyn is a bit over 6 feet tall. Finding clothes and shoes can sometimes be a challenge. She doesn't wear heels mainly because she doesn't want to be taller than her fiance. She is very casual and just not a heel girl.
She found this white dress for graduation. The length is perfect. So many above-the-knee dresses end up being just too short. She discovered that misses dresses are a more appropriate length. This dress is such a classic. She will probably be able to wear it to some bridal activities.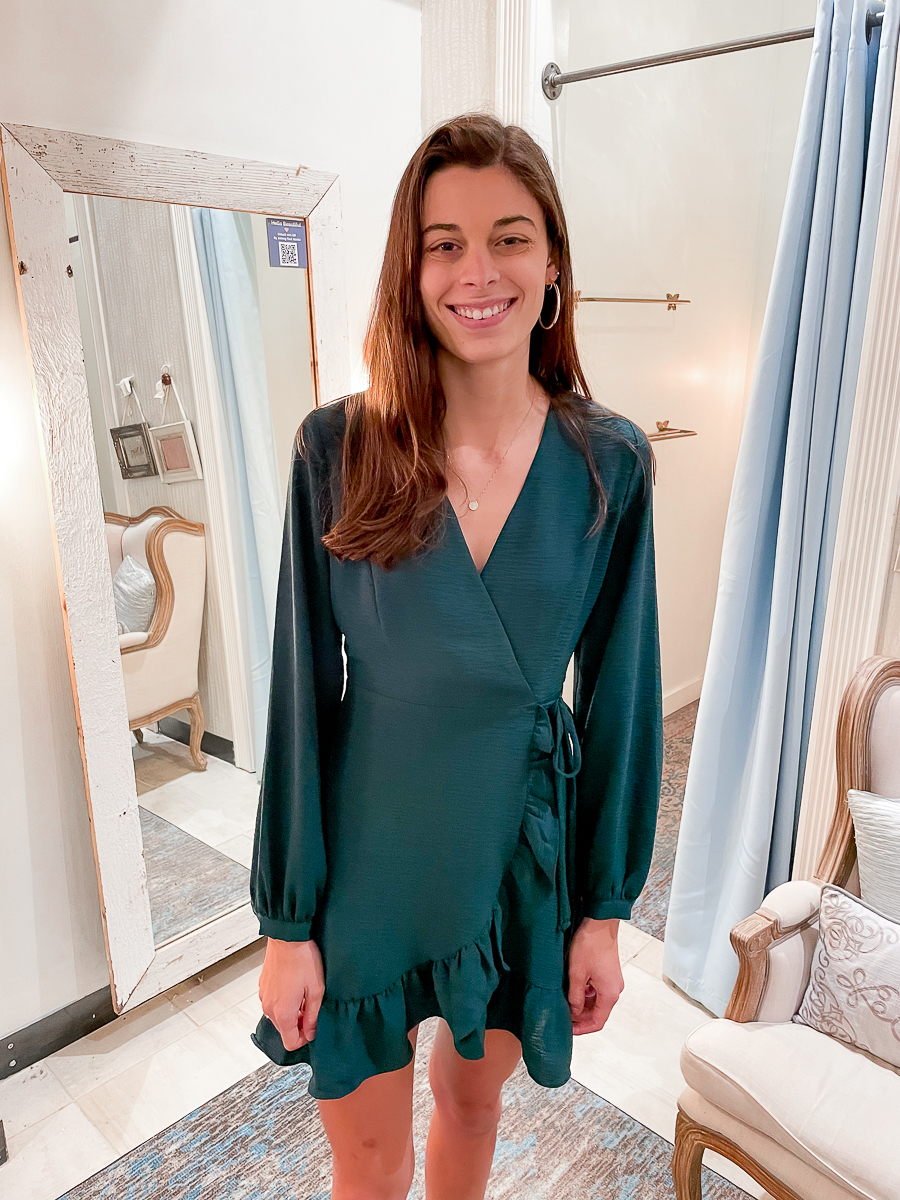 This ended up being the dress that she picked for engagement photos. It is totally her. She really wanted something long, but we just couldn't find anything that looked like her. She is wearing a size small.
The plan is to take photos outside in the next week or two while we still have fall leaf color. The wedding photographer that they have booked includes engagement photos. They will use these pictures for save the date announcements.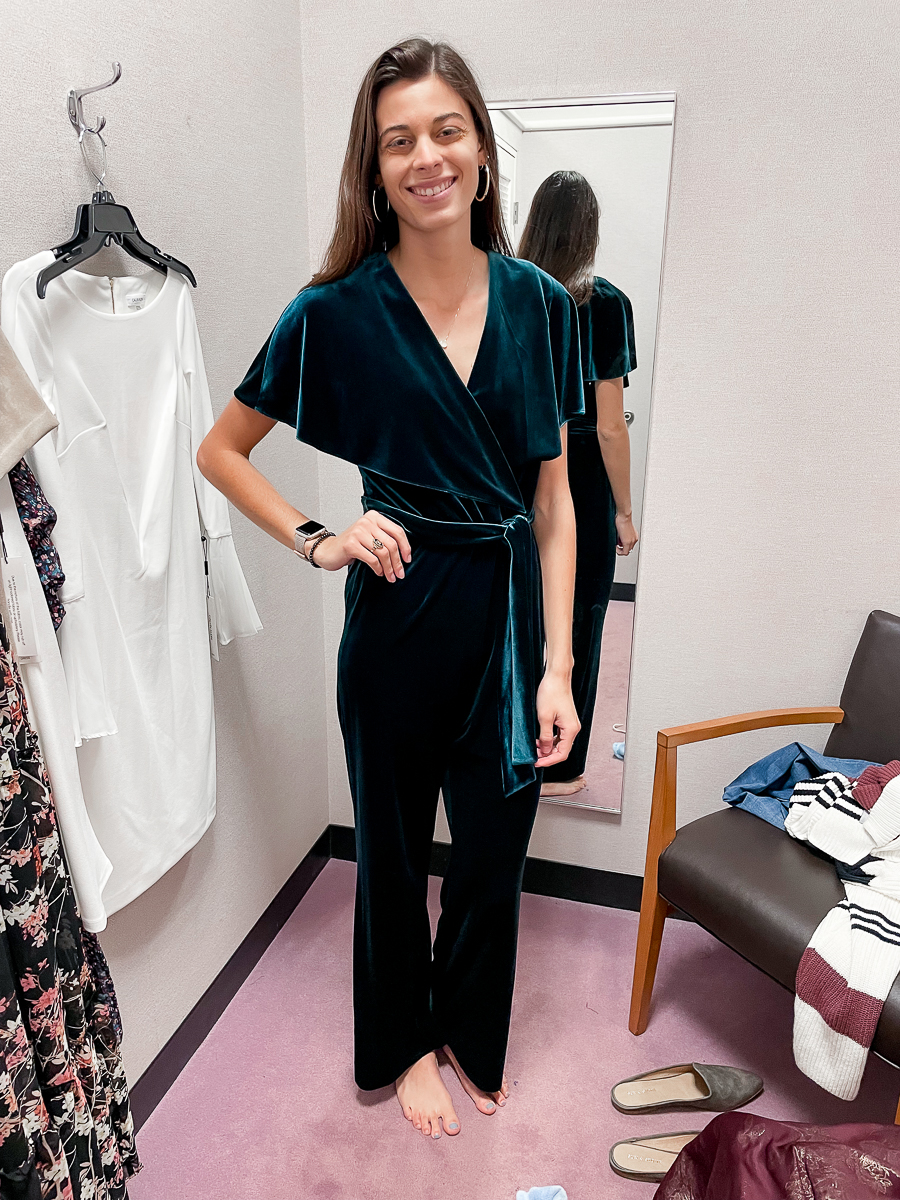 She tried this jumpsuit on just for fun. It is stunning! If you are looking for the perfect holiday outfit, this is it! It comes in green and black. It is so classic for many years of wear. Ashlyn is wearing a size 4.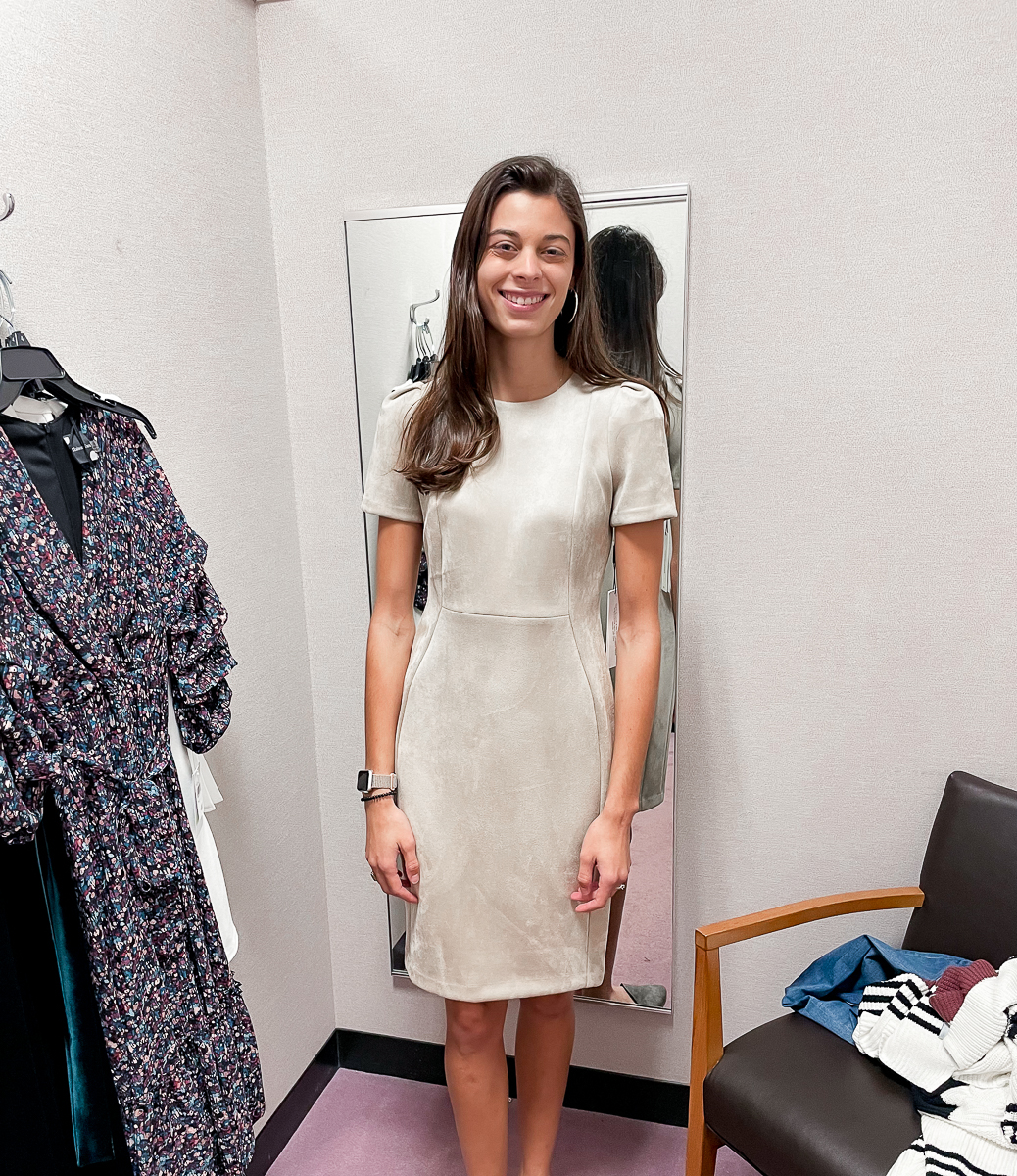 She loved this dress! Ultimately, she felt it was too business-like for the photos. She would love to add this to her closet for the work world. It's a lovely faux suede. She is wearing a size 4. She could possibly go down a size. We weren't serious about it so, she didn't try a size down. Might be a good Christmas present for her.
What shoes to wear became the issue. This is a MAJOR struggle with her in that she has a narrow foot.
Last night I ordered her this pair of Rothy's ballet flats in the ecru color. I did order her a 1/2 size larger due to the points. They will work with her white graduation dress and the green engagement dress. She may wear brown booties with the dress, but this will give her an option. They also have a rounded toe option. They are pricey, but we bought her this pair of leopard bootie sneakers a couple of years ago. They still look new, and she wears them all the time! They are true to size. She says they fit like a glove.
I need to go shopping with Woods soon to get him something snazzy to wear for Graduation. They are graduating together. You know what I really hate about it. With Covid, they will not graduate at the same time. Each degree has its own graduation that day. So we get to go to 2 graduation ceremonies in 1 day! Hers is at 9 am and his is at 5 pm! UGH!
Meals this Week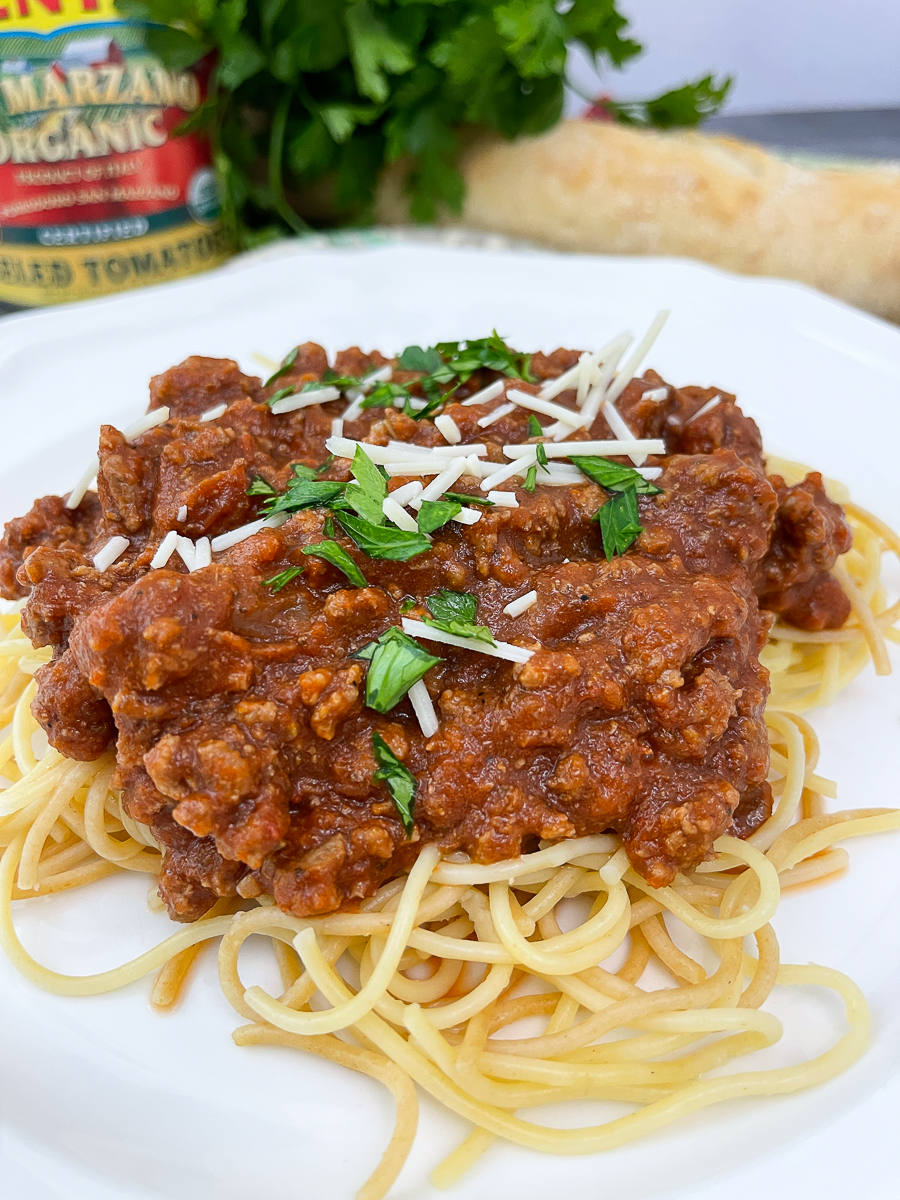 This week we had this spaghetti and meat sauce dinner. This is my mom's recipe and so good!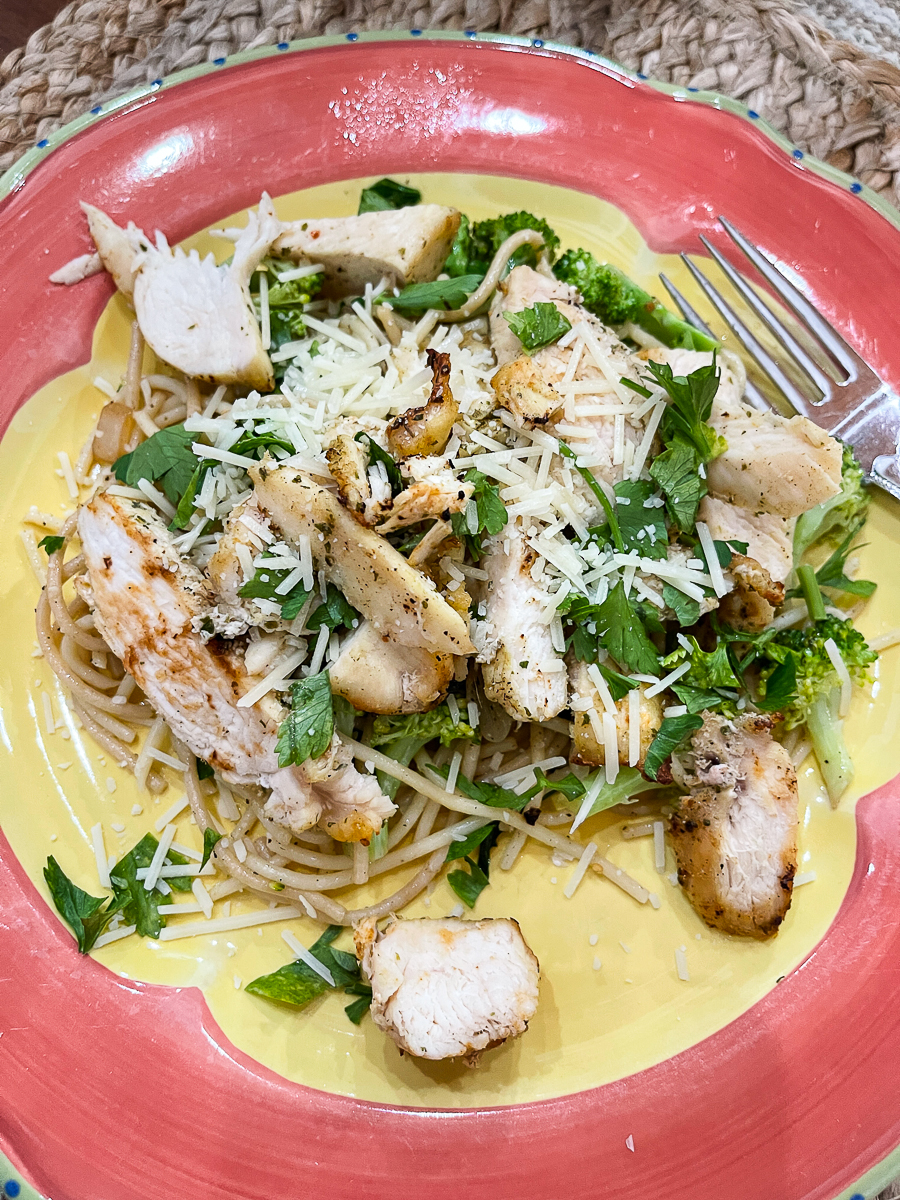 We didn't have any leftover sauce, but I had a lot of spaghetti noodles leftover.
Mid-week, I threw together this simple pasta.
I seasoned the chicken breasts and cooked them in the air fryer.
I sauteed some garlic and onion in a pan. Then I added some small pieces of broccoli. Lastly, I threw in the cold noodles and kept tossing with a little olive oil, salt, and pepper until heated through.
Slice the chicken breasts.
Serve the sliced chicken on a bed of pasta mixture.
Top with a sprinkling of chopped Italian parsley and grated parmesan cheese.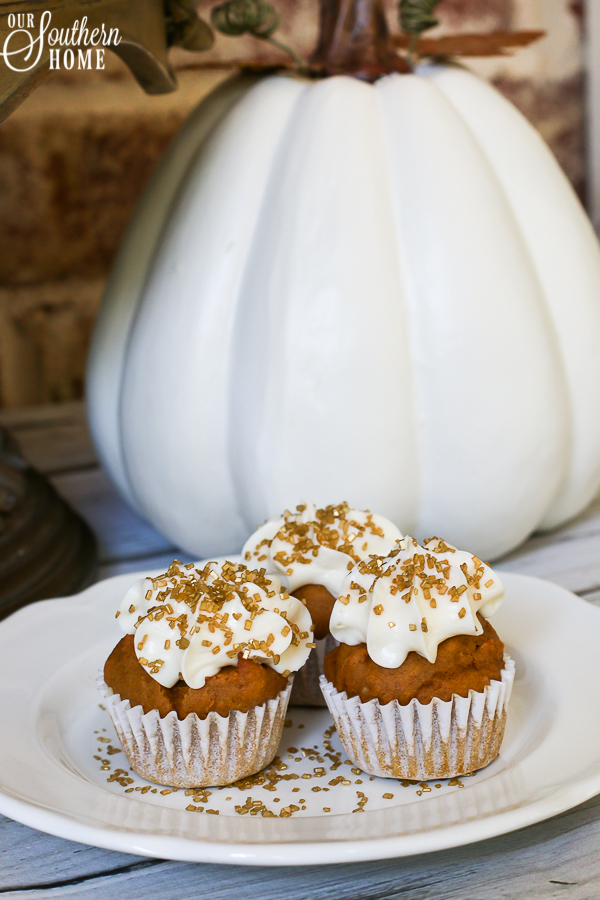 I also made these Semi-Homemade Pumpkin Cupcakes.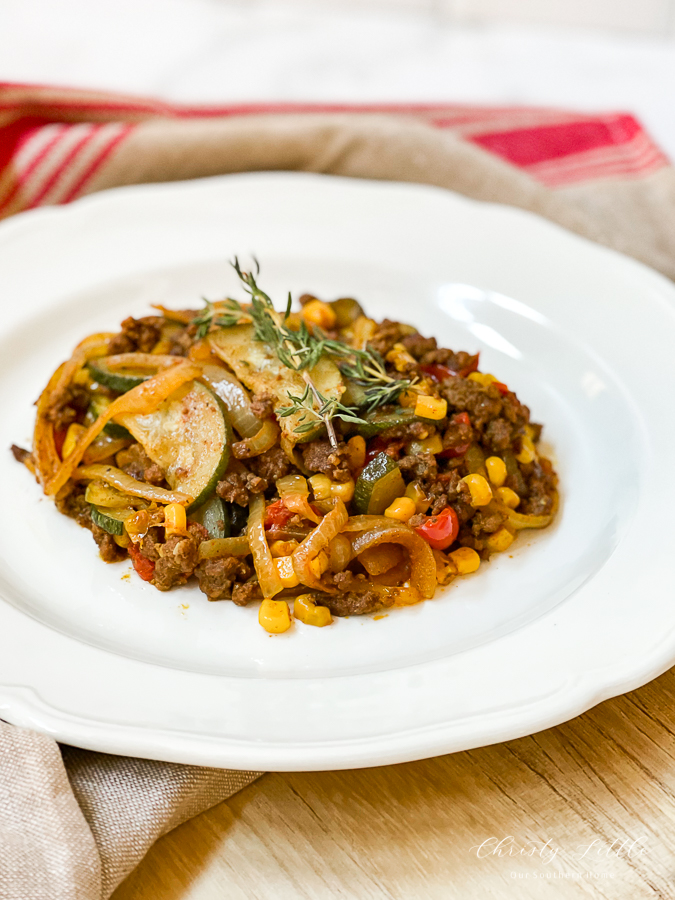 Tonight we are having this veggie and ground beef skillet recipe.
What I'm Reading
Coming Up on the Blog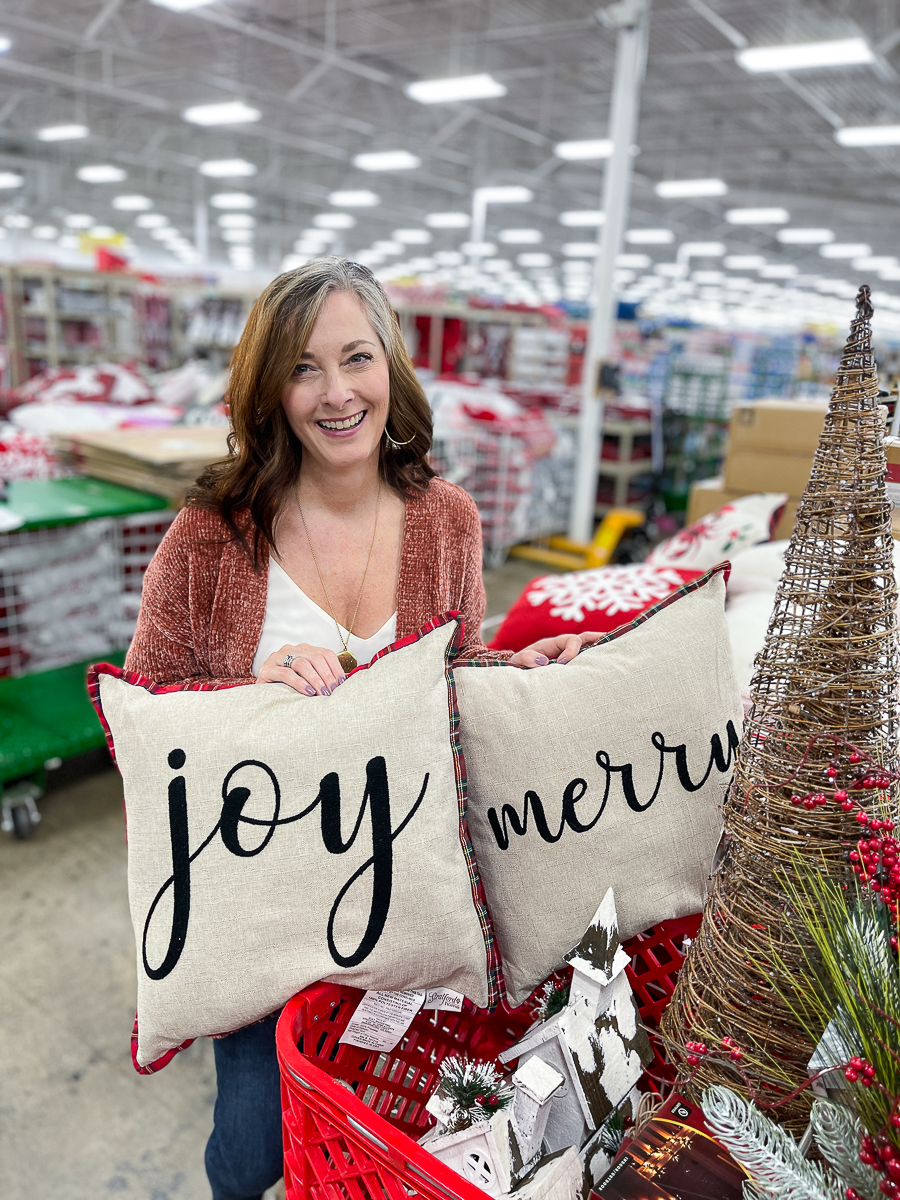 Wednesday, Ashlyn went with me to Old Time Pottery. I had to go shop for an upcoming front porch post with them. If you have one close by, be sure to go check them out. They are fully stocked for Christmas and have tons of lights in stock. Their prices are so good!!!
I've got a Thanksgiving Tablescape with Belk this week. I love how it turned out and can't wait to share it with you.
What Caught My Eye
Wallpaper is all the rage right now, but I love this stenciled wall instead!
I love a great vignette with blue and white for fall. I want that pheasant!!!
I Became friends with Francios while partnering with The Container Store. His account is so pretty. He just bought a cabin to move to. I'm enjoying the journey of them making it their own.
This is a beautiful sunset!!!
I hope you have an amazing weekend!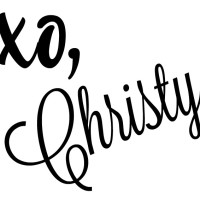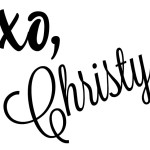 Buffer