Dressing Room Diaries (September)
Dressing Room Diaries (September)
Hi, friends! I've got a bit of a different post for you today…..the start of something new. I hope to do this 1x per month. I adore fashion that doesn't break the budget!
Each month I'll bring you my favorites from the comforts of home or from the actual store dressing room. This month I went to Target. I haven't been there in years. I was so impressed with the quality and the pricing. I'll definitely be back. Below you'll find my Target finds as well as a few more that are budget friendly.
I will be 51 in December. I finally found a plan that has taught me how to eat right and have lost weight. It's definitely a lifestyle plan. I've lost 14 pounds and feel great……..no shakes, drinks, pills or special foods. You can read about it here.
I am typically a small or medium in tops and size 8 in bottoms. I am 5-6.
If you are on Instagram, you can go check out my story Target highlights. There is actual video footage showing the items in the dressing room.
This post contains affiliate links for your shopping convenience. If you order, it costs you nothing more. The company just pays me a small commission.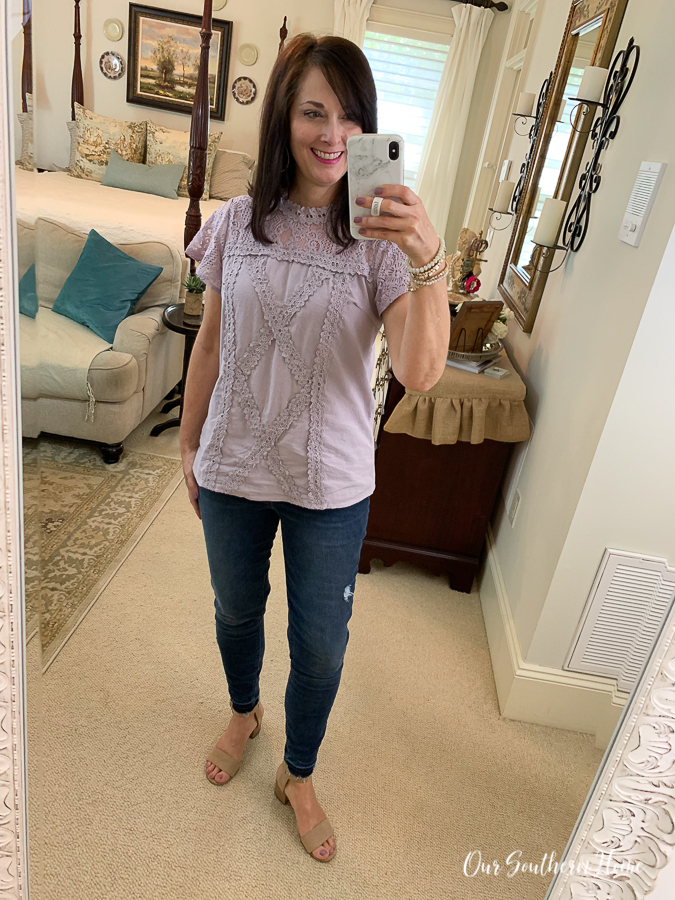 Lace Detail Top | Pull On Denim (I size up) | Similar Sandals
The top is from Amazon. I've been eying it since the spring. I finally caved and ordered it in a size medium. It's a nice loose fit without being overly boxy. It comes in several colors including long sleeved options. I am so in love with it. As the weather cools, I'll throw on a cardigan or denim jacket.
Fit Details:
Top – medium
Pull on Denim- I usually order up in Spanx to a large because I just can't stand suck you in tight, but adore Spanx! Spanx is so worth the extra cost. It lasts forever. I ordered these in a large back before losing some weight. I regret the large in these. I can still totally wear them, but they are a bit too loose in the legs, but again that's not a bad thing. They were a bit lose before losing weight so I should have bought my usual medium. I may end up selling these on Poshmark and ordering the medium.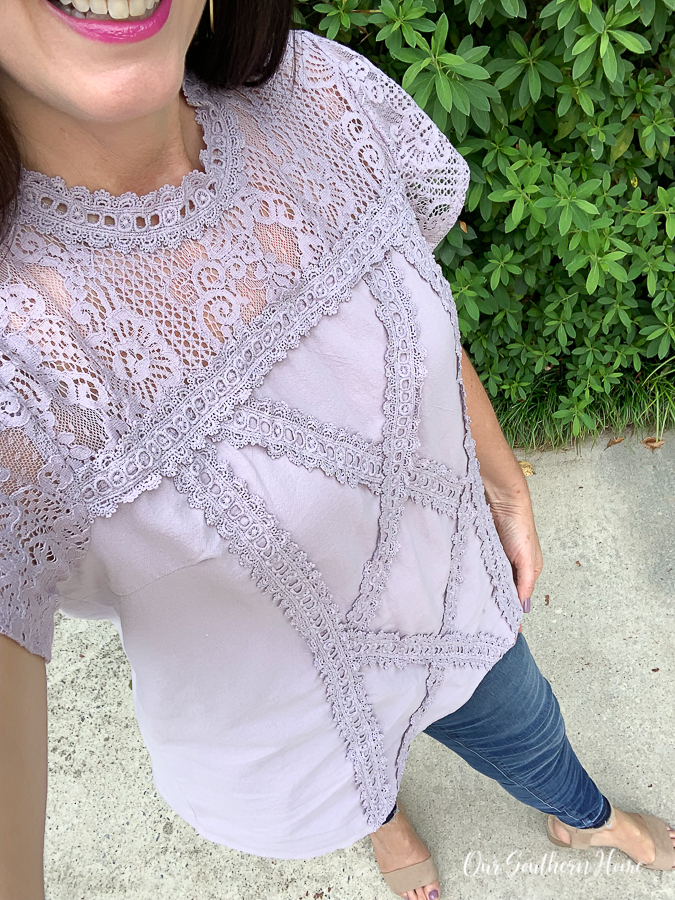 I just adore the vintage details! I also have worn this with my leopard flats.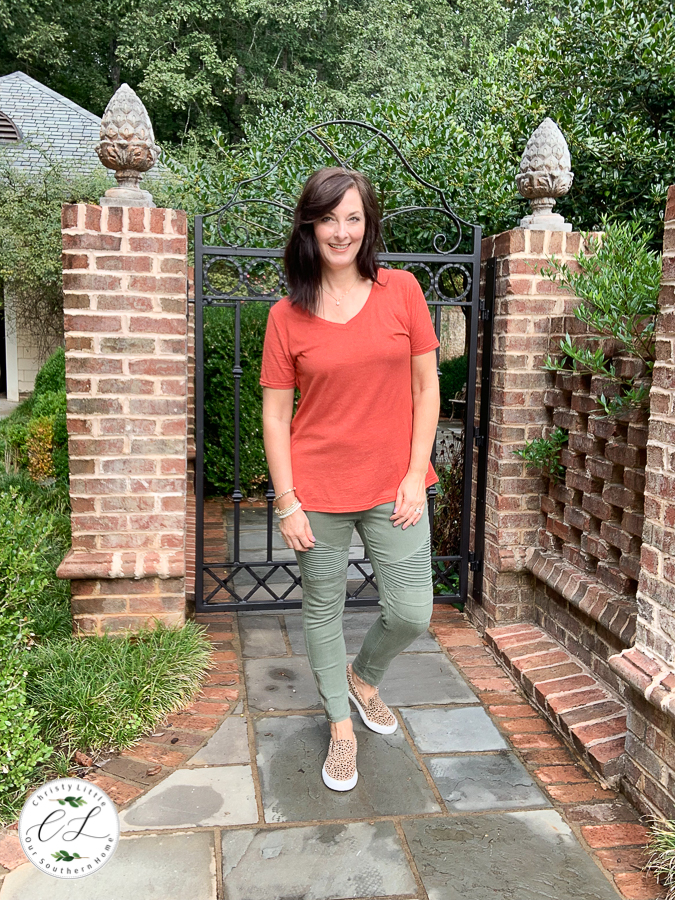 Basic T-shirt in Medium | Similar Motto Leggings | Similar Leopard Slip-On Sneakers | Bracelets
This t-shirt from Walmart is perfect! I'm wearing a medium. It's NOT fitted which I like. It's got a nice rounded v-neck which isn't low cut. I've had the motto leggings from Jane for a couple of years now. They are pull on style with a wide elastic waistband. Comfy running errands look! I picked up my leopard sneakers at Marshalls, but linked similar above.
Fit Details:
T-shirt- size medium
Jane Motto Leggings – medium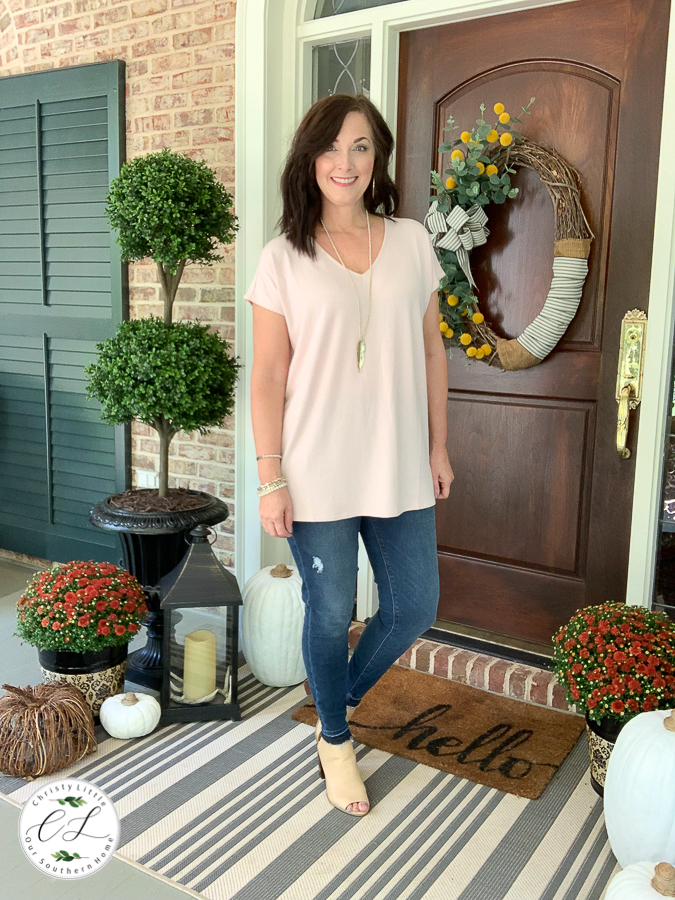 Knit Tunic T-shirt | Pull on Denim (same as in first photo) | Similar Necklace | Bootie | Rug | Similar Hello Mat | Similar Urns and HERE | Boxwood Faux Topiary | Similar Lanterns | Outdoor Faux Candles
This is my favorite Amazon fashion find to date I think. It sells out all the time. If your size and color is sold out, just click the button that says they will notify you when available. I am wearing a medium. It's a relaxed fit, but still gives you a shape. It comes in several colors and leggings appropriate. It's also a great layering piece for jackets and cardigans.
Fit Details:
Tunic Top – size medium
Pull on Denim – large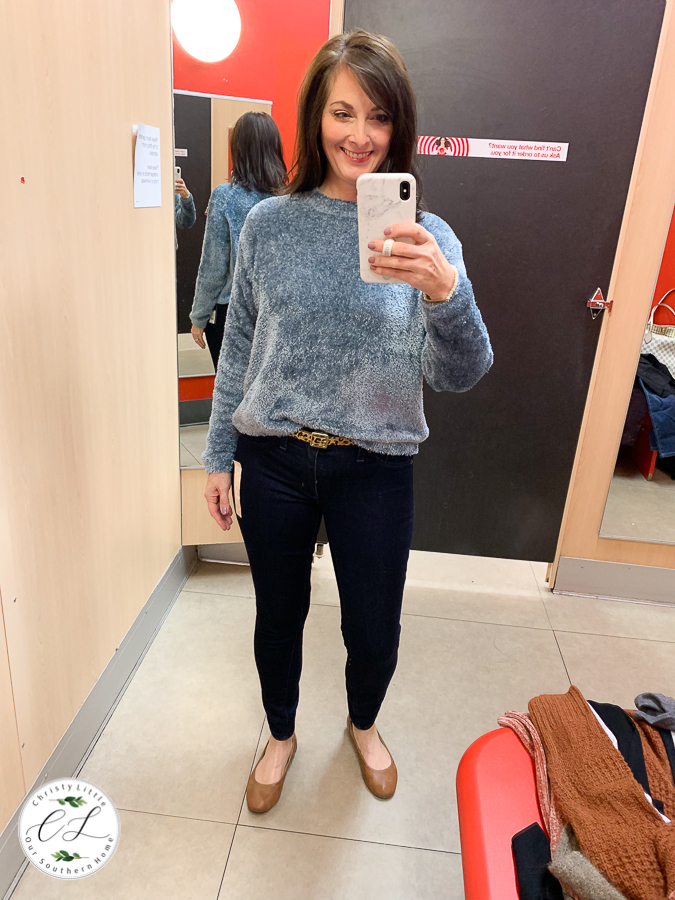 Velour Sweater | Dark Denim Jeggings | Carmel Colored Flats | Leopard Belt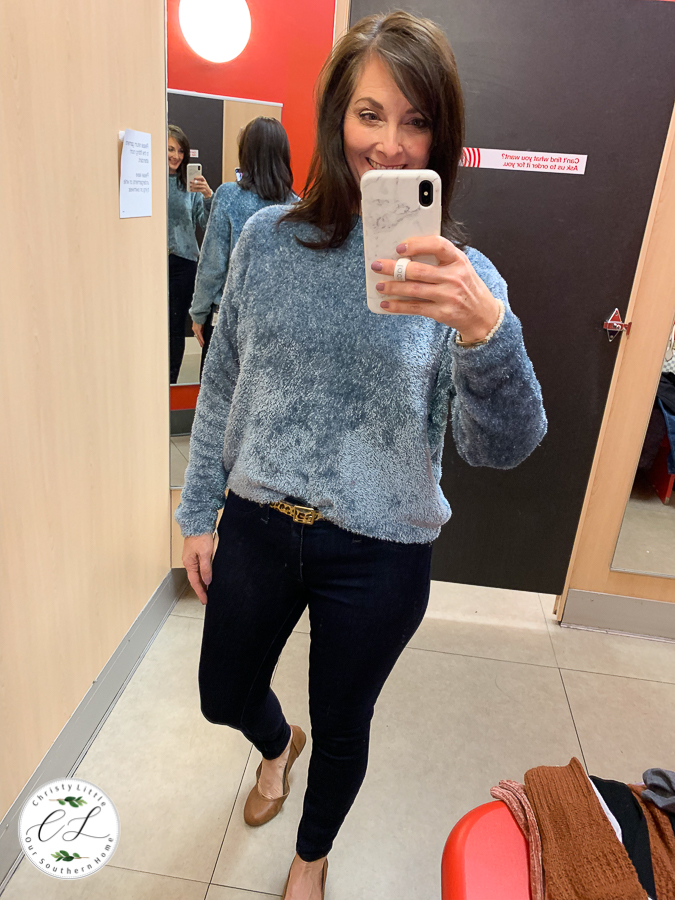 I can't wait for the cooler weather to roll in for fall. This sweater is so cozy and comfy!!! I love the length in that it's a bit different that I normally get. I tucked it in a bit in the front to show the leopard belt. The shoes are Amazon brand. They are touch wide on me, but i just added an insert in the front which helped. For under $20 they are comfy! The jeans are a stretchy jegging. I've worn them all day and they do not lose their shape. They are a bit higher so you can bend over without showing anything! They have belt loops and a zipper! I could have also worn a medium in the sweater if I wanted a looser look or longer length. This outfit went home with me! The jeans were on sale for $22!!!
Fit Details:
Sweater – medium
jeggings – size 8
flats- I ordered 1/2 size up for length based off of reviews. They were a bit wide, but corrected with an insert in the front. Love them!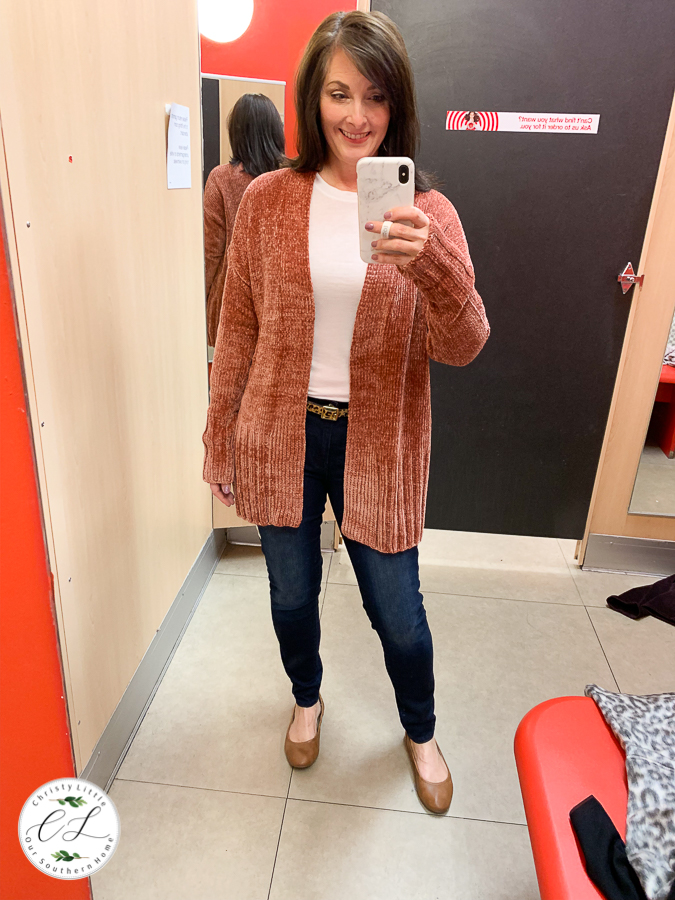 Velour Cardigan | Jeans | Long Sleeve White T-shirt | Leopard Belt | Flats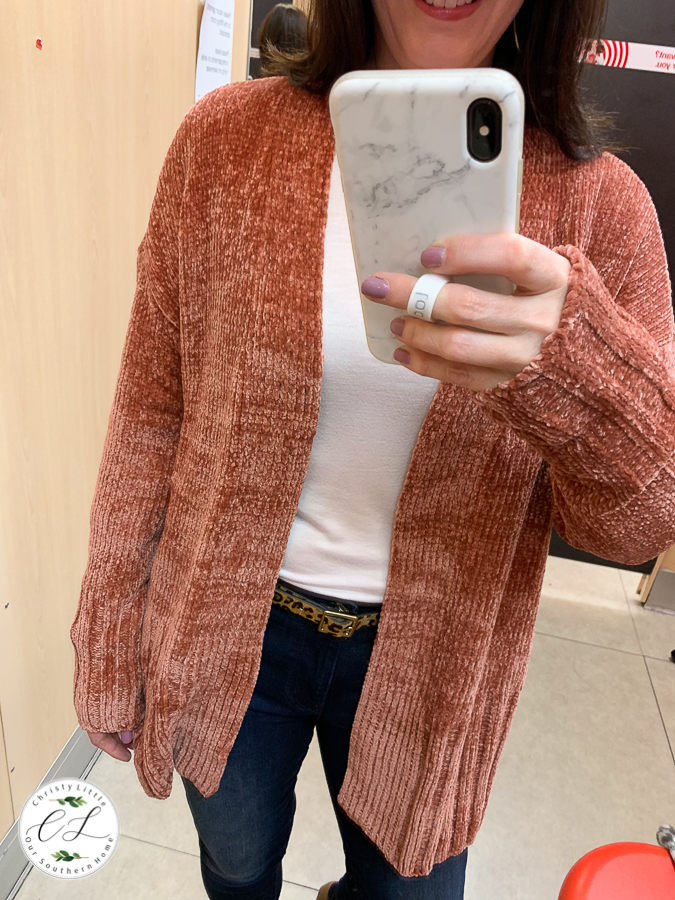 This is a Levi's brand at Target in the jeans and I love them. They have slight distressing down the front which is slimming. They are true to size and not the dreaded low waist! The long-sleeved t-shirt is comfy and a bit more fitted. It's a little thin on its own, but perfect with a sweater or vest for fall. It's the perfect weight for layering. The sweater in a medium is too big. If they had it in a small, it would have gone home with me! It's just so cozy. The color is a wonderful orangey rose.
Fit Details:
Cardigan- medium was too large….needed a small
Jeans – size 8
t-shirt – size medium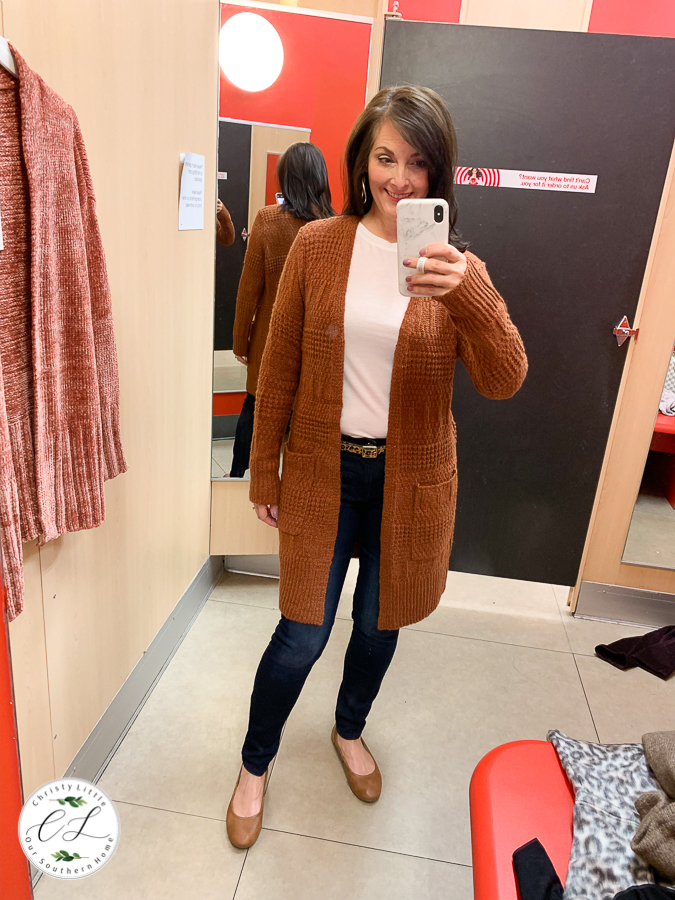 Long Cardigan | t-shirt | Jeans | Leopard Belt | Flats
Same outfit as above, but with a different sweater. I am wearing the small and it's perfect. I am in love with oranges for fall!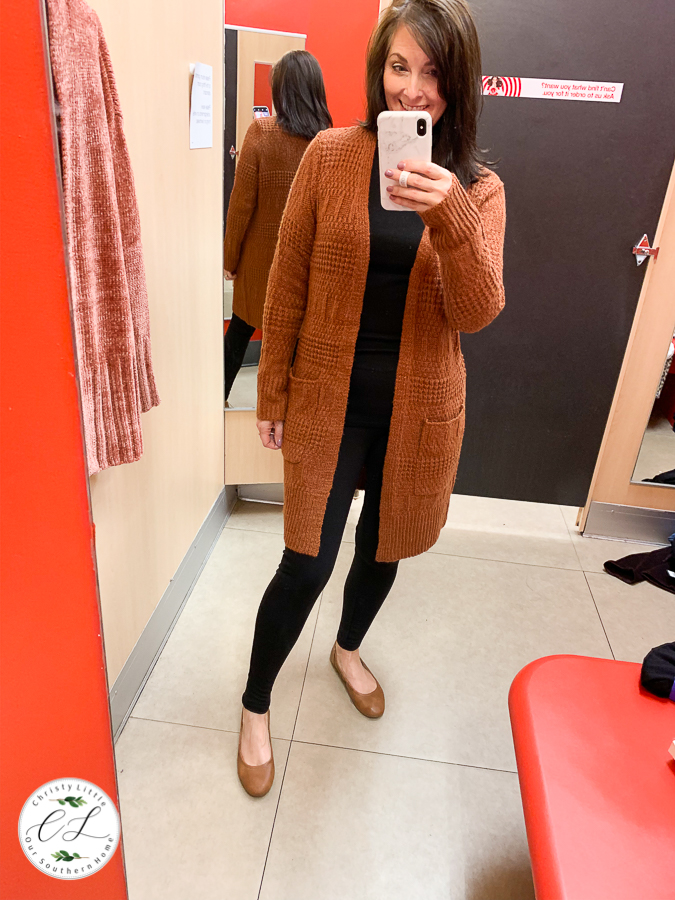 Long Cardigan | Leggings | Turtleneck | Flats
This is the same cardigan as above, but with leggings! Leggings are a staple for me in the fall and winter!
Fit Details:
Long sweater – small
turtleneck – medium
leggings – medium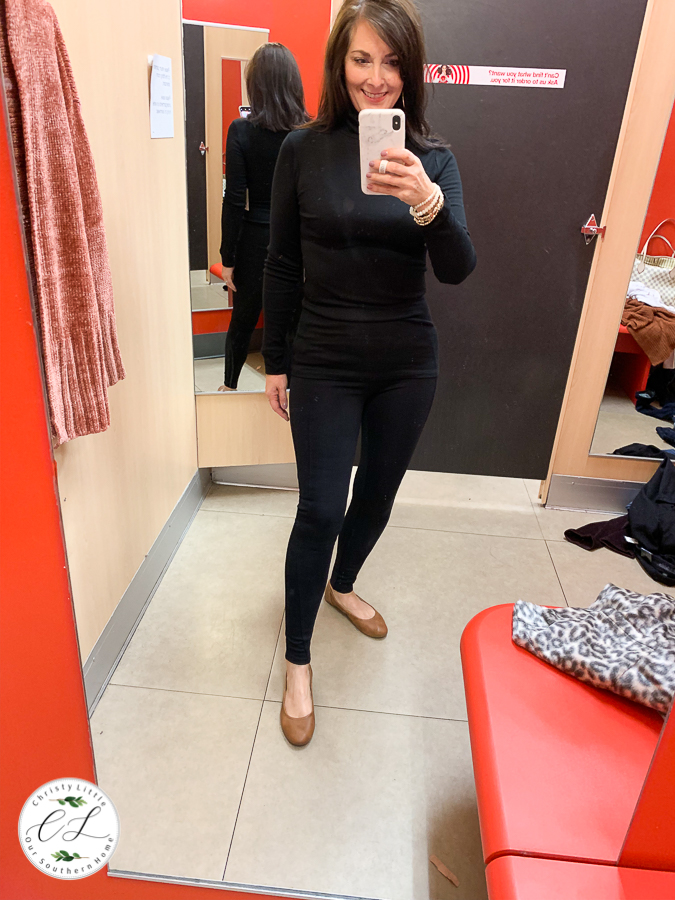 Turtleneck | Leggings | Flats
Now, I would never wear this look on its own. These are 2 staples that are great for cooler months. This look can be paired with a cardigan, vest, jacket or open front blouse. All shoes would work as well depending on the look you are after.
Fit Details:
Leggings – medium
turtleneck – medium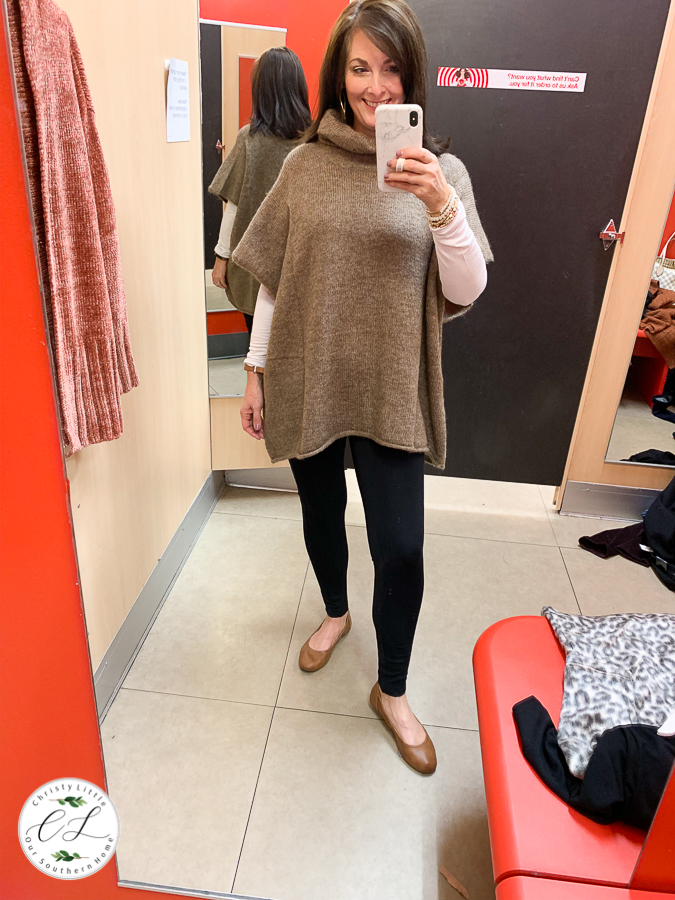 This pancho is so comfy and is one size! It's the perfect length for leggings. It would also look fabulous with the all black look above and a cute bootie.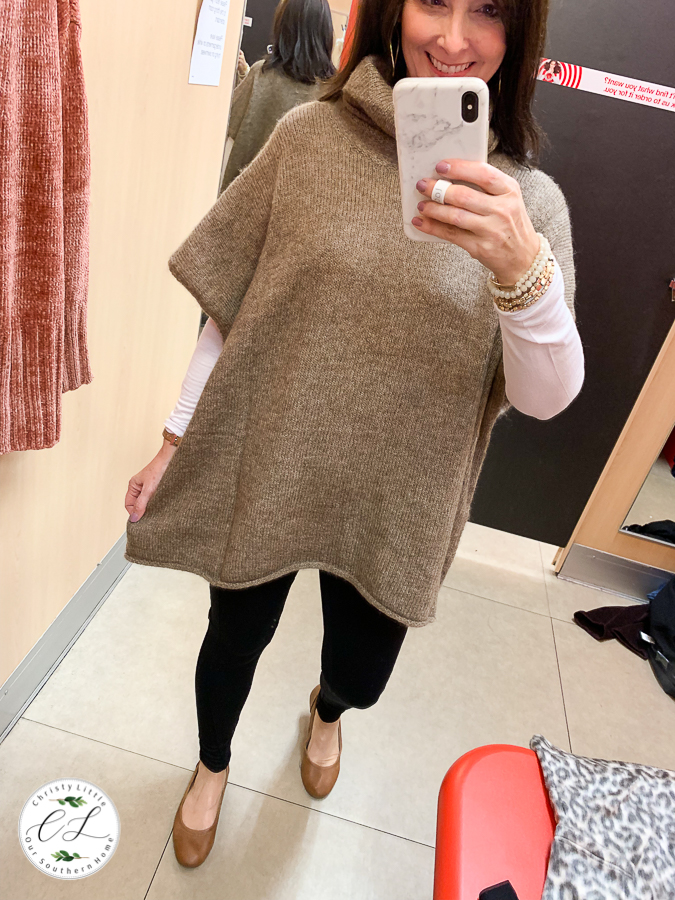 It's lightweight and not too bulky.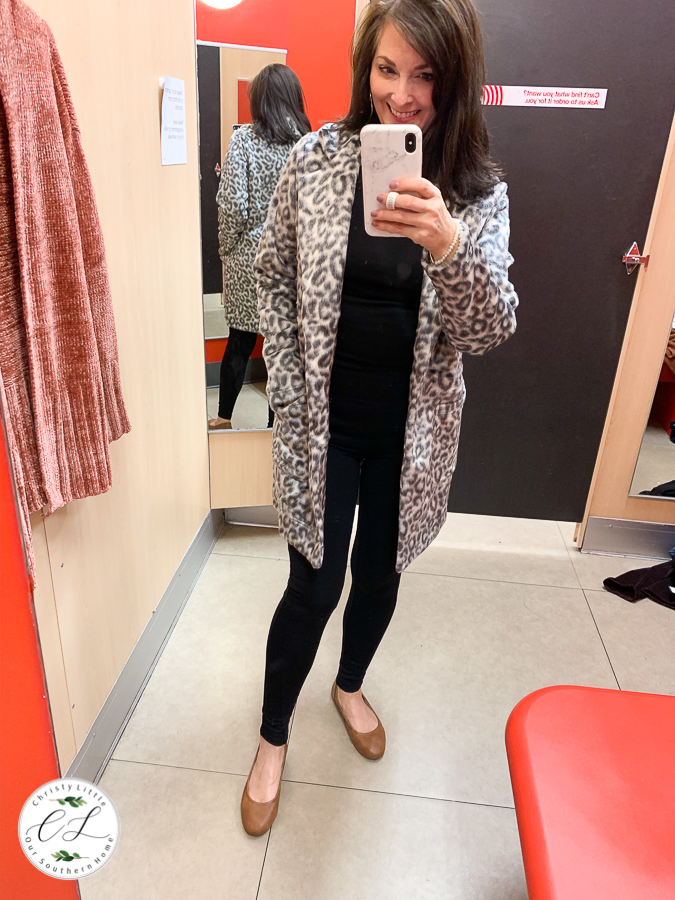 Leopard Coat | Leggings | Turtleneck | Flats
I am totally obsessed with all things animal print. This jacket is so fabulous. It's not a coat for warmth. It's more of a fashion piece, but here in the south….it will be just fine! Dressed up or down, I am going to get so much wear out of it!!! Fit Details:
Jacket- small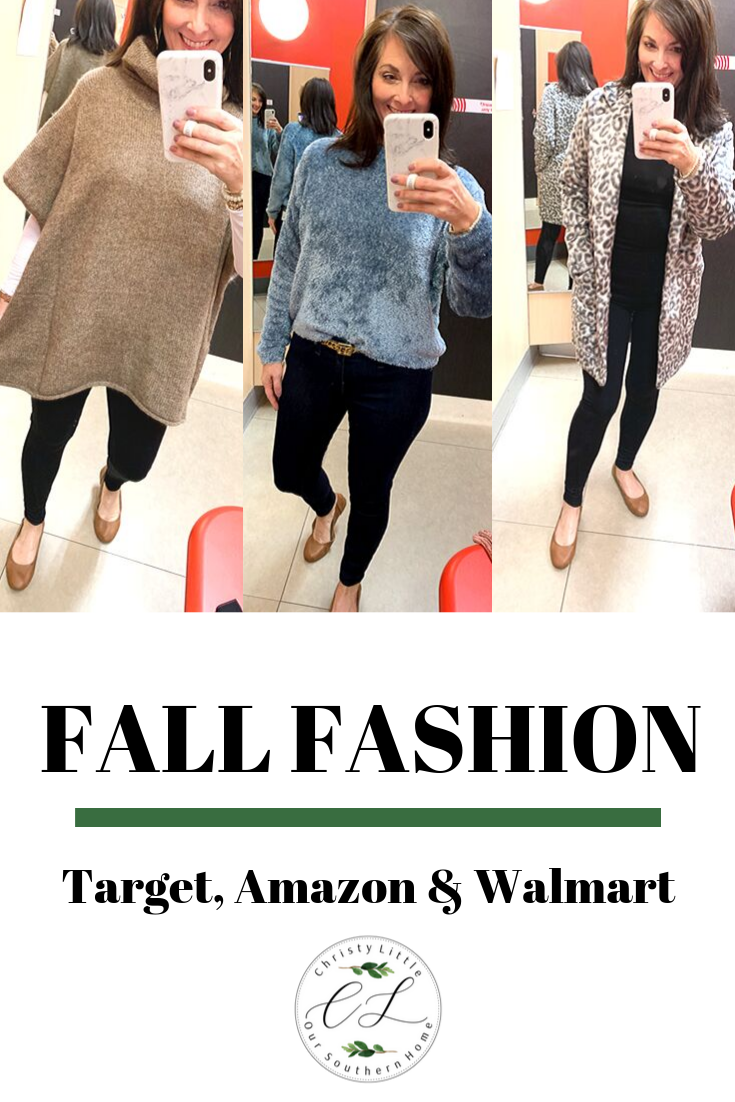 Have a wonderful weekend!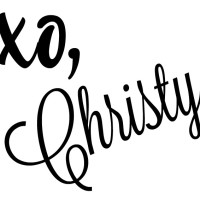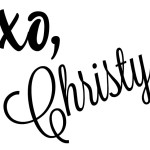 Buffer