Woodland Christmas in the Family Room
This year I decorated with a Woodland Christmas theme in the family room. It's so fitting with all the deer that we see around our home.
Latest from OSH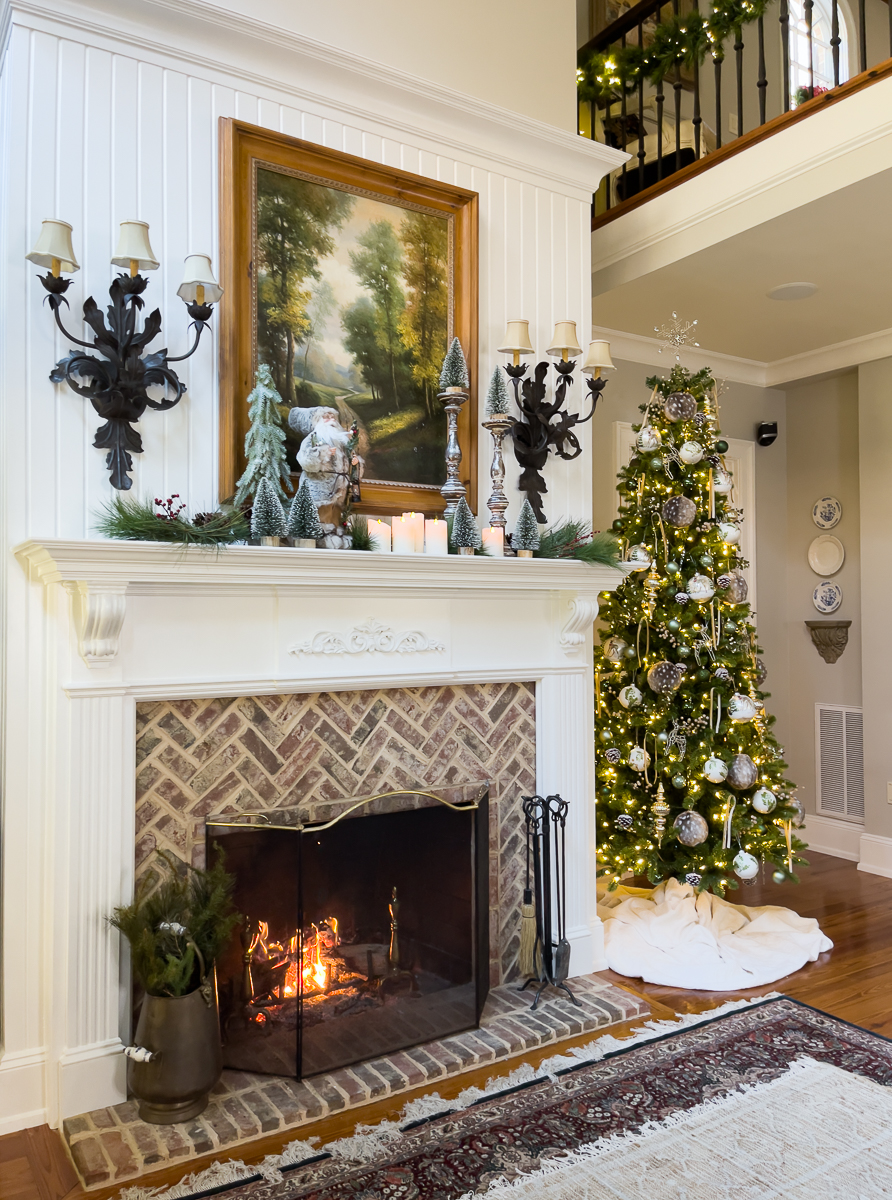 Woodland Christmas in the Family Room
We live out in the country in a rural area. It's quite quiet and surrounded by woods.
While we do have neighbors in the area, the woods offers a nice buffer.
It's not uncommon to see deer in our woods on any given day.
It never gets old. You'll typically hear one of us holler from any given spot in the house to look out a particular window. 
We will even snap a photo and text it to each other as evidence.
They've become quite comfortable with coming up to the top of the backyard retaining wall to snack on the vegetation.
The deer drive Bentley nuts! He has even gotten out of the fence to run behind them in the woods. Not fun for us!
We also have many squirrels and varieties of birds.
There are bears in our area, but I've never personally seen one in our yard.
To honor the wildlife that we love, I decided to add a little nod to the critters!
On a totally random note! If you love to read Christmas novels, here is a NEW list for this year. I am currently listening to this book and reading this book.
The Mantel
The look starts on the mantel with this gorgeous woodland Santa overseeing a little mini forest of snow-covered trees.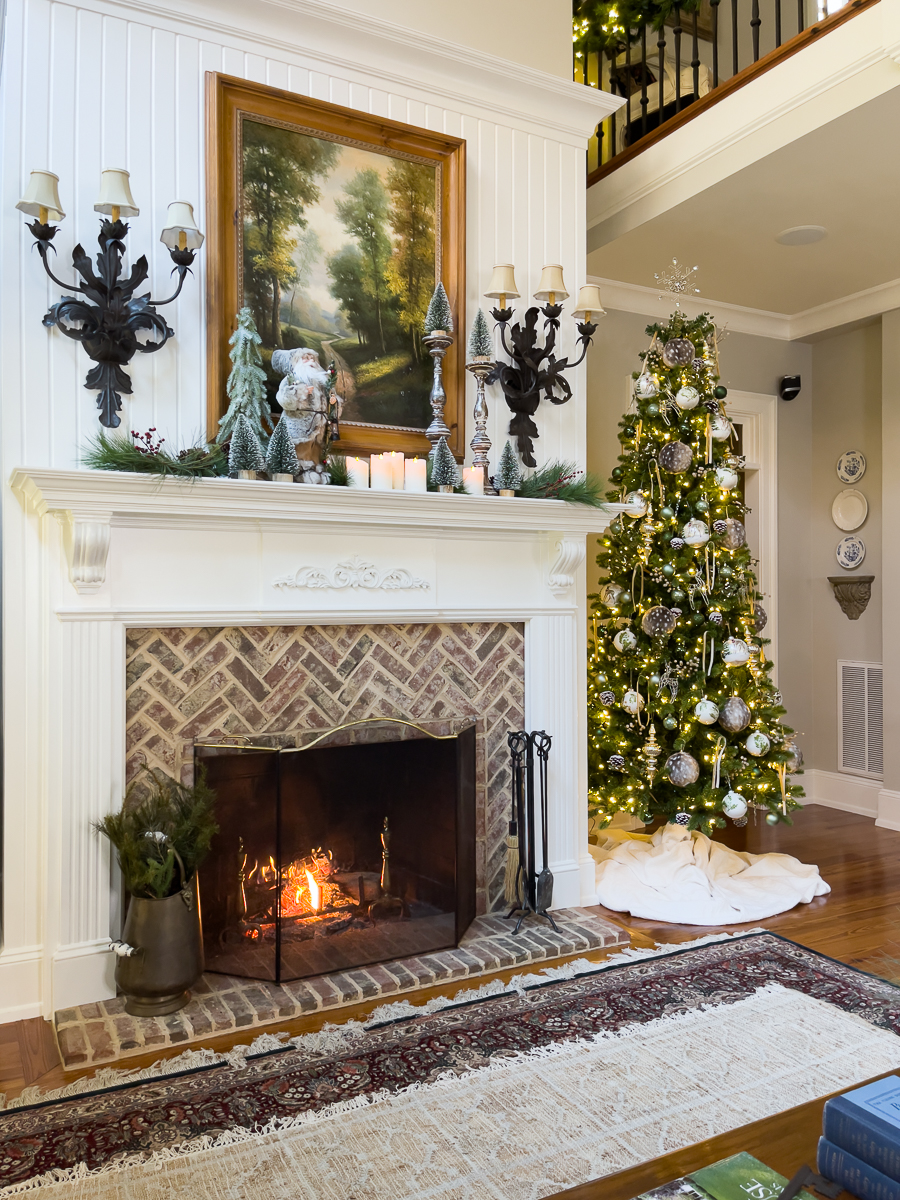 I love to play with variations of heights on the mantel.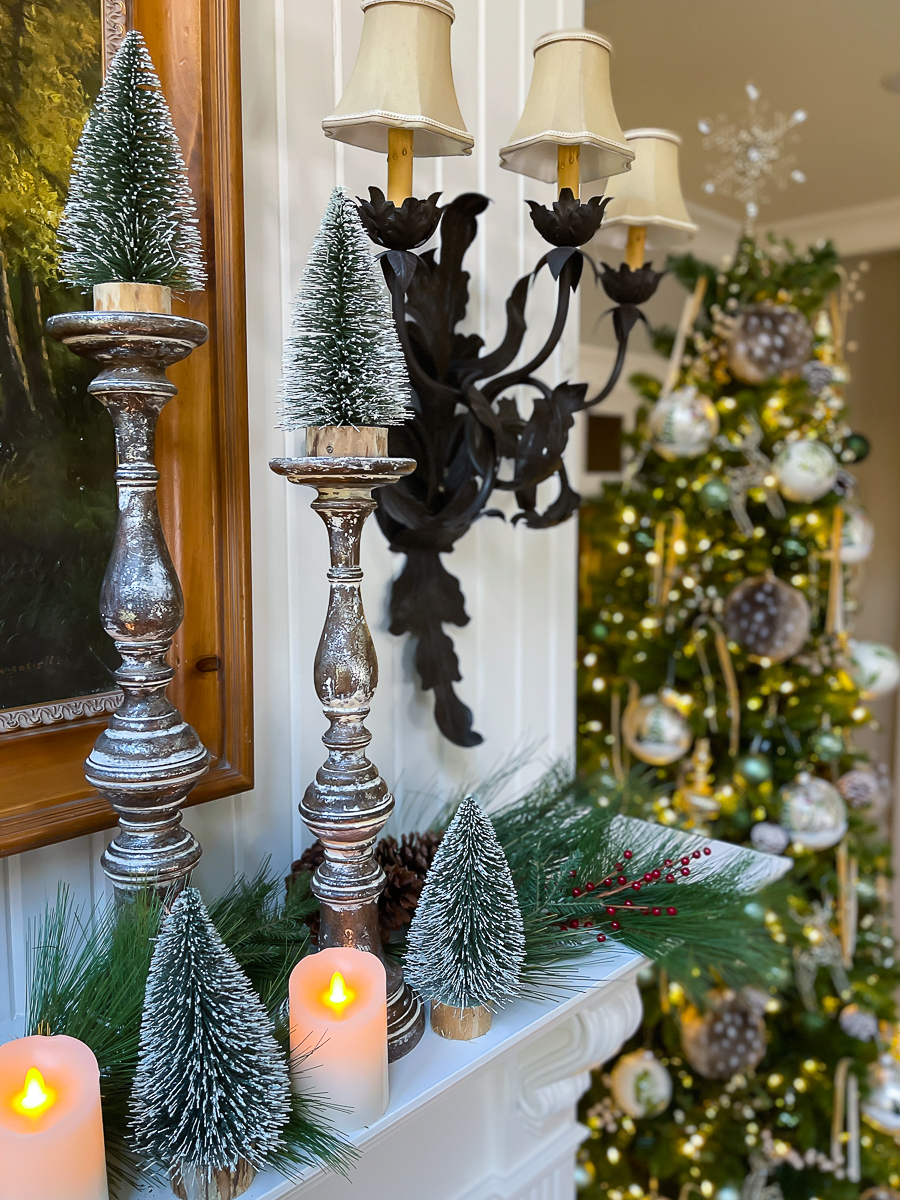 Instead of placing candles on the holders, I added little bottle brush trees.
This is such a different mantel for us this year, and I love it. I typically go very traditional with swags of garland. I love that this year, it kind of tells a story!
One of my favorite things that I like about the mantel is the pillar candles.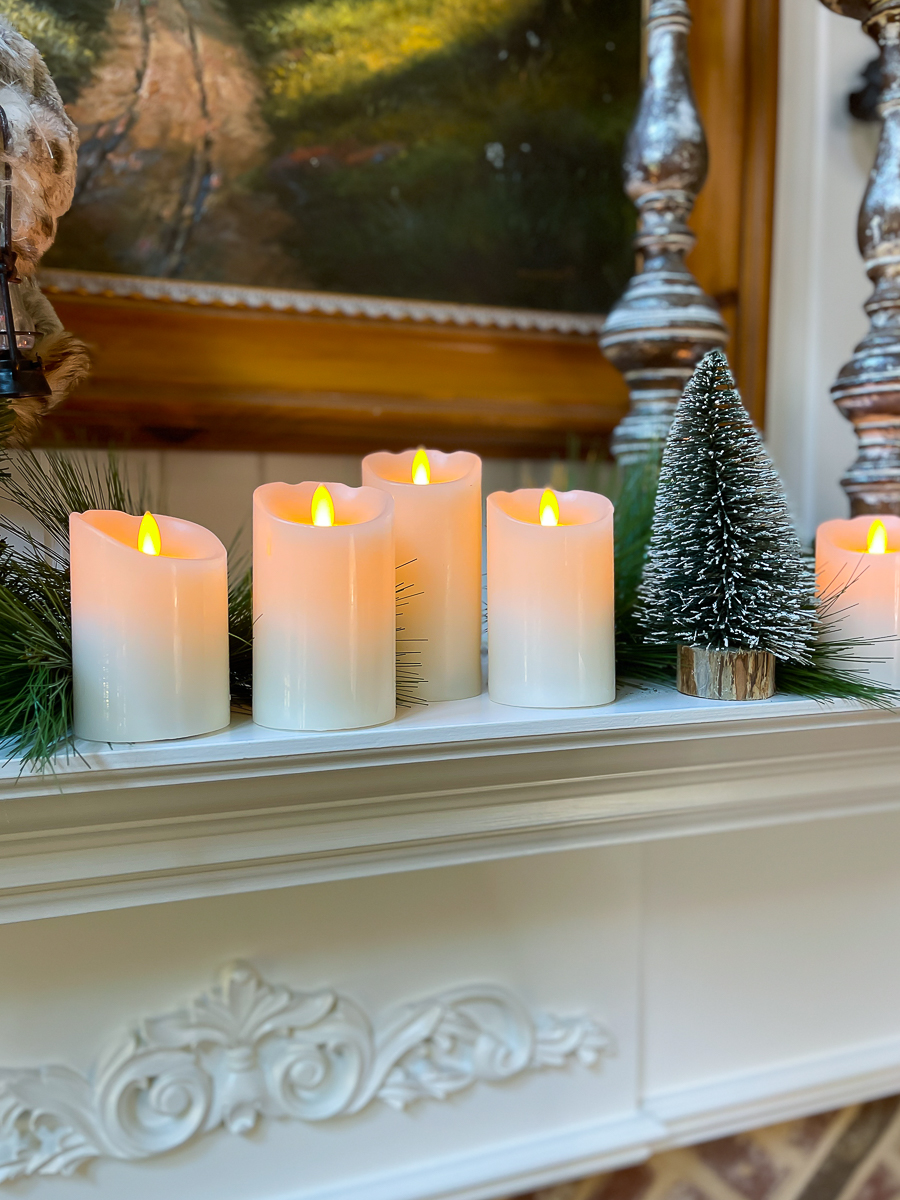 I love using candlelight on the mantel, but with the height of the mantel, it's a bit cumbersome to light and extinguish them.
This is the first time that I have used battery-operated pillar candles, and LOVE them!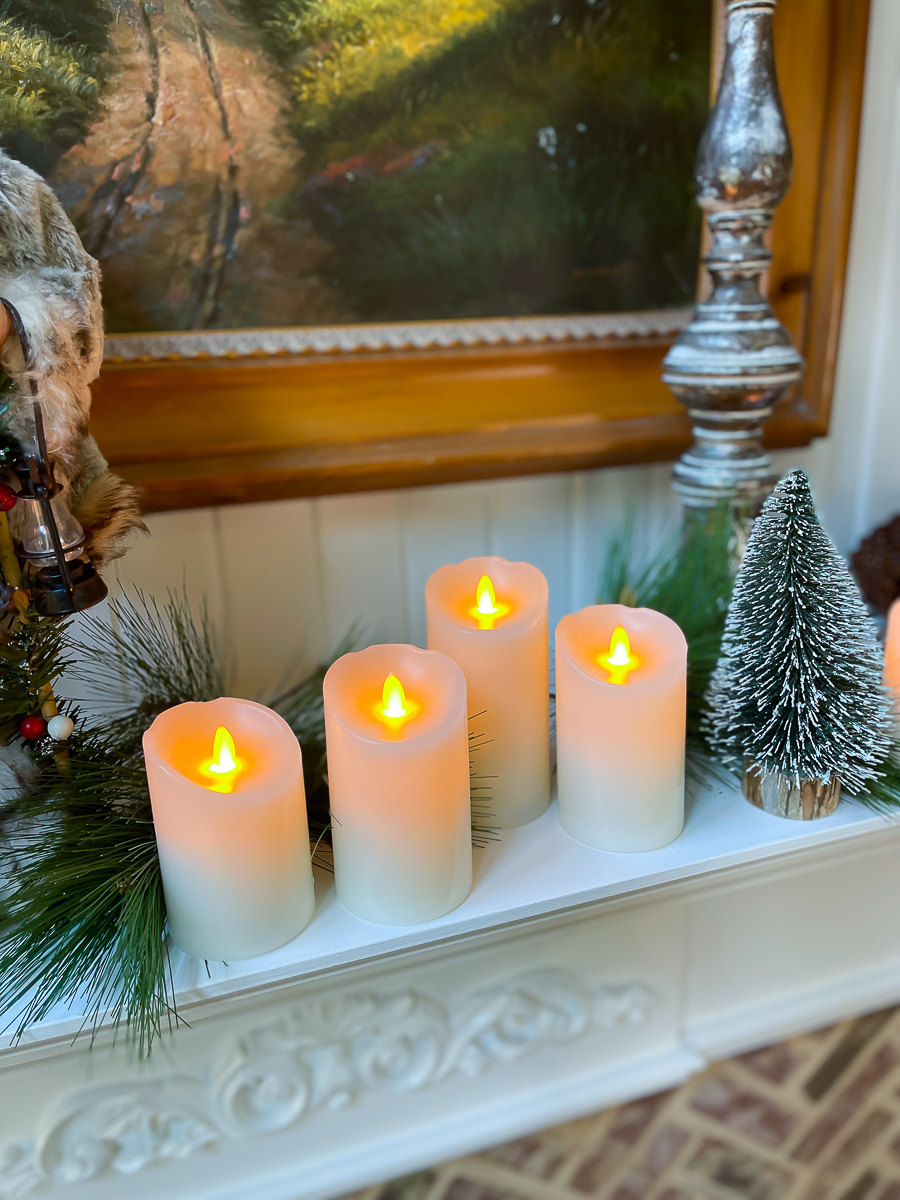 I made sure that I found a set that had a remote. This was I can turn them on and off when we like. I really didn't want them on a timer.
Even though I always have the mantel lights on, I just turn the battery candles on when we are physically in here enjoying the room. I'm cheap and don't want to waste the batteries.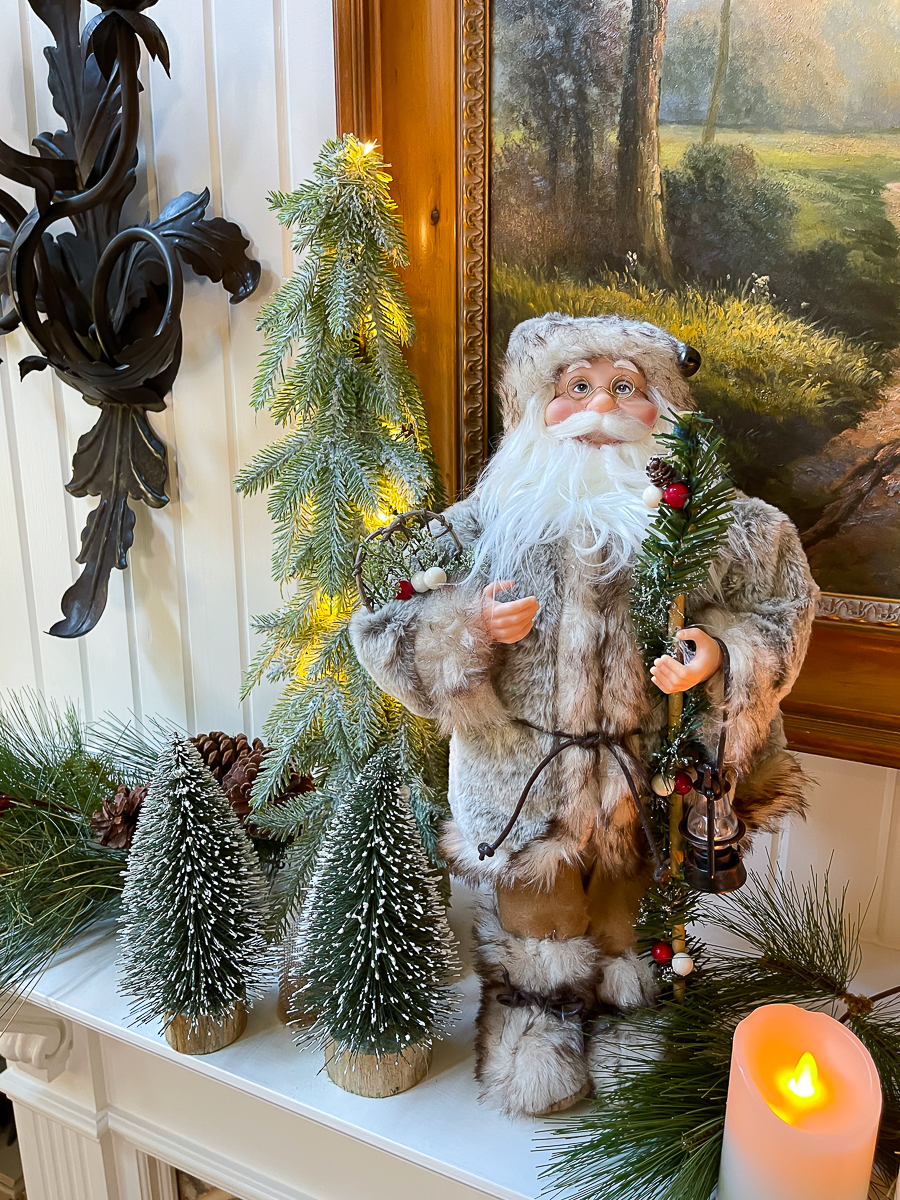 Early when I decorated, I weaved various greenery picks around Santa and the other decor.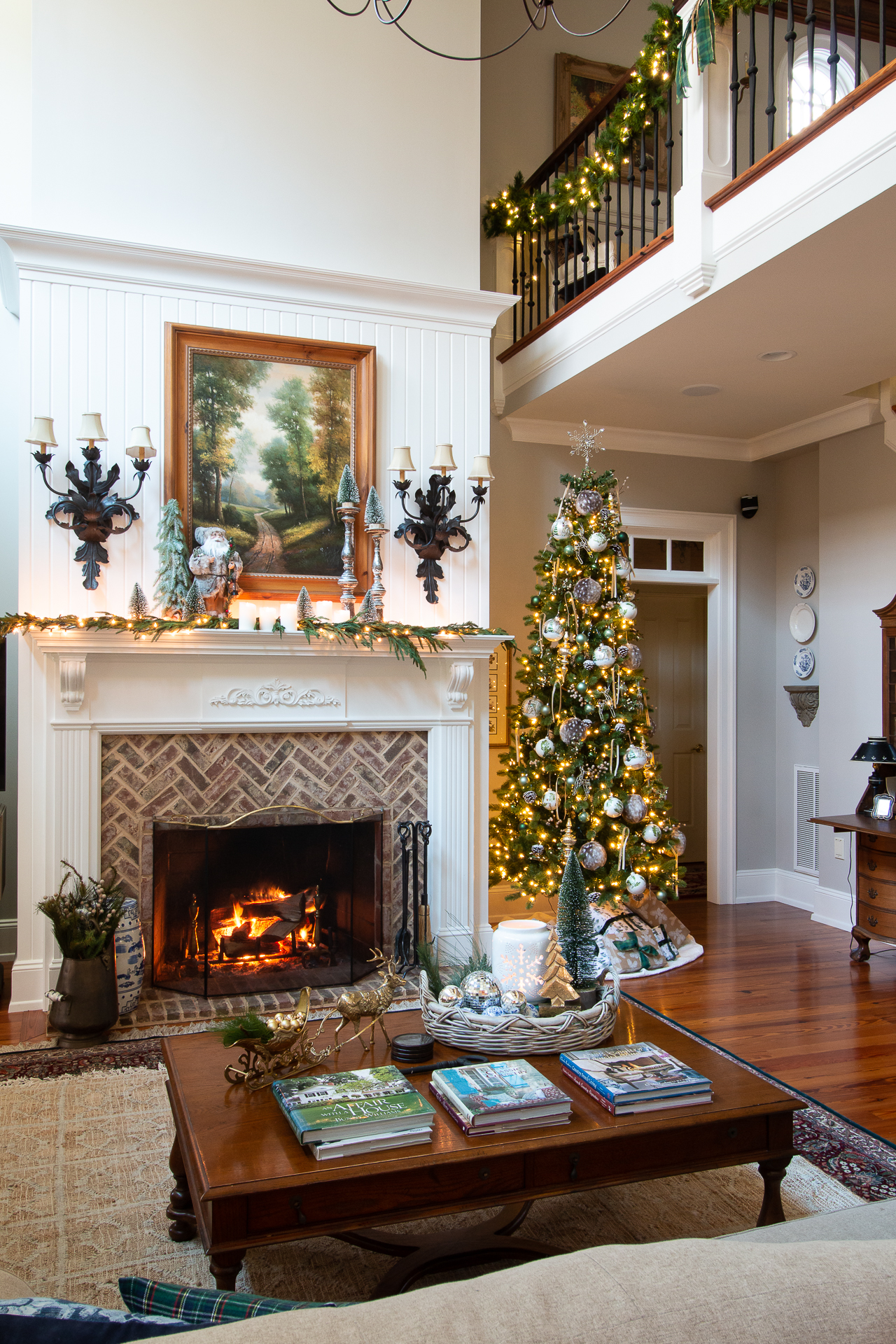 Since then, I ordered a gorgeous Norfolk Pine garland that is now sold out. I actually have 2 garlands on the mantel. It was a bit pricey, but it is absolutely gorgeous. It looks so real! It is sold out for 2021, but definitely keep your eye out next fall for it. This one that I found looks gorgeous and is still available!
The Tree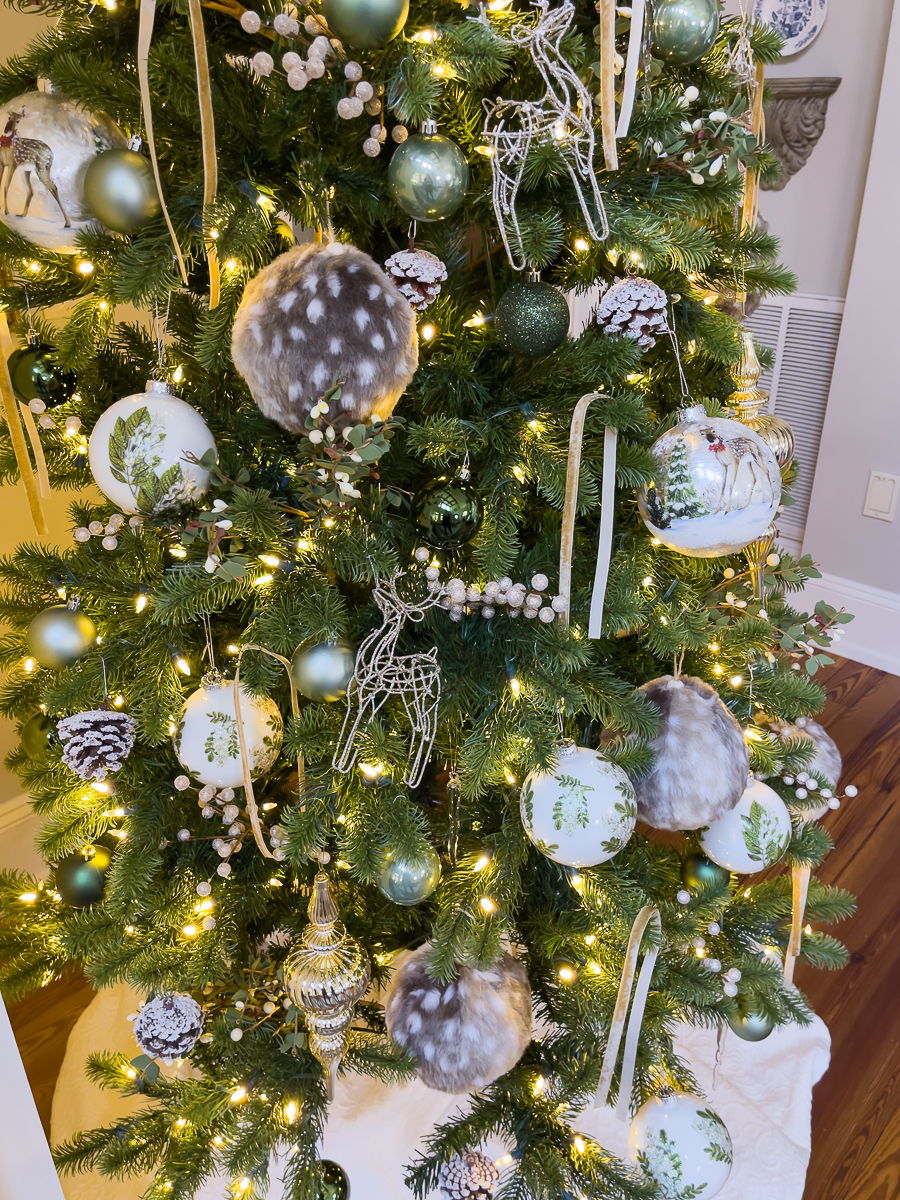 I carried the theme over to the tree. You can find our 9 foot prelit tree HERE. It's a beauty with 8 multi-light functions.
I encourage you to take the extra bit of effort to really fluff your artificial branches. It makes such a difference.
The next thing that I did was to add 2 different types of floral picks.
I used a frosted gold berry and subtle natural-looking greenery with little white flowers.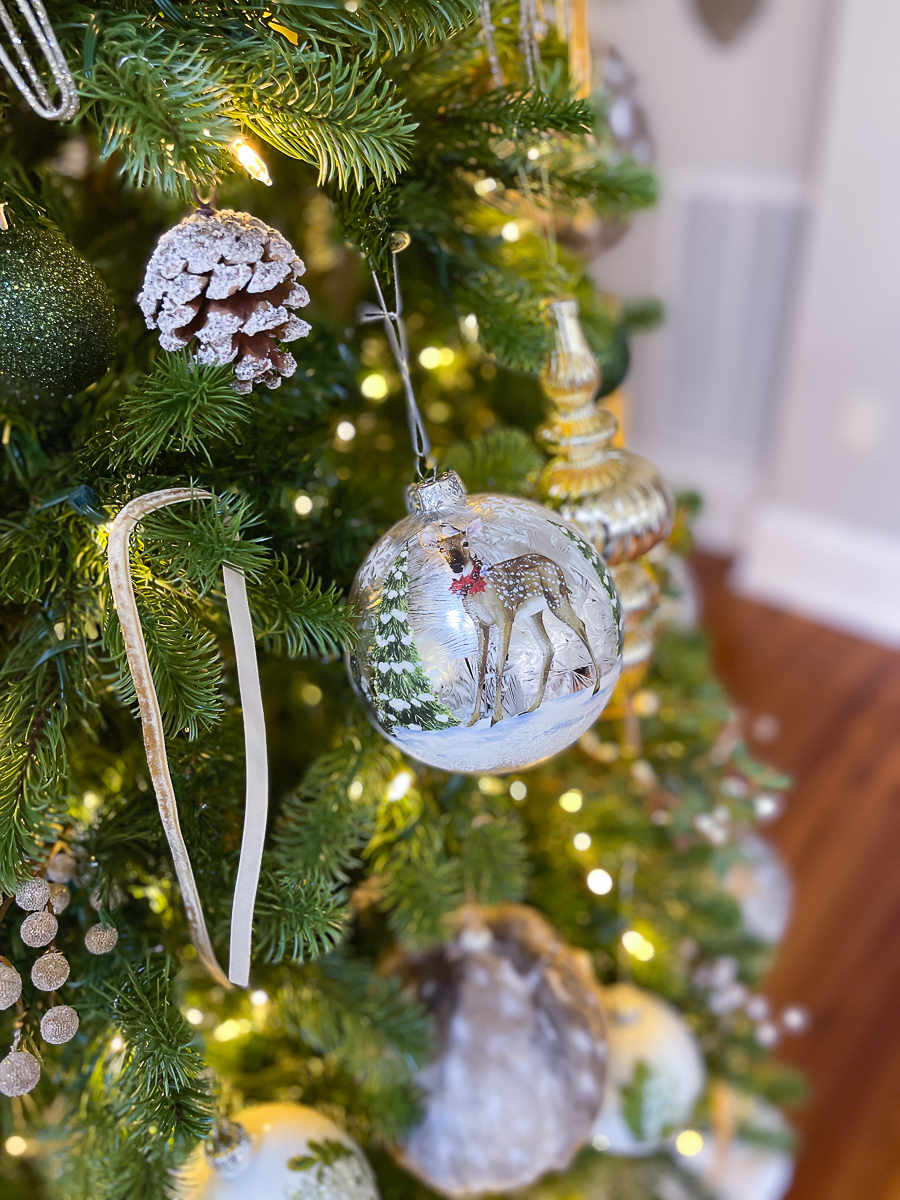 I find it helpful to lay all of your ornaments out grouped by type-together.
This will ensure that your themed tree is equally dispersed.
I like to start by adding the largest ornaments first.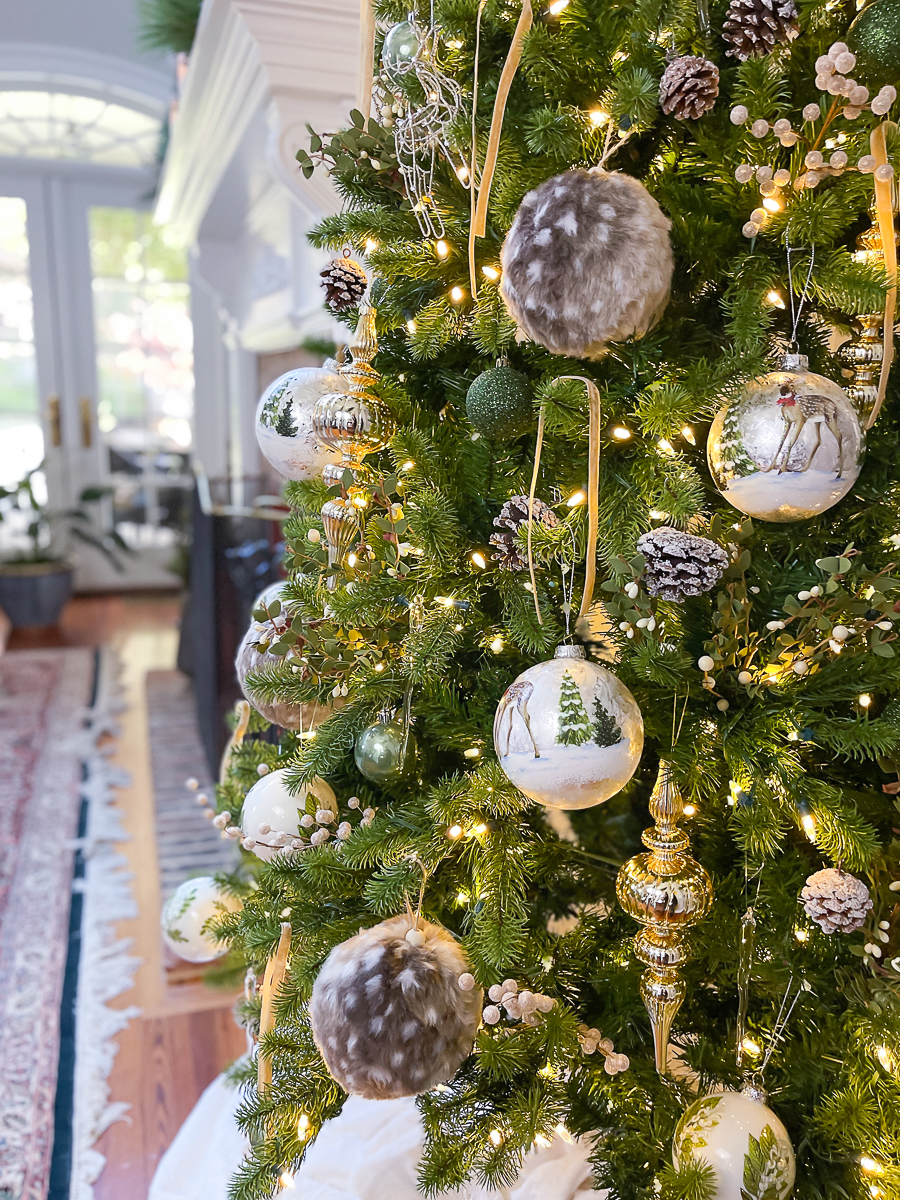 For example, hang all of the faux fur balls first in a bit of a zig-zag pattern.
I continued in this manner with the other ornaments.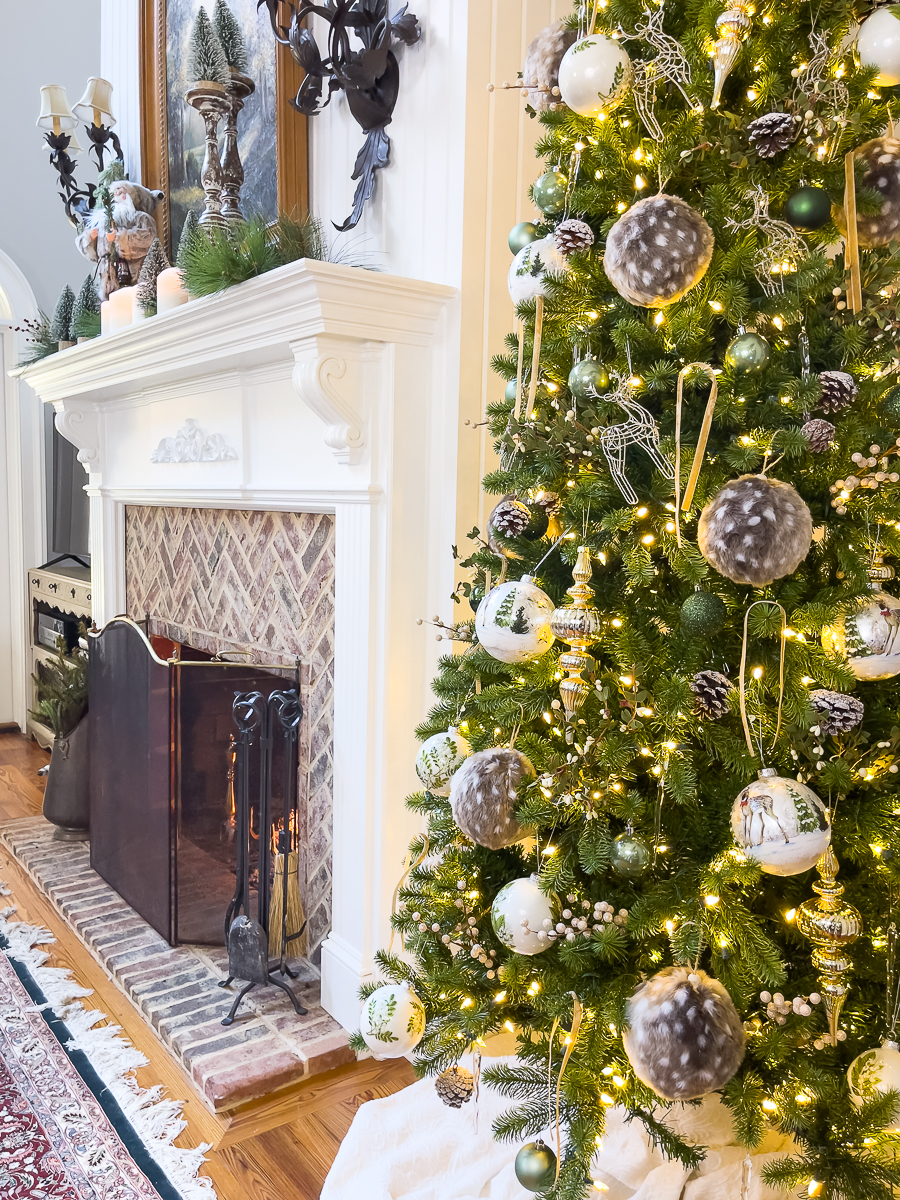 I finished the tree off with an assorted array of shatterproof ornaments in varying shades of green and sheen. The pinecone ornaments were also a nice filler.
I then just hung strips of velvet ribbon on the tips of the branches.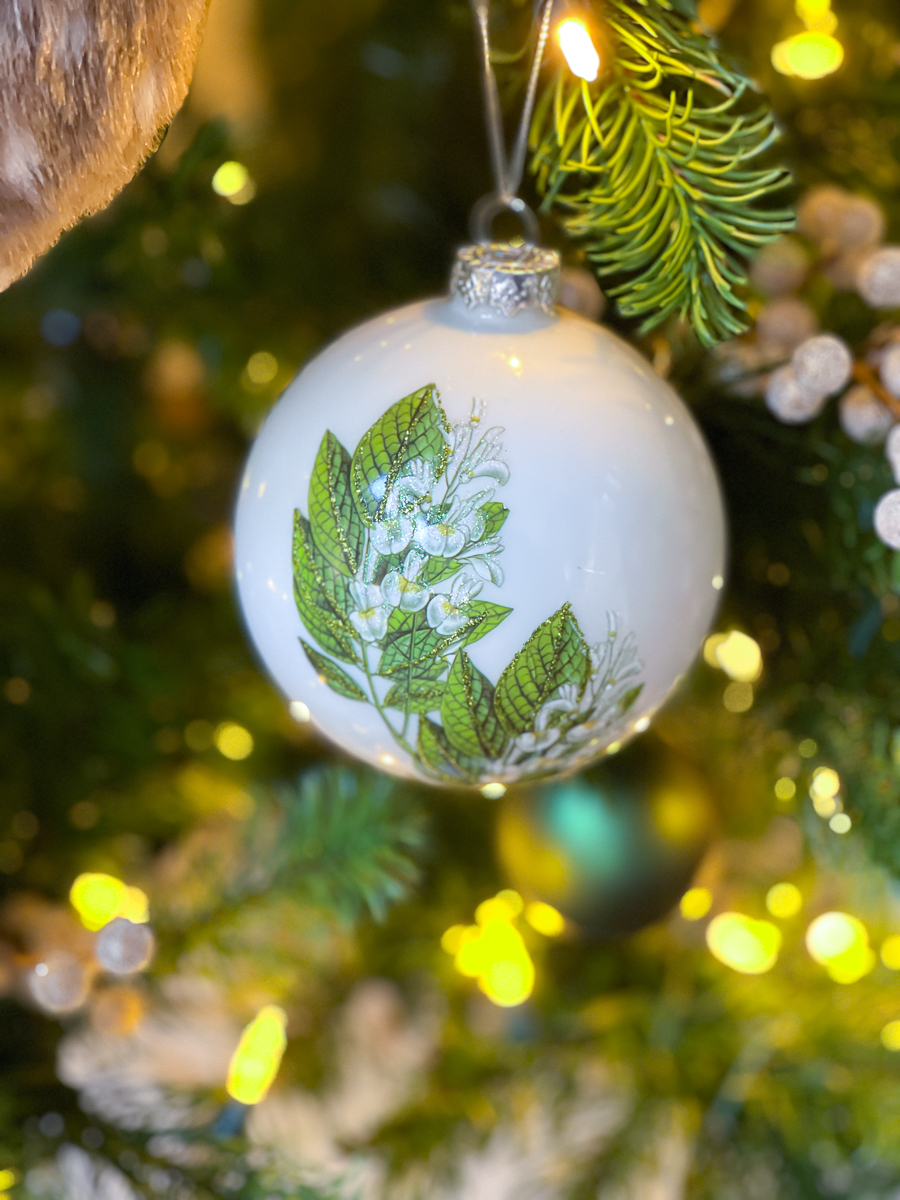 I absolutely adore the ornaments on this tree.
I know that I will do the exact same tree here next year. I will probably just add more ornaments to it as well as floral picks.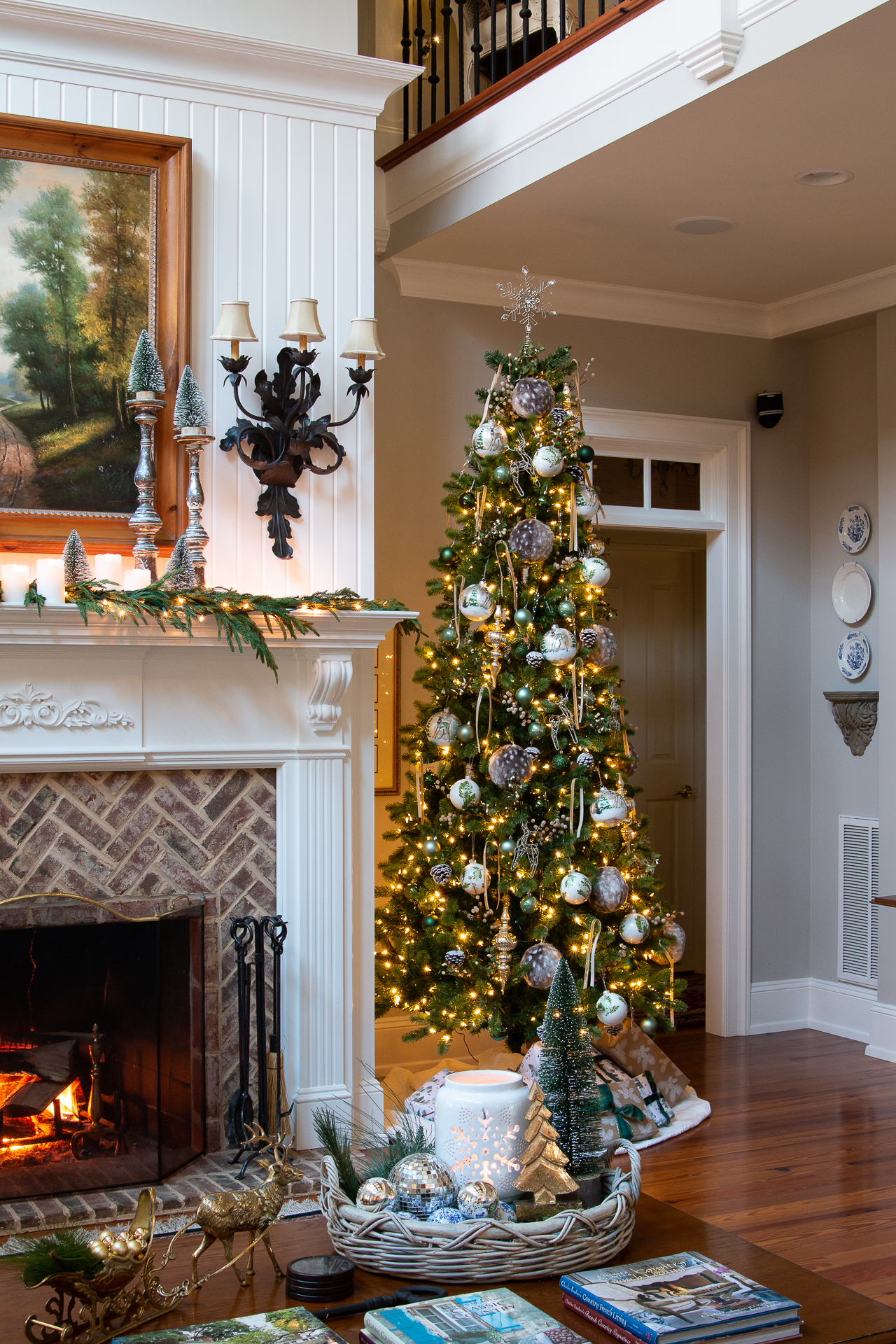 The star on the top is one that we've had for several years from Big Lots.
The picks, green shatterproof, and pinecone ornaments are from Hobby Lobby.
The ribbon is from Amazon.
All other ornaments are from Belk.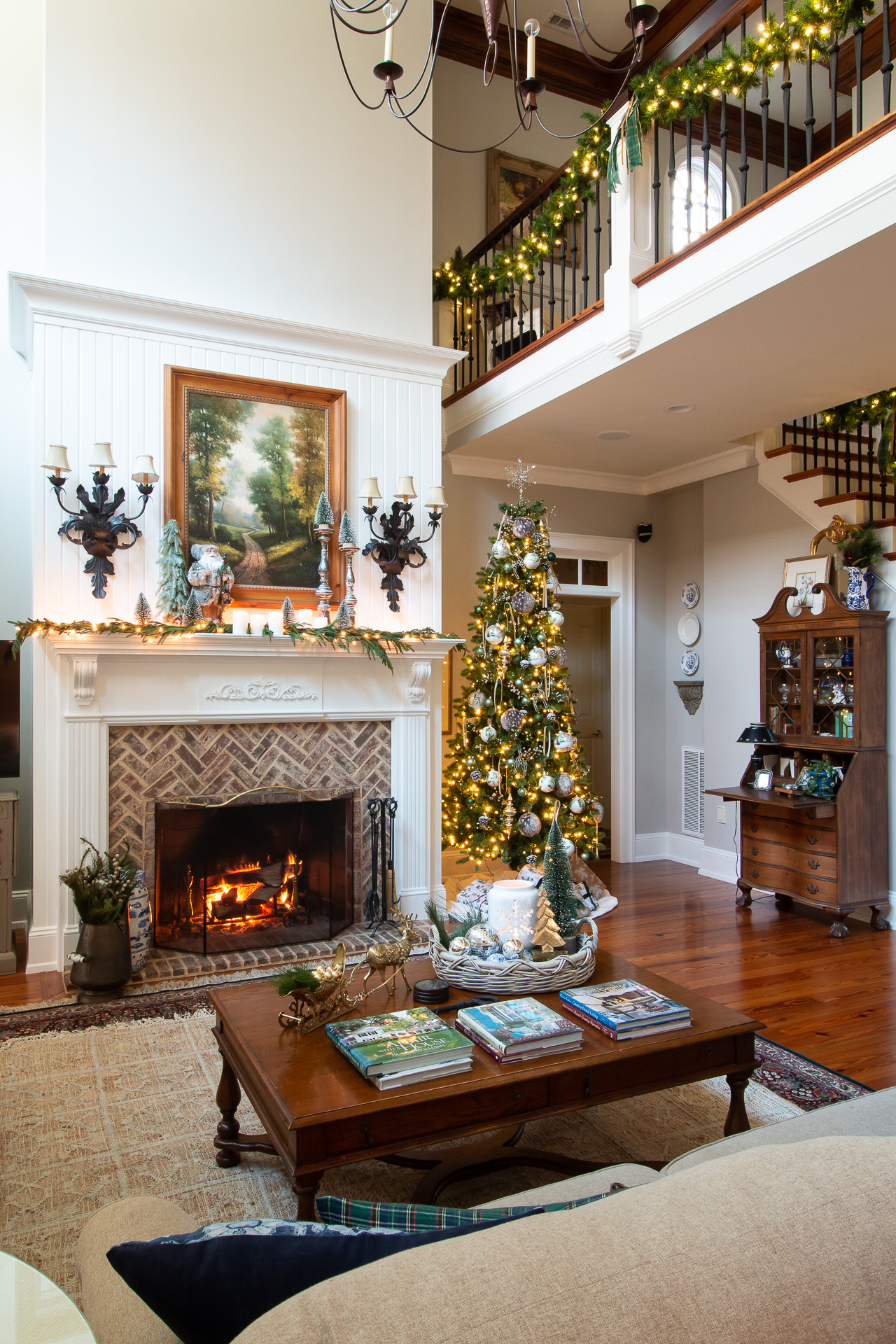 You'll find a SHOP THE POST at the end.
I like to use blankets for tree skirts. I've replaced several of our creamier matelasse with white ones. I saved the old ones, and I use them on the porches to cover the couch out there or as tree skirts!
In keeping with the neutral and green woodland theme, I used green, white, and kraft paper wrapping paper. Mine is sold out, but here are a couple of similar looks!
It's one of my favorite looks to date!
While our favorite tree is our real one with collected family ornaments, this tree is cherished.
Do you have a theme tree that you love? I'd like to hear about it! Please share in the comments.
See this year's Christmas Tour HERE.


Party Foods
Here is a collection of foods great for quick bites and entertaining!
Buffer