Cozy and Casual with Chico's
Loving these cozy and casual looks with Chico's! Perfect for the period between winter and spring. These pieces work well dressed up or down!
This post has been sponsored by Chico's. All opinions are that of Our Southern Home. My opinion…..Chico's rocks!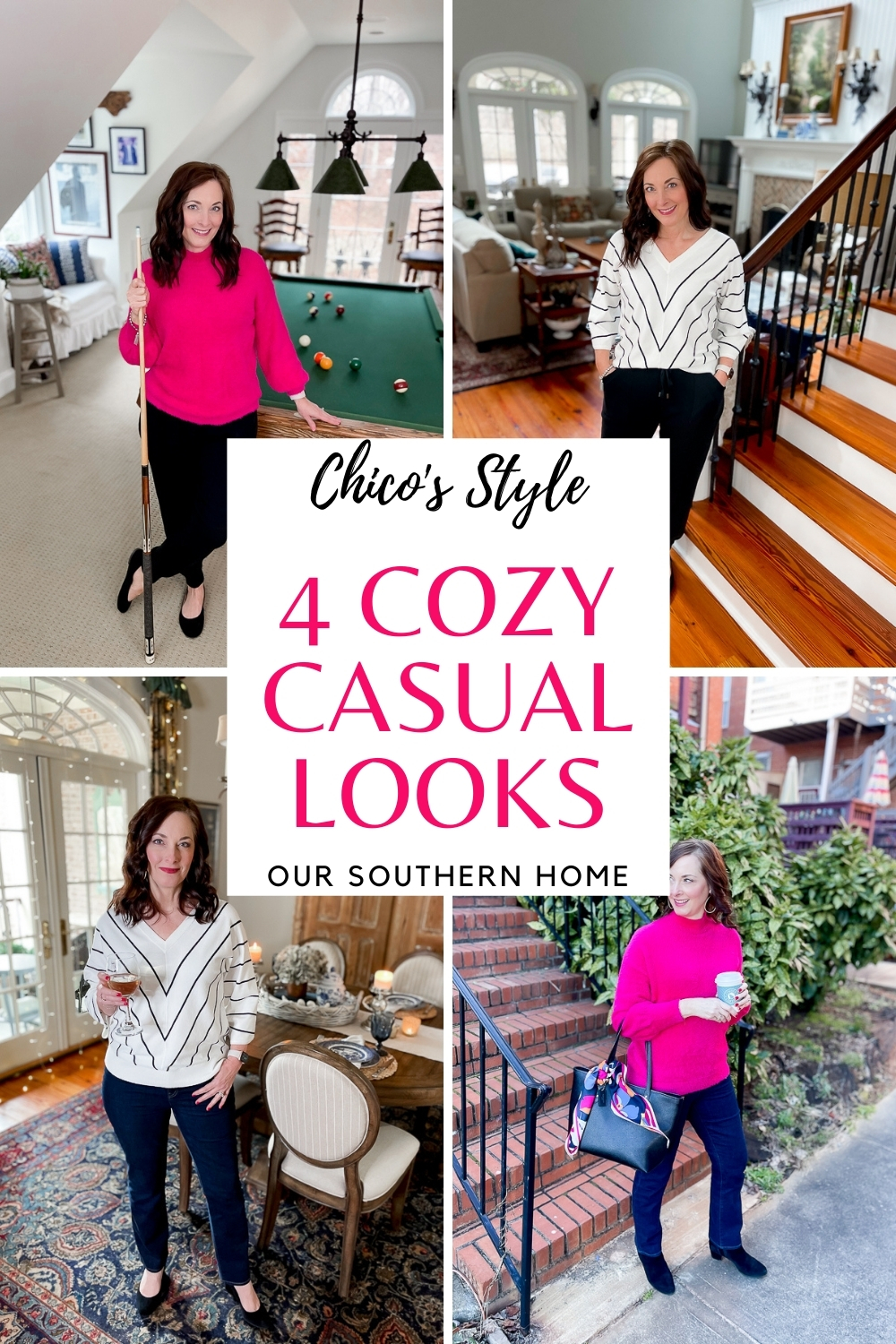 I'm so excited to be partnering with Chico's. Can I share a secret with you? My first piece of Chico's clothing that I have ever purchased was in December. It was these pair of sequin joggers. They are still available and so worth it!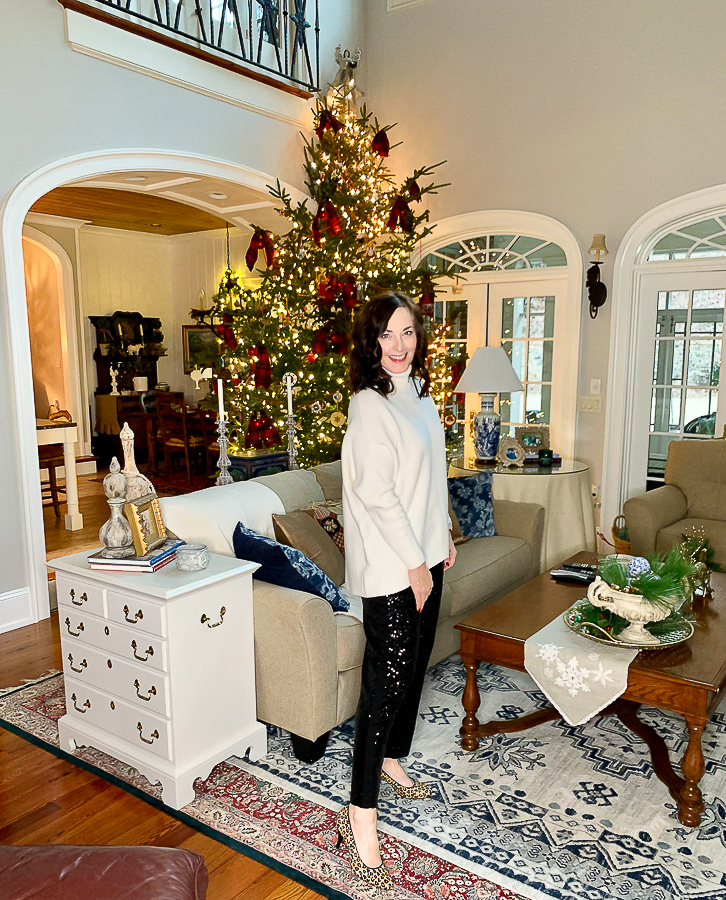 I had been looking for a pair of joggers that were classy and well-made. These fit the bill with the stretchy, pull-on styling! This single pair of sequin joggers turned me into a big Chico's fan! I am so thankful that I have 2 stores available in my area, but shopping online has been a breeze. You guys love these pants as well. They were the single most popular item that I shared in December!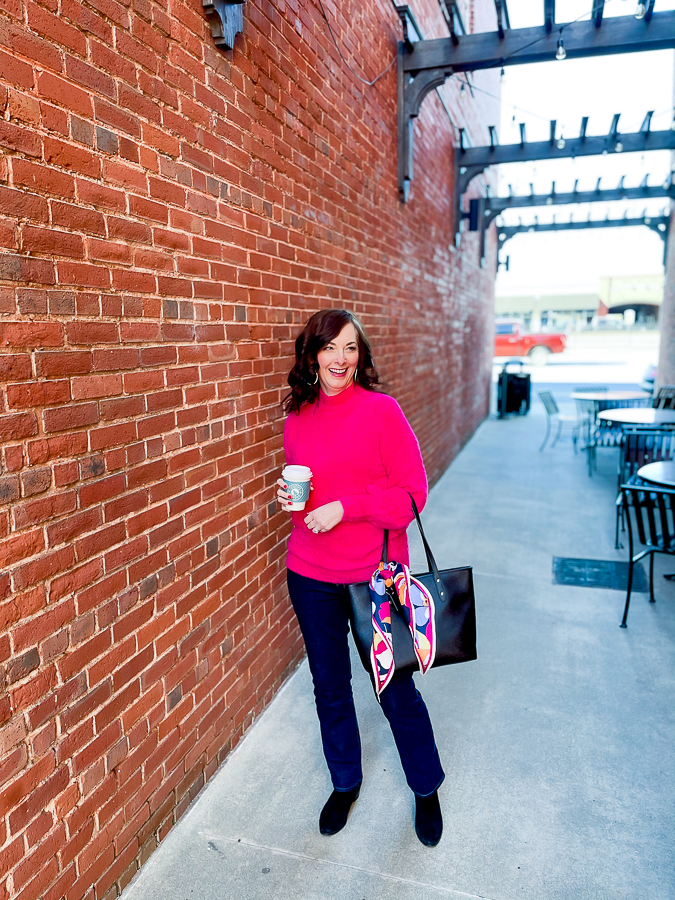 Everything that I have received from Chico's has fit perfectly!
Fit Tip: I am a size 6 or 8. Chico's sizing is a bit different so look at the chart. I have been ordering a size 1. I did order the .5 in the above So Slimming Girlfriend jeans. I always read reviews for sizing tips.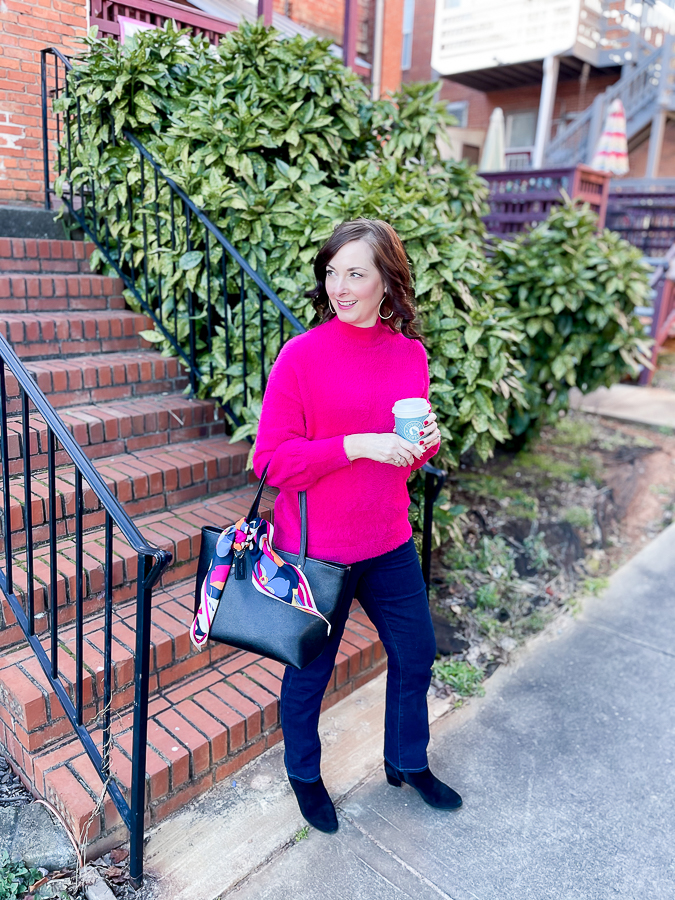 These jeans are the only ones that I reach for in my closet anymore! It's the truth. These are the So Slimming Girlfriend Jeans. I am wearing a .5 short, not petite.
I'm between 5'5″ and 5'6″. Lots of jeans have just been too long on me lately with regular length. I love that Chico's offered these in the short option. They are the perfect length. I can wear them with booties, heels, flats and tennis shoes without having to roll them up.
I find them not quite a straight silhouette, but definitely not a skinny jean.
As baby bear said, "They are just right."
They live up to their So Slimming name. I felt very slim in these. They are so comfortable with a bit of stretch and a slimming front panel. They are high waisted which is great for modestly. I am definitely more of a pear shape, and these are the best-fitting jeans that I have owned in a while. I want them in every color!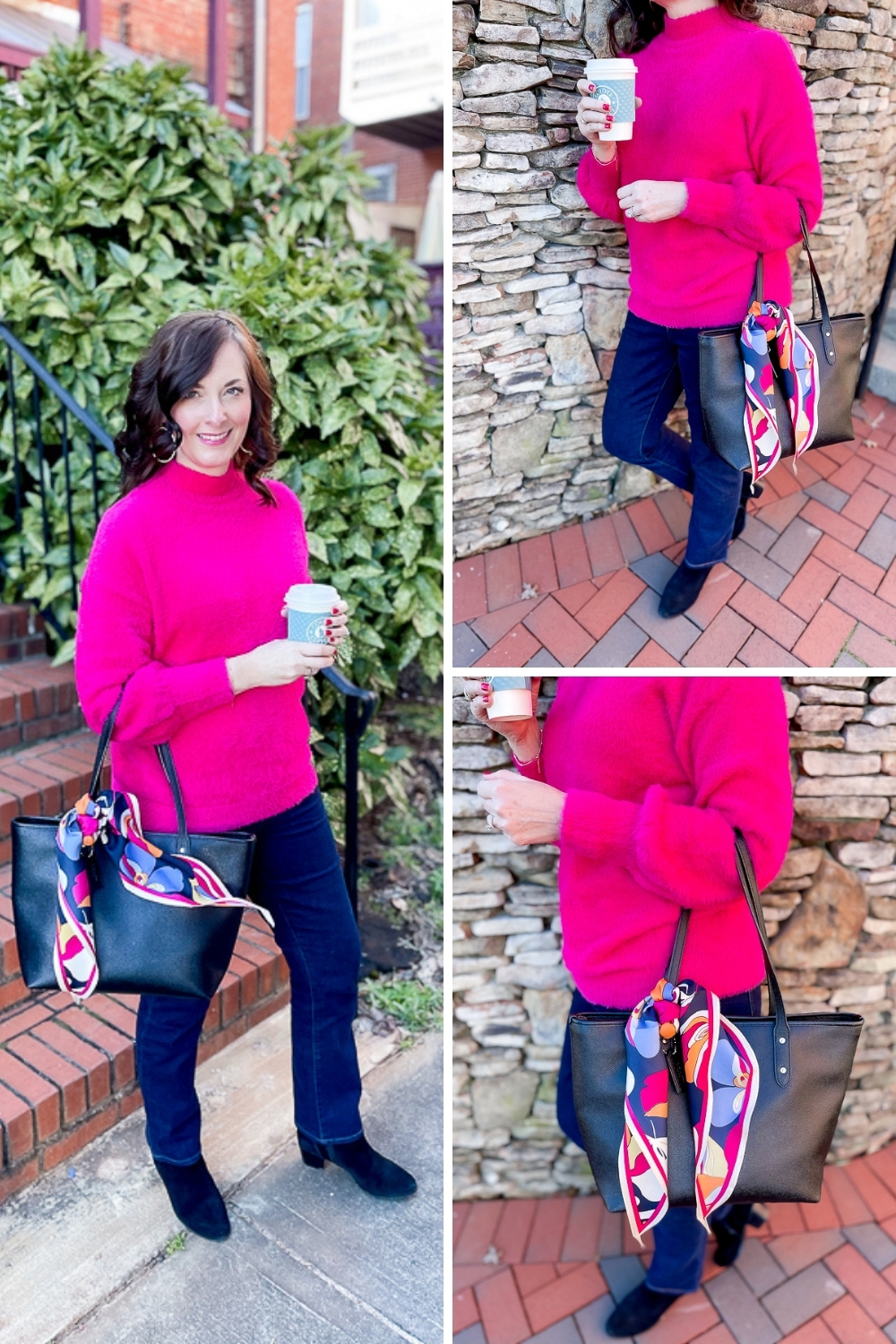 Ashlyn and I went to town to run a few errands and strolled downtown. It was actually a nice, winter day in the south. No jacket required.
The eyelash sweater is so soft, cozy and warm without being heavy. I don't own a lot of bright sweaters like this, but I can assure you it was a mood elevator. I tied this fun silk scarf around my purse for an instant pop of color.
Scarf Tips: You can also wear them in your hair as a headband, tied around a ponytail, wrapped around your wrist as a bracelet, tied on a bag handle and the classic around the neck.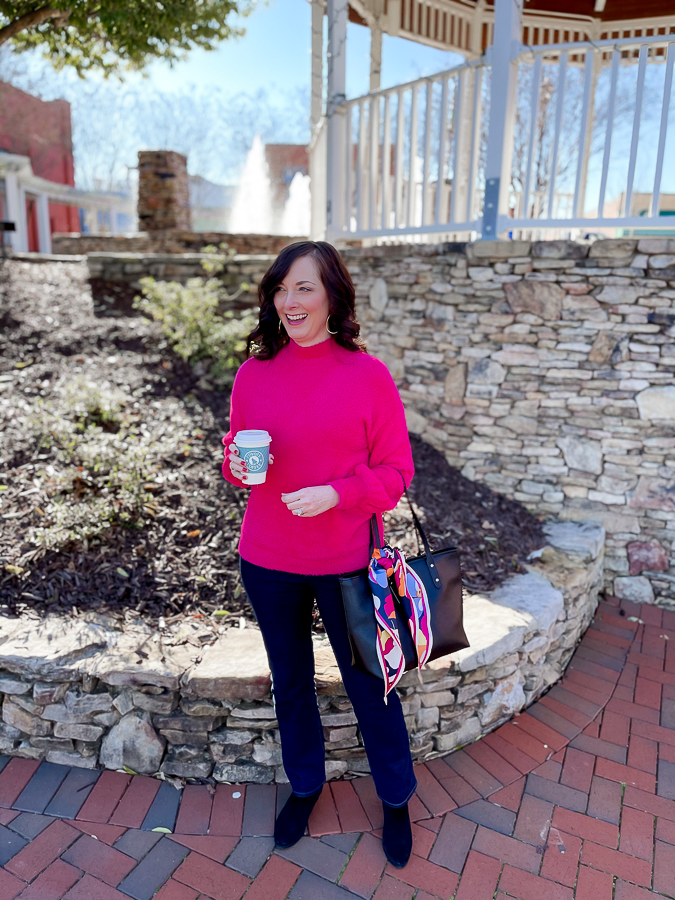 I am a turtleneck girl for sure so this sweater caught my eye immediately online with the mock neck.
I plan to wear this sweater through early spring with lighter-colored jeans and white denim!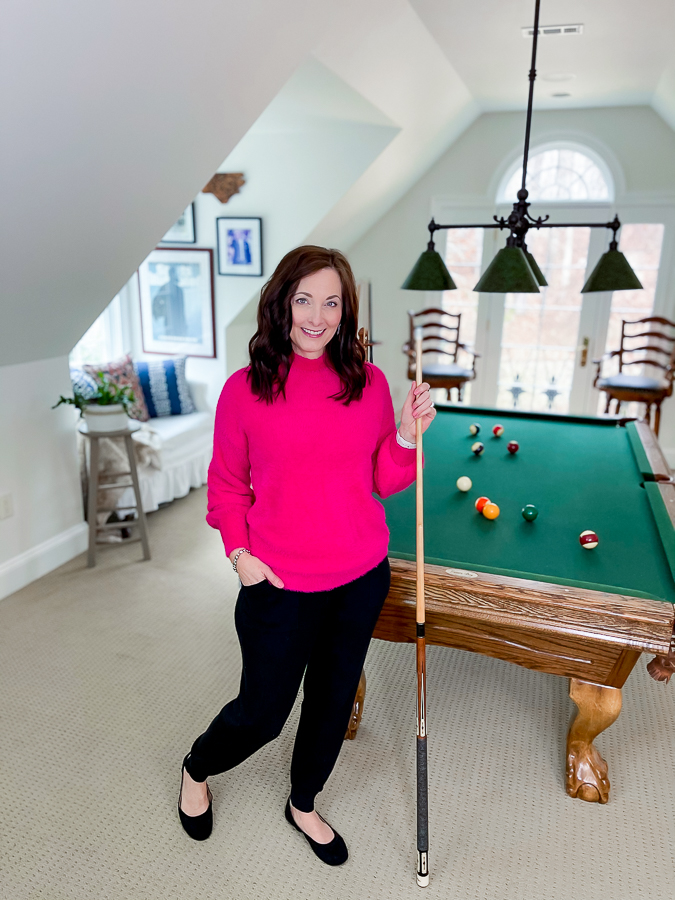 The eyelash sweater also works for an at-home casual look with these Zenergy® cotton-cashmere blend joggers. Check out my Instagram Chico's story highlight for up-close details of the sweater-like material. Definitely not a sweatpant. I wear these joggers with both ballet flats and sneakers.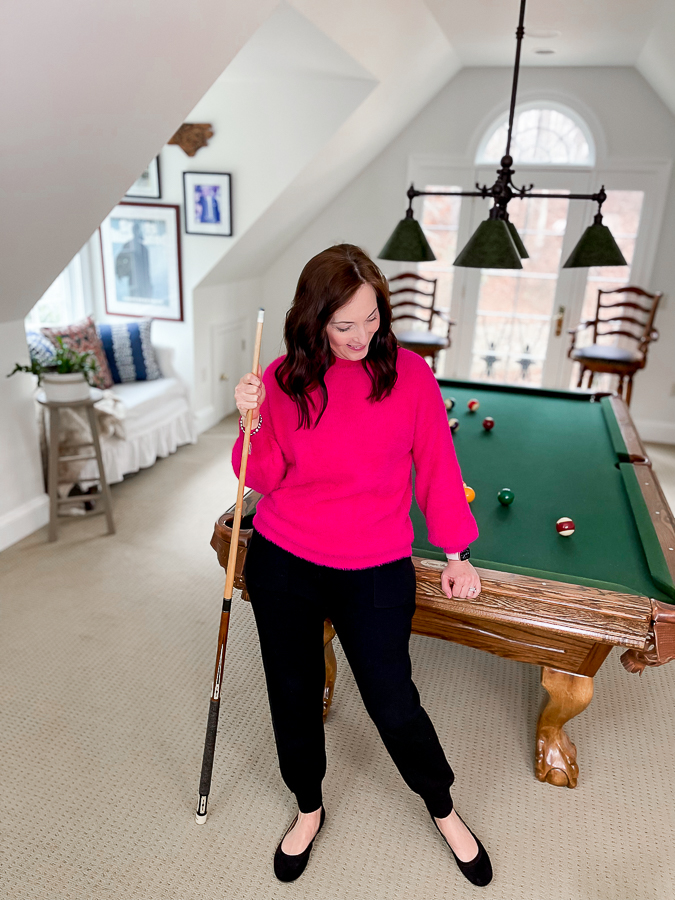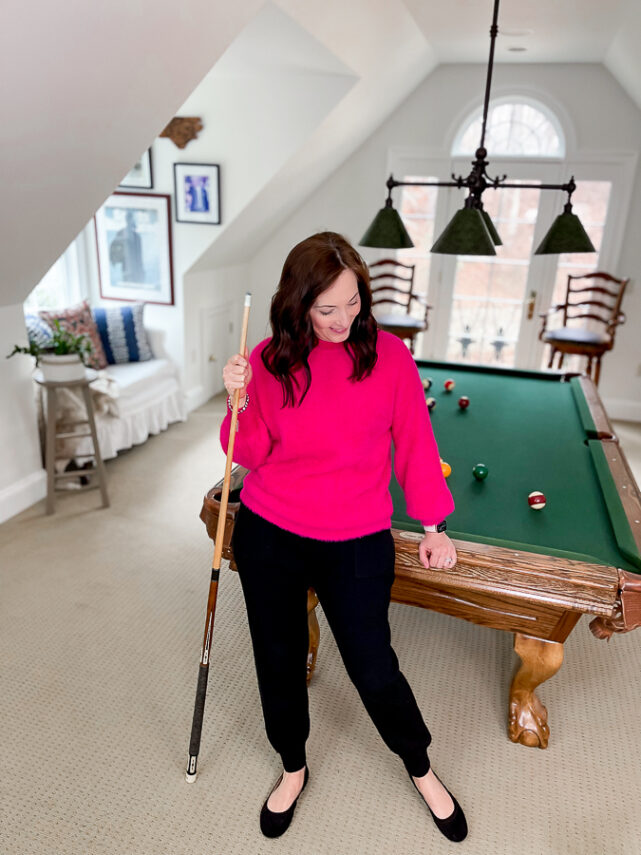 The Zenergy® joggers have front pockets, ribbed cuffs, and a smooth back. The no-roll waistband is very comfortable.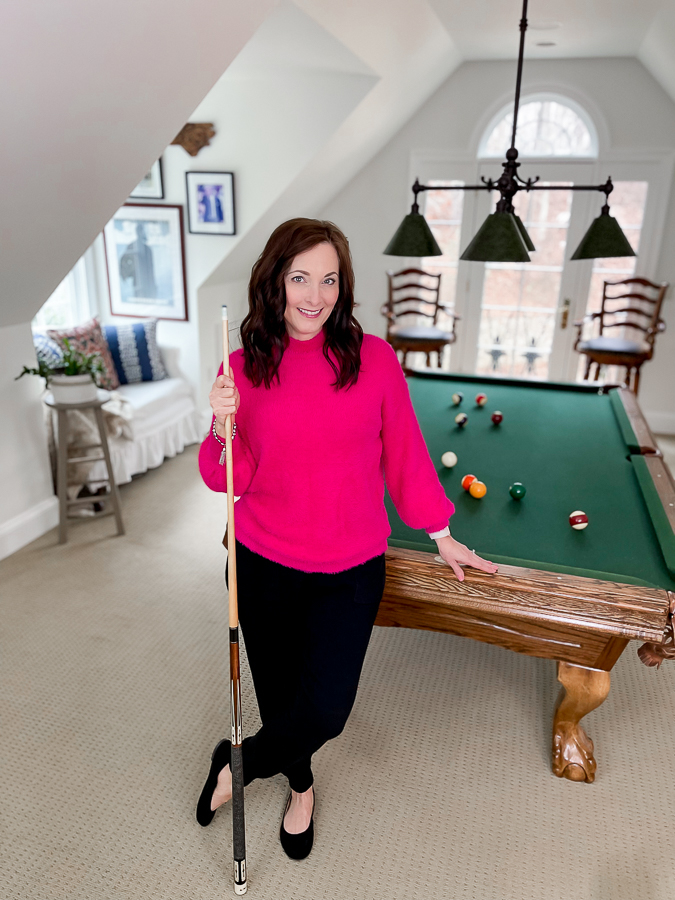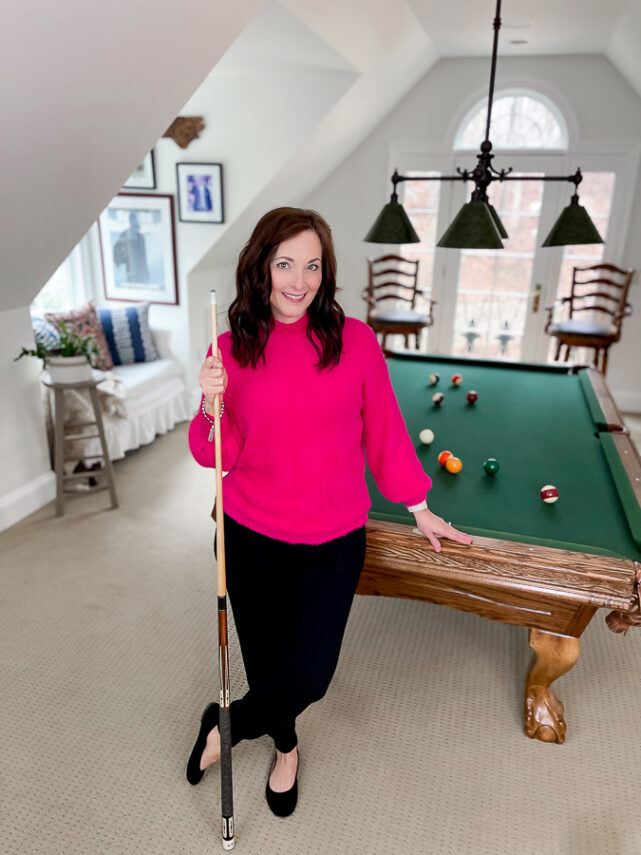 We really enjoy shooting pool in the evenings. I'll admit that I am no pool shark!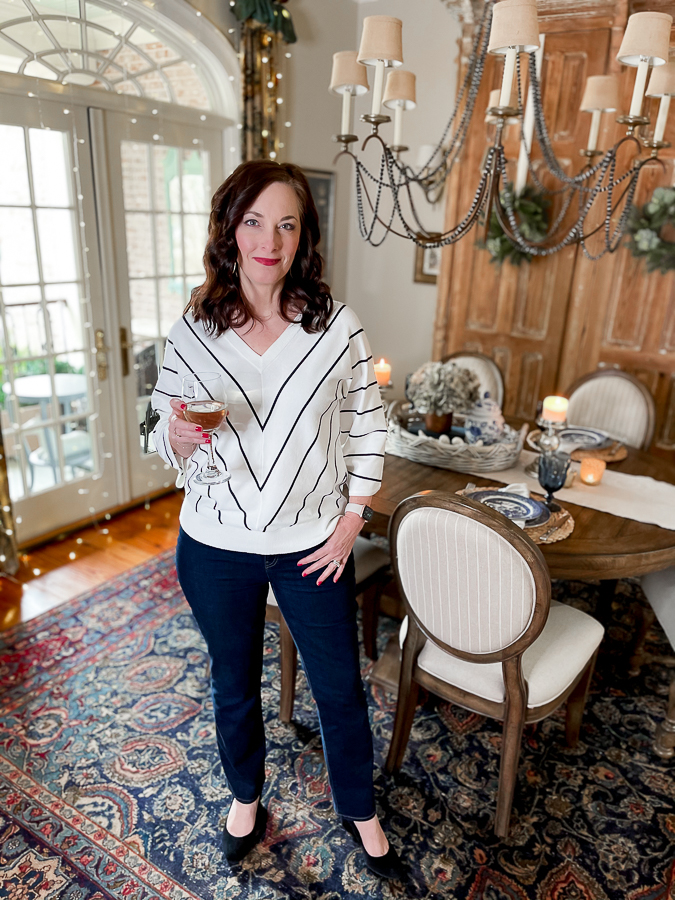 This Chevron Striped Double V-Neck Sweater was love at first sight! My 22-year-old daughter even wants to borrow it! This is a lightweight sweater that I'll be wearing year-round.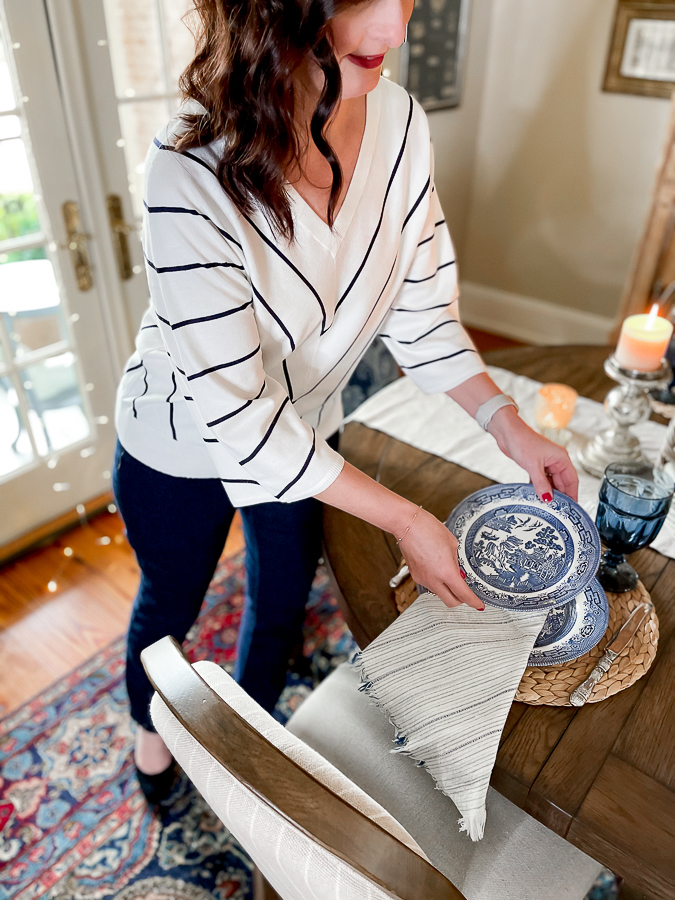 These sleeves are 3/4 and relaxed. The angles of this sweater are quite slimming especially when paired with the So Slimming Girlfriend jeans.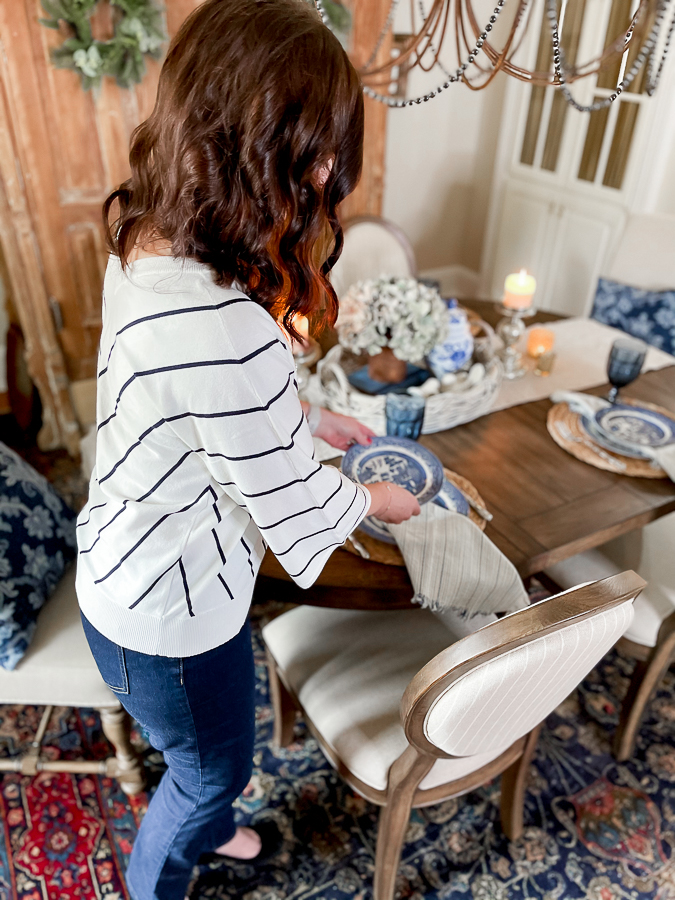 The sweater has a double V shape in the front and back.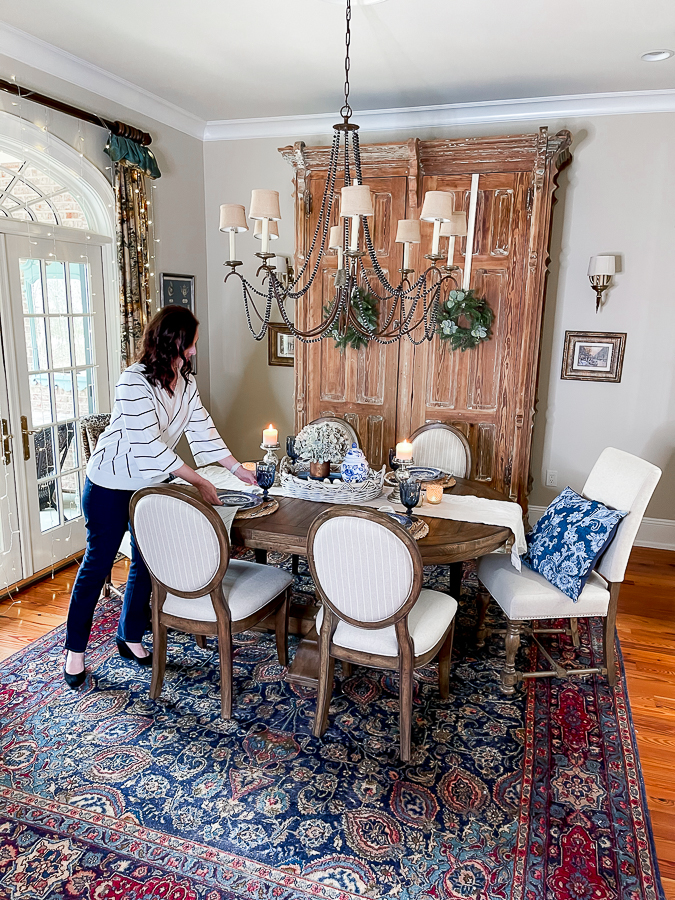 I'll also be wearing this sweater with black and white pants. I'm kind of wanting to go all wild and crazy and wear it with a pair of hot pink pants!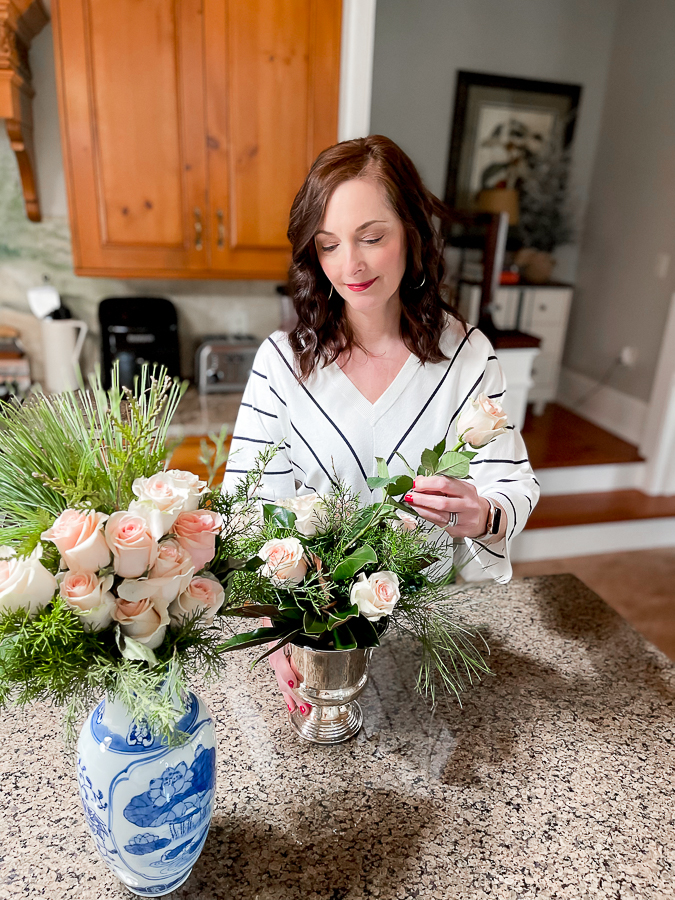 I've been making a point of picking up fresh flowers at the grocery store every couple of weeks and mixing them with fresh greens from the yard. It's been my winter pick me up. You can see one of my recent arrangements HERE.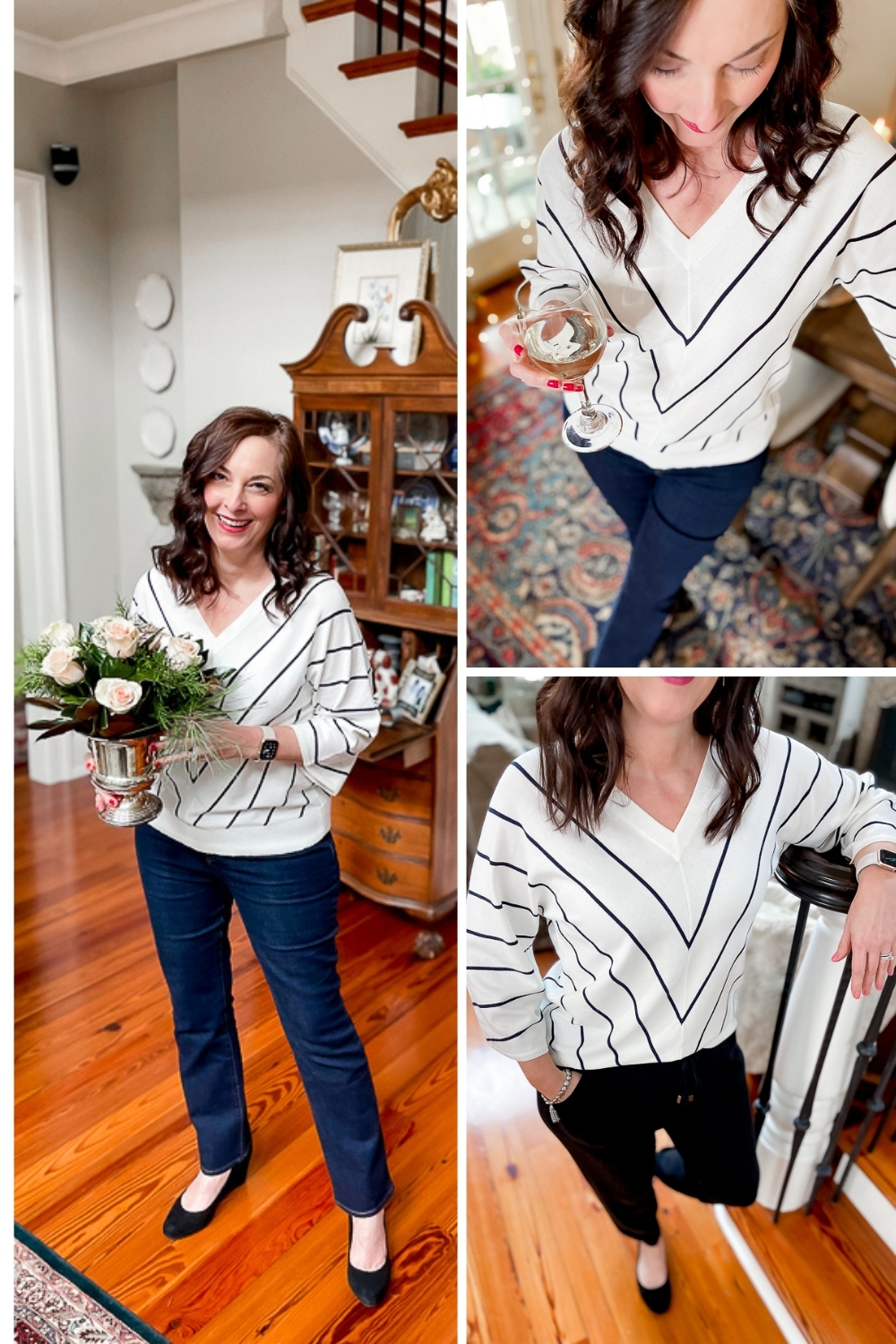 Don't you just love this sweater as well!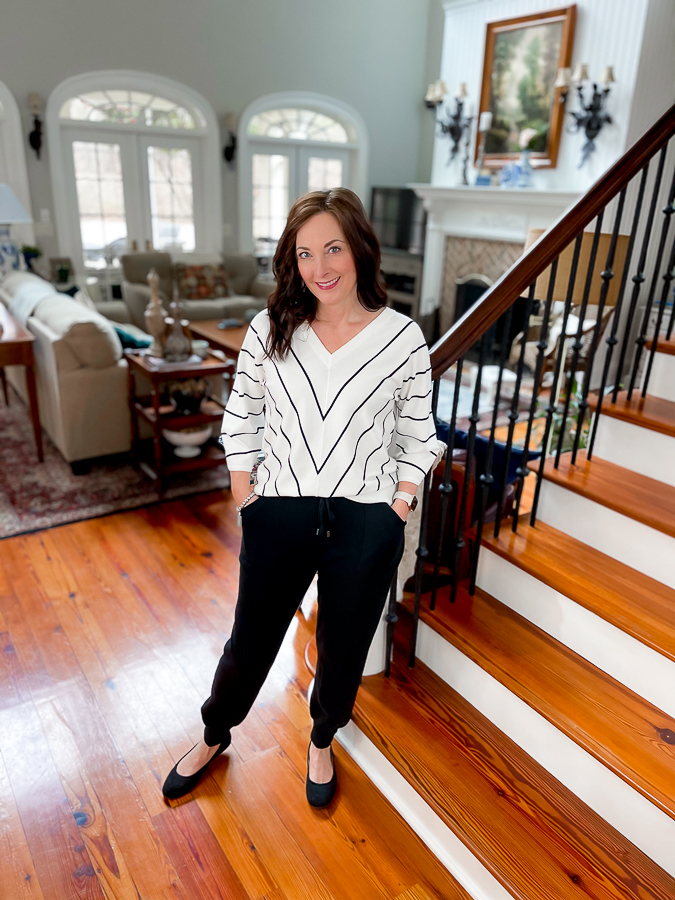 The sweater also pairs well with the same Zenergy® joggers!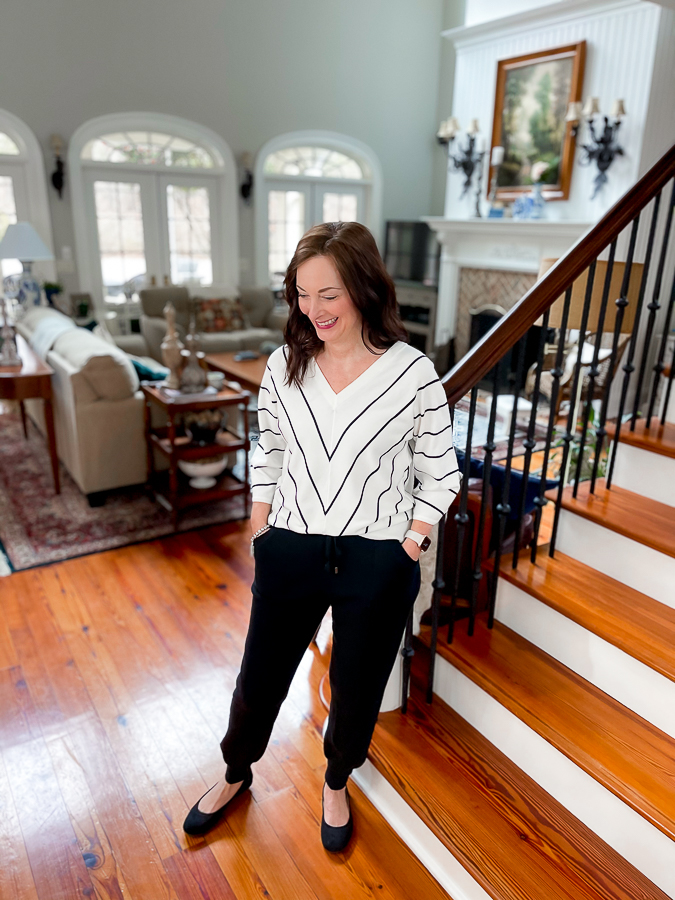 With the sweater, I did a slight tuck of the front hem into the joggers.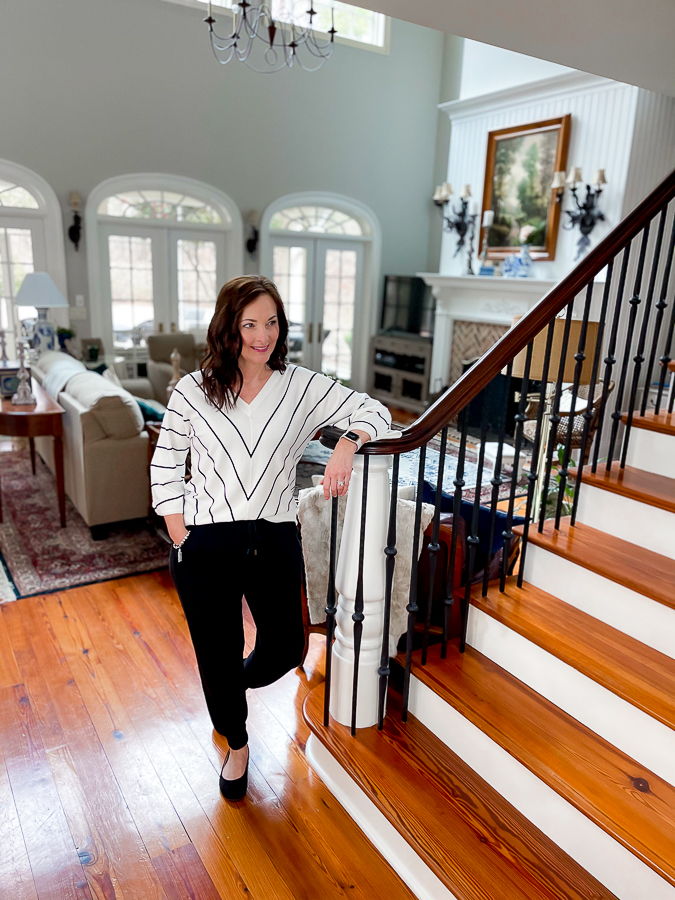 Check out my Instagram stories for all the details on this look as well as sources.
The above look from Instagram showcases the same Zenergy® joggers as well as a sweater and fun jacket from the collection.
Do you have a favorite look from today? I'd love to hear about it in the comments.
Be sure to follow me on Instagram for more.
Also, be sure to follow @loveChicos on Instagram. Find all sorts of fun looks with the #lovechicos hashtag.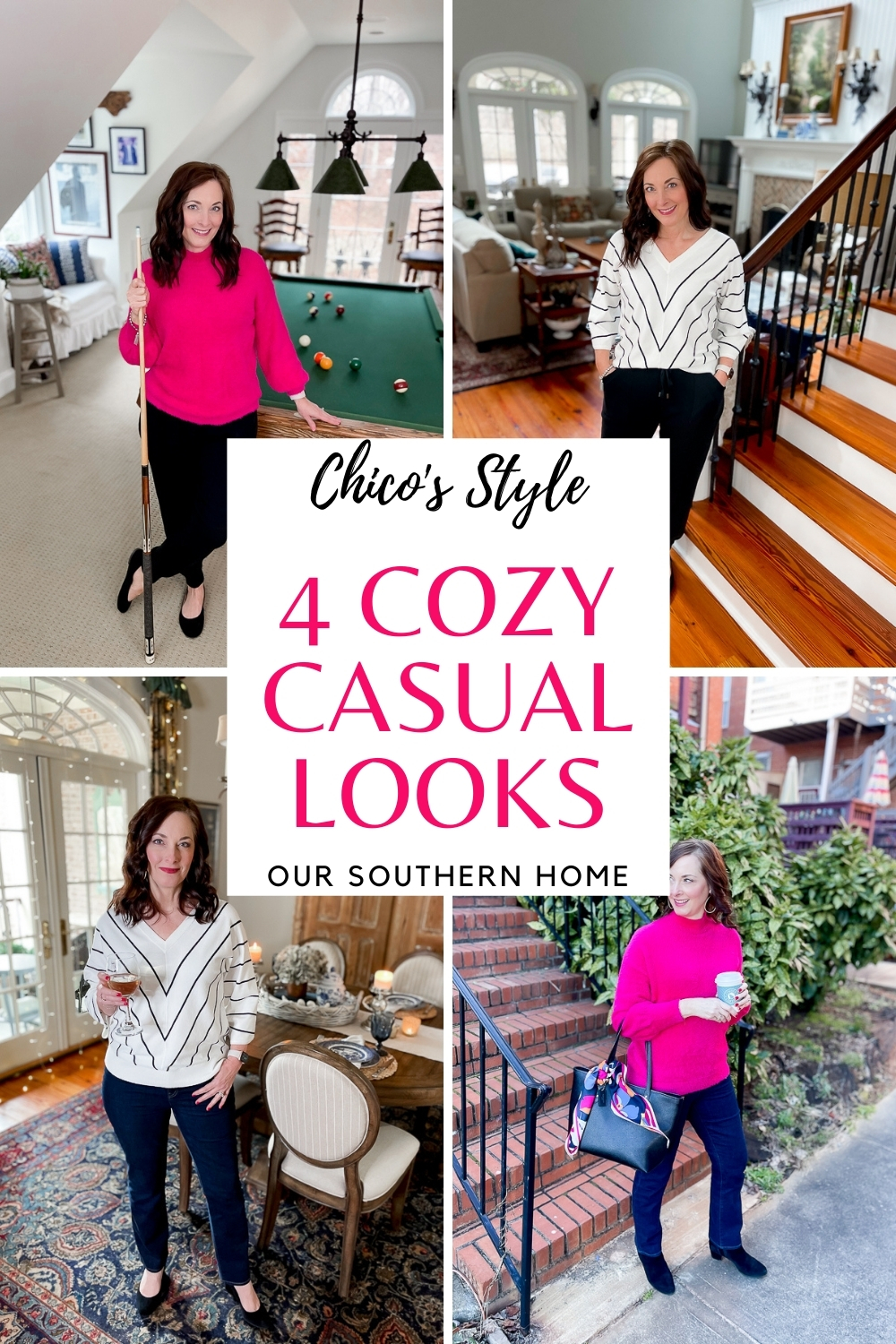 Buffer