Saturdays on the Porch #36
Saturdays on the Porch #36 featuring this week's fashion looks and more from Our Southern Home for life and home.
Latest from OSH
This post may contain affiliate links. If you purchase something using one of my links, I may earn a small commission from the retailer costing you nothing more. You can read more on my disclosure page. YOU WILL FIND A SHOP THE LOOK FOR OUR HOME AT THE BOTTOM!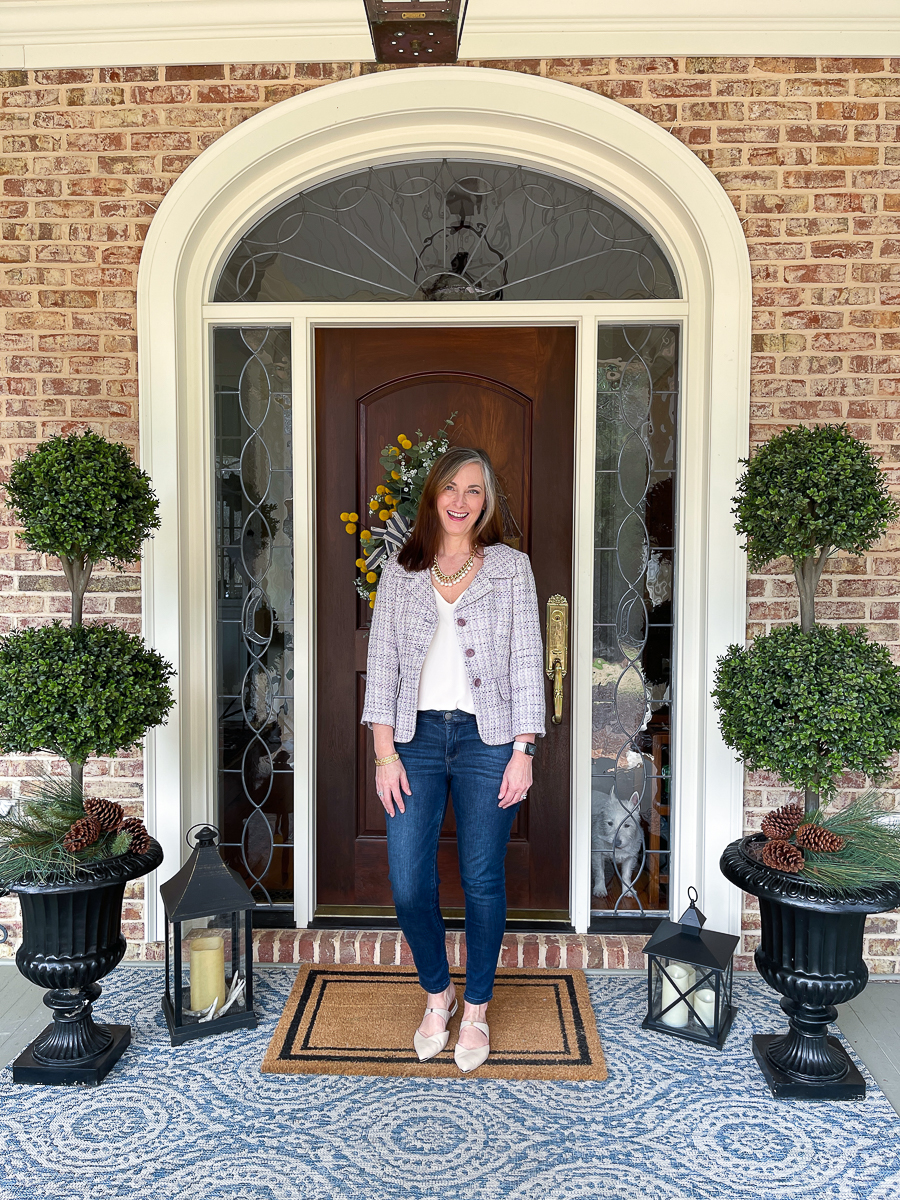 Door Mat | Topiaries | Similar Lanterns | Similar Rug
Hello, Saturday!
I hope you have had a fabulous week! It's been a good one here.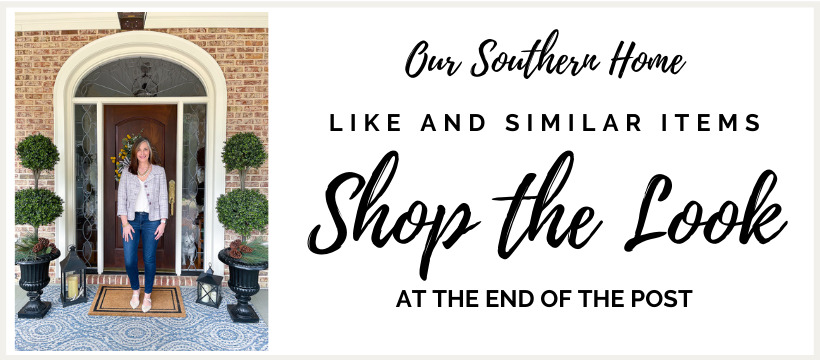 We've had some warmer temps, and it does make me happy. Of course, being in the south…..this time of the year is a roller coaster.
I'm starting to dip my toes into some spring colors.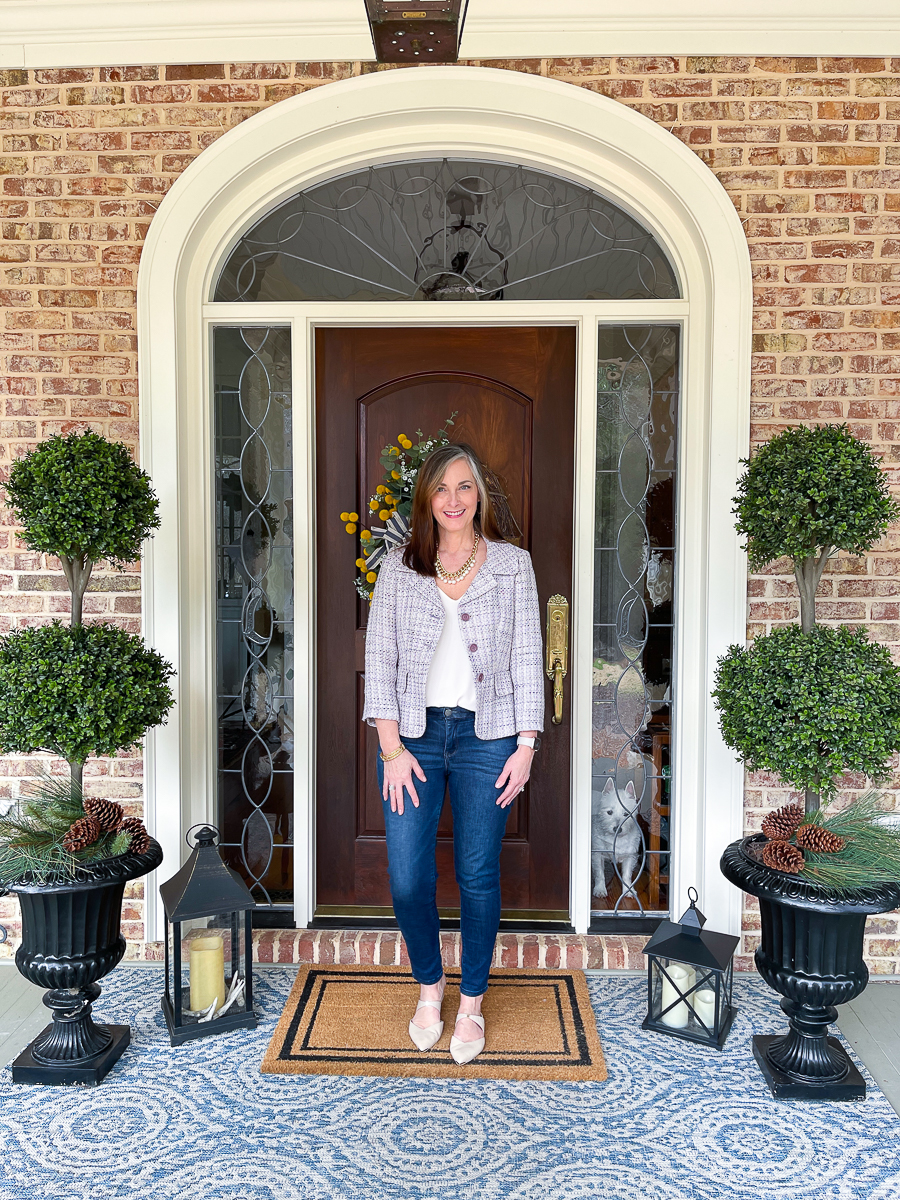 Door Mat | Topiaries | Similar Lanterns | Similar Rug
I wore this outfit recently. It's a "Shop My Closet" look. Sometimes it really pays to invest in a classic piece. This tweed jacket was a purchase from Ann Taylor about 20 years ago! I love how jeans are such the norm now for dressy casual. I love it with jeans. Back in the day, I wore it with a cream skirt to church. I still have the skirt as well!
For the last several weeks, my hubby and I have been heading out around 3 pm on Fridays to do some errands then an early dinner. It's been a nice date evening. Who says dates have to be a night?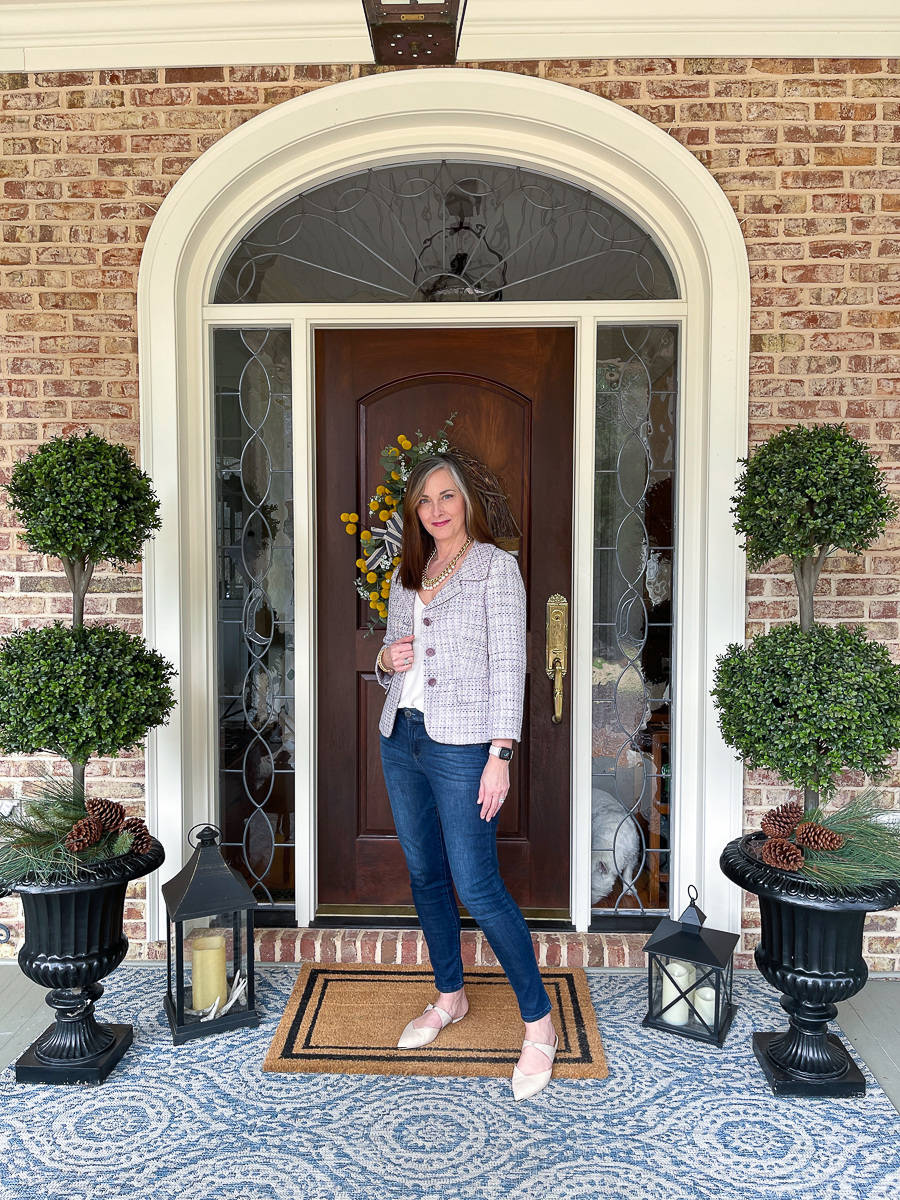 We've been enjoying this. We are home by 7:30. We then hunker in for the evening with a show or 2. Here are a few things we've been enjoying.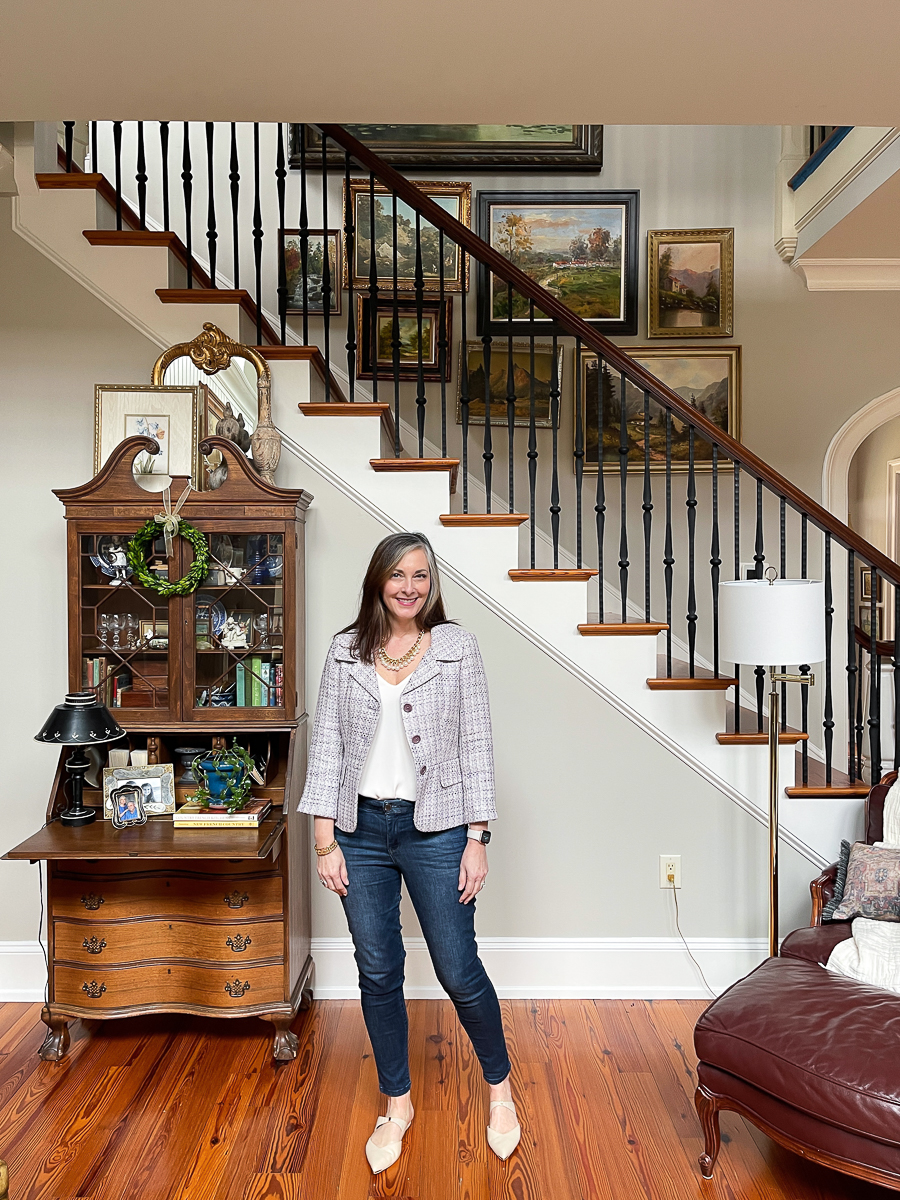 What We've Watched
The Marvelous Mrs. Maisel (Netflix) just started back, and we couldn't be happier. Unfortunately, we've watched at times that have not been conducive to me staying awake. This is seriously the story of my life. I've been waking 5ish and getting to work. I don't typically take a nap, so I start struggling with staying away starting around 8. Ha, ha! Hmmmmm…..Maybe that's why we are doing date night on Fridays at 3pm.
We just finished the first part of the last season of Ozark. It is soooo good. I've always been a big Jason Bateman and Laura Linney fan. Now I love the girl that plays Ruth. She is really talented. The 2nd part starts in April. Can't wait!!! (Netflix)
Speaking of the actress that plays Ruth…..I just binged watched the docu drama that she stars in on Netflix. Inventing Anna is so good. I just can't beleive that she got away with her scam for so long. I will say, the character has some great fashion style. (Netflix)
I'm enjoying The Cleaning Lady on Fox. It's got the tall, dark handsome guy from Designated Survivor except this time he's a criminal. (Fox)
We just finished the first season of Reacher. It's based on the Jack Reacher series by Lee Child. It's really good. The main character has a dry sense of humor, but in a funny way. It's action packed. (Amazon)
We are also tickled to have This is Us back. I love this show, and will hate to see it end this year. It's really been wonderful. (NBC)
What I'm Reading
I love to read and listen to books. If you are looking for a way to get more steps in with your walking…..listen to books! You will want to keep walking to listen.
I read actual printed books as well as on Kindle. I prefer my Kindle, but it is nice to hold a real book on occasion.
I've had my Audible membership for a while, and LOVE it! It gives me one book credit per month.
Let me share with you how I read on Kindle and listen to books as well. Get yourself a library card!
Then add the LIBBY and HOOPLA apps to your phone.
I will typically check to see if a book is available there first before using my credit or buying. Using these 2 apps with your library card is FREE!!! I love FREE.
If it is a newer title or popular, there may be a waitlist. That's ok. Sometimes the wait can be lengthy. If I'm not willing to wait, I will just purchase. If it is new or popular, you NEED to finish the book in the allowed checkout time. Sometimes you can renew, and sometimes you may have to get back in the queue. If that happens, when it is available again…..it will download where you left off.
Here is what I've recently read or listened to.
What We've Bought
What Caught My Eye
This account has quickly become one of my favorite fashion accounts on Instagram and TikTok. She has such style with a fun personality!
This cheese board is gorgeous. Great inspiration to create your own.
I've always been a scarf girl. This is a great way to tie a neck scarf.
This is such a pretty way to store items in the bath.
What a beautiful cottage-style bedroom for spring!
This screen saver on this TV is lovely.
French-styled dining room with eclectic style. Notice the light fixture.
I hope you have an amazing weekend! XO, Christy


Buffer