This week's Saturdays on the Porch will feature favorite Instagram accounts, my weekly manicure, supplement organizer, creme brulee, & more!
Welcome to Saturdays on the Porch!
Y'all, I am sincerely overwhelmed by the response to last week's new Saturday series.
Many thanks to each and every one of you for your comments and shares with friends. I am still making my way through comments.
I will say that this was a fun series to write. Sharing like we are actually sitting on the porch chatting up like the friends we are!
Grab a cup of coffee…..because it's been crazy cold all over this past week.
Before We get started, I am continuing to pray for my Texas friends. It looks like things are warming up a bit there today so hoping that helps, power is restored and water gets flowing.
Saturdays on the Porch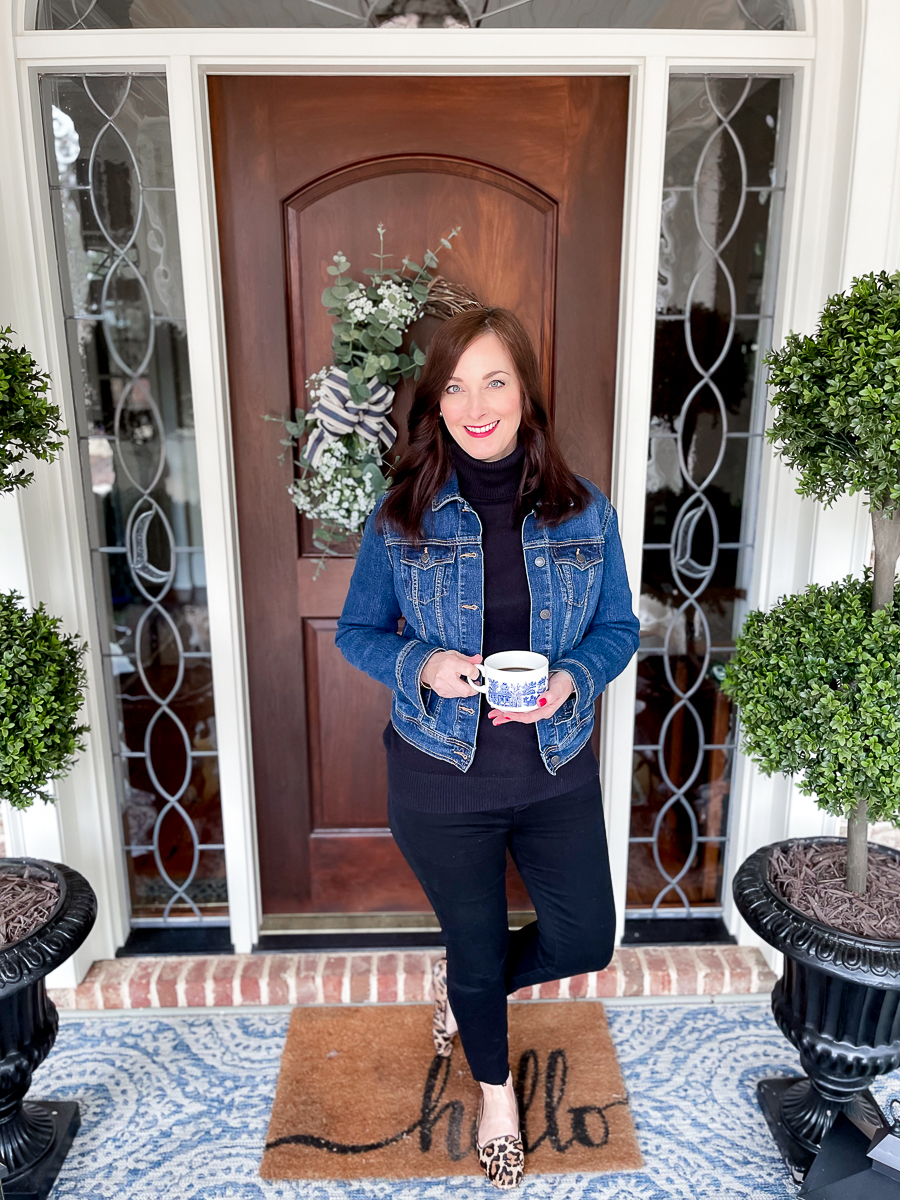 Exact Faux Topiaries | Similar Mat | Black Jeans | Similar Leopard Flats | Black Turtleneck Sweater | Denim Jacket | Similar Blue & White Mugs | Larger Blue Rug
Before we get started, let me address the topiaries. (they are on sale today) I get asked about these all the time. They are not real. I tried forever to keep things alive by the door. It was messy and things just never last. These topiaries are going on 2 years old and the best investment ever! You can read all about how I "planted" them to look real HERE and a post that I did about them at the 1-year mark HERE.
What I am Reading or Listening to this Week
As a recap: I do a combination of Kindle reading and Audible books. I love listening to books while walking and working around the house. It has helped me keep my sanity when painting all that woodwork or organizing closets. I listen with my Alexa.
Before purchasing a book, I always check to see if it is available to check out for FREE from my library using either my Libby or Hoopla App on my smartphone. Yes, you can check out audiobooks as well as send the digital books to your Kindle to check out from the library without ever setting foot in one. You do have to have a current library card. If there is a wait, I just put myself in line until I can get it. 
My husband needed a new book. I suggested The Silent Patient. It's been on my list and thought we'd both enjoy it. He liked it a lot and said that I would as well. It's on my list to read next. It is in the mystery, thriller, suspense category. 
I am currently listening to The Good Daughter by Karin Slaughter. Mystery, thriller, suspense
I am on chapter 10 and really enjoying it. It has a bit of a graphic beginning with the crime, but not gorry or gross. Just detailed.
I am currently reading the paperback version of Mill Point Road. I saw it advertised on Facebook and ordered it. It said that it was to be a movie so that intrigued me. Not sure if that was true or not? I am enjoying the book. It falls in the mystery, thriller, suspense category. 
Total Impulse Buy
Do you ever have a total impulse buy? I ordered this mini-waffle iron. So many things that you can do with it. Ashlyn was so excited when it came in. She even used it for the first time last night. She's been put in charge of coming up with some recipes to do with it.
Yummy Goodness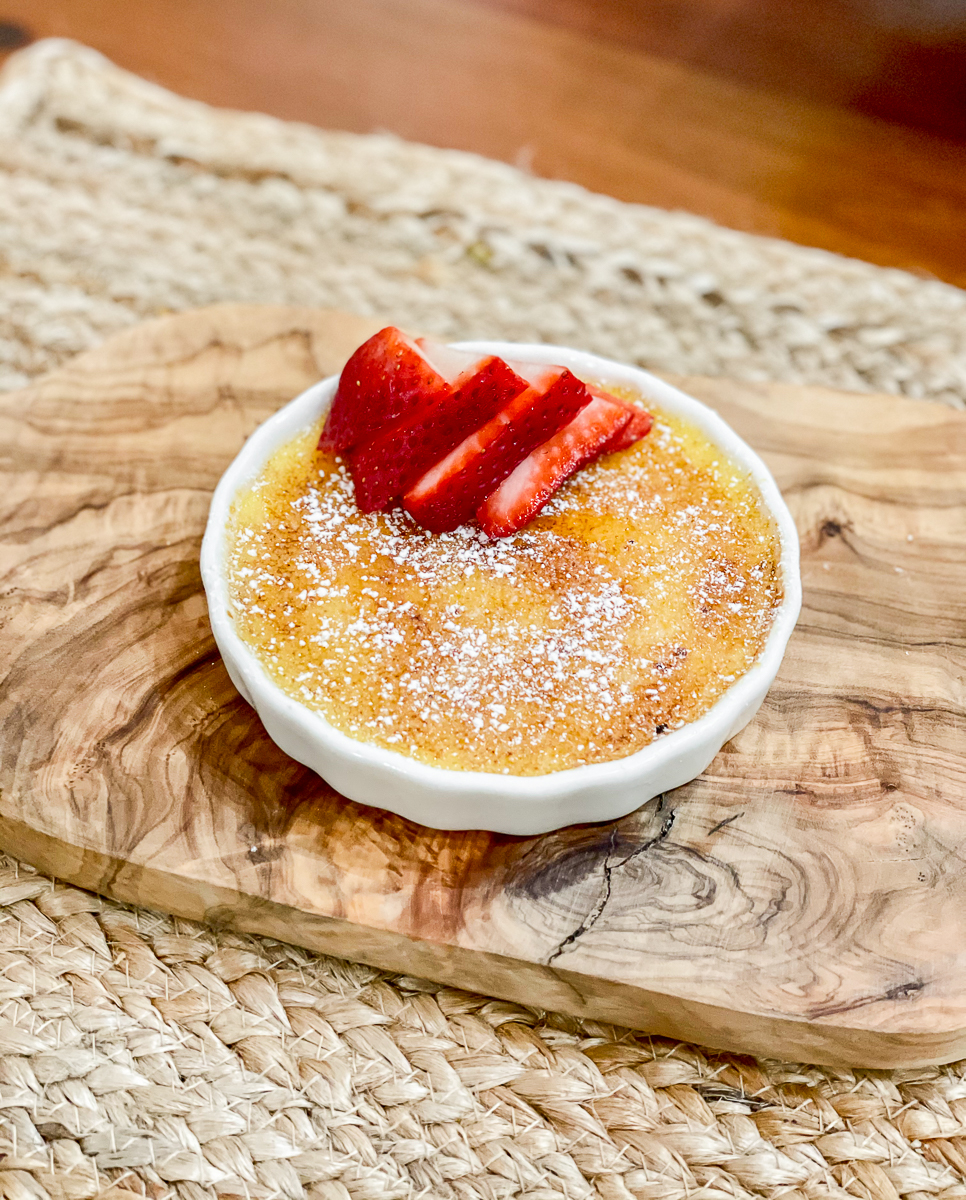 Ashlyn made her first-ever Creme Brulee for our Valentine's Day dinner at home last Sunday night. Y'all……I can't even begin to tell you how amazing it was. She used this recipe tweaking it a bit. She'll be sharing it soon on the blog. She got these ramekins that are so pretty and this blow torch with fuel for her birthday. The first set of ramekins came in busted. Amazon immediately shipped a replacement. It was really pretty easy to make! She's unique in that she's been asking for cooking things for gifts lately. She'll take them with her when she moves out on her own. My mom gave her this Lodge pot that she uses all the time. It really cooks well. For the life of me, I can't find the oyster-white in stock anywhere for you. The one that I linked is red. Mom got it on Amazon, but the only one available is like double the price so I didn't link it. Here is a page of all the white Lodge. A great alternative to the expensive Le Cruset. I have both of the pieces in the line from Target.
This Week's Nail Color
I am so happy y'all enjoyed my DIY Manicure from last week. You can read about it HERE.
Each week to keep me accountable, I'm going to share my nail color. It will make me keep my nails painted. I know it's a little thing, but it honestly keeps my nails stronger. The only time that I don't keep them painted is if I'm painting or doing yard work.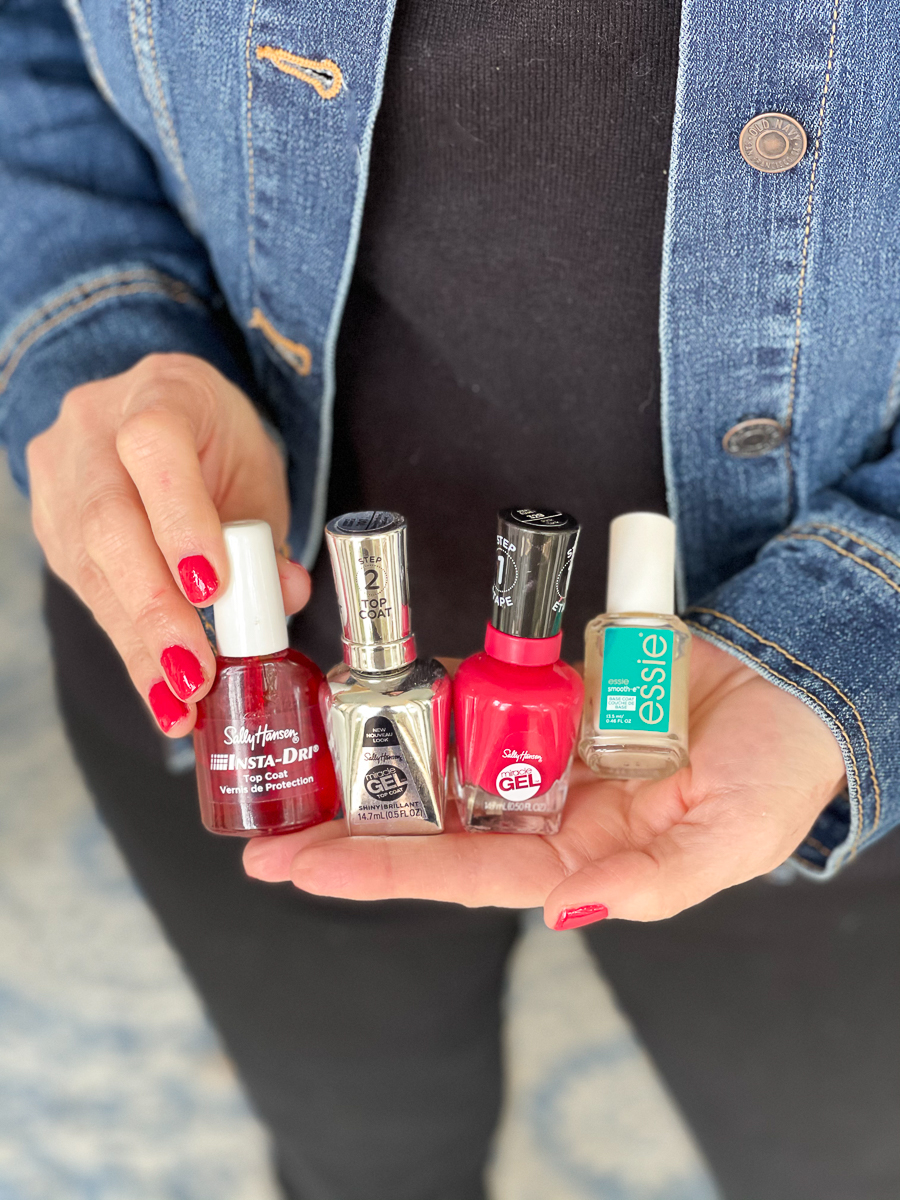 Base Coat | Step 1 Pink Tank | Step 2 | Top Coat
I really like this color, Pink Tank. It's a great alternative to red. It's a pretty dark pink.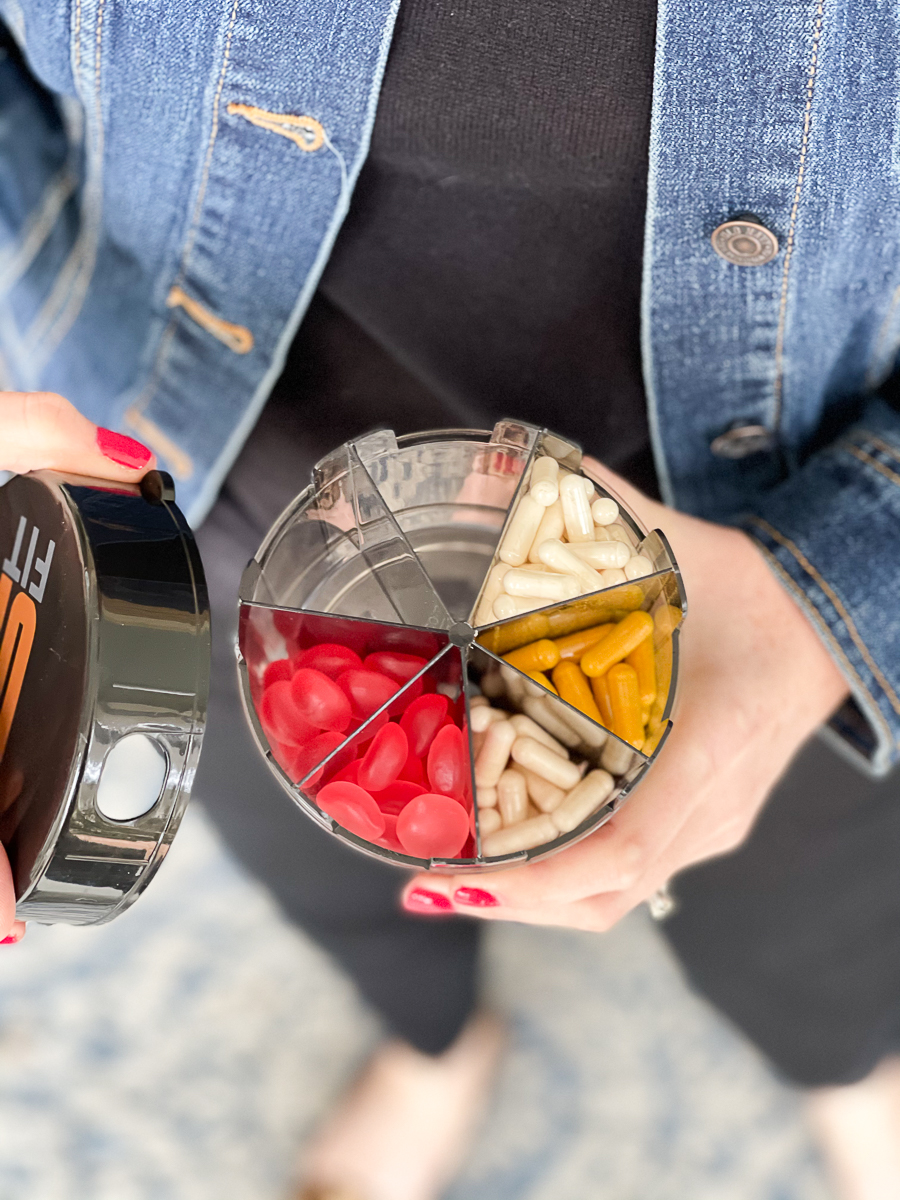 My old pill organizer wasn't cutting it. The tops didn't stay closed well and it was time-consuming filling it up weekly. I don't take any medications on a regular basis, but I do take several supplements.
I started looking on Amazon. I came across this pill organizer. The reviews were great so I ordered it. I've been using it for a couple of weeks now and love it. No more having tons of bottles to open or filling up the day of the week organizer.
The lid lifts off for you to fill the divided slots. The lid is tight and a bit hard to get off, but I appreciate this. I don't want this to come off easy. I've let myself run out of my collagen so I need to get that reordered.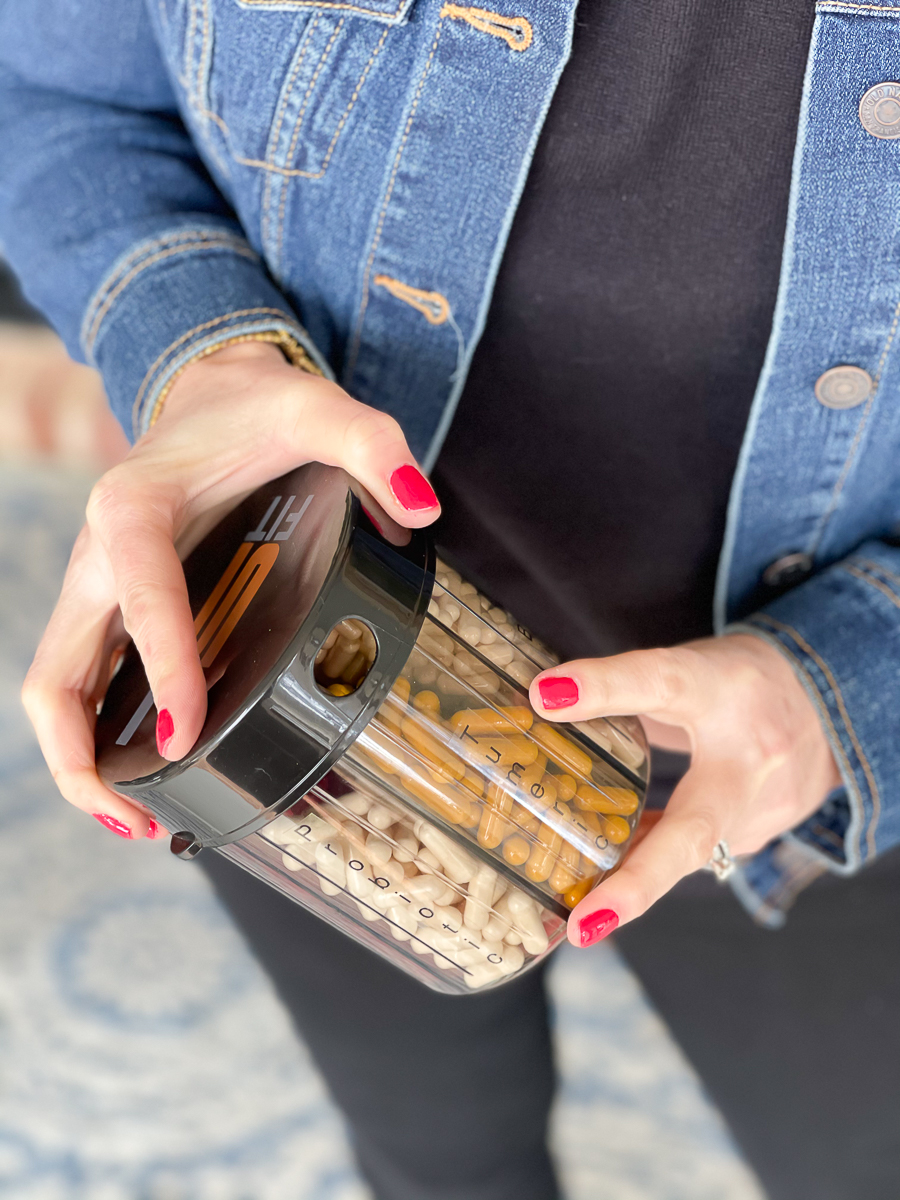 To dispense, you twist the lid to reveal the slot. It does come with white labels that you can write on. I used my label maker. Hint: If a supplement requires more than 1 pill per day, I added the number after I typed in the word. Like my collagen label reads like this: COLLAGEN 2
I get all of my supplements from Sam's Club with the exception of collagen. I go back and forth on collagen. Sometimes I use this powder in smoothies and hot tea. I don't like it in coffee. It's tasteless, but I don't like it for some reason in coffee. Lately, I've been using the convenience of these pills.
Here are the Amazon equivalents of the supplements that I get at Sam's Club.
Instagram Favorites
Instagram is great for any kind of inspiration. You can search any hashtag for ideas. I really gravitate toward traditional interiors with blue and white touches in fabrics and chinoiserie.
Here are a couple of fun fashion Instagram accounts that I love! I follow lots….younger, my age and older. I think that we can be inspired by many ages and looks. The thing about fashion accounts is that you don't have to buy the clothes to get the look. Shop your closet with the inspiration you come across.
Dreamy exteriors and gardens!
Heads up! Right now all regular-priced Chico's jeans like I am wearing in the post below are on sale for $59!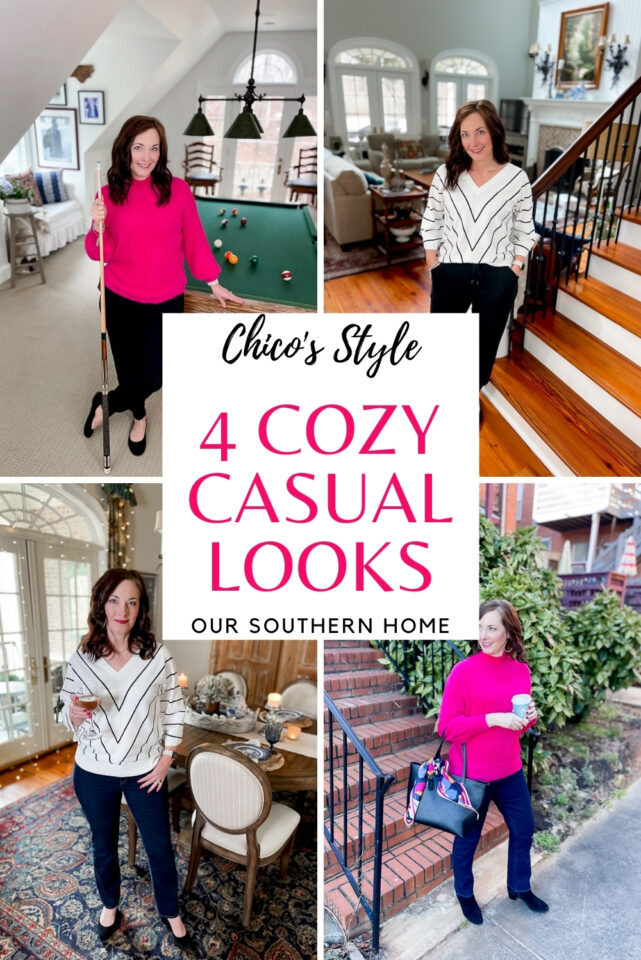 I had a lot of fun working with Chico's on this recent post.
Recent Posts from OSH
Lots of upcoming fun posts planned so make sure you subscribe so that you'll be notified when they go live!
Upcoming Posts
Pinterest Challenge: Decorating a Spring Console Table
Ashlyn's Gourmet Grilled Cheese
Blue and White Dining Room Tablescape
Winter Family Room
Organized Refrigerator
Thanks so very much for joining me on the porch! Is there anything you'd like for me to add to Saturdays on the Porch?
Buffer