Summer home tour featuring shades of blue fabrics, chinoiserie, and collected shells for a subtle nod to the season.
Summer Home Tour
I honestly love all seasons and decorating our home accordingly, but there is just something about summer.
I'd like to thank Marty from A Stroll Thru Life for organizing another amazing summer home tour for us! This tour has a little something for everyone. There are so many different styles of decor represented as well as rooms and outdoor living areas.
If you are stopping by from Designing Vibes then welcome! I am so happy to have you stop by for a visit.
Make sure you subscribe to the blog so you don't miss other decorating posts + more! I have a popular series that runs each week called Saturdays on the Porch. It features a little of everything from fashion and decor to my favorites from Instagram.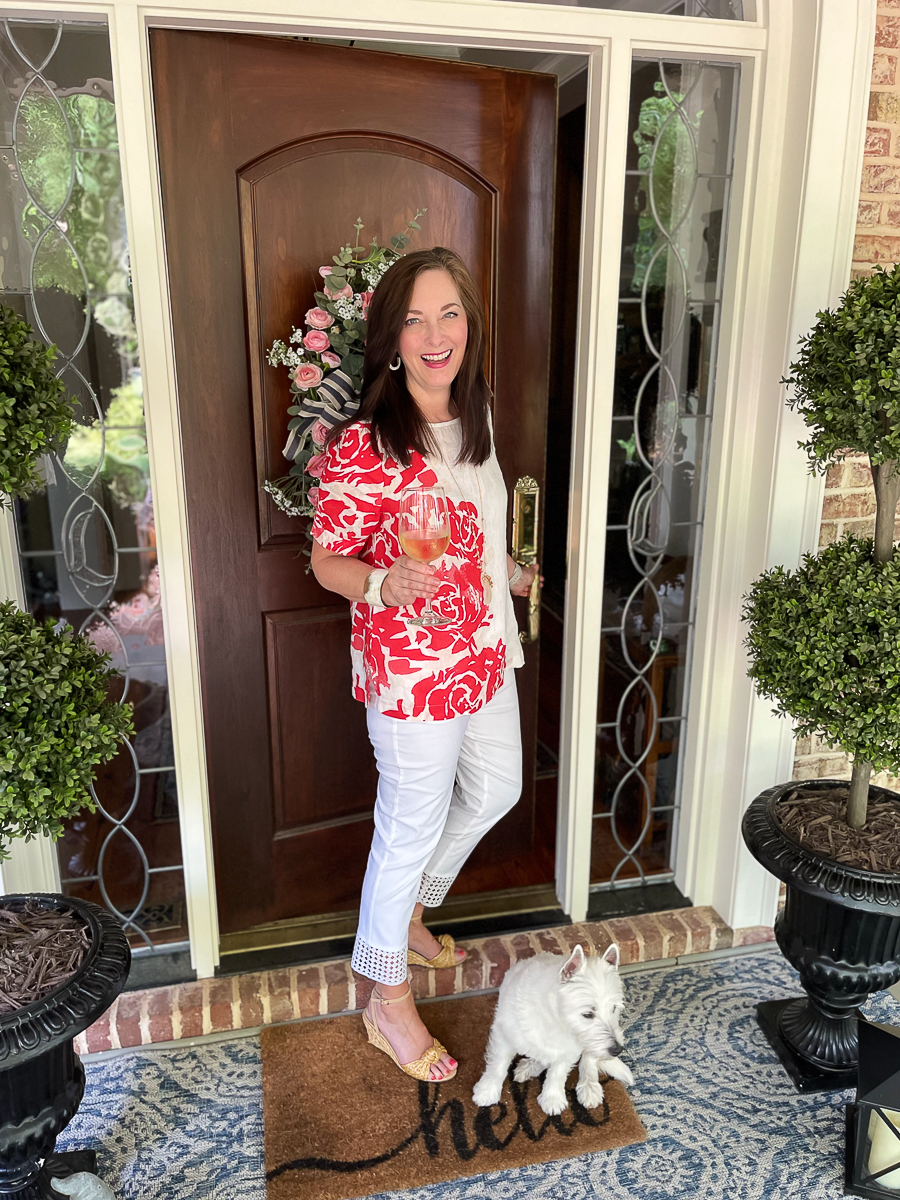 Earrings | Topiaries | Blue Rug | Similar Mat | Similar Lanterns | Linen Top | Bracelet | White Capri Pants Necklace | Sandals
Bentley and I welcome you to our home! Let's pretend it's 5 pm and we are heading to the patio for a glass of white wine to catch up!
Read all about my faux topiaries for the porch! We've had them for 2 years now. It's my #1 reader favorite.
You'll find a SHOP THE POST at the bottom of the page for my summer home tour!
I've always loved summer and having the kids home. I was never the mom that couldn't wait for their kids to start school back in the fall. I always kind of found it a bit sad. These feelings haven't changed as the kids have gone off to college.
This could seriously be the last laid-back summer that the kids are home forever. They will both be graduating from Clemson University in December. Gulp! I know they both hope to get jobs and get on with their adult lives. I'm really going to enjoy these last few months with them both home.
We had a big houseboat trip to France planned this summer + extended days in Paris. We did a similar trip back over 20 years ago minus kids. It was such an amazing trip. We decided to do it again with a different route with the kids for a last summer graduation gift for them. Sadly, about 3 weeks ago we decided to roll the trip over into next summer. It was just too uncertain with Covid and restrictions. Fingers crossed that if they have jobs next year, that they will be able to go. We would have been going later this month. 
We've decided to just spend time at the beach house this summer + a trip to Nashville. We are actually in Nashville while this tour is going on.
If you are new to Our Southern Home, let me share a bit about myself.
I started the blog in 2012. I do this full-time.
I graduated from Clemson University, and I taught school until my youngest was born. I've taught 3rd, 5th, 6th grades as well as ESOL and reading intervention.
I've been married 31 years. We have 2 kids that are both seniors at Clemson University.
We share a beach house with family on Caswell Beach, NC. It's my happy place!
We recently (March) bought a lake house with another family to use as an Airbnb. It's still a work in progress. We haven't even stayed there yet because it's always rented!
I have a weekly series that I started in February called Saturdays on the Porch. I'd love for you to subscribe and check it out. It's a little bit of fashion, happenings around the house, what I'm reading, watching, and favorites from Instagram.
What you'll find on the blog: Thrift store makeovers, simple DIY, decorating, recipes, fashion, and some travel.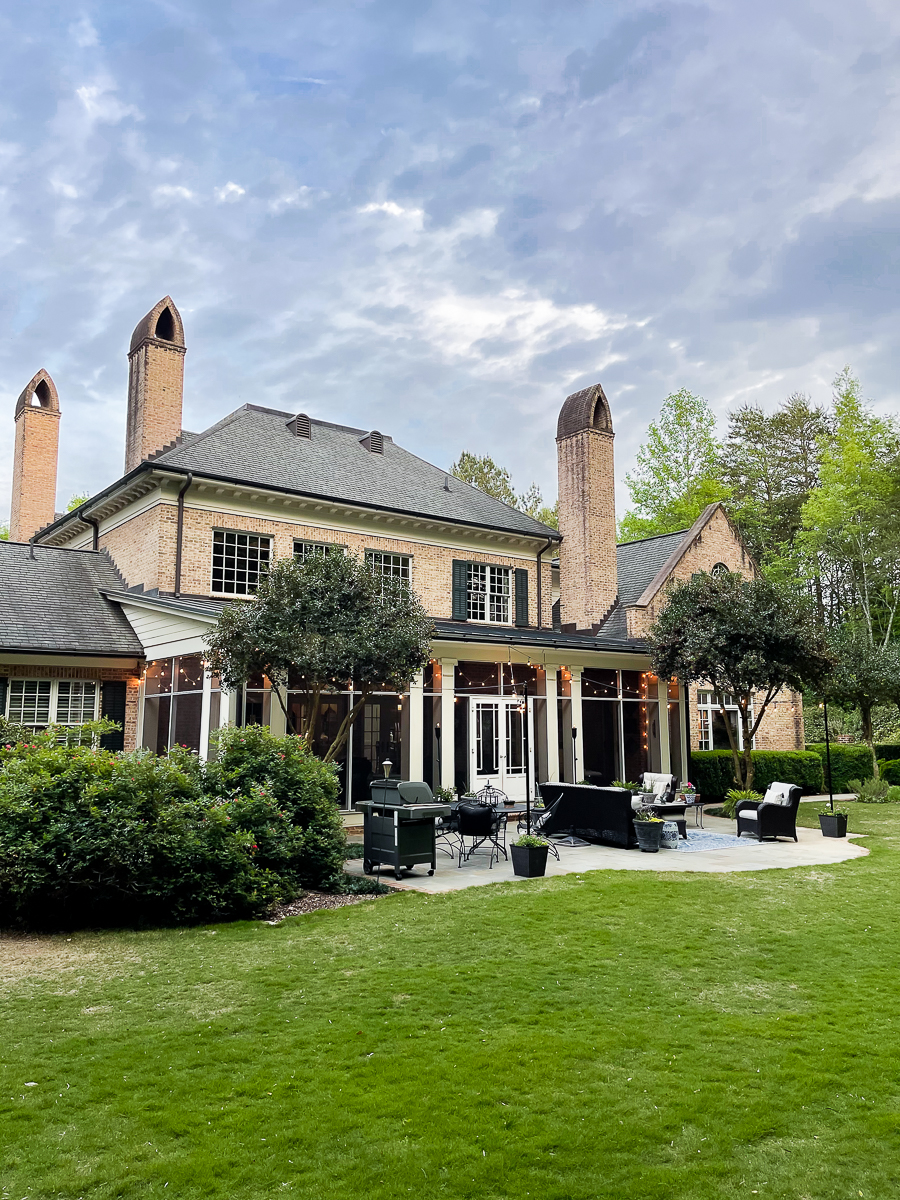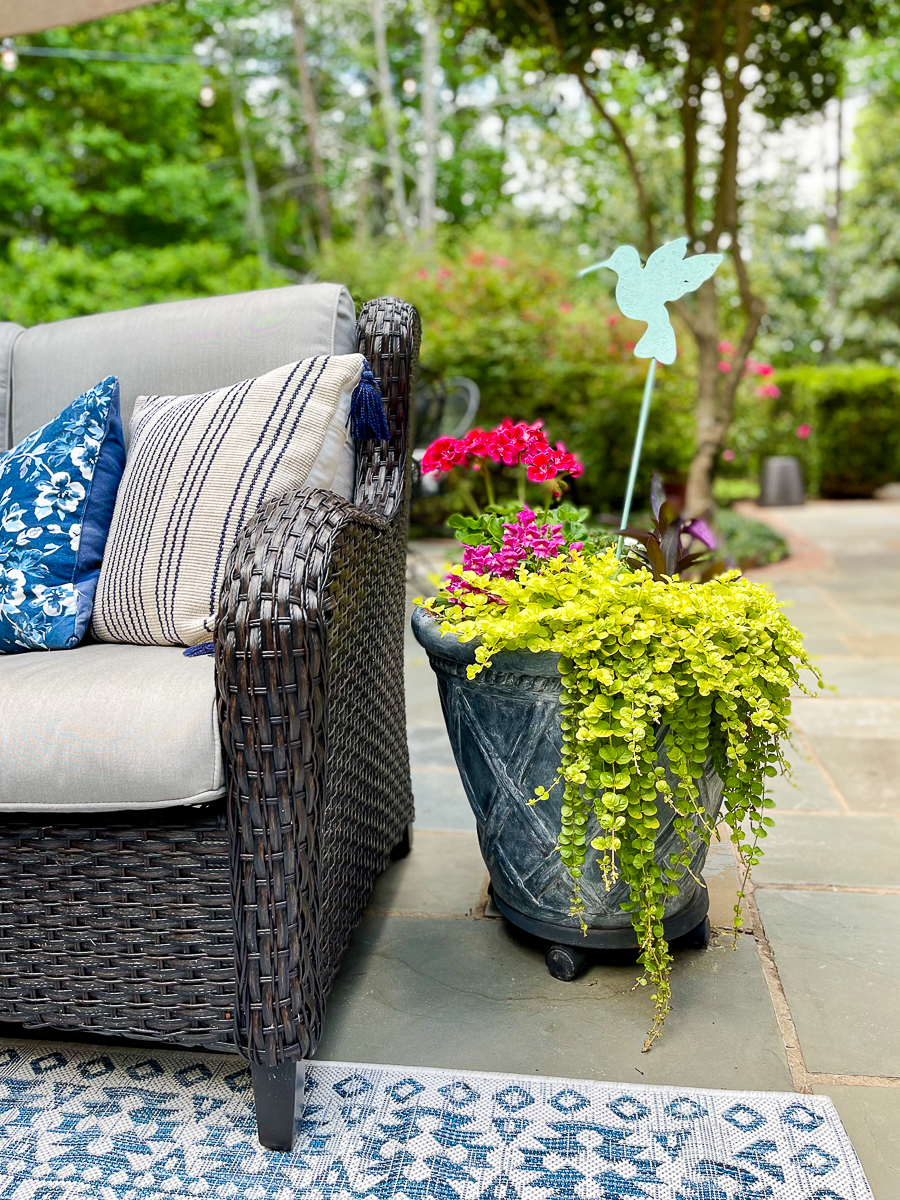 We've been doing things to the house especially on the back patio to really enjoy the summer.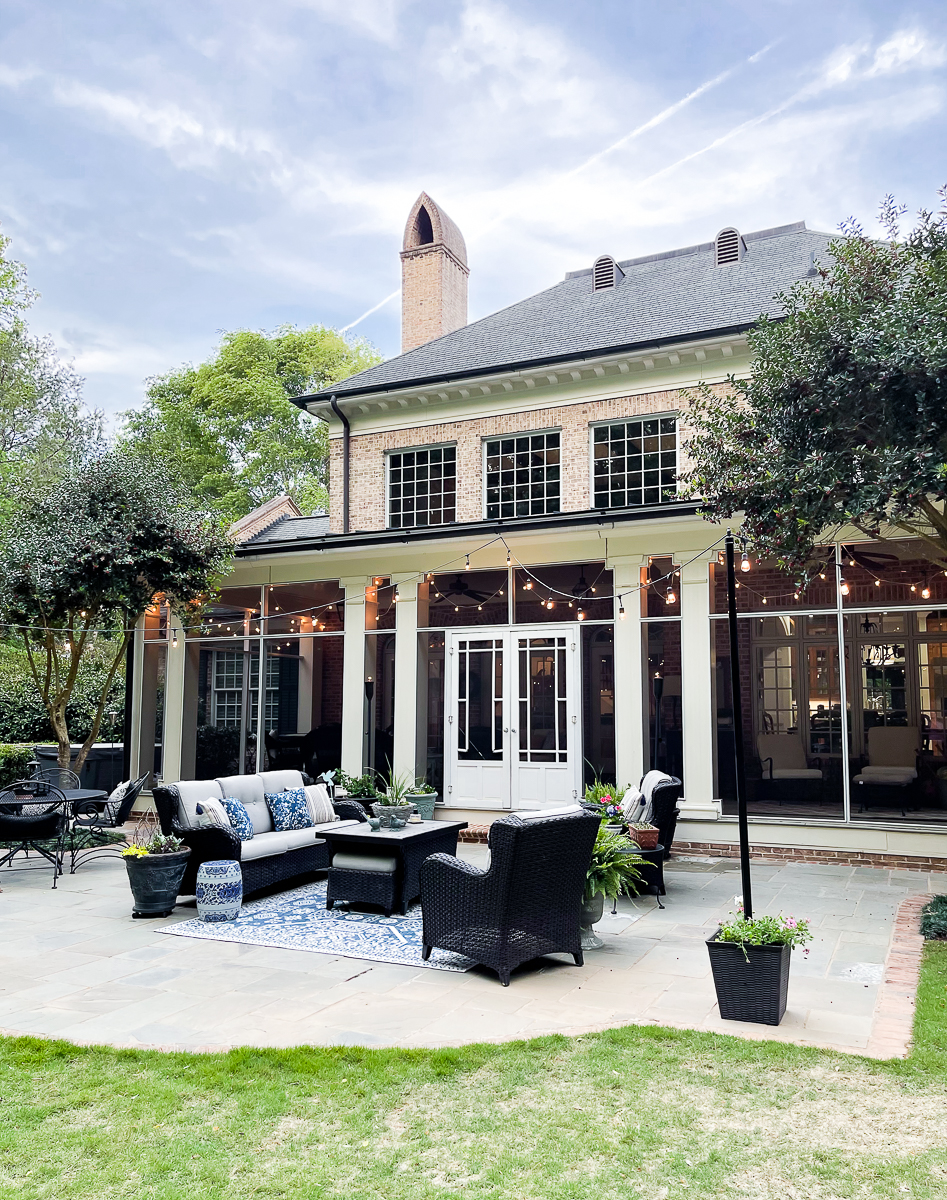 We recently DIYed these cafe string light containers. You can find all the details HERE.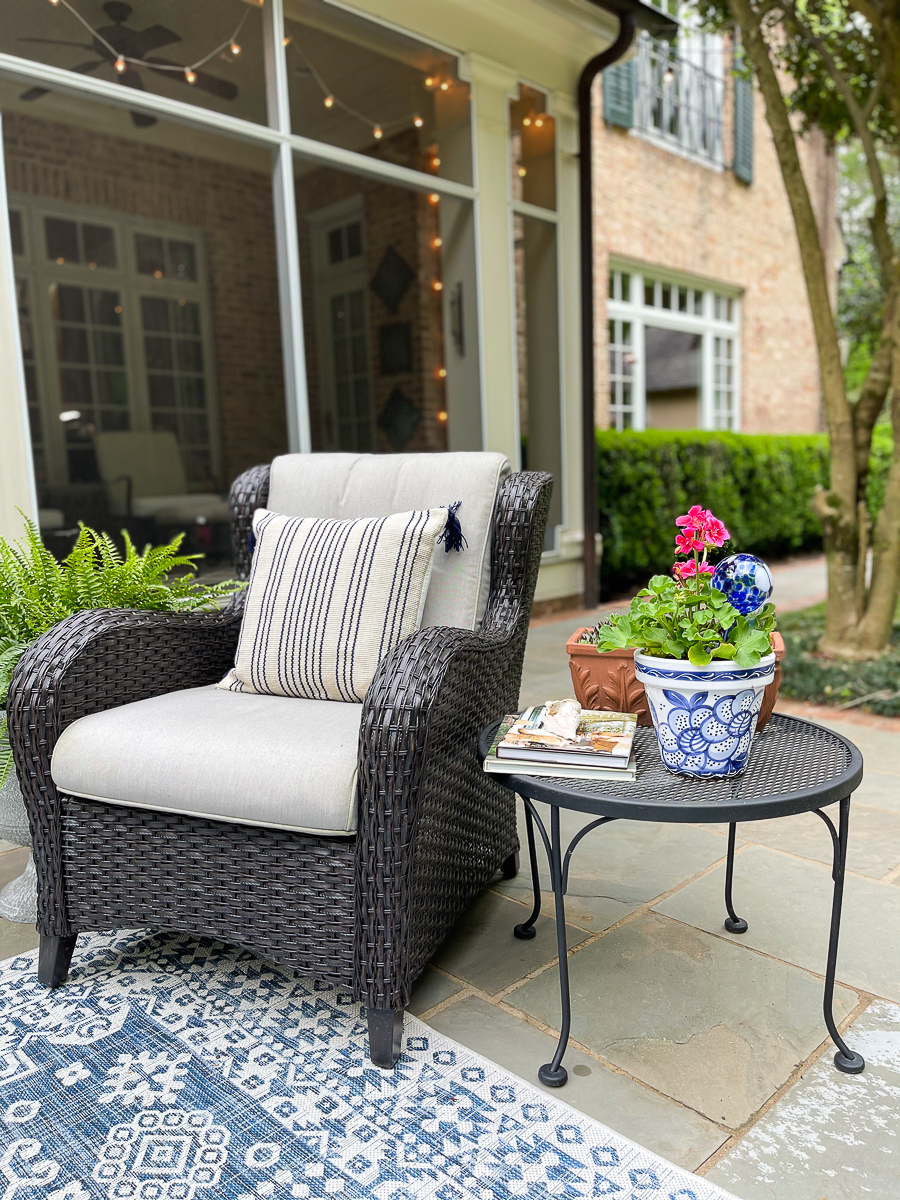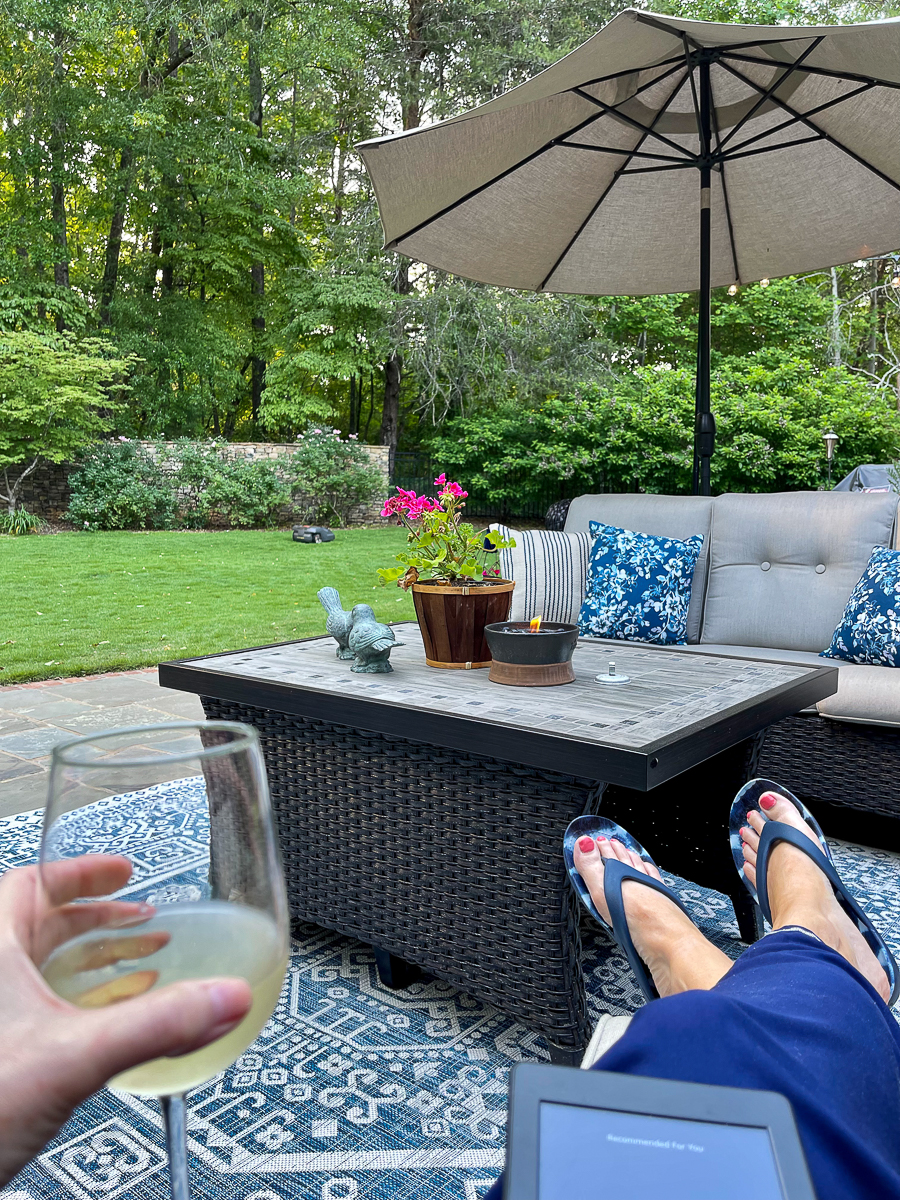 That's me sitting there reading while our automower cuts the grass! We had this installed last spring, and it's the bomb! We seriously never cut grass or rake anymore.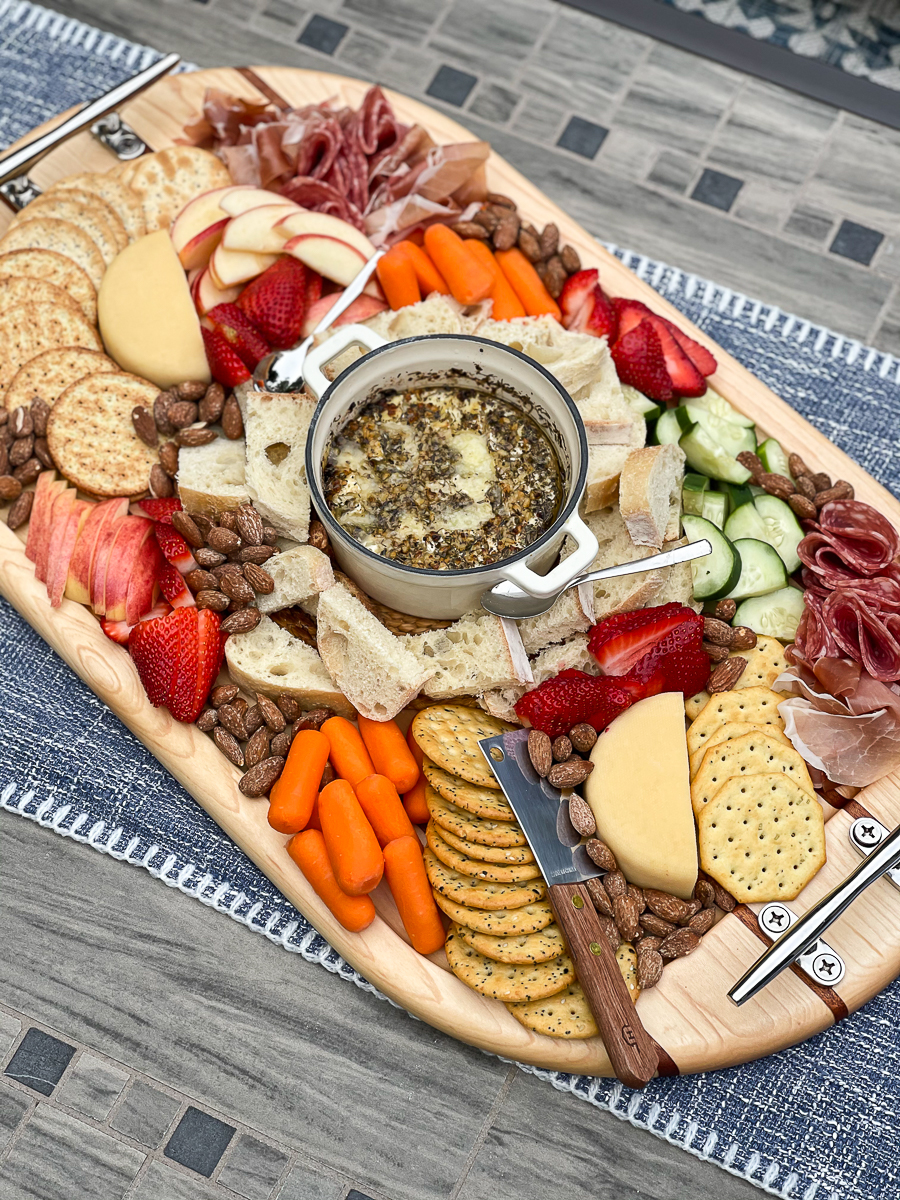 This charcuterie board is large and perfect with handles and a lipped edge for carrying outside. Love the nautical feel + it's monogrammed!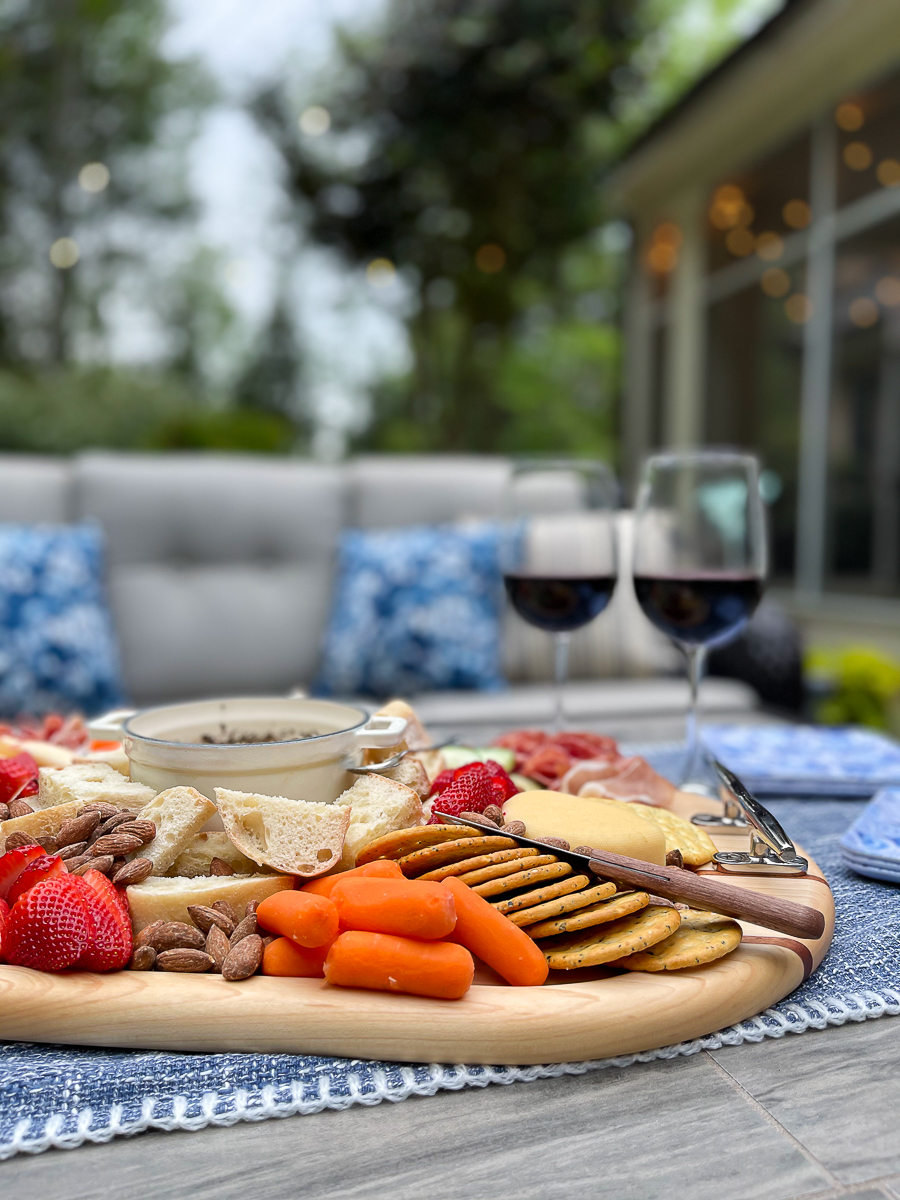 We've been enjoying regular happy hour with the kids on the pack patio a lot of evenings with charcuterie boards for dinner or just a glass of wine while grilling.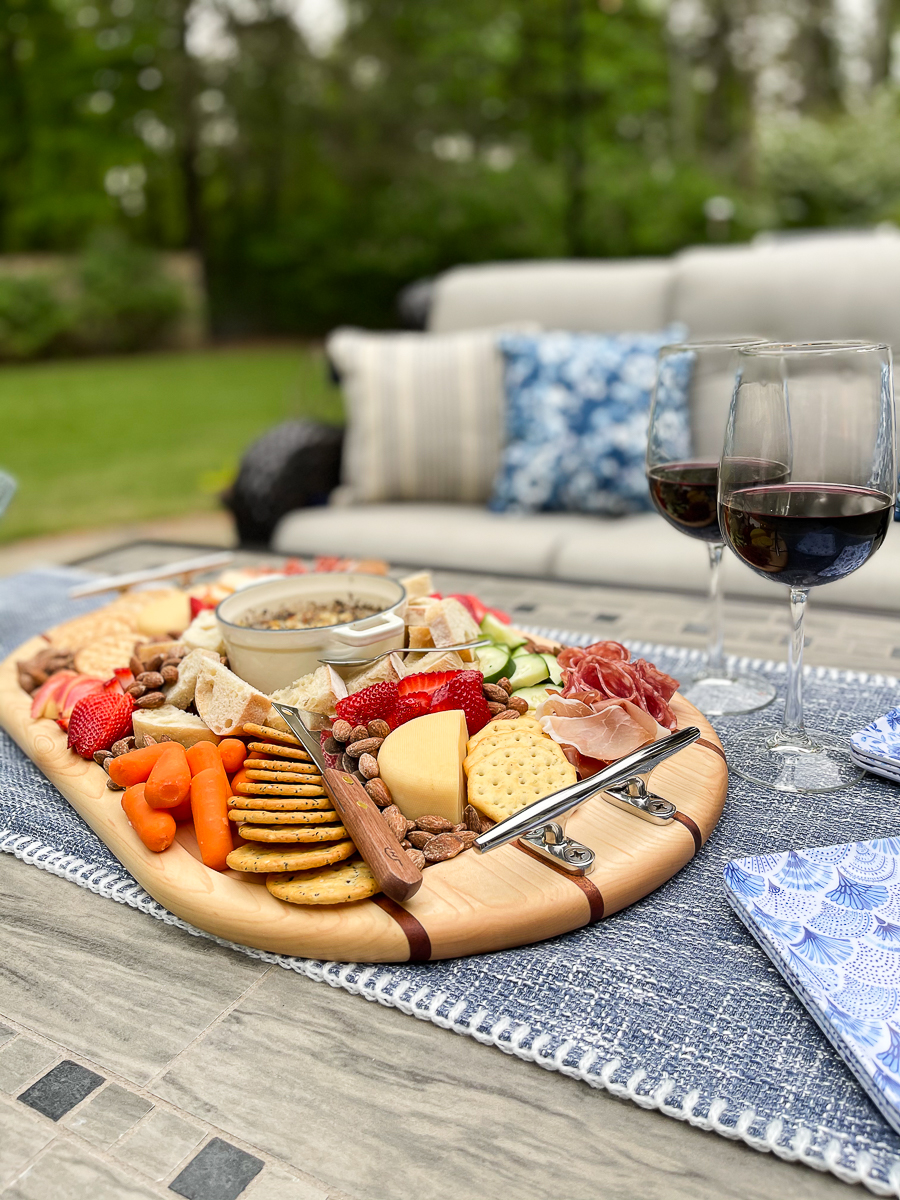 It's been a great way to chat and catch up with everyone. They are 22 and 24.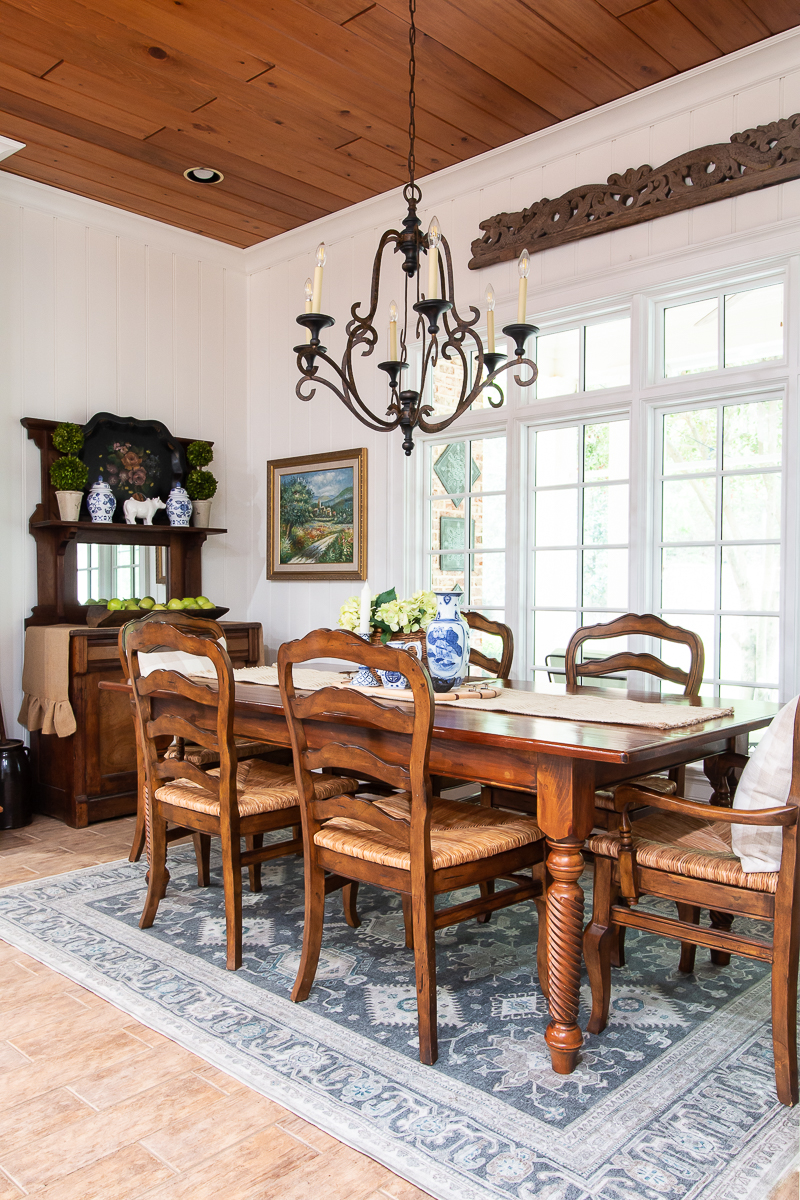 We just celebrated 17 years in our house over Memorial Weekend! Do you notice the new rug? The vintage rug had been in here for about 16 years. It was an amazing $100 find on eBay all those years ago. Seriously though…..what a change a new rug can make in a space. It's my first Ruggable rug that is washable.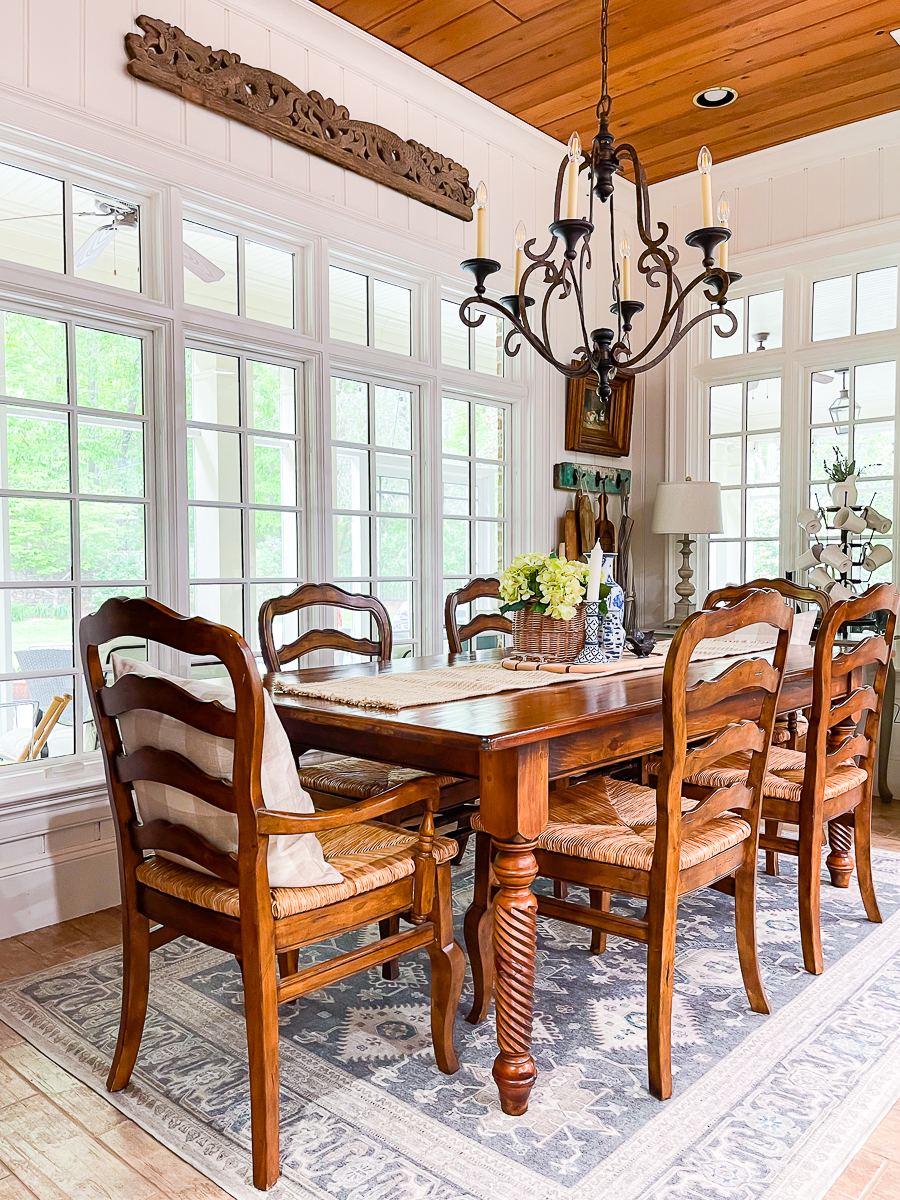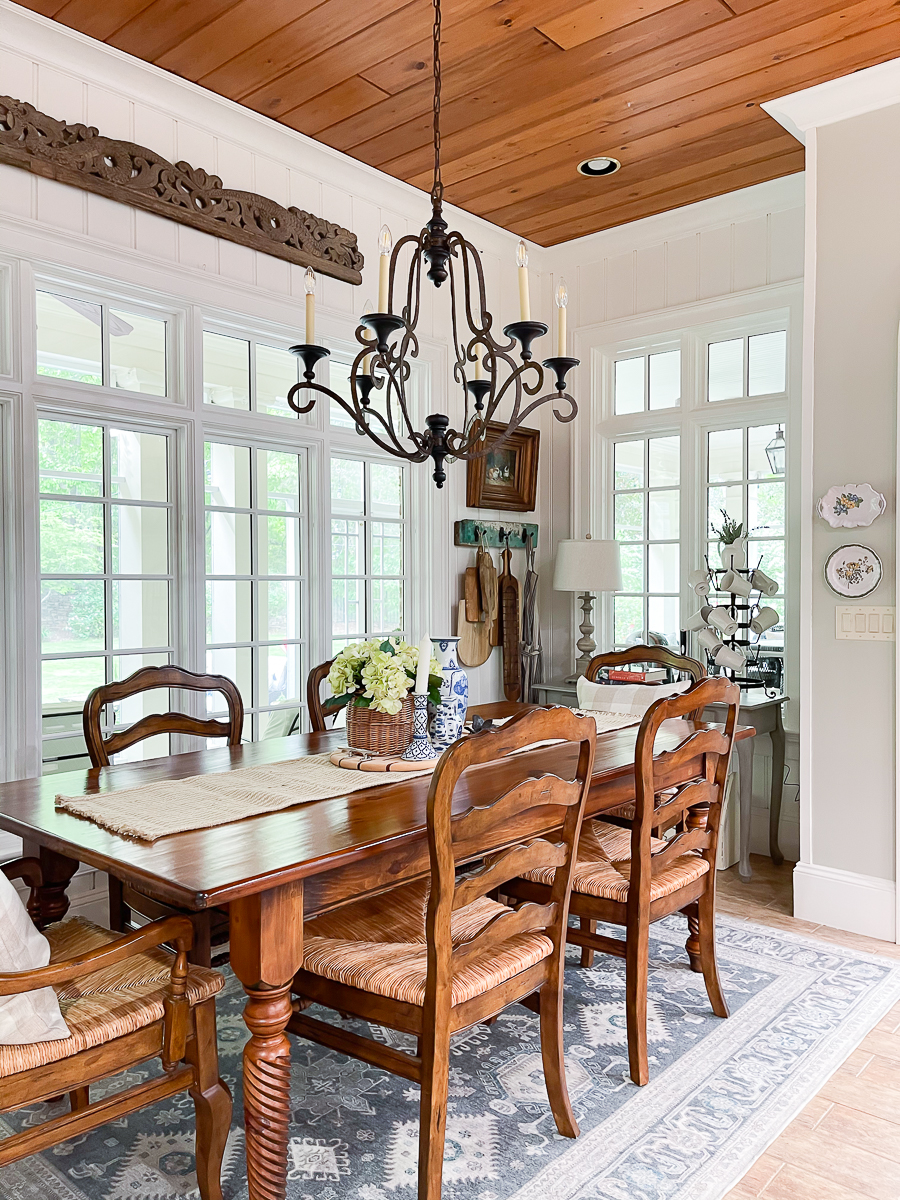 I took a chance on a totally different look. My original thought was that I would use it here for the summer then take it to our beach house this fall. We are installing new LVP flooring in the entire house right now. It so exciting in that some of the rooms still had carpet from the 70s!!!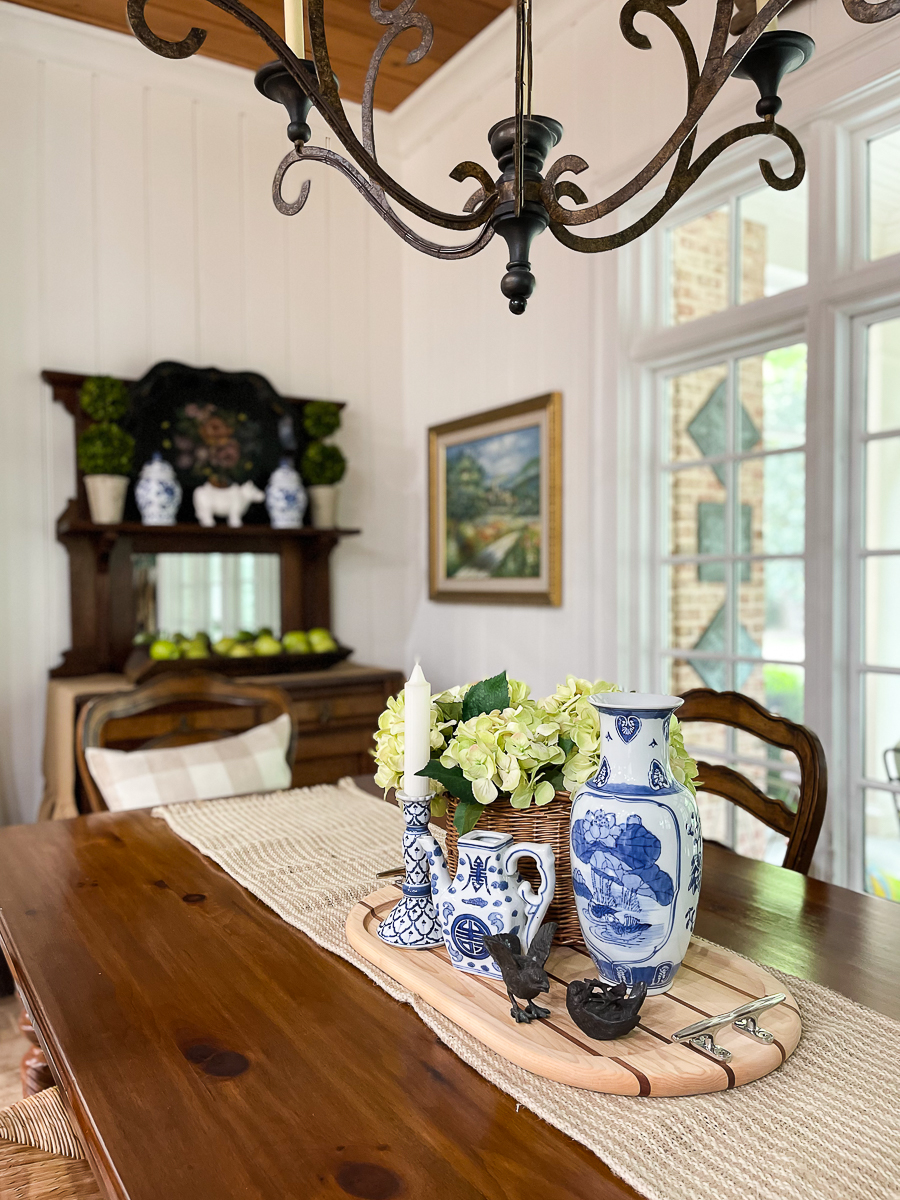 I love the new rug here so much, that I have no plans to take it to the beach house!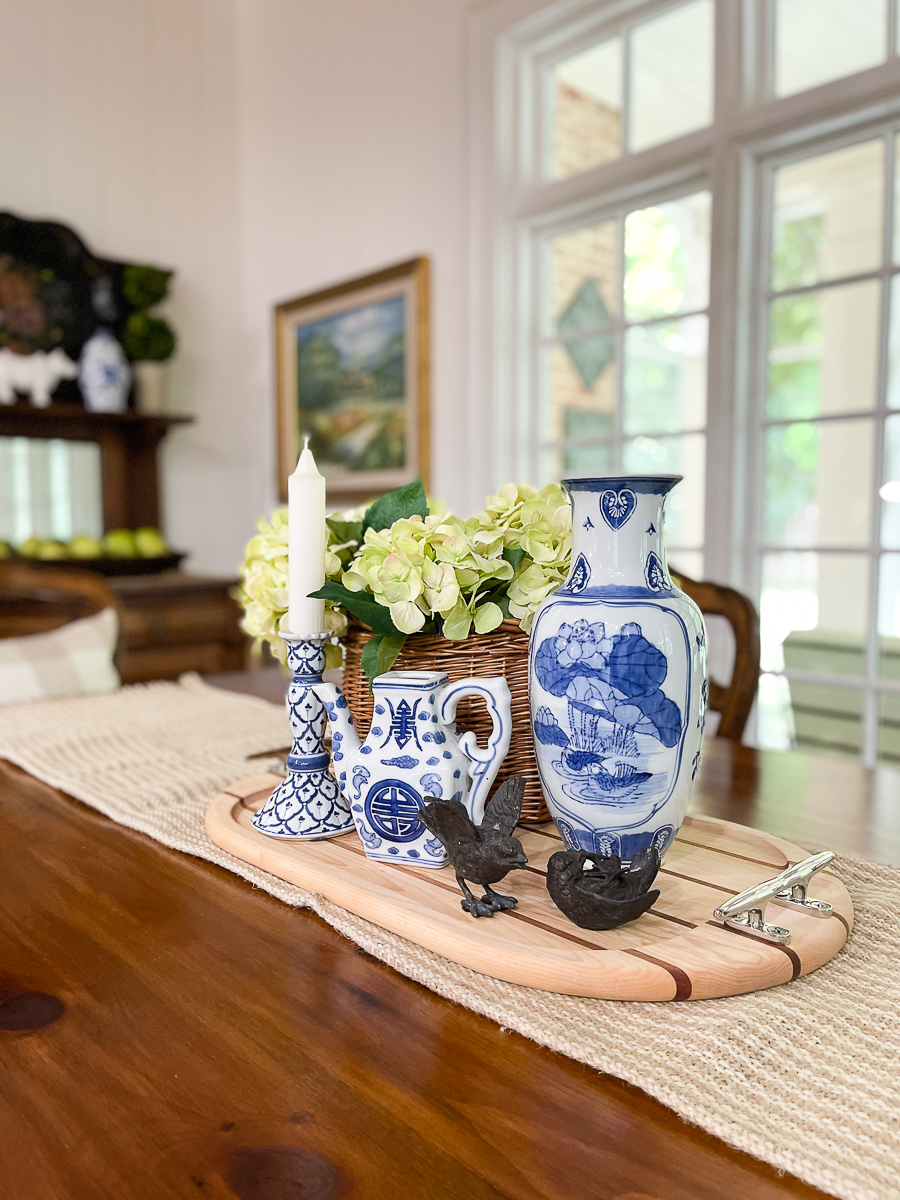 Don't worry……I'm not getting rid of the original rug. It's going in the attic for right now.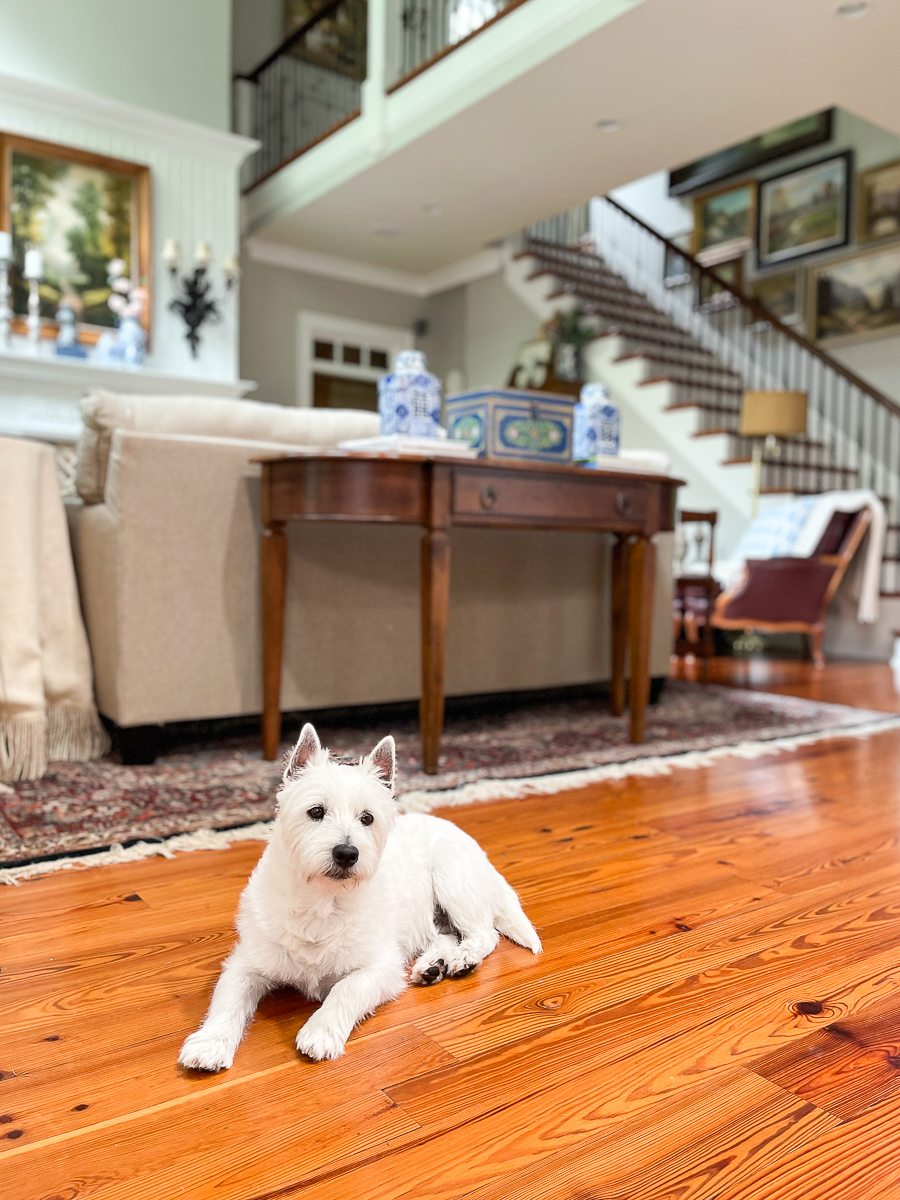 The family room and kitchen open up to each other. 
You can see more of the staircase vintage gallery wall here.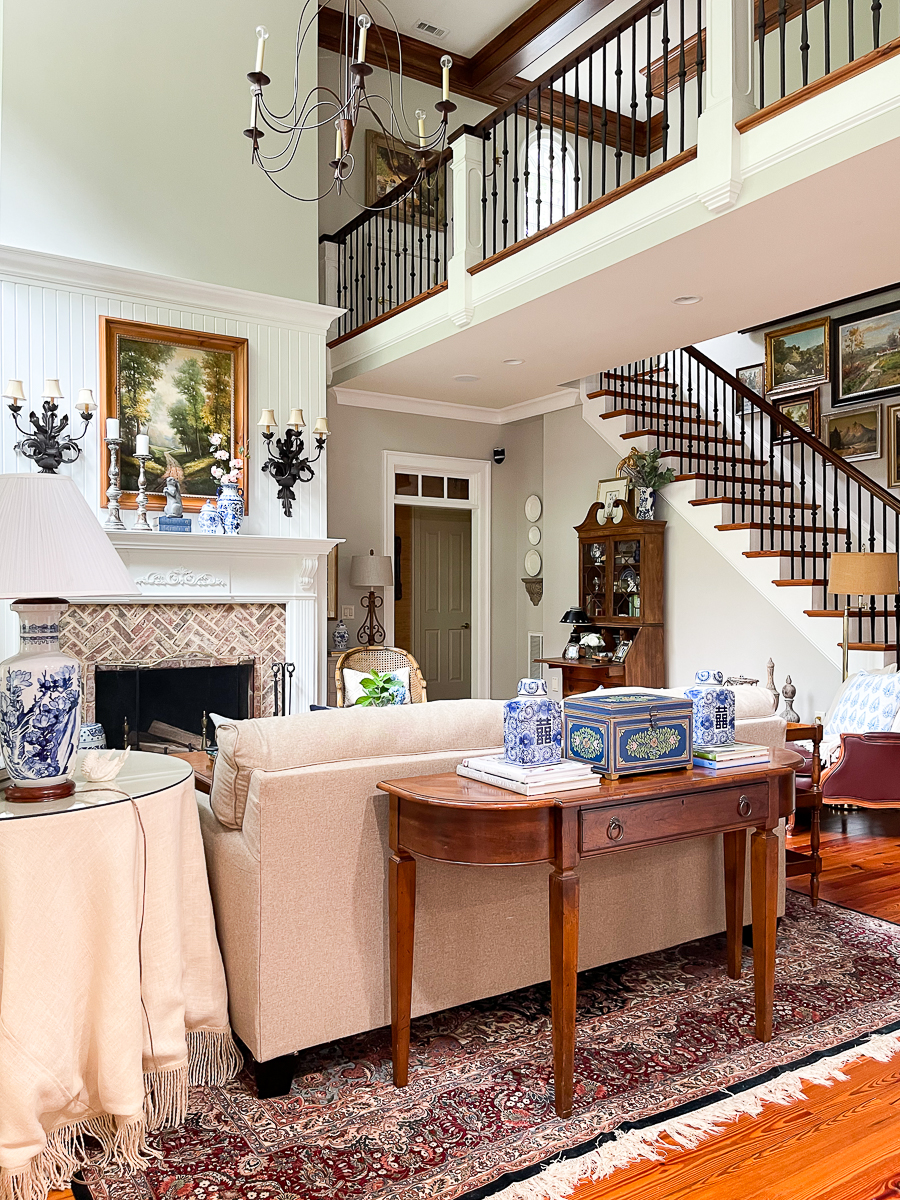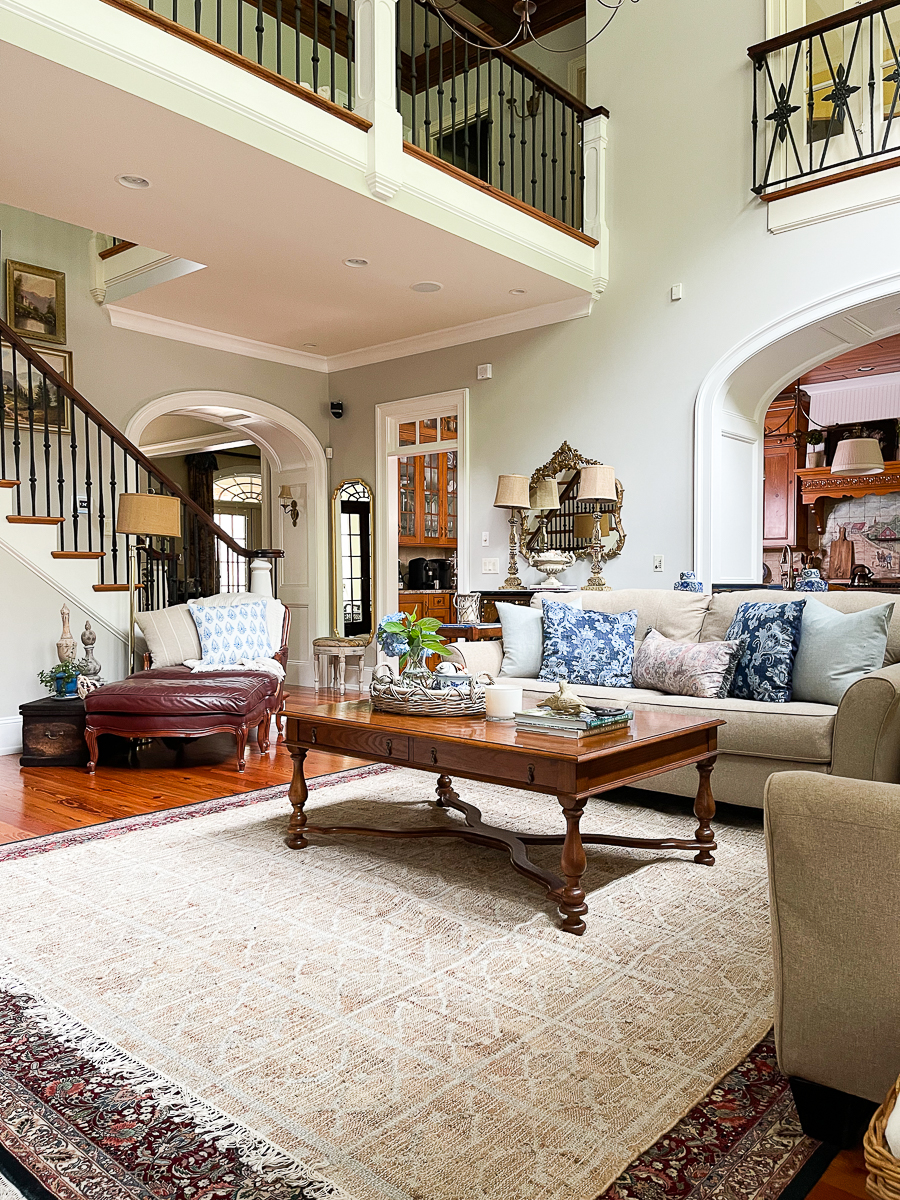 I got this rug in the early spring. It's been a great way to change this room with a little neutrality since the original rug is darker and busy. 
I don't see us ever-changing the larger oriental on the bottom. We bought this rug about 26 years ago. It's here to stay. It's hand-knotted wool and silk. I plan to remove the top rug in the fall and enjoy the rich colors of the main rug for fall and winter.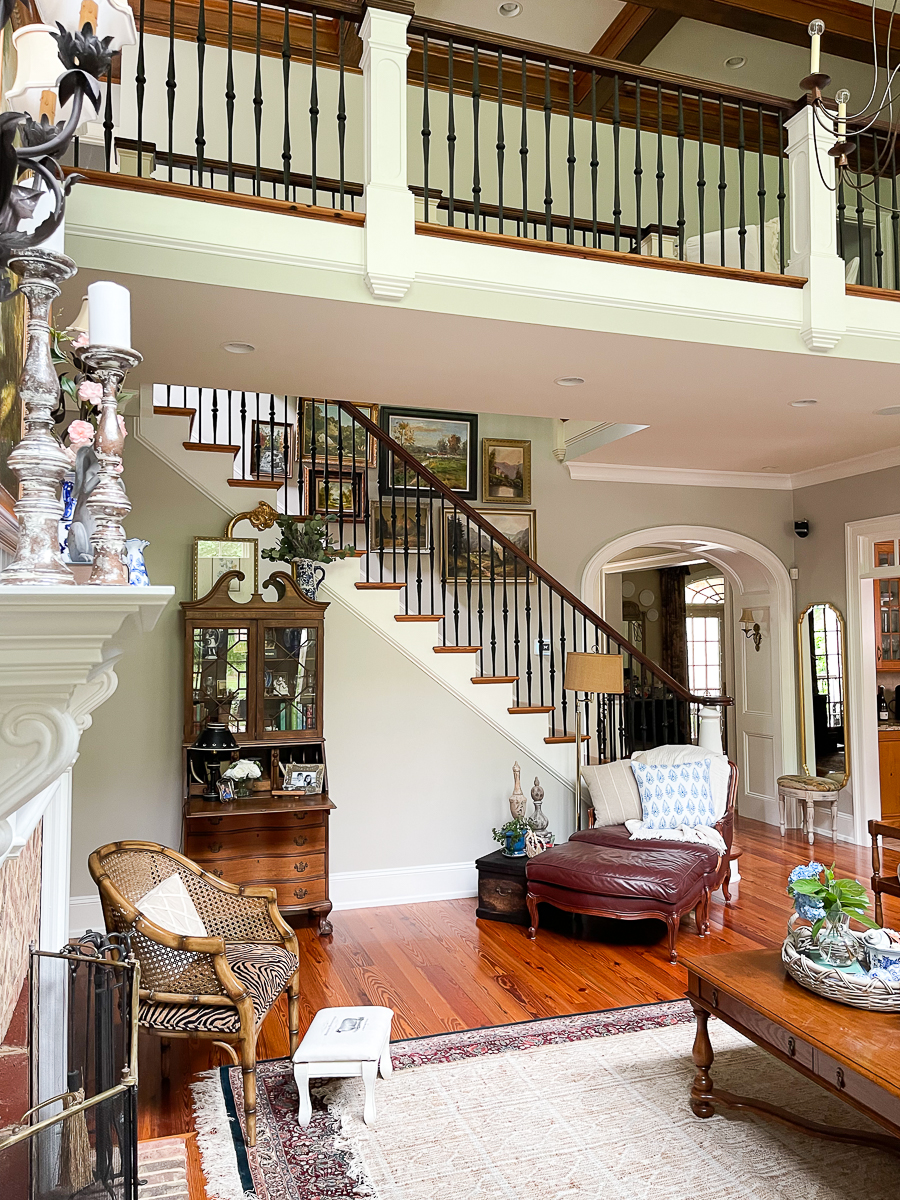 I've been using the darker navy pillows for a while in the family room. I did add these 2 lighter blue pillow covers this year.
Amazon, Etsy, and Pottery Barn are my go-to stores for pillow covers. I have a pillow problem. This issue is much easier to control by buying covers instead. Ha, ha!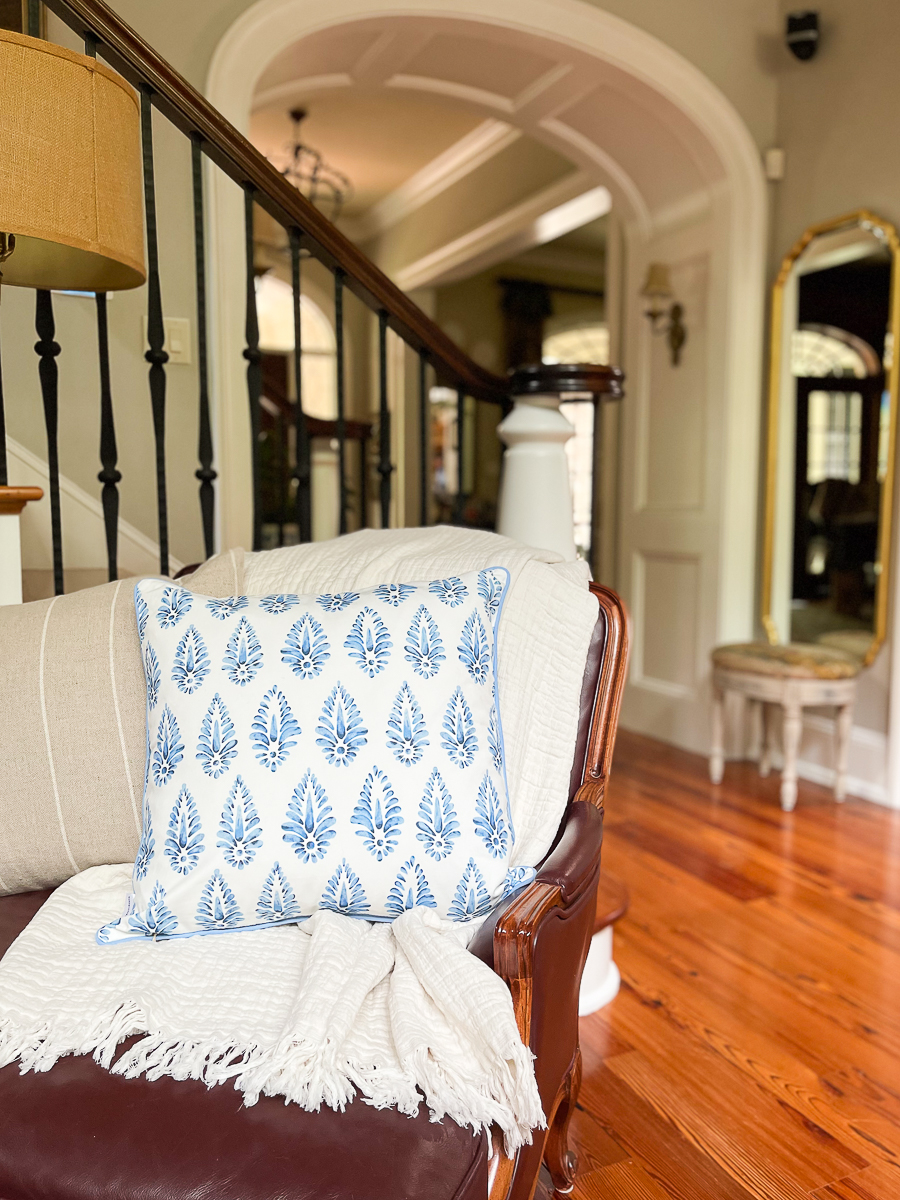 These covers came from Amazon. I have a lot of pillow covers from Amazon and these are the best quality yet. They are zipper-covered and have piping.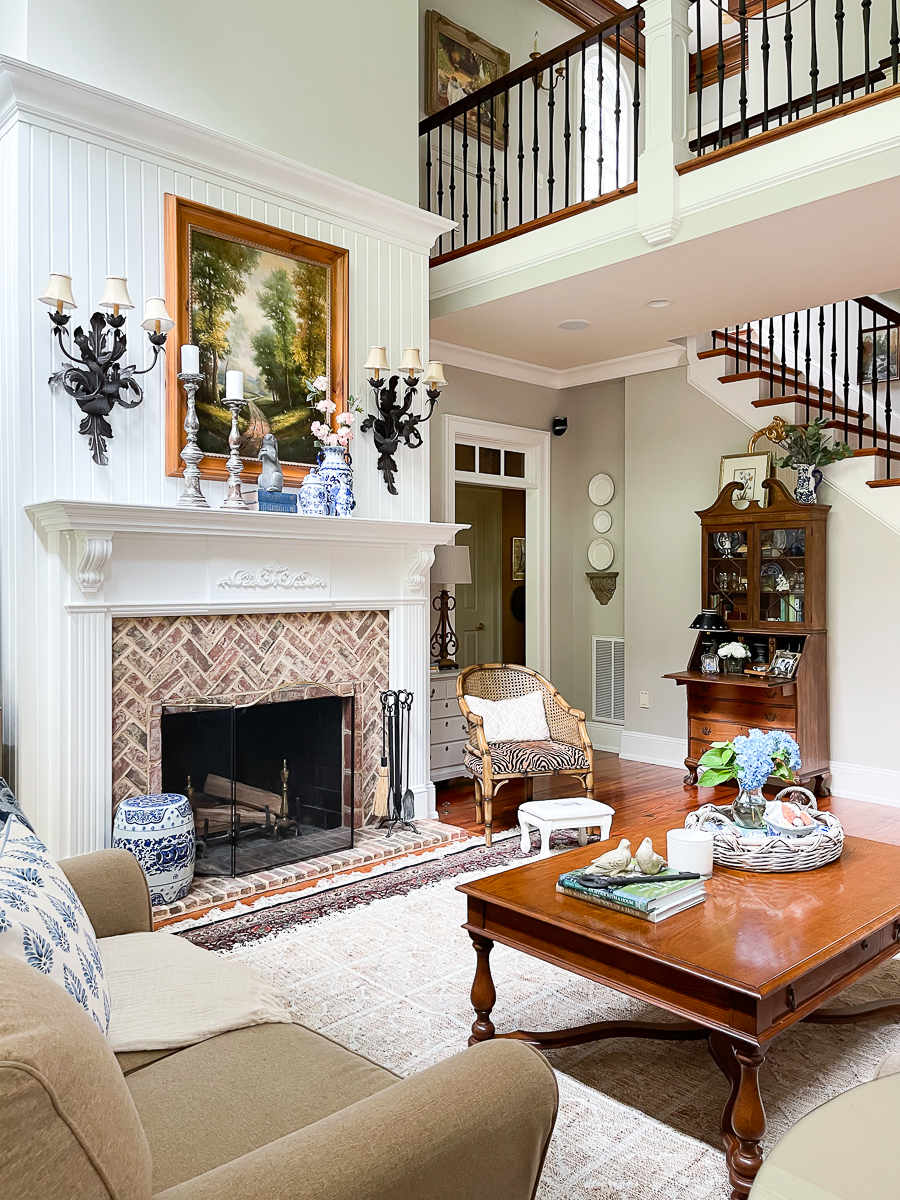 I've been collecting blue and white porcelain and chinoiserie for years. I stopped back in the late 90s and have started my passion up again. I find my pieces at a local vintage store, thrifting, consignment shops, TJ Maxx and Homegoods.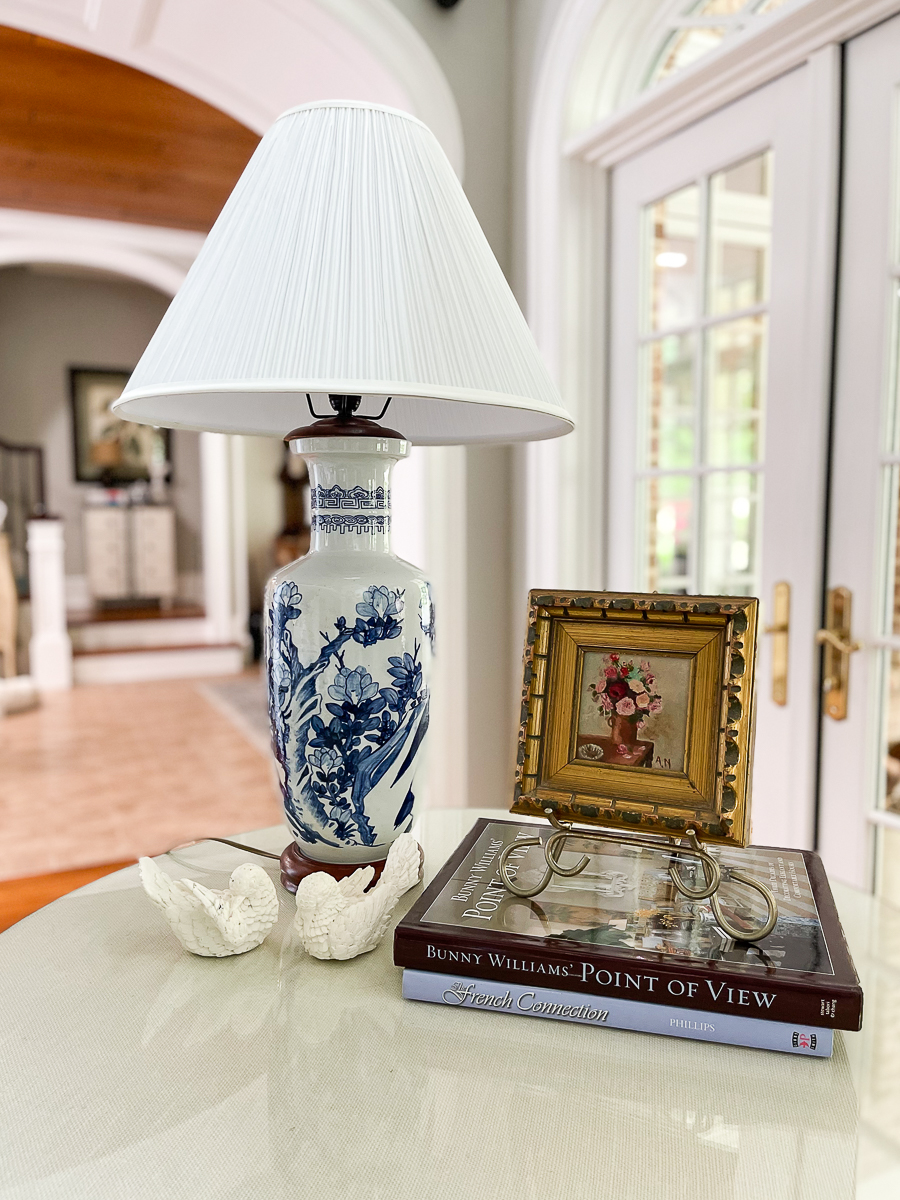 This gorgeous porcelain lamp was my birthday gift from my daughter. She scooped it up when we were at the beach at the consignment store there. I love it! I still haven't replaced the shade.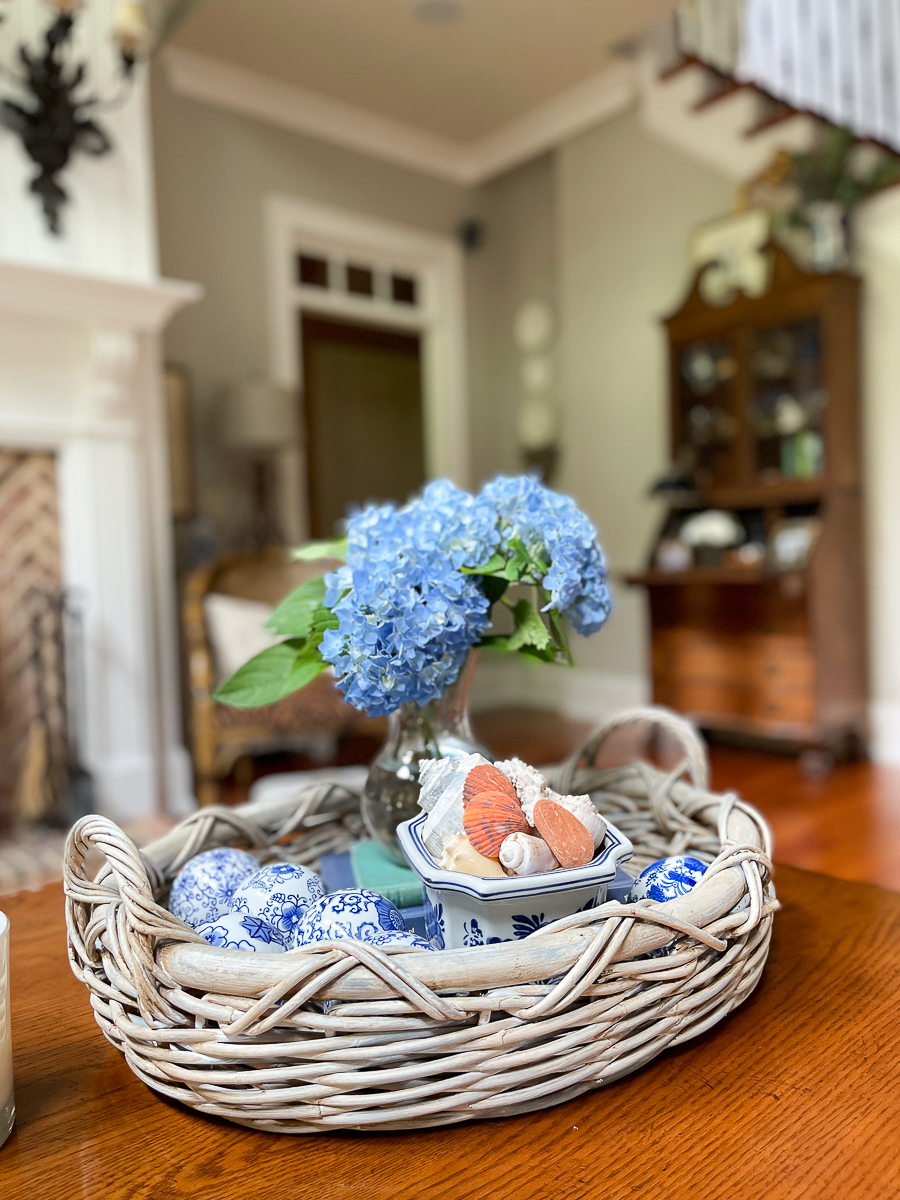 Hello, hydrangea season!
After peonies, my favorite flowers are hydrangeas.
I clipped a few from a couple of the plants growing alongside the driveway.
We just added 5 more plants. They are blooming beautifully but resisting the urge to cut from them with them being so young.
I can't wait for all of them to grow and mature.
I didn't really make a lot of changes in the family room this season. I did change out a brass tray for my favorite basket tray that was a thrift store makeover.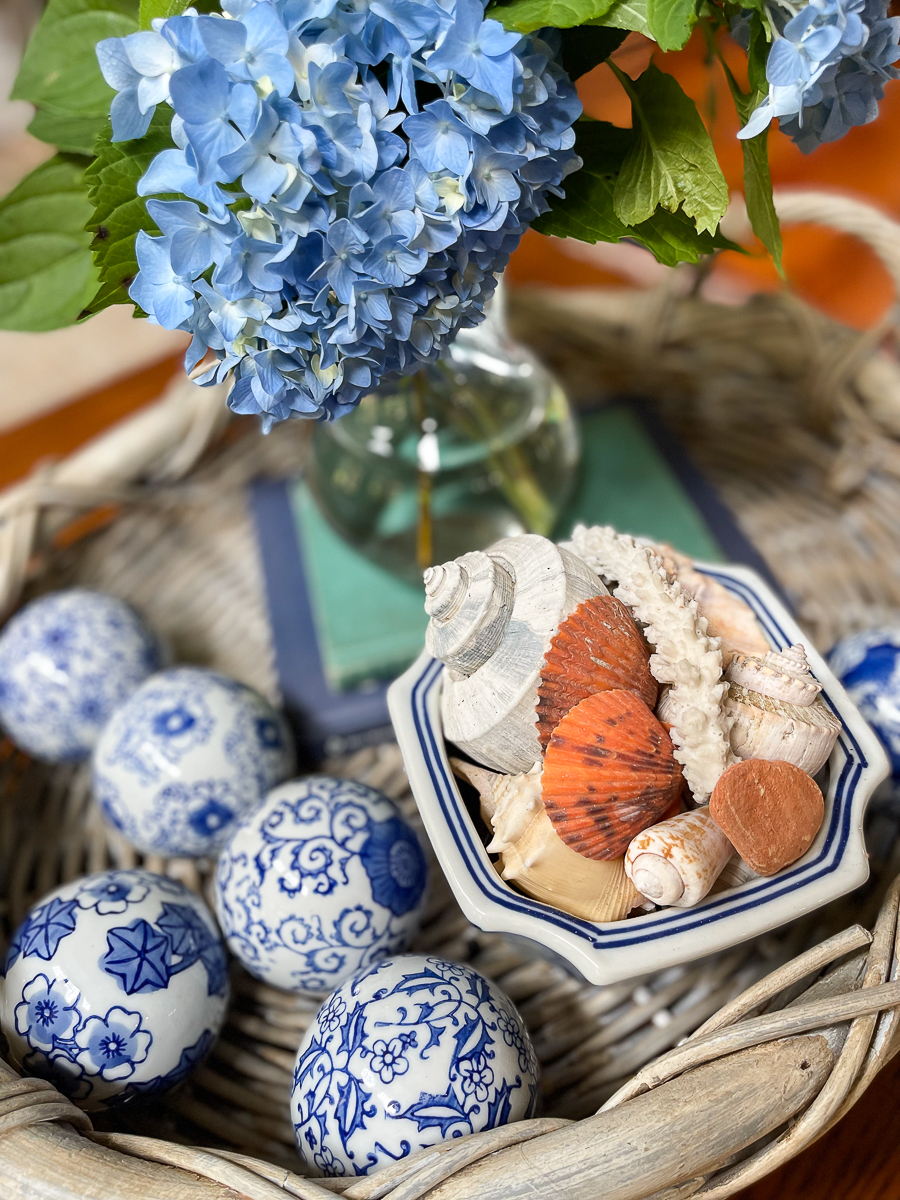 This summer, I dig through our bin of shells and created 2 vignettes using shells mainly from our summers on Caswell Beach, NC.
The scallops are from a Cape Cod trip 20 years ago. Oh, how I'd love to visit there again.
Do you collect things from your travels? We've always brought back shells and ornaments.
One thing that Ashlyn has started collecting is small prints and artwork. I love this idea. She just went to Charleston and brought back a small, lovely watercolor of rainbow row.
These are things that you could bring out to display from summer trips. Even grab family photos from trips and place them in a decorative bowl on a coffee table. Postcards would be wonderful as well.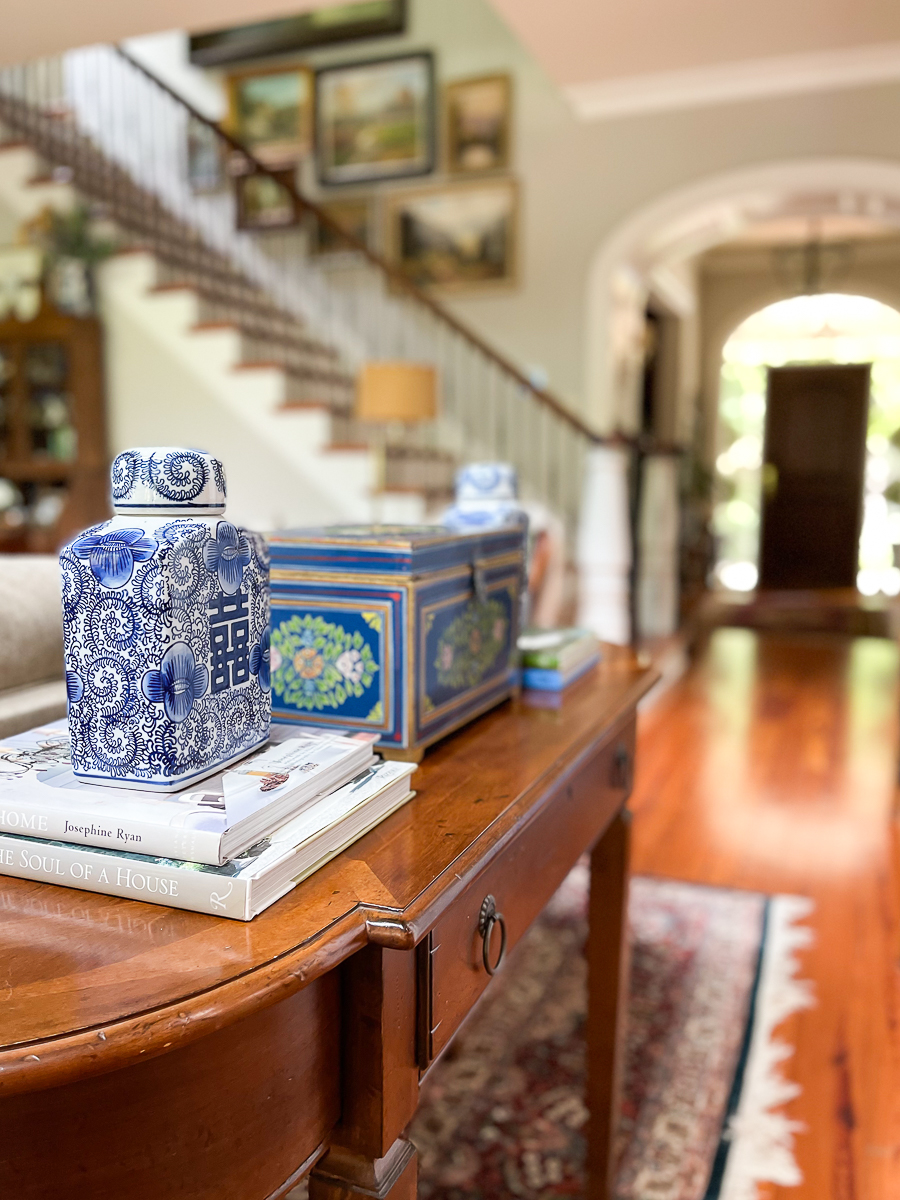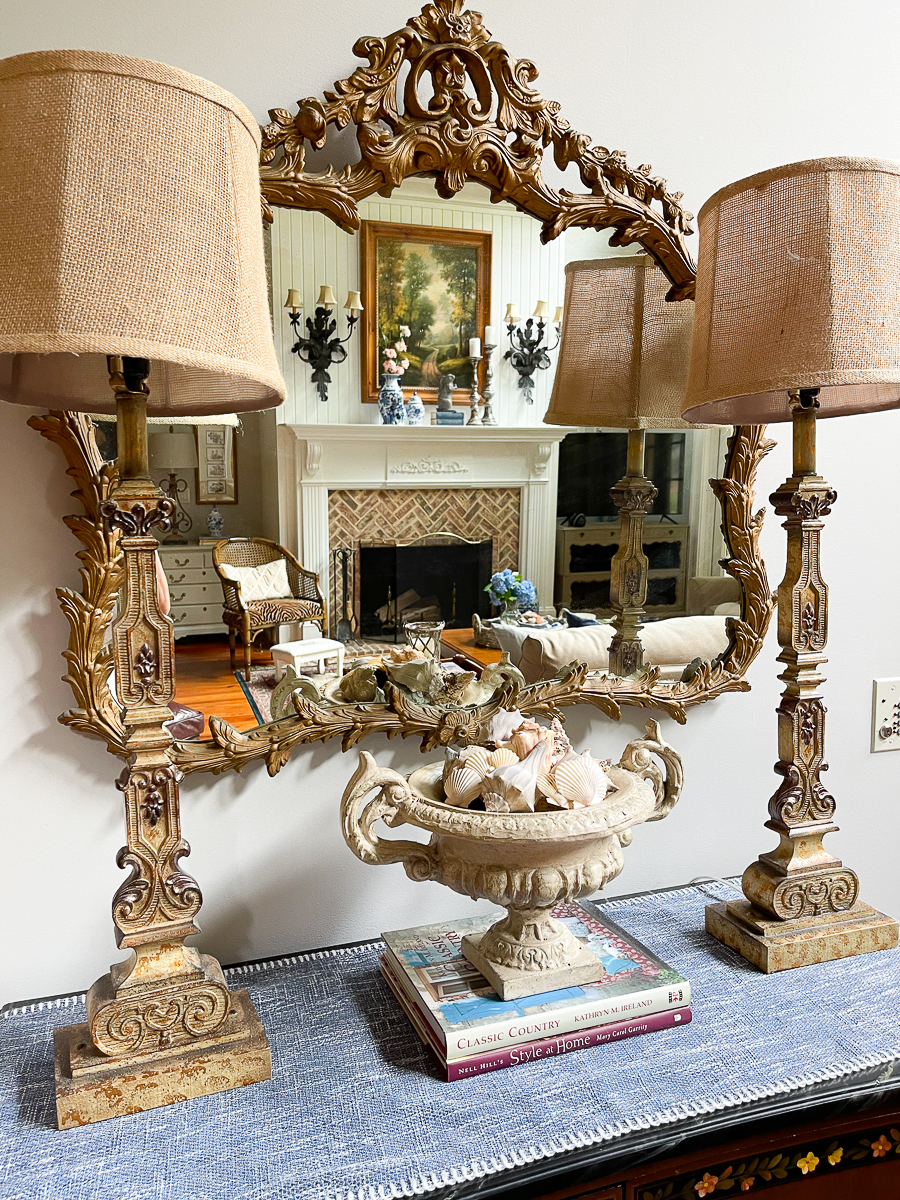 Thanks so much for stopping by my summer home tour! I'll be sharing more of our home and the screened porch soon!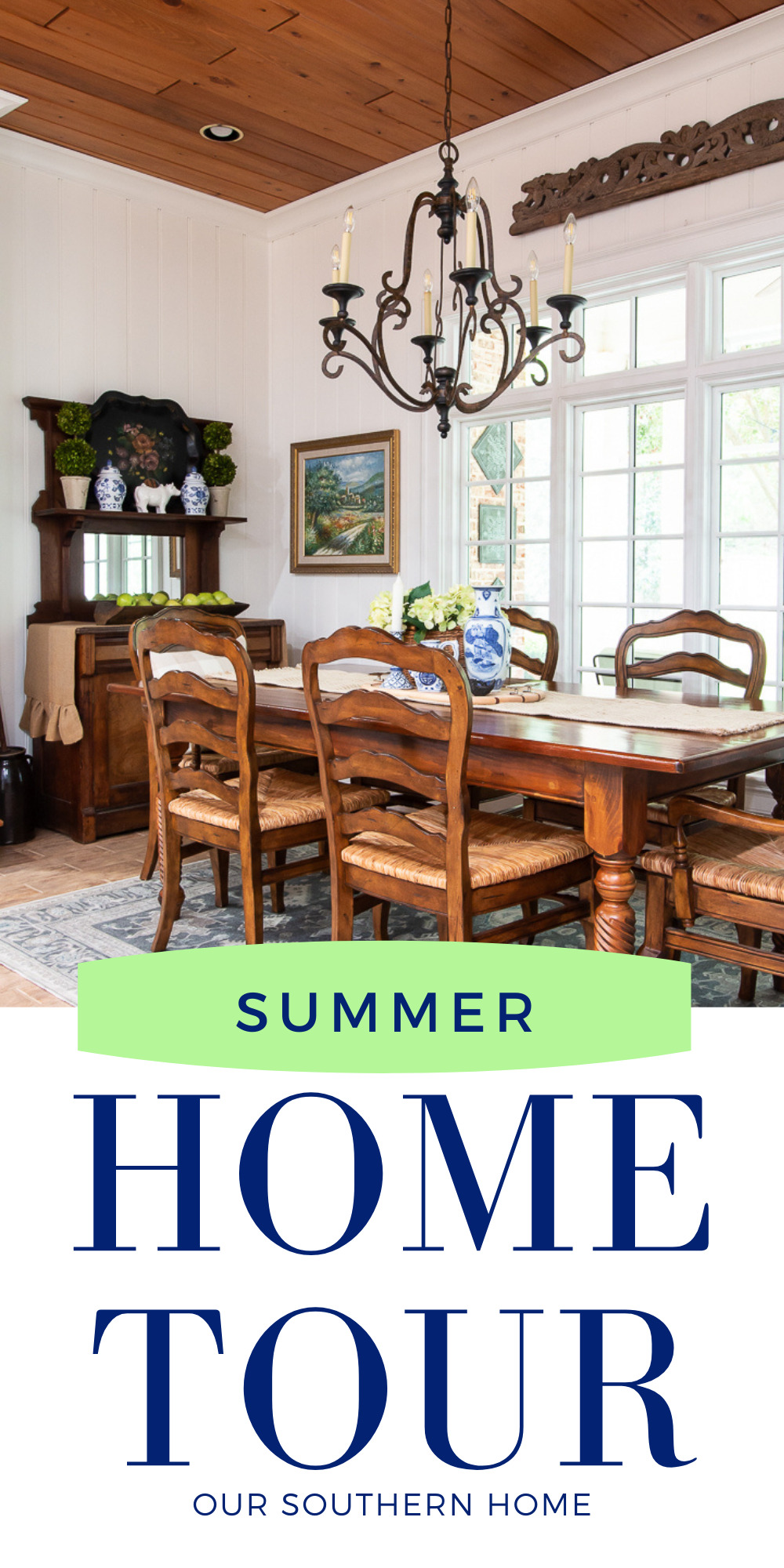 Be sure to visit Citrine Living next on the tour. You are going to love all the blue + white with chinoiserie. This year's summer home tour lineup is fabulous!
TODAY: Our Southern Home – CitrineLiving – The Wood Grain Cottage – Grace In My Space – Thrifty and Chic – Designing Vibes
2021 Tour Lineup
Monday June 7th Lineup
A Stroll Thru Life – Worthing Court – A Pretty Life – Pink Peppermint Design – StoneGable – Hymns & Verses
Tuesday June 8th Lineup
Southern State of Mind – This Is Our Bliss – Up To Date Interiors – It All Started With Paint – Decor To Adore – Cuckoo4Design
Wednesday June 9th Lineup
Remodelando la Casa – Whispering Pines Homestead – Cassie Bustamante – Inspiration For Moms – Making It In The Mountains – White Arrows Home
Thursday June 10th Lineup
Our Southern Home – CitrineLiving – The Wood Grain Cottage – Grace In My Space – Thrifty and Chic – Designing Vibes
Friday June 11th Lineup
Casa Watkins Living – Follow The Yellow Brick Home – Chalking Up Success – Bloom in the Black – Quarters One – Clean and Scentsible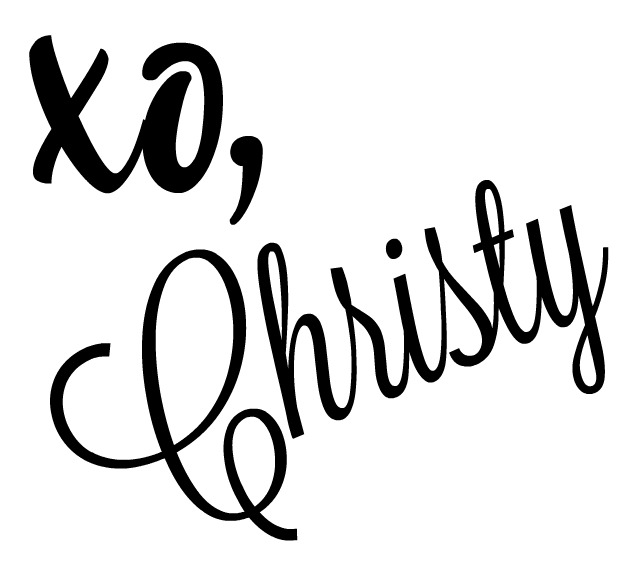 Summer Home Tours through the Years
Buffer