I've completely organized my mudroom home office for a cohesive look with the Marie Kondo line from The Container Store.
As a brand ambassador with The Container Store, I am excited to bring you my latest sponsored project with them. All content and opinions are that of Our Southern Home.
I must say that the new year has me obsessed with organizing!!
Is that a bad thing? I can think of worse things to become obsessed with…..like that massive yarn stash that I've accumulated through the years that sits catching dust.
Seriously though……
Organizing our home has become a good thing.
Everyone in our home keeps commenting on it. My efforts have not gone unnoticed.
The biggest impact has been last month's pantry makeover. My family is amazed that it still looks pristine and exactly the way it did as the day I completed the project.
There is a lot of truth in the fact that if you take the time to clean out and organize, your life will run so much more smoothly.
Why do you ask?
When everything has a place…..
things get put back where they belong
you save time looking for things
you save money, not re-buying things you already have
you save time not constantly having to put things away that accumulate
takes less time to clean and tidy up your home
gives your a sense of calm and peace
I encourage you to give the process a try.
before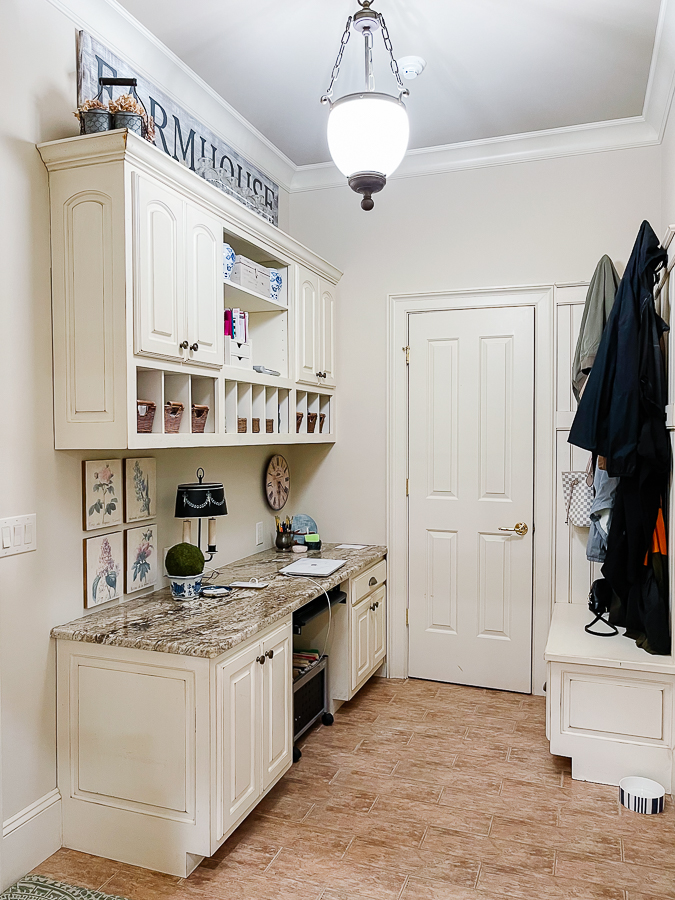 Our mudroom is the room that you enter from our garage. It leads to a hallway our master suite is and opens to the kitchen.
I actually recently cleaned the top off to prep for painting so it looks better than usual.
Y'all it is always dumping ground central.
This is my desk office, and I haven't worked in here for a couple of years.
It's the dumping ground for junk mail, bills, paperwork, pet supplies….you name it…you might just find it piled on this desk.
So when The Container Store asked me to showcase one of the styles in the NEW Marie Kondo line with them, I couldn't say yes fast enough.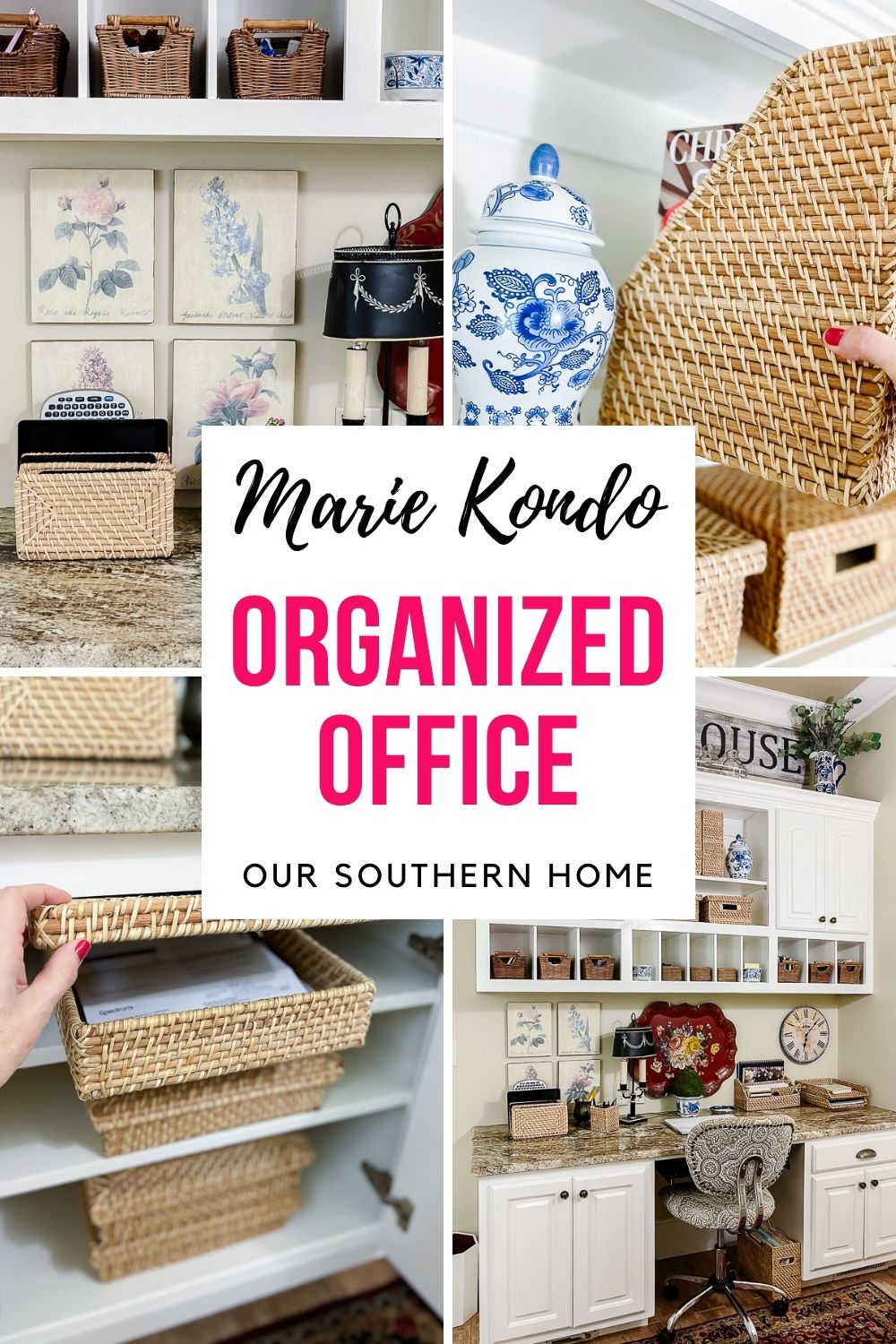 The collection that I chose to feature is so pretty and sturdy. It's the Ori Rattan. This is a high-quality rattan weave! The honey is so pretty and relaxed. It actually coordinates nicely with my existing smaller baskets for the little cubbies.
This style would work well with a number of design styles. My look here is vintage, cottage.
This was the perfect excuse that I needed to finally claim my office space again.
You know that I have been gradually repainting all of the woodwork in our home from a creamy/off white to a crisper Simply White. I had not tackled the mudroom yet, so I decided now or never. Can you see that tiny bit of white started in the cubbies on the left?
It has been a HUGE job. Anytime cabinets are involved, it's a chore in my book.
I'm still not quite finished. I have to do the back wall with the bench and coat rack.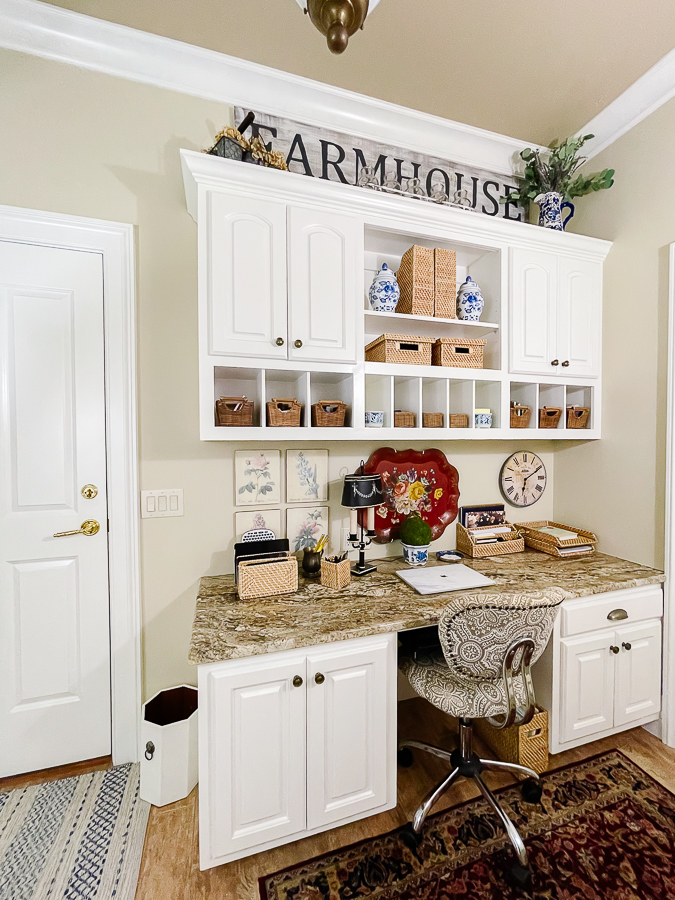 What a difference a little paint can make. It's so much brighter and fresher in here. You can see more on the MUDROOM highlight on Instagram.
It was the perfect time to really clean out paperwork. I've shredded a lot!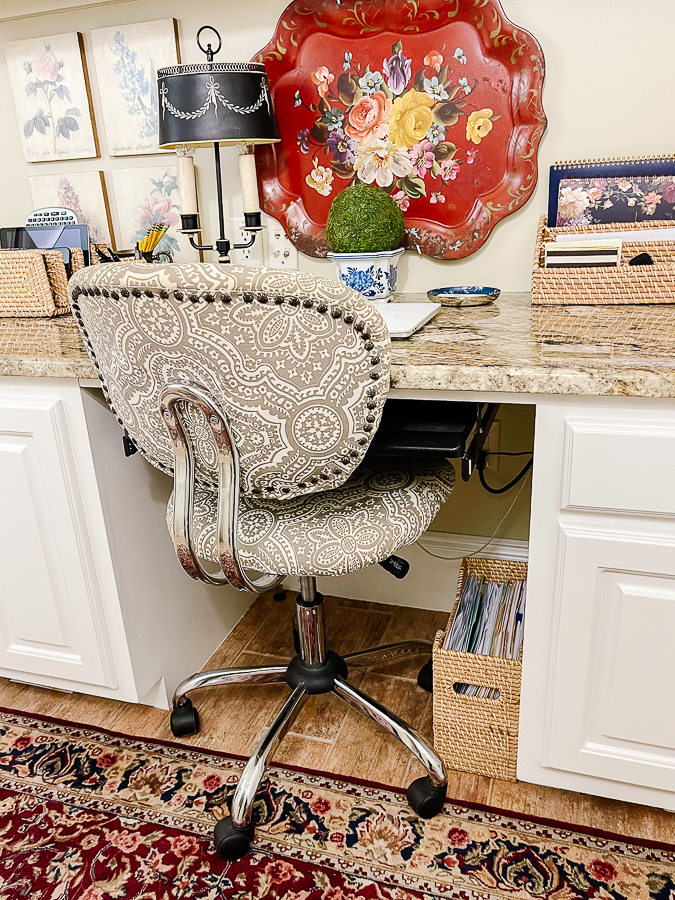 Marie Kondo File Box
I had a large cumbersome rolling file rack that I just didn't need any longer. That freed up a lot of space under the desk area.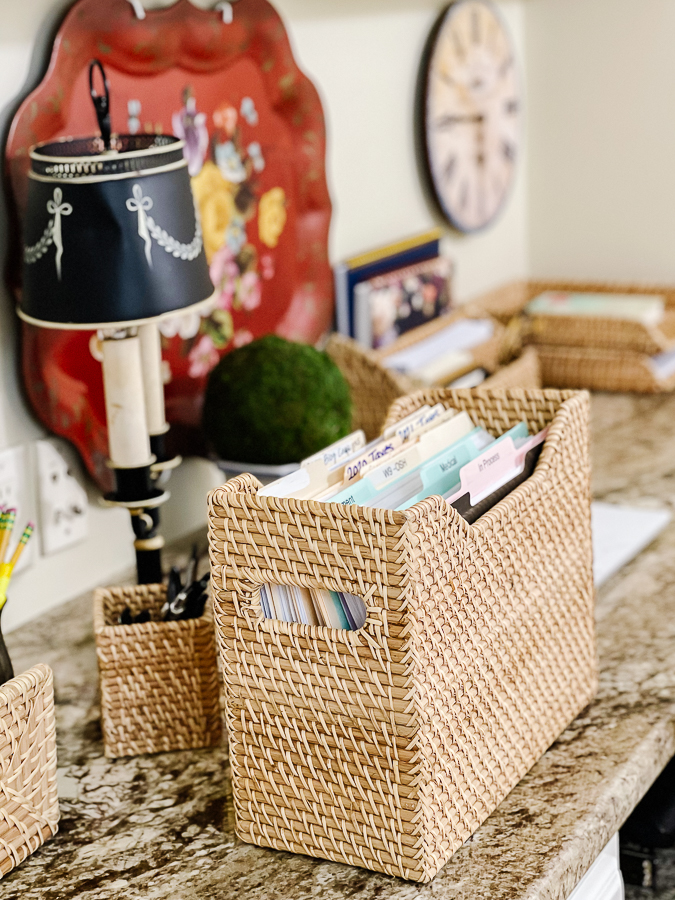 Marie Kondo File Box
I had so many files that I no longer needed. I narrowed it down to these! I really appreciate the size and stability of this file box. Now with this smaller file box, I can easily pick it up and take it around the house to work. No more trying to find receipts for taxes. I even have a new tax folder for 2021!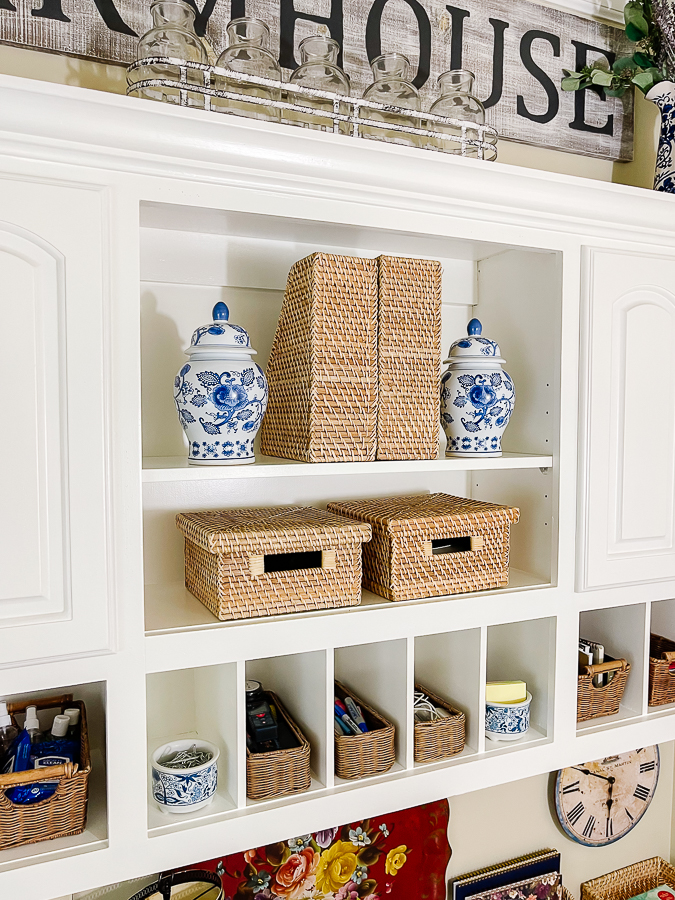 Marie Kondo Magazine File and Photo Boxes
Getting rid of the open desk storage on the shelf eliminates all the messy papers sticking out everywhere.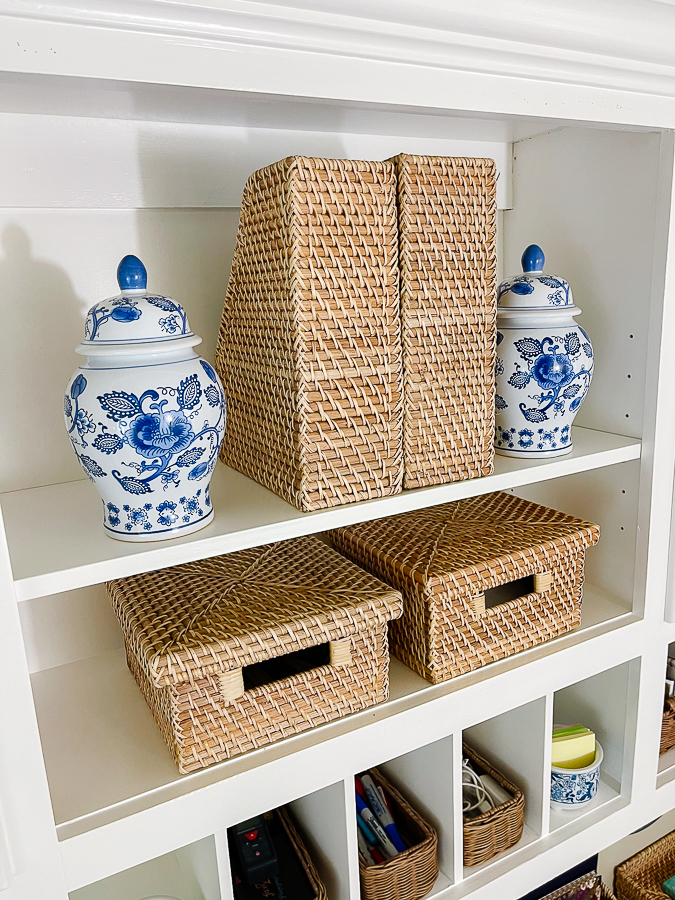 Marie Kondo Magazine File and Photo Boxes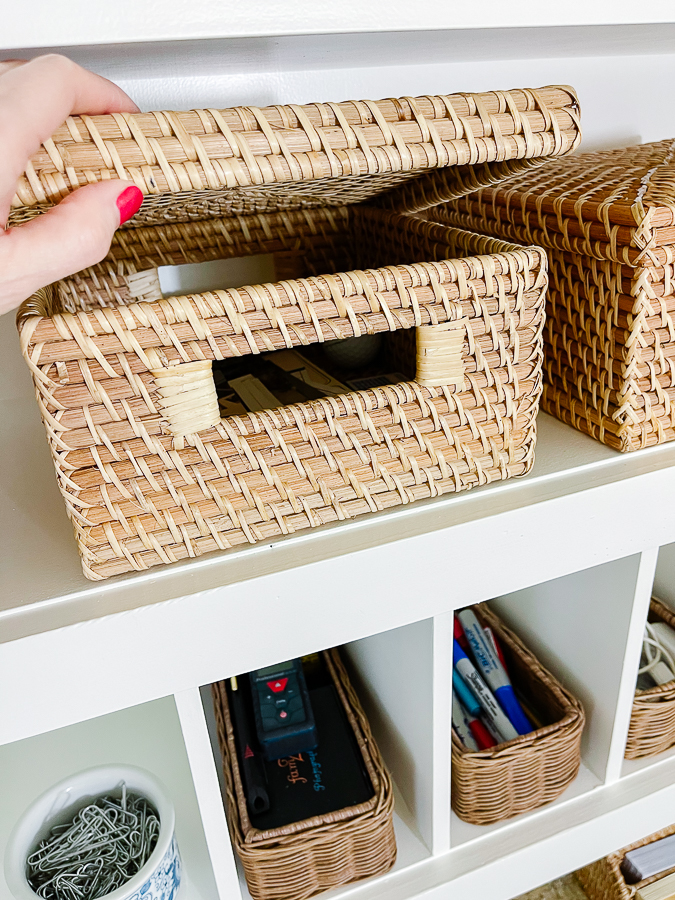 The photo boxes have really been nice for placing the kid's memorabilia until we have the chance to frame it or place it in a scrapbook.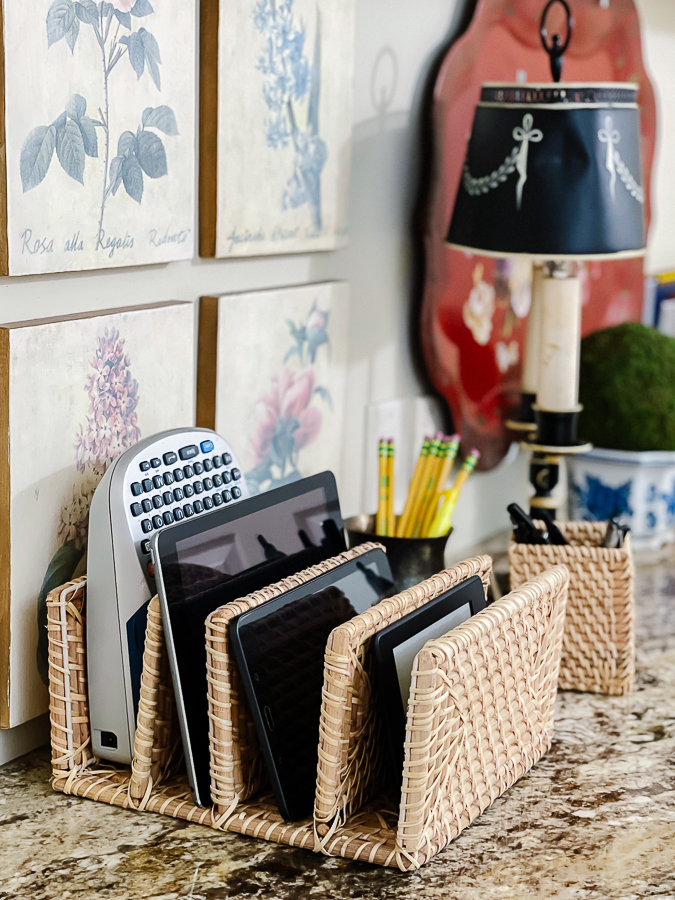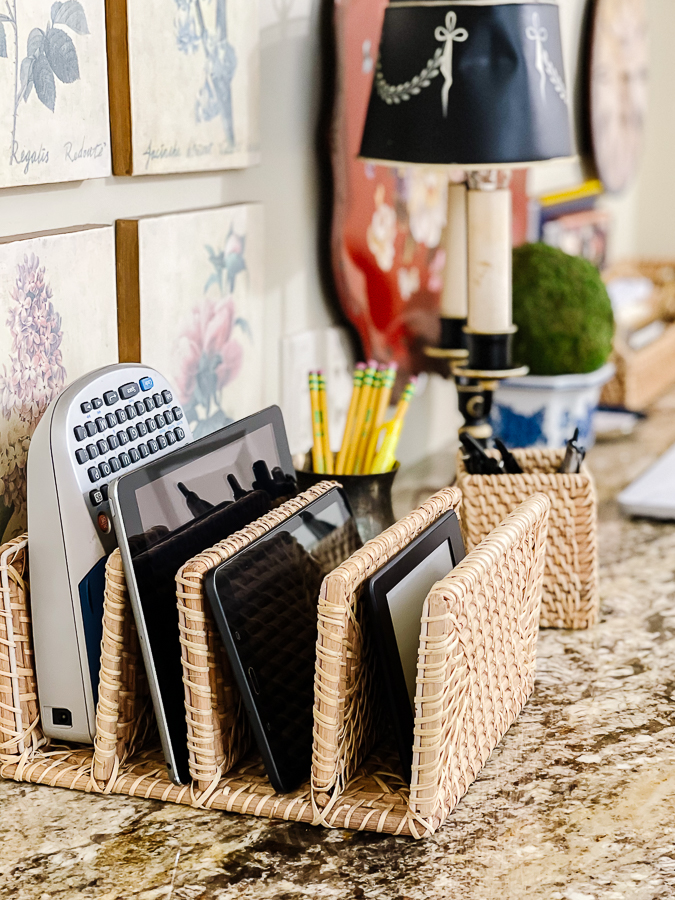 Marie Kondo Ori Collater
Noone has to ask any longer where the Ipad is! I'm using this letter rack to hold tablets, Kindles and my P-Touch label maker.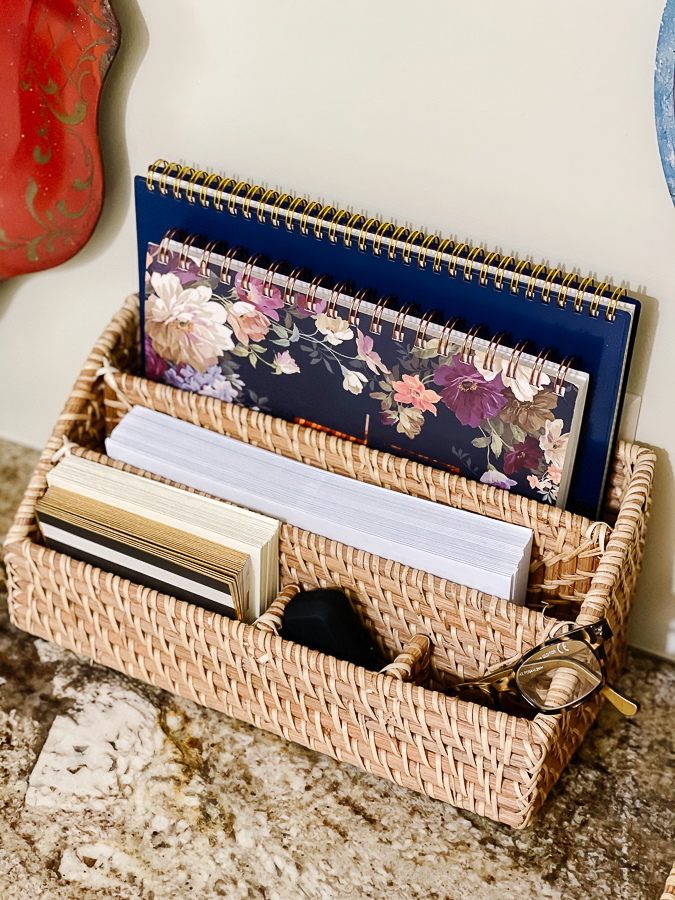 Marie Kondo Ori Desk Organizer
I never misplace my calendar and notebooks that I use for blogging because I find myself putting them right back in this desk organizer.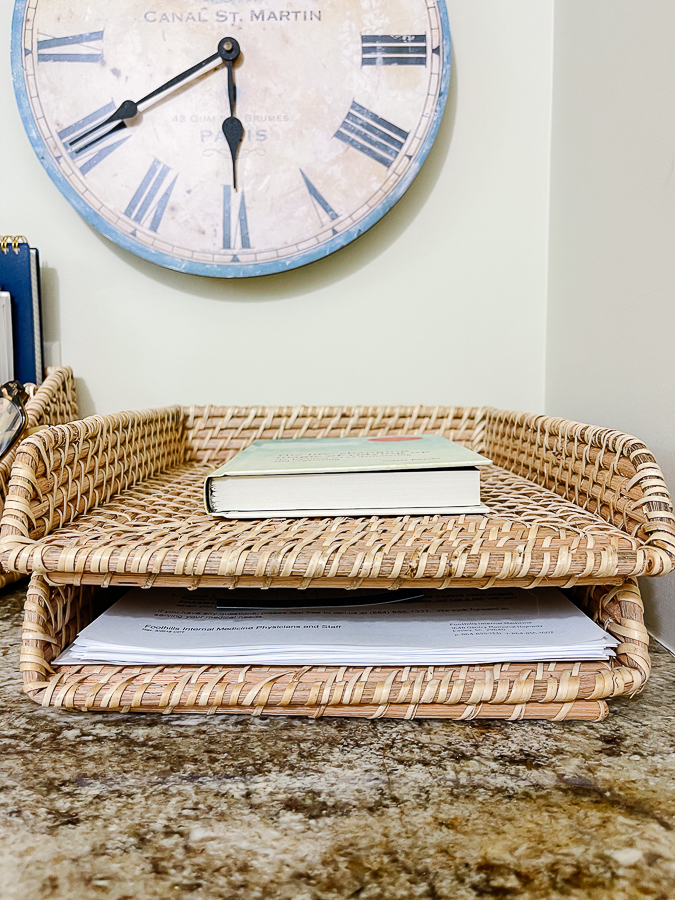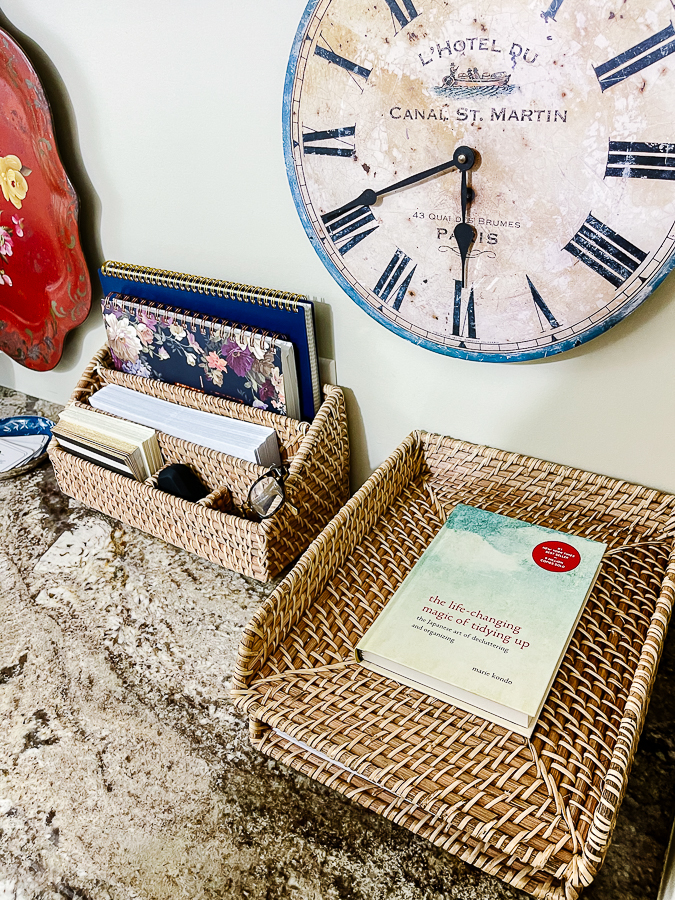 Marie Kondo Ori Desk organizer and Letter Tray
Marie Kondo's book is amazing. Yes, I fold my clothes the way she recommends and it's truly life-changing. (LOL)
This letter tray is great for current blog paperwork that is in progress. I can't tell you how many times I've had to reprint briefs because they got lost in the paper pile.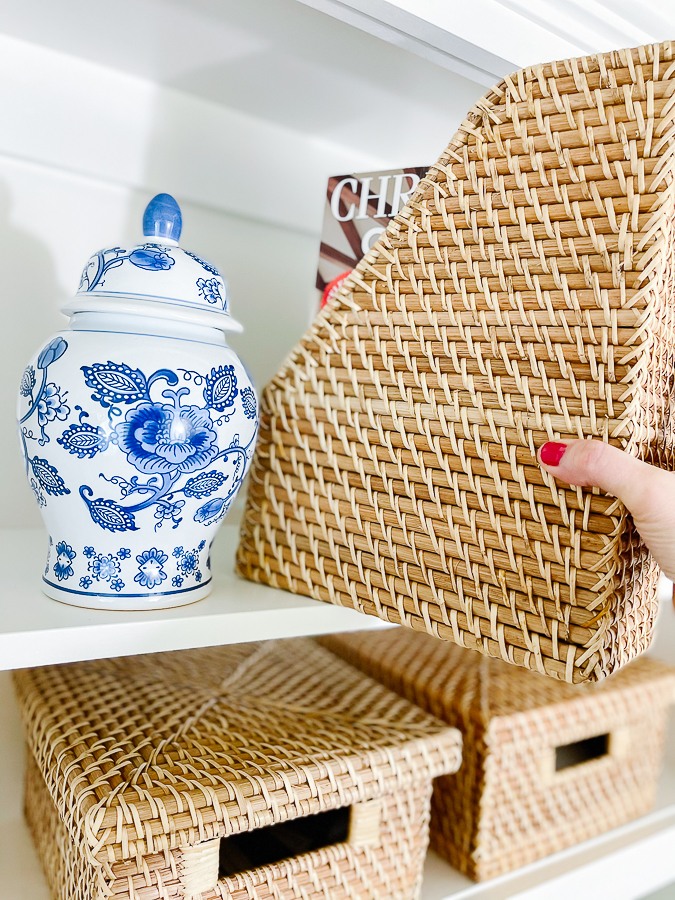 Marie Kondo Ori Photo Box and Magazine File
The magazine cases are a favorite! I love decor catalogs and magazines. One is for catalogs and the other is for magazines to read.
The one for catalogs is such a timesaver. I developed a system of putting them here immediately. As soon as the latest one comes in the mail, it gets changed out immediately. No more throwing them in a basket or on the coffee table to collect clutter.
I was wasting so much time going through catalogs once or twice per year and throwing out piles of catalogs at once.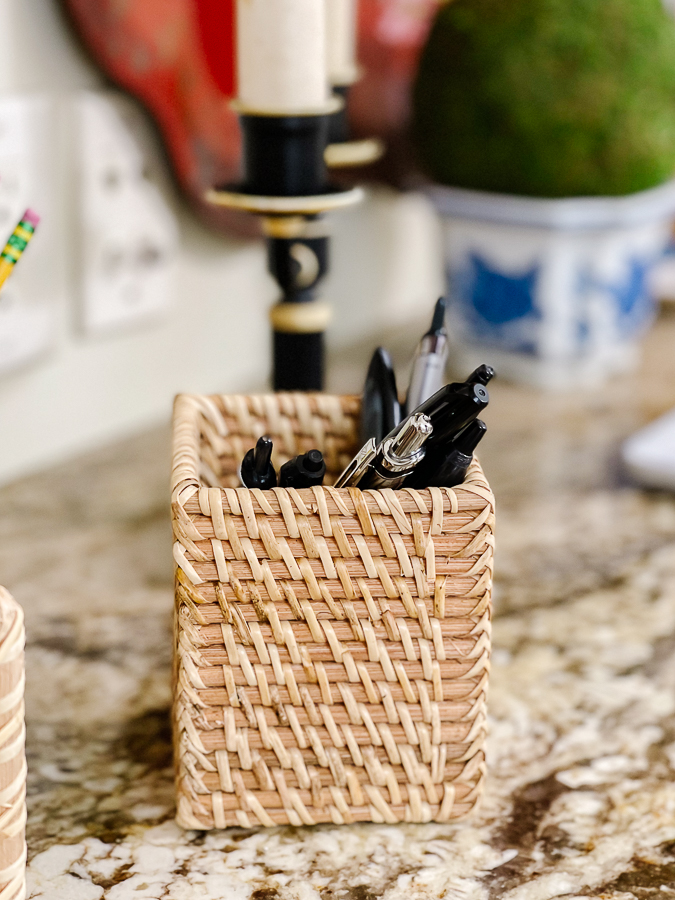 Marie Kondo Ori Pencil/Pen Cup
No desk is complete without a stylish pen holder for my obsession with pens. This has been my favorite pen now for a few years. Yes, I'm a pen and paper girl. I still use an old school calendar. I like to see it written down.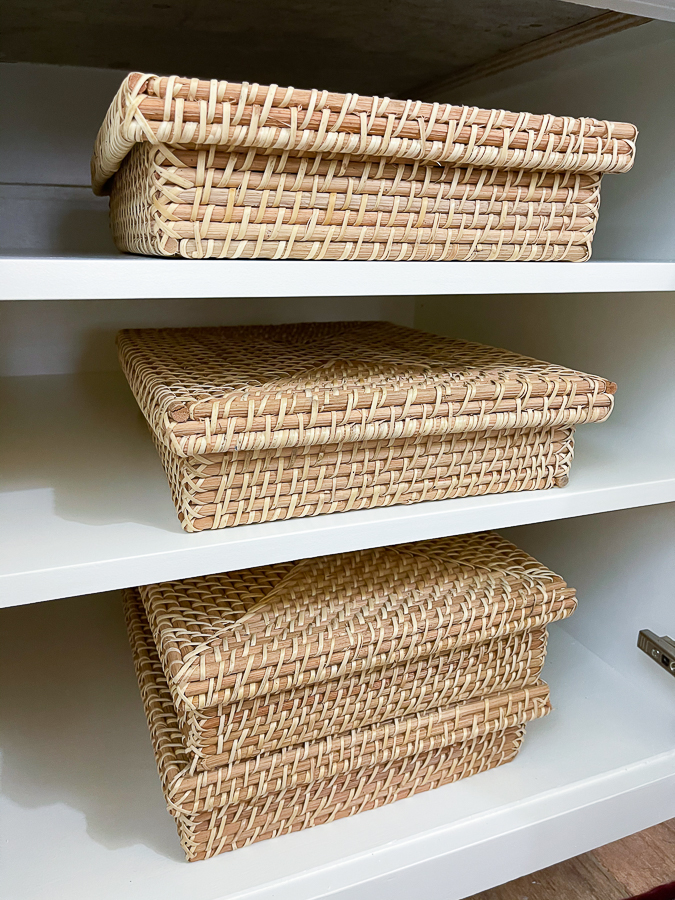 Marie Kondo Ori Document Box and Letter Box
This cabinet was a mess of stashed stuff. It's all been sorted and neatly organized in the covered boxes. They look so neat and great if I need to take a box to another room.
I've got these boxes housing specific items only!
Beach House Paperwork
Household Bills
Medical
Travel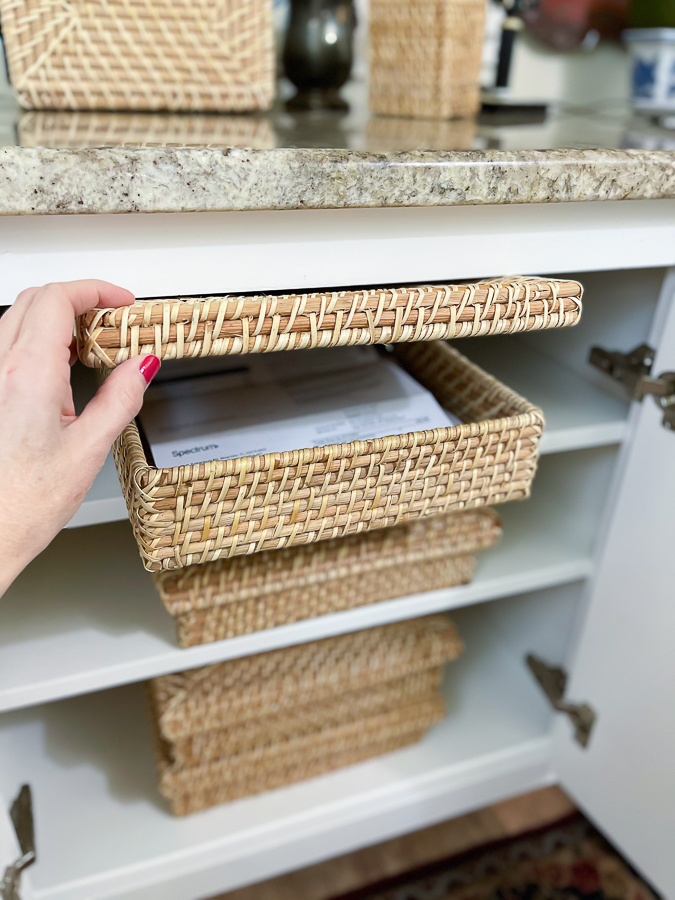 Marie Kondo Ori Document Box and Letter Box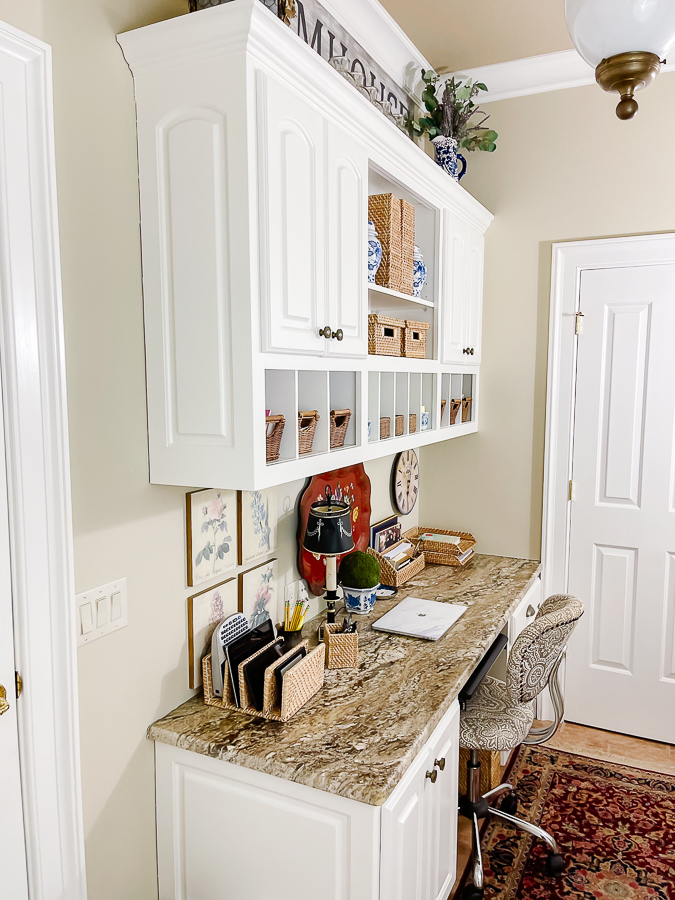 Would you believe that there are 4 DIY Projects in this one room on the blog!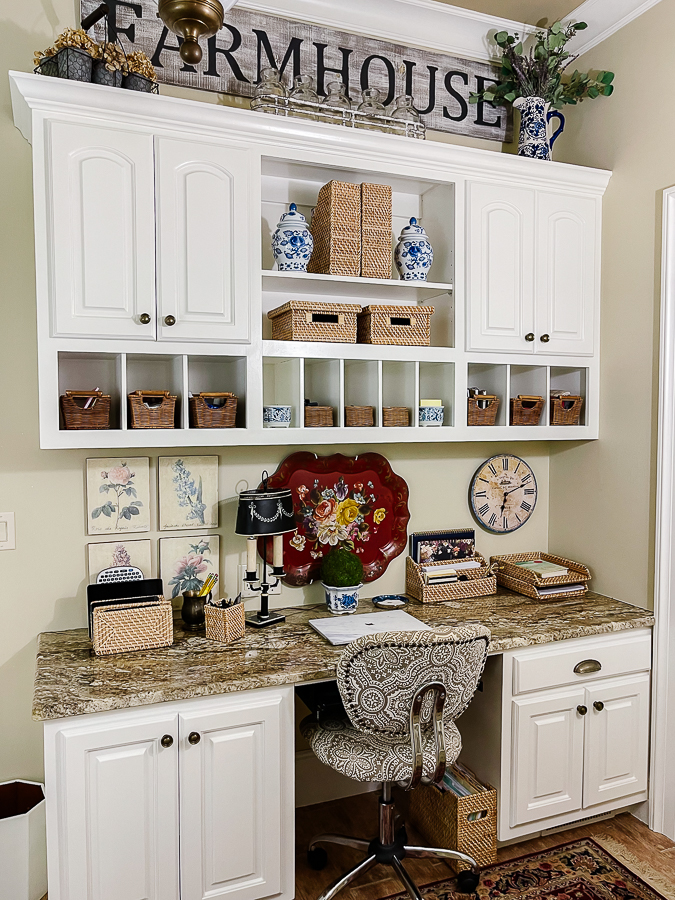 I haven't sat down to work in this space in several years. Now, I'm in here everyday at the desk. I'm getting so much more accomplished.
I hope you've been motivated to tackle your home office space whether it be a dedicated room or a small corner carved out in a spare bedroom.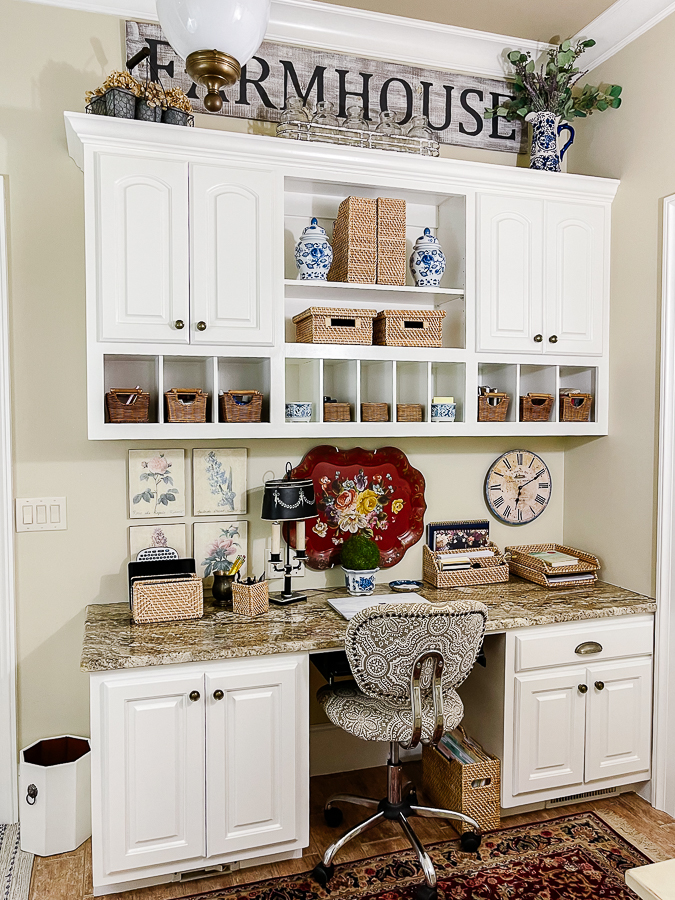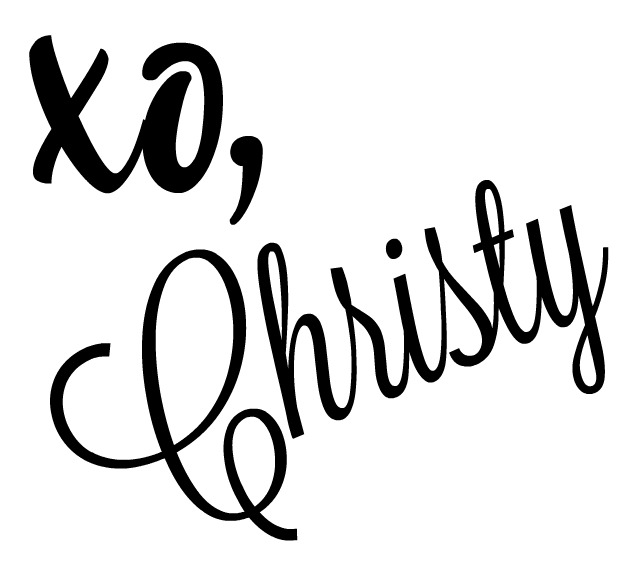 More Organizing Ideas from The Container Store!
The Container Store Projects
s
Buffer