Simple Christmas Breakfast Ideas
Enjoy more time with family on Christmas morning with these simple Christmas breakfast ideas many of which are make-ahead!
Latest from OSH
With just a few more sleeps until Christmas morning, you probably have your dinner menu planned or perhaps that side dish that you are taking to a family meal.
Don't forget about breakfast!
For many years, we have always had a Christmas dinner around 6 pm whether it be here or at my mom's house. 
For the last couple of years, I have been doing both. We love entertaining so it is a pleasure.
We host a 10 am breakfast for my husband's side and family dinner for my side. Both events are small which is nice. 
I was up early and getting my recipes together to write a grocery list, and I thought I'd share it with you!
Simple Christmas Breakfast Ideas
The key to a more stress-free Christmas morning, it to prep or make ahead as much as you can before Christmas morning.
Don't be afraid to enlist your family with the prep.
Don't feel like you have to do it all. I used to do it all.
When the kids were around 5, we started prepping breakfast the night before. I've been doing this same menu for years!
Everyone requests it each year. I'll even do this if we have overnight guests visiting. We had it as recently as September when my husband's sister and husband visited.
Each year, we have the following 2 casseroles for Christmas morning breakfast!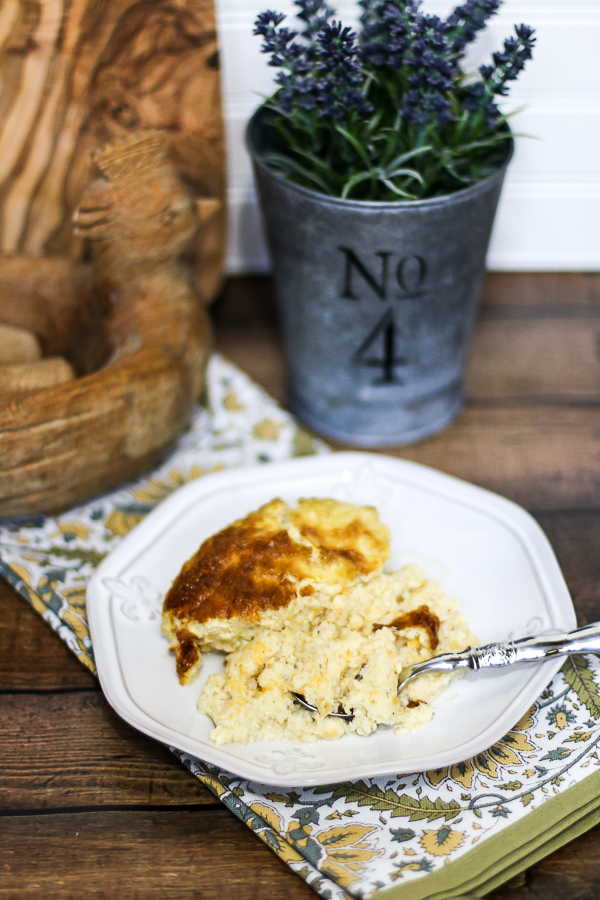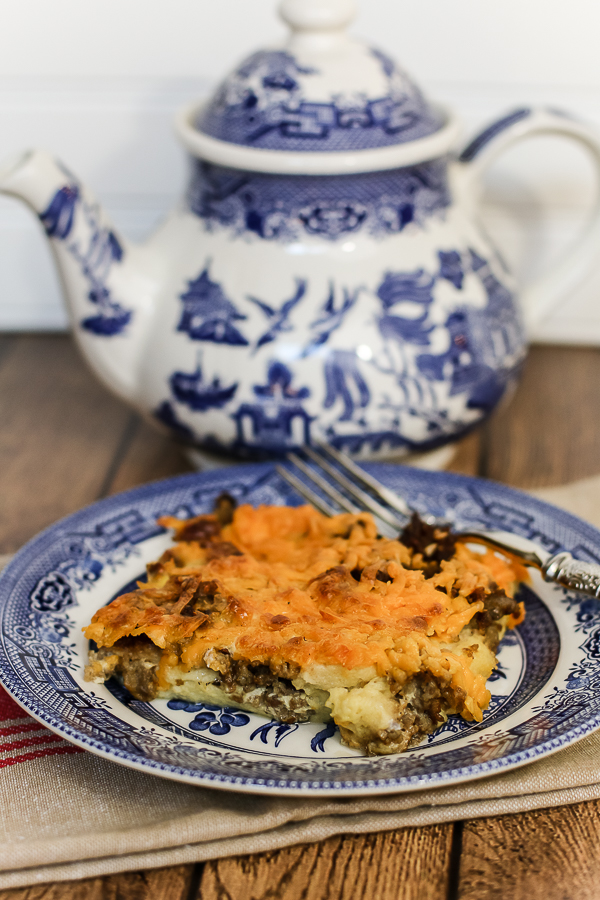 Add a nice bowl of mixed fruit, and you have an amazing Christmas morning breakfast.
Eggs are a must for us. It will fill you up.
It is so satisfying that no one eats again until we have the big dinner at 6 pm.
We usually enjoy a mimosa with it.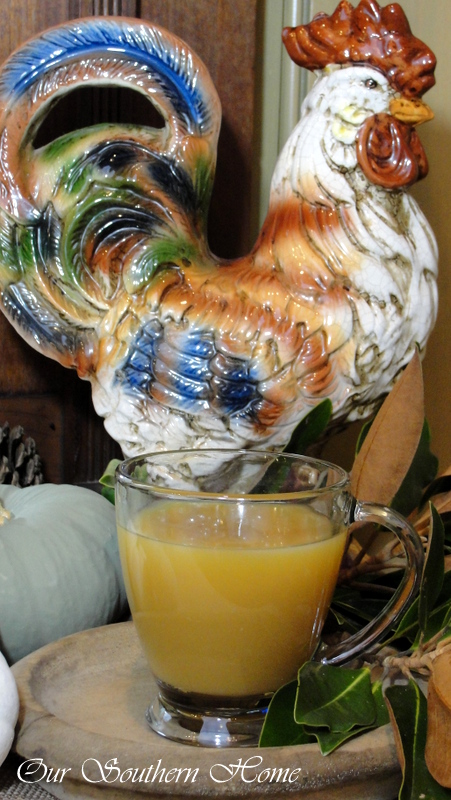 On occasion, I have made this simple Russian Tea recipe that my late mother-in-law gave me.
Both the grits and breakfast casseroles can be made the day before. The breakfast casserole should be made the day before.
It has been a Christmas Eve tradition for us to prep the 2 casseroles together as a family. We divide off into pairs and each makes one.
It goes by quicker, plus it's nice to chat before settling in to watch a Christmas movie or 2.
Our breakfast group is only 6 on Christmas morning so we always have a little leftover for breakfast the next morning. It is first come first serve!
I place both casseroles on the counter for a bit to get to room temperature. Then pop in the oven together to bake.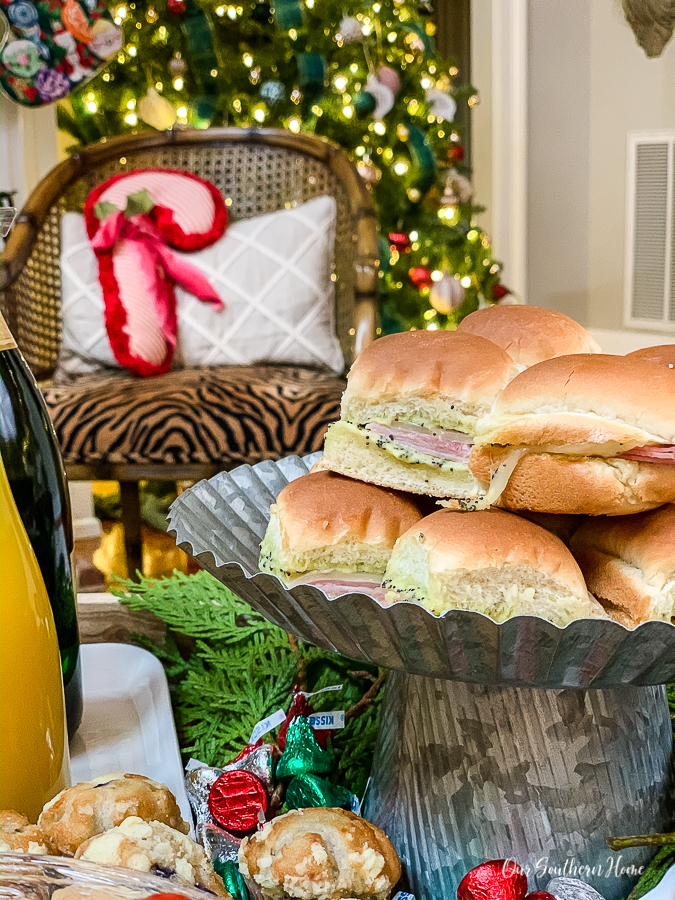 If you have a larger crowd, you could do the same breakfast and add these Ham Delights or Ham Croissants.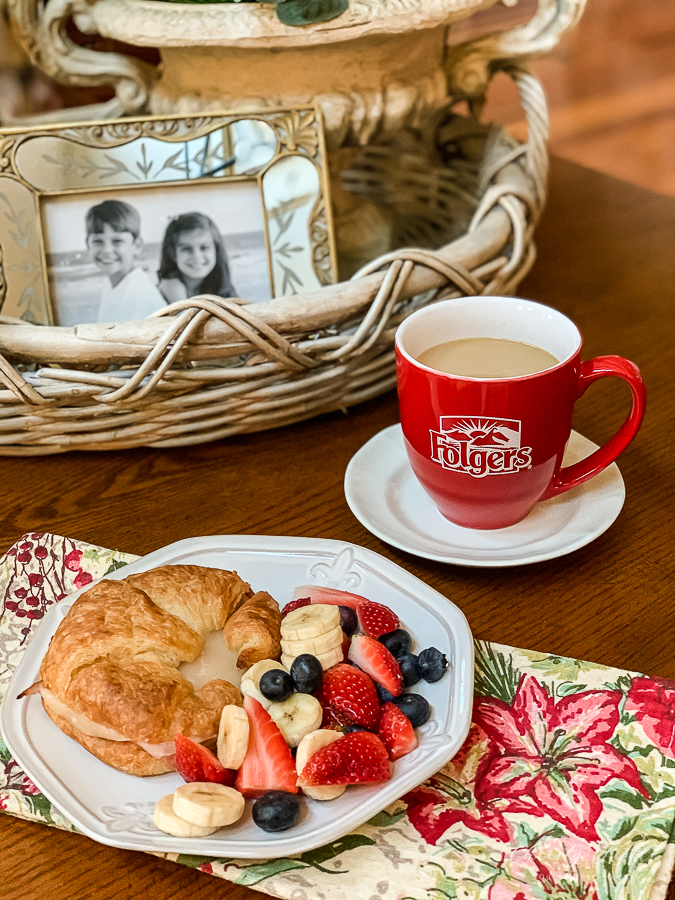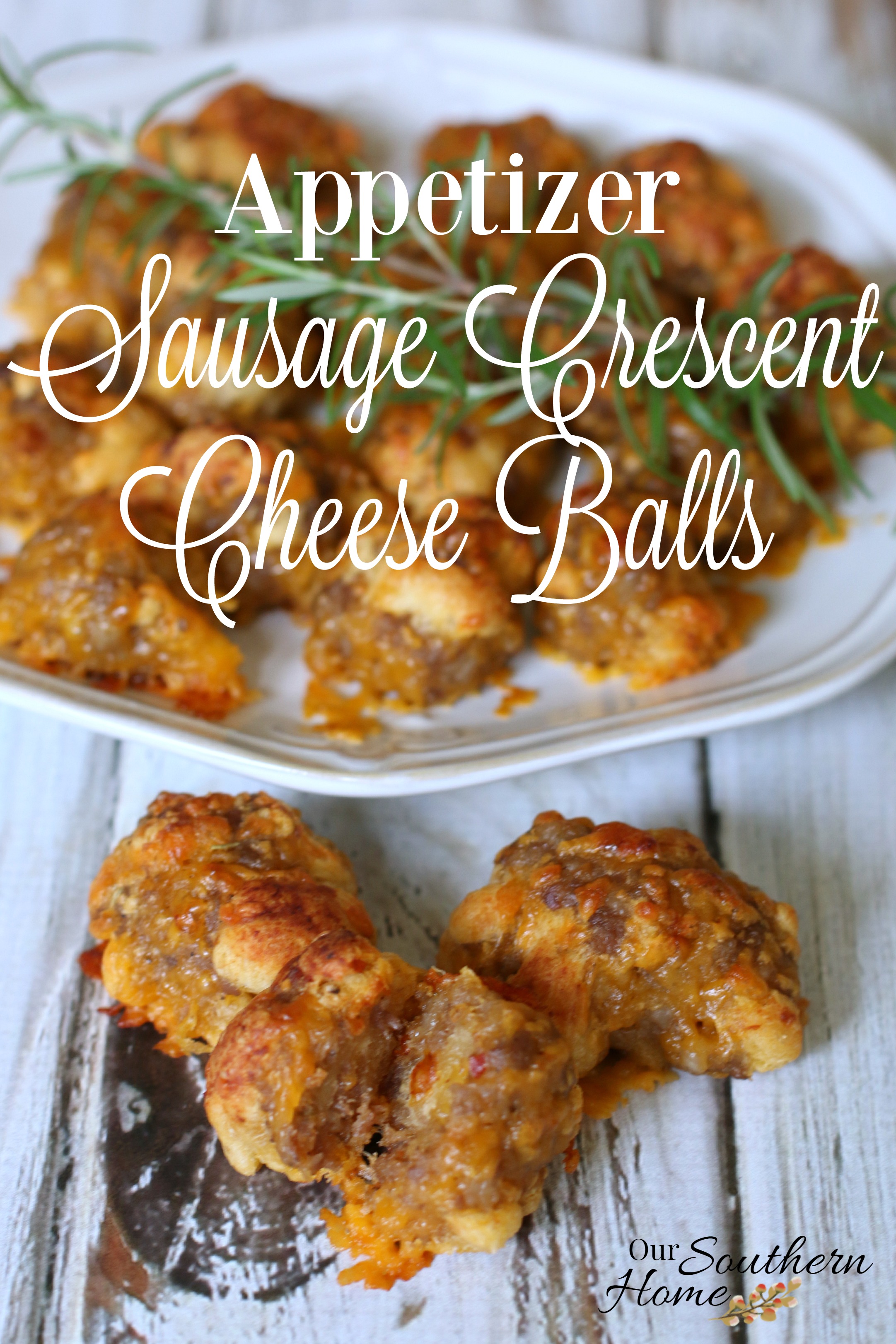 These Sausage Balls are always a big hit!
All of these can be partially made ahead.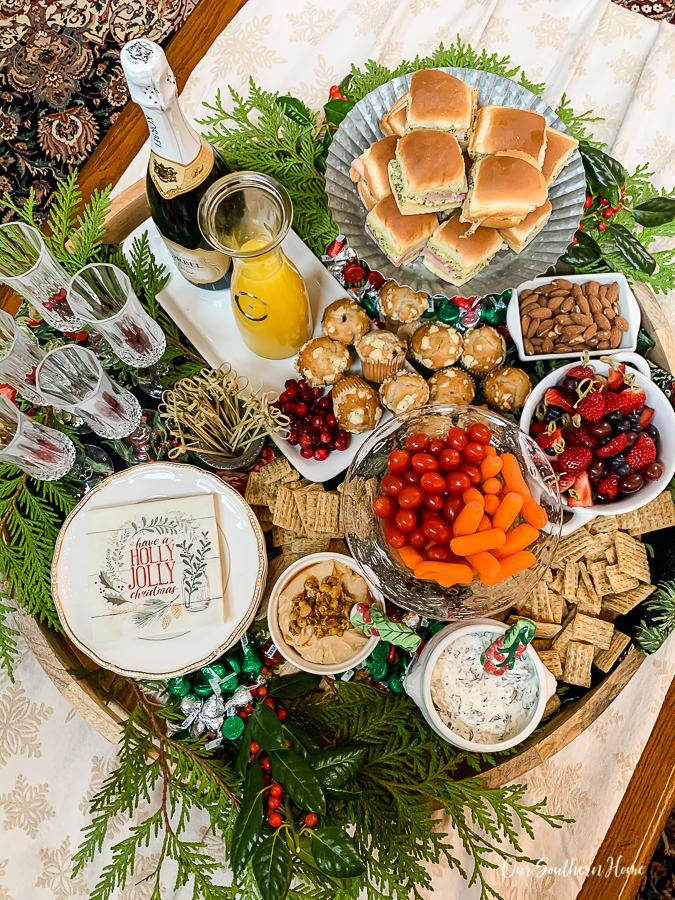 One favorite thing to do if you are more of a Christmas Morning munching crowd is to do this Breakfast Board.
If you don't have a large round board like mine, you can certainly arrange something similar on a coffee table, kitchen table, or countertop.
Define the space with a pretty tablecloth or throw blanket. Arrange the dishes close together and fill in with fresh greenery clippings. Many grocery stores like Trader Joe's will have fresh greens in their floral section.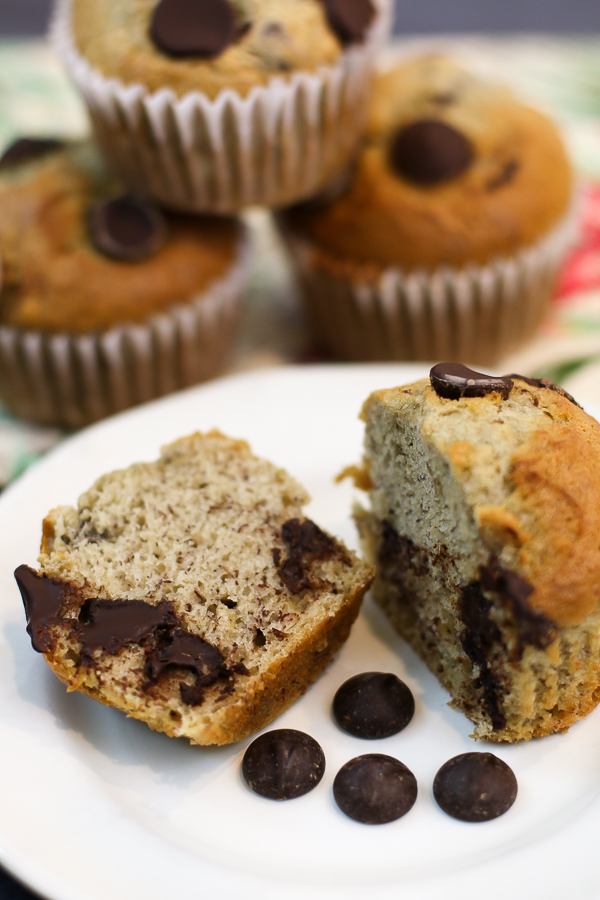 This is the perfect sweet to add to the mix no matter the menu. These Chocolate Chip Banana Muffins are AMAZING!
Christmas Breakfast Ideas
I hope you have an amazing few days leading up to Christmas!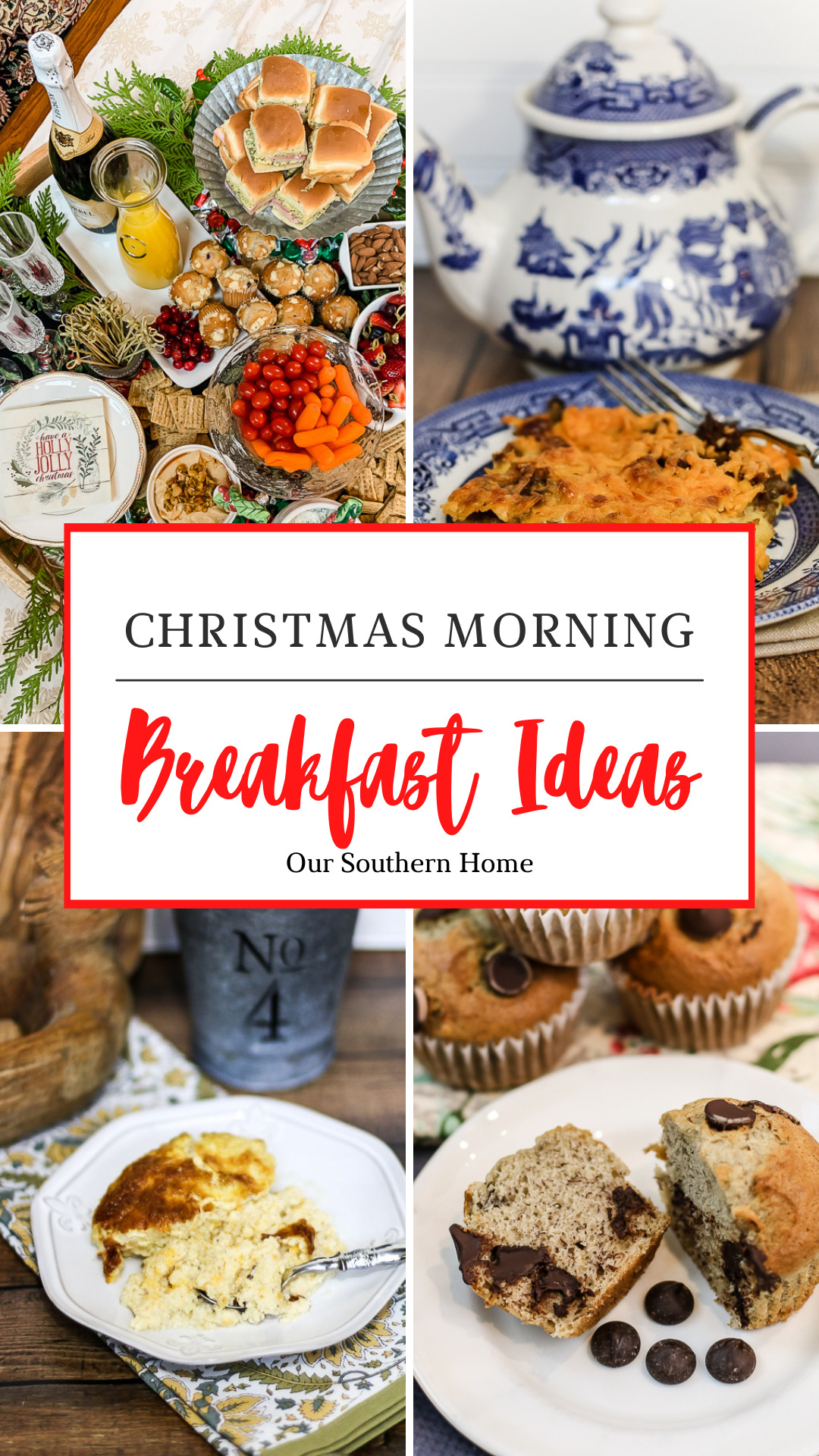 Party Foods
Here is a collection of foods great for quick bites and entertaining!
Buffer