Saturdays on the Porch #39
Saturdays on the Porch #39 features this week's fashion looks and more from Our Southern Home for life and home.
Latest from OSH
This post may contain affiliate links. If you purchase something using one of my links, I may earn a small commission from the retailer costing you nothing more. You can read more on my disclosure page. YOU WILL FIND A SHOP THE LOOK FOR OUR HOME AT THE BOTTOM!
Check out last week's Saturday on the Porch!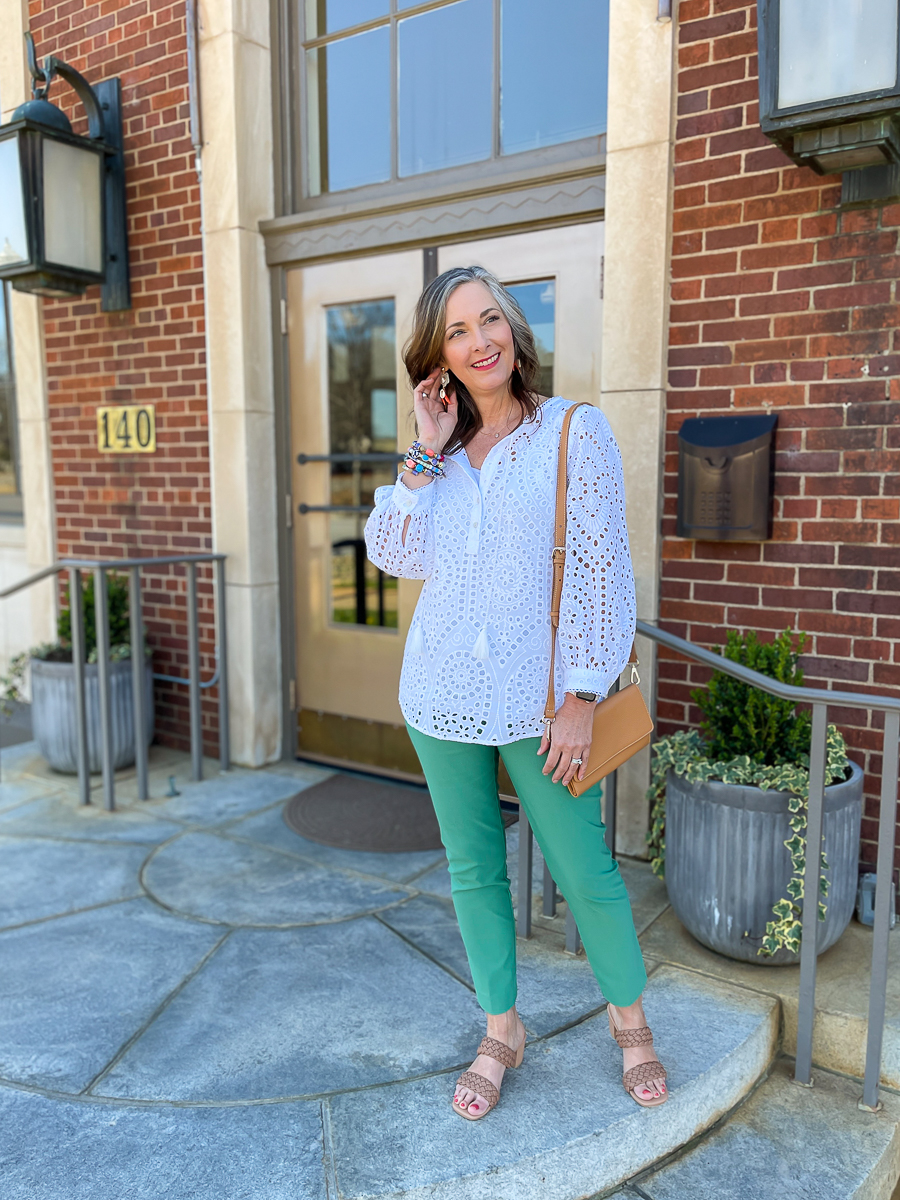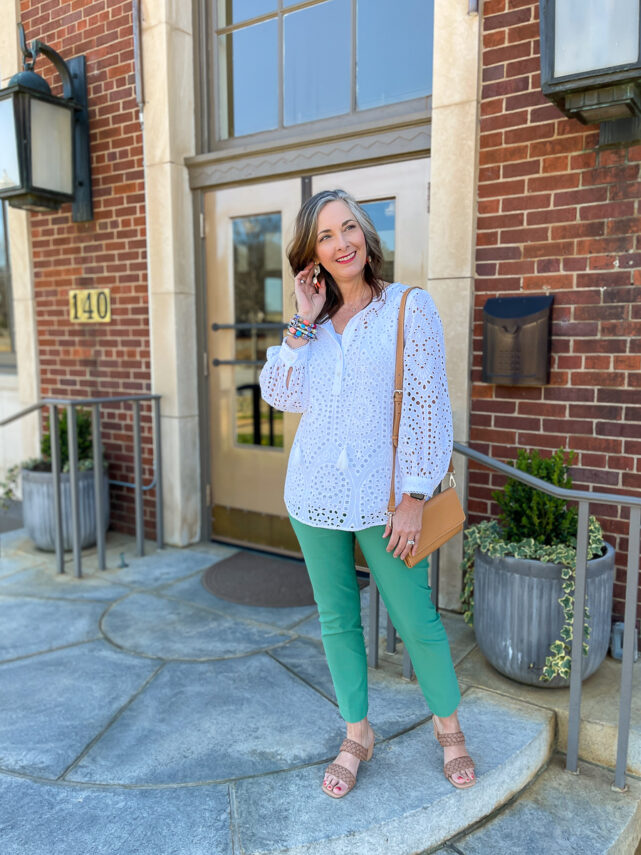 I have no new fashion on the porch photos for the week so I thought I'd share this recent shoot for Chico's. This week I lived in painting clothes!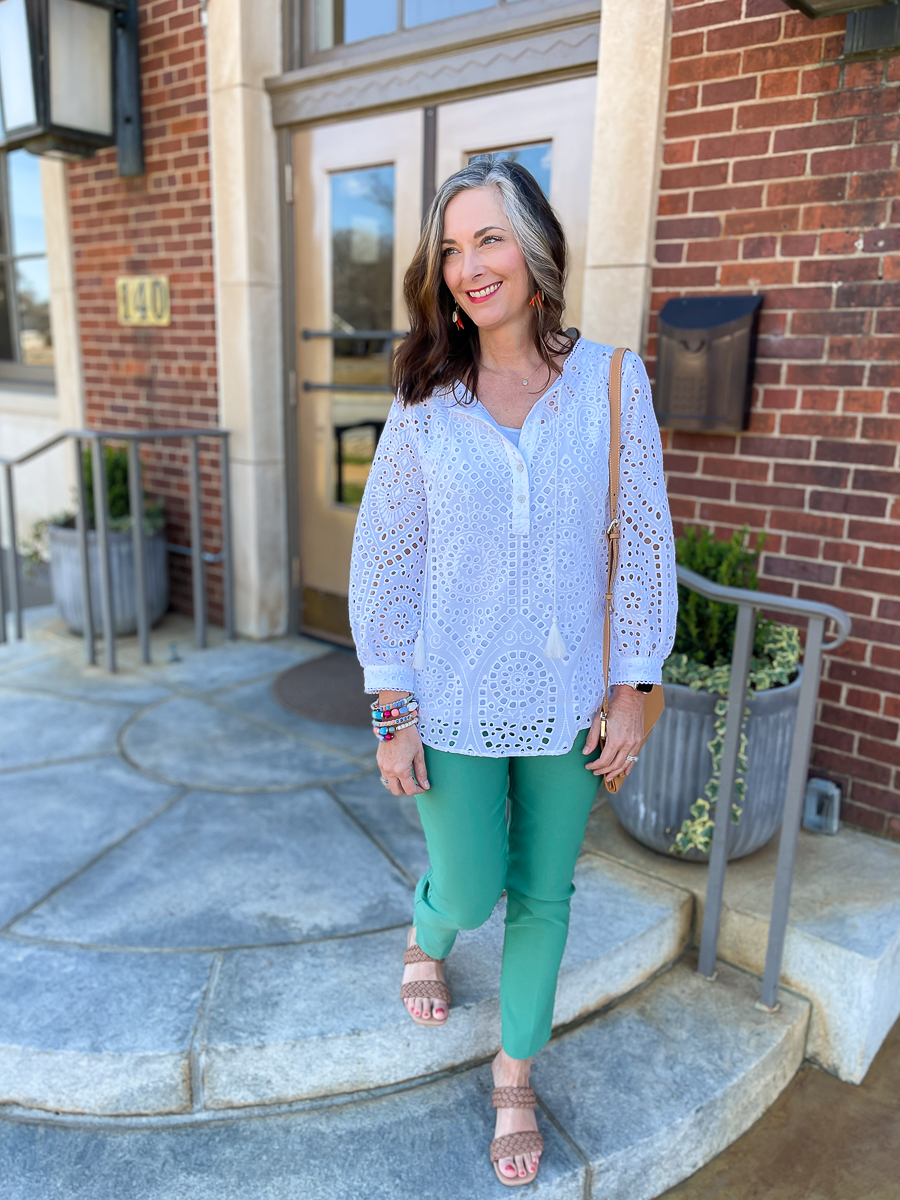 Fit Tip: I am wearing a .5 in the pants, 1 in the tunic, and 8 in the sandals. Everything is true to size.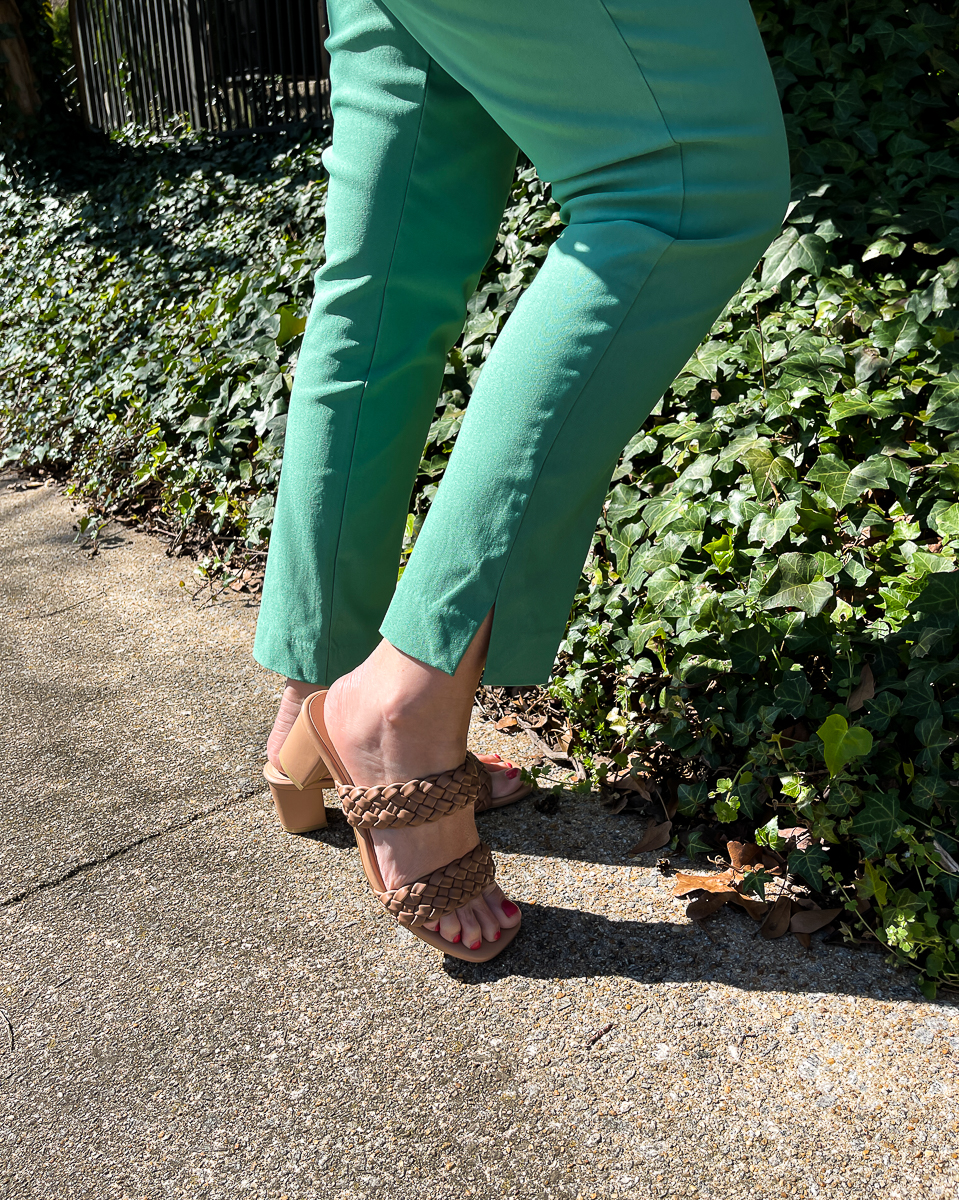 I really love the ankle detail on these pants. They truly are slimming. They have a pull-on styling and are very comfortable. The sandals are very comfortable as well. Please note that the sandals come in 2 heel heights. I am wearing the lower 2-inch version.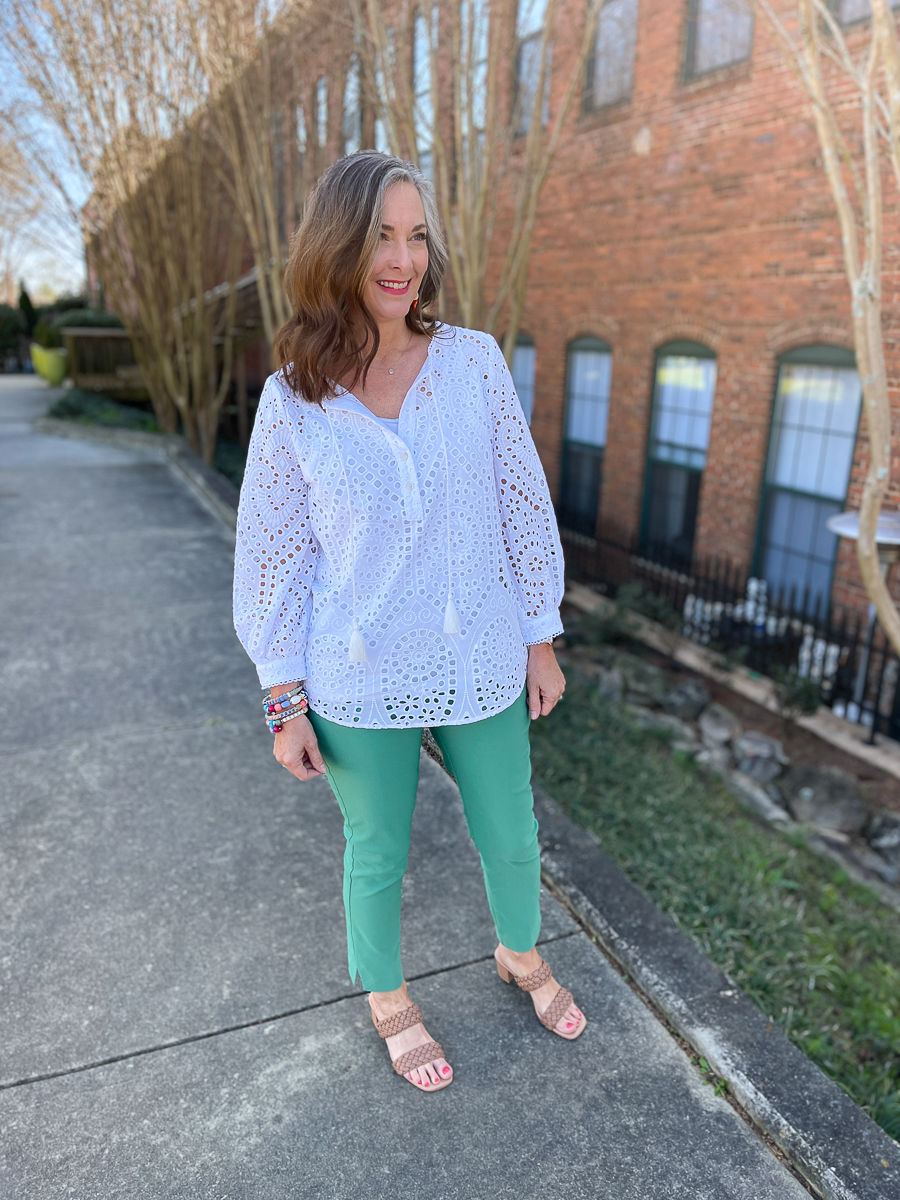 I think this is my new favorite spring outfit. I have these pants in several colors now as well as the cropped version for summer. LOVE them!!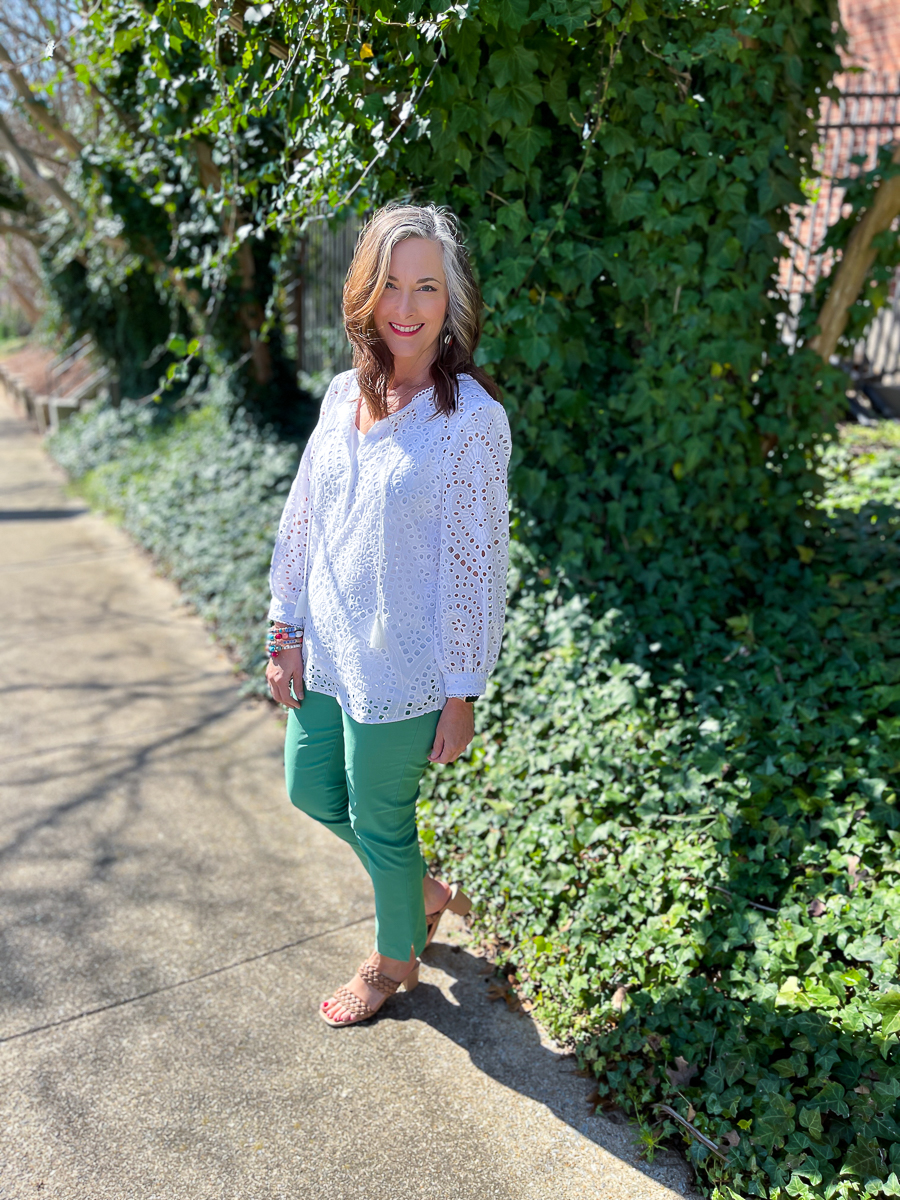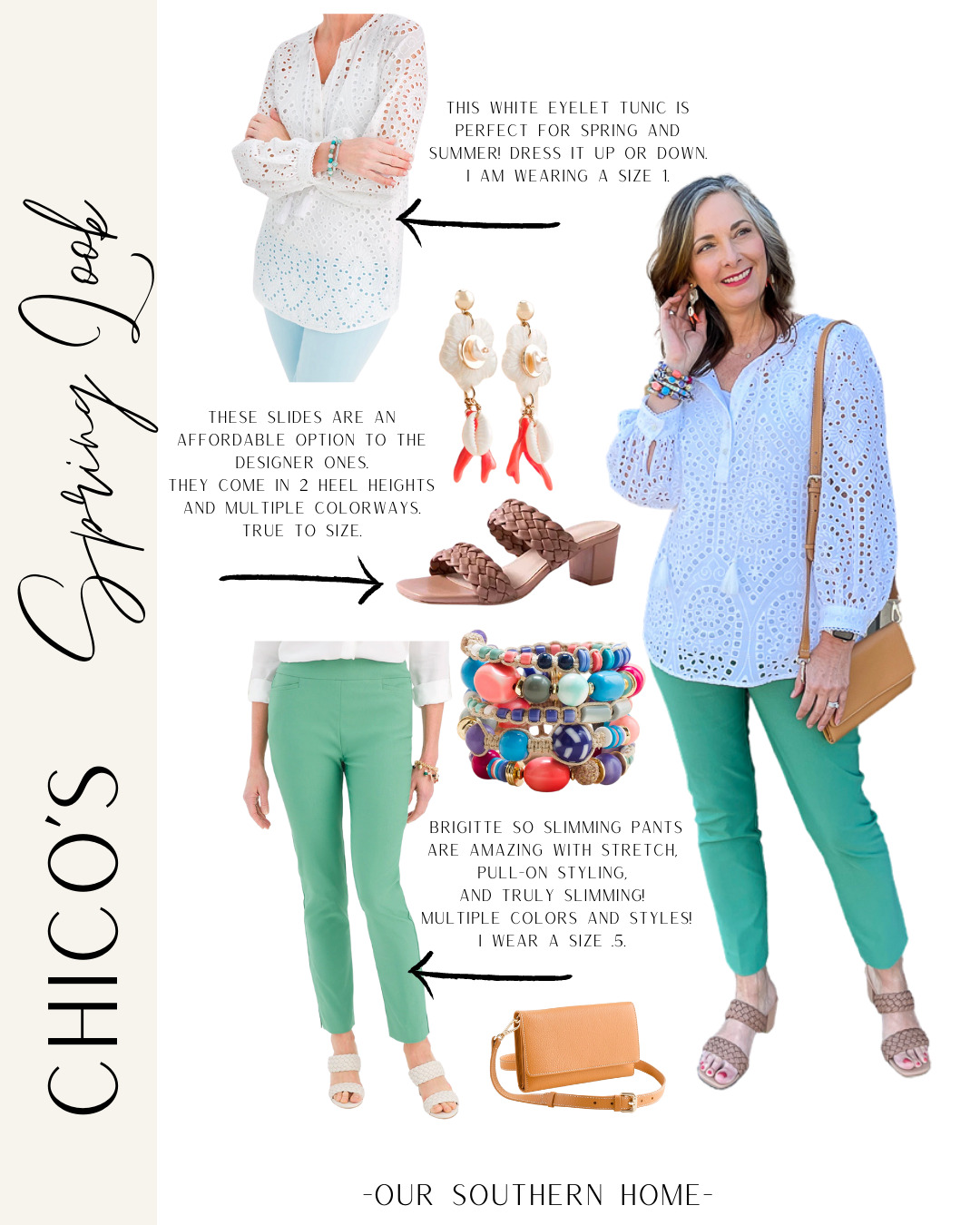 Happy Saturday to you this week. I hope it's been a good one.
I spent much of the week painting on the porch. The new trim and woodwork color change look fabulous. Just that one little tweak makes the space feel so fresh and new. You can see all the behind-the-scenes details in my Instagram highlights called PORCH RENO.
I did take a painting break to shoot a couple of new looks with Chico's on location at the lake. I'll be sharing those soon.

Current Sales
What We've Watched
We've been watching the latest season of Billions. (Showtime) It's just not the same without the original character Axe. It's really a sad real-life story. Damion Lewis is from the UK. His wife sadly passed away from cancer. He quit the show to be home with his teenage children. He wanted to be there for them and to give them the consistency of a parent at home. For now, he'll just be filming UK-based shows and movies.
I started watching The Bad Vegan on Netflix while on a painting break this week. It's a documentary and quite insane. This woman, a popular restaurant owner in NYC falls for a con artist. It's unreal the amount of money that she gives him. What's even more bizarre is the reason why she gives it to him.
Outlander (Starz) is back and we've been watching. It's been a bit slow this season. but I still enjoy the series.
Last night we watched All The Old Knives on Amazon Prime. It's a new movie out that is free if you have Amazon Prime. It's a CIA thriller with a bit of romance. I enjoyed it.
What I'm Reading
I love to read and listen to books. If you are looking for a way to get more steps in with your walking…..listen to books! You will want to keep walking to listen.
I read actual printed books as well as on Kindle. I prefer my Kindle, but it is nice to hold a real book on occasion.
I've had my Audible membership for a while, and LOVE it! It gives me one book credit per month.
Let me share with you how I read on Kindle and listen to books as well. Get yourself a library card!
Then add the LIBBY and HOOPLA apps to your phone.
I will typically check to see if a book is available there first before using my credit or buying. Using these 2 apps with your library card is FREE!!! I love FREE.
If it is a newer title or popular, there may be a waitlist. That's ok. Sometimes the wait can be lengthy. If I'm not willing to wait, I will just purchase. If it is new or popular, you NEED to finish the book in the allowed checkout time. Sometimes you can renew, and sometimes you may have to get back in the queue. If that happens, when it is available again…..it will download where you left off.
Here is what I've recently read or listened to.
What We've Bought
What Caught My Eye
Here are some great decorating ideas when you have a ZERO budget.
I am actually starting to work on my son's mini bathroom makeover. Here are some good tips for a small bath remodel.
These DIY wooden Easter eggs are so pretty!
I am off to paint some more! I hope you have a wonderful weekend! XO, Christy
Buffer