Saturdays on the Porch #28
Saturdays on the Porch #28 featuring this week's fashion looks and more from Our Southern Home for life and home.
Happy Saturday, sweet friends! I hope you've had an absolutely amazing week!
In case you missed Saturdays on the Porch, you can find the archives HERE.
Latest from OSH
Be sure to check out my latest Instagram post and stories videos for our screened porch decorated for fall. We are loving it so much with the temps so pleasant in the evenings.
Saturdays on the Porch #28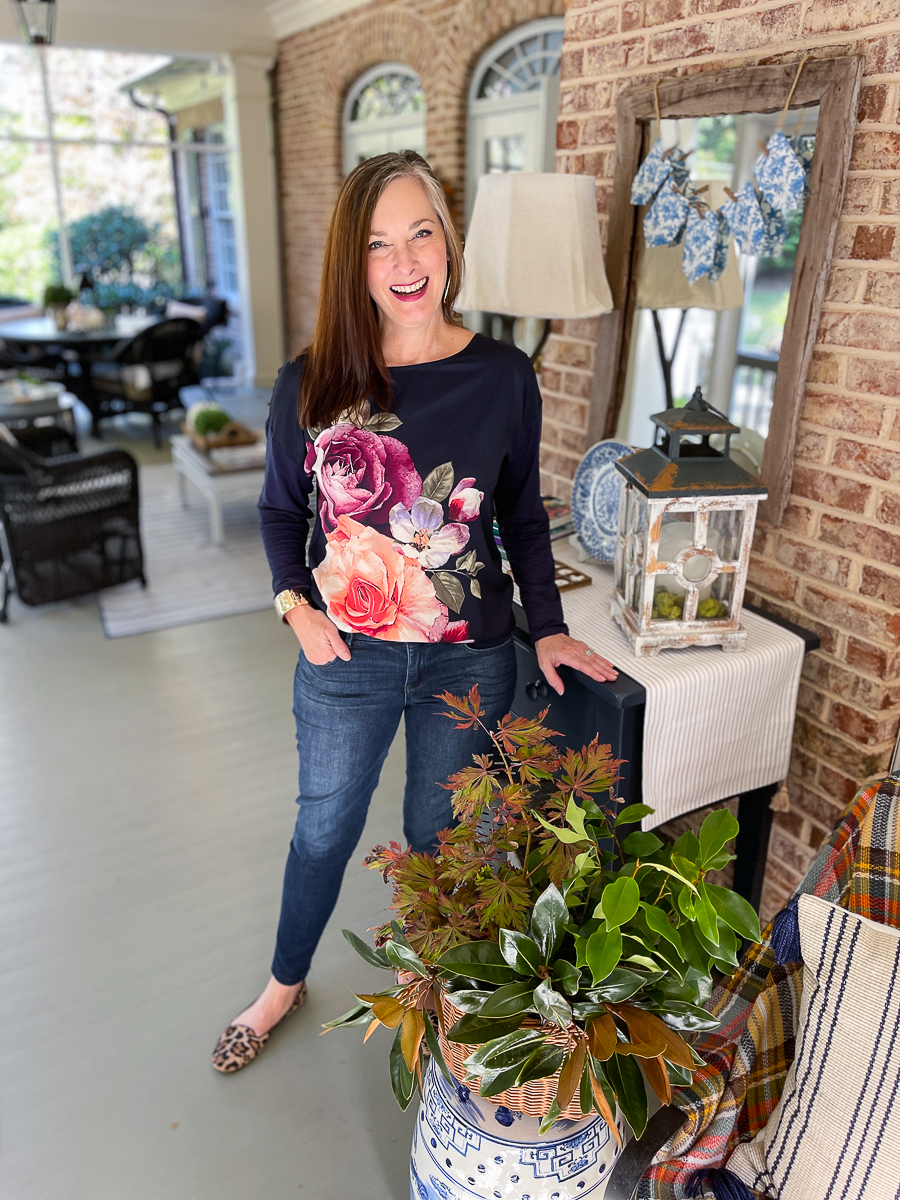 Floral Tee | Jeans | Similar Leopard Flats | Gold Cuff Bracelet | Similar Gold Earrings | Similar Garden Stool | Fall Plaid Scarf
That garden stool is a super cheap price!!!!! Same brand as mine just a different pattern. Come back Tuesday for the post on this fall vignette.
I got a couple of inches cut off my hair yesterday, and it feels great! My last cut was in March!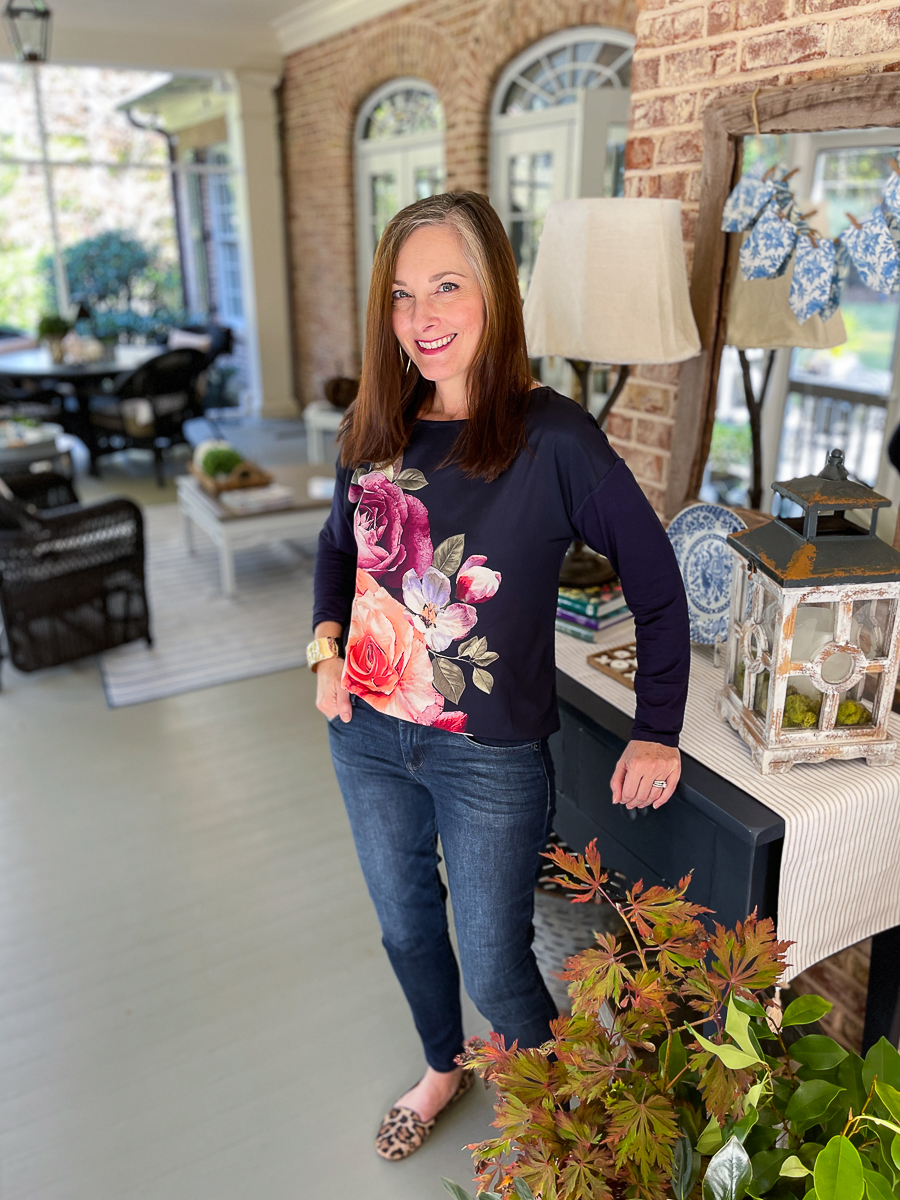 Floral Tee | Jeans | Similar Leopard Flats | Gold Cuff Bracelet | Similar Gold Earrings | Similar Garden Stool | Fall Plaid Scarf
I am smitten with this floral tee shirt from Chico's. It went on sale, and I scooped it up. It's so vivid and fun. I just love the pops of color.
It's navy and pairs nicely with jeans. Adding the leopard flats add some whimsy to the look.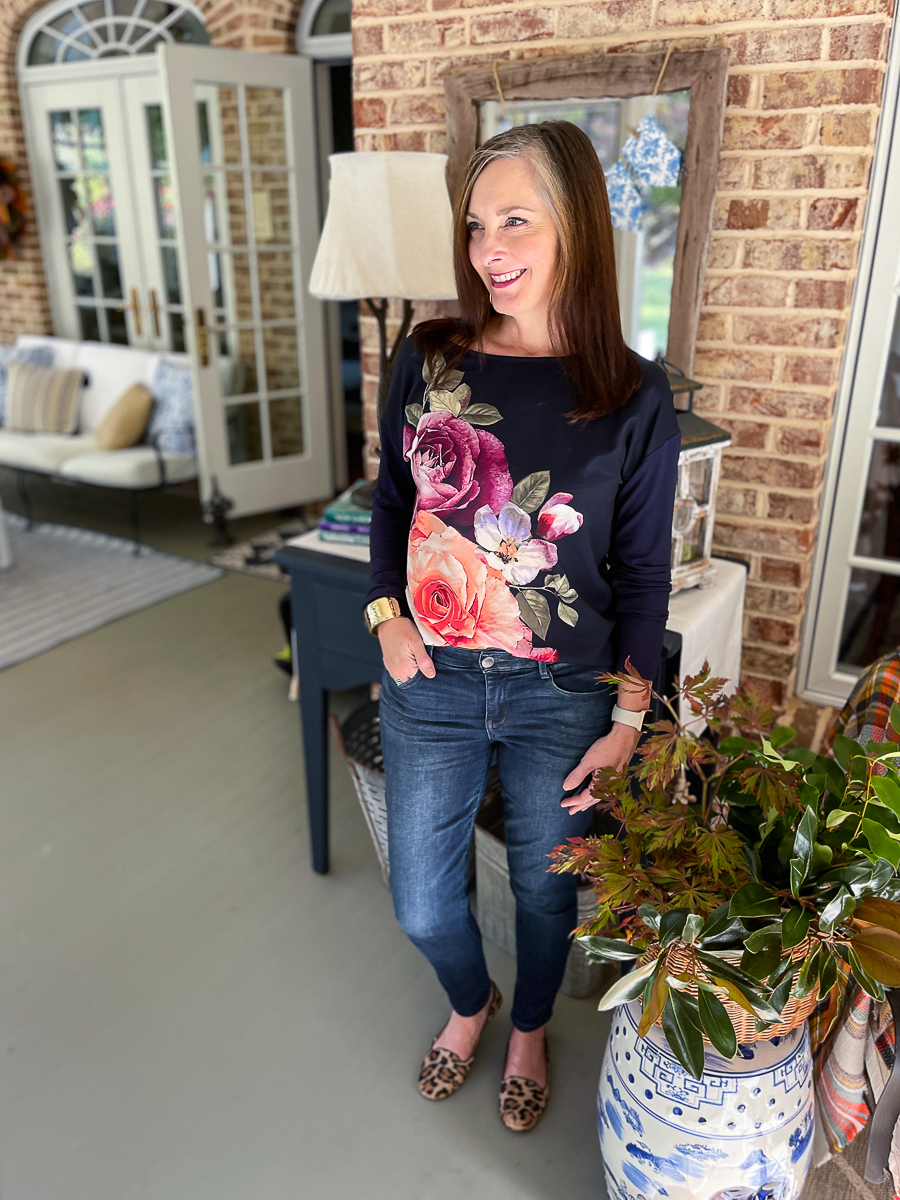 Floral Tee | Jeans | Similar Leopard Flats | Gold Cuff Bracelet | Similar Gold Earrings | Similar Garden Stool | Fall Plaid Scarf
Fit Tip: I am wearing a size 1 in the tee and size 8 in the jeans. I could have worn a 0.
The shirt is unique in that the front is a woven feel. The back and sleeves are a really nice knit. It really is not your average long-sleeved tee. It also comes in a black option.
I also ordered the hinged cuffs in the silver and gold. I am really into wearing a chunky bracelet and earring these days.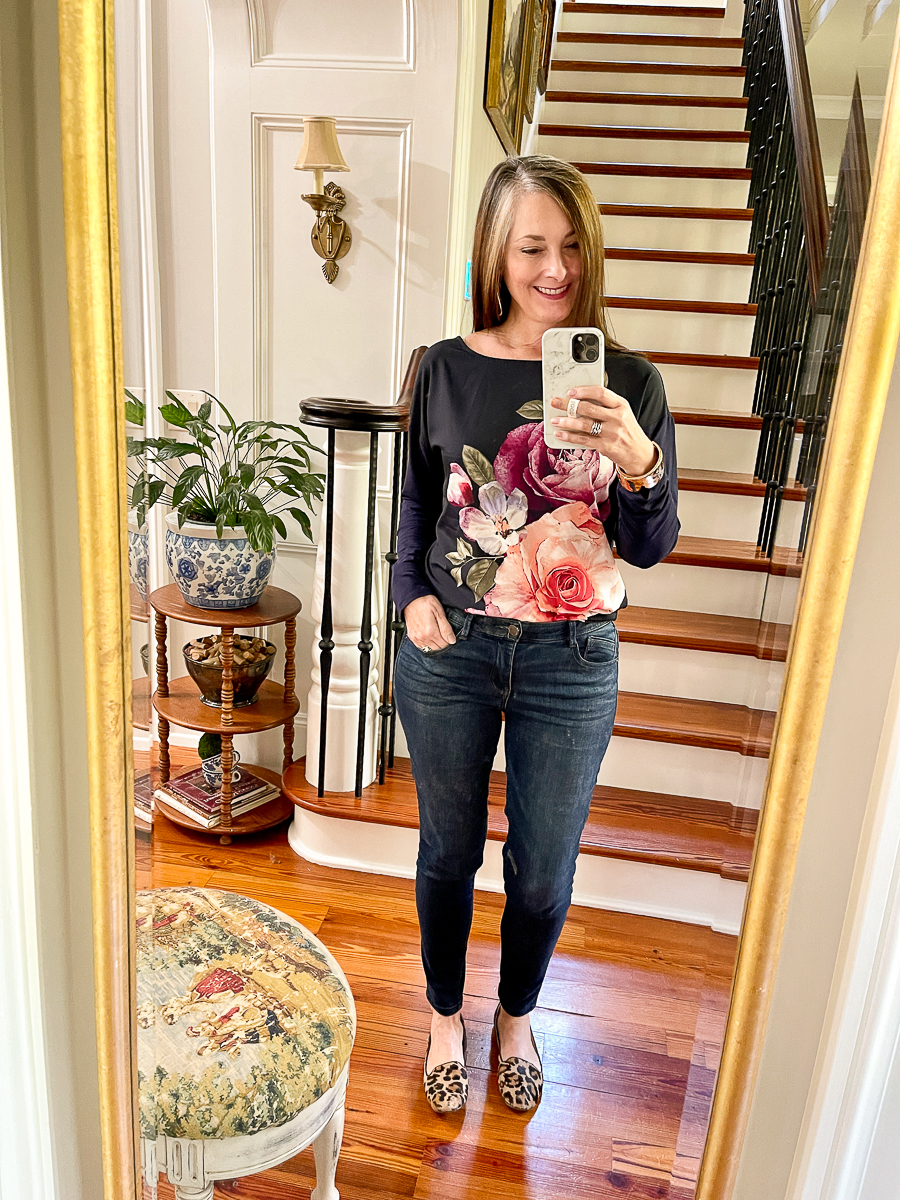 Floral Tee | Jeans | Similar Leopard Flats | Gold Cuff Bracelet | Similar Gold Earrings | Mirror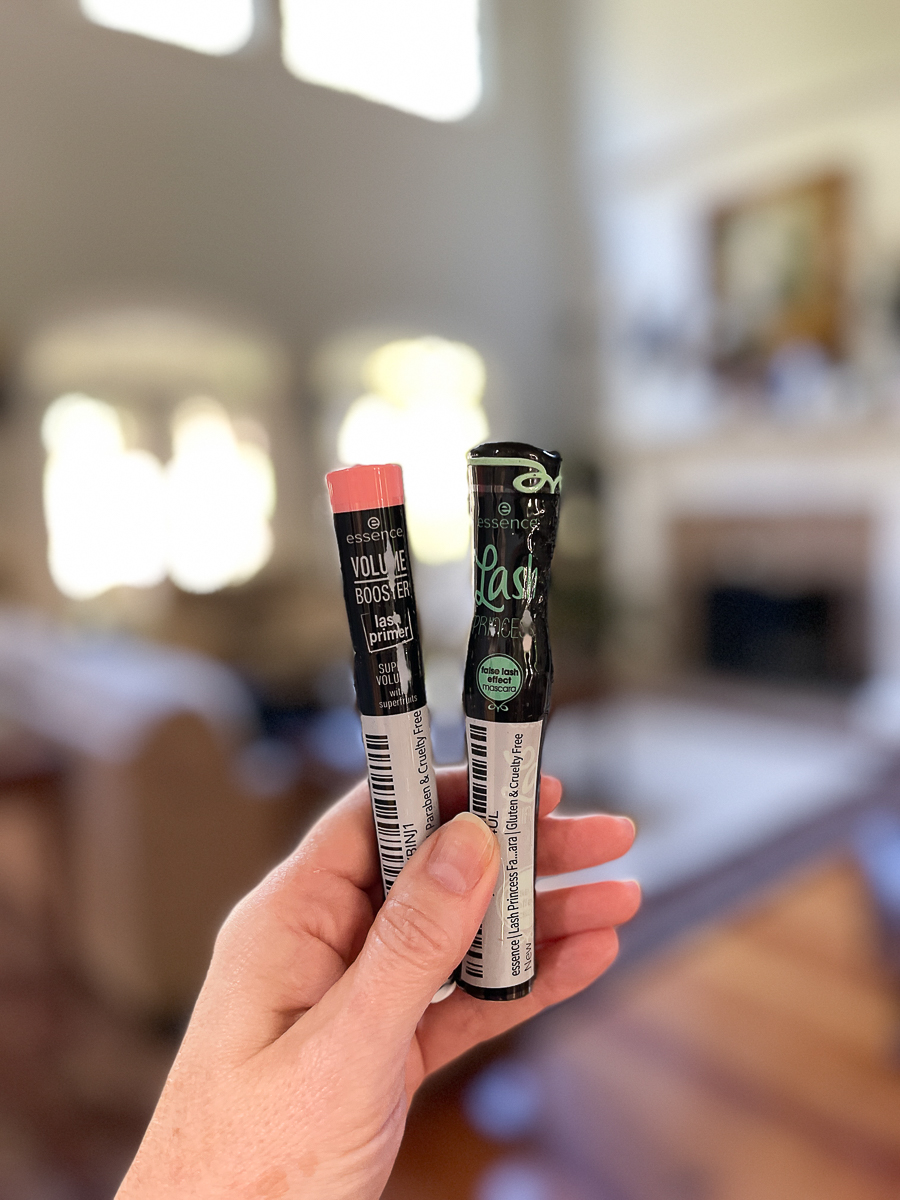 This mascara has an enormous following with over 200,000 ratings! It's less than $5! Honestly, I tried it one time a couple of years ago and it was too wet and I made a mess applying. LOL!
Now that I see it has a companion primer, I am giving it another try. I just got it in yesterday afternoon after I was already dressed so I haven't tried it yet. I will wear it to church tomorrow and will give you an update.
Happenings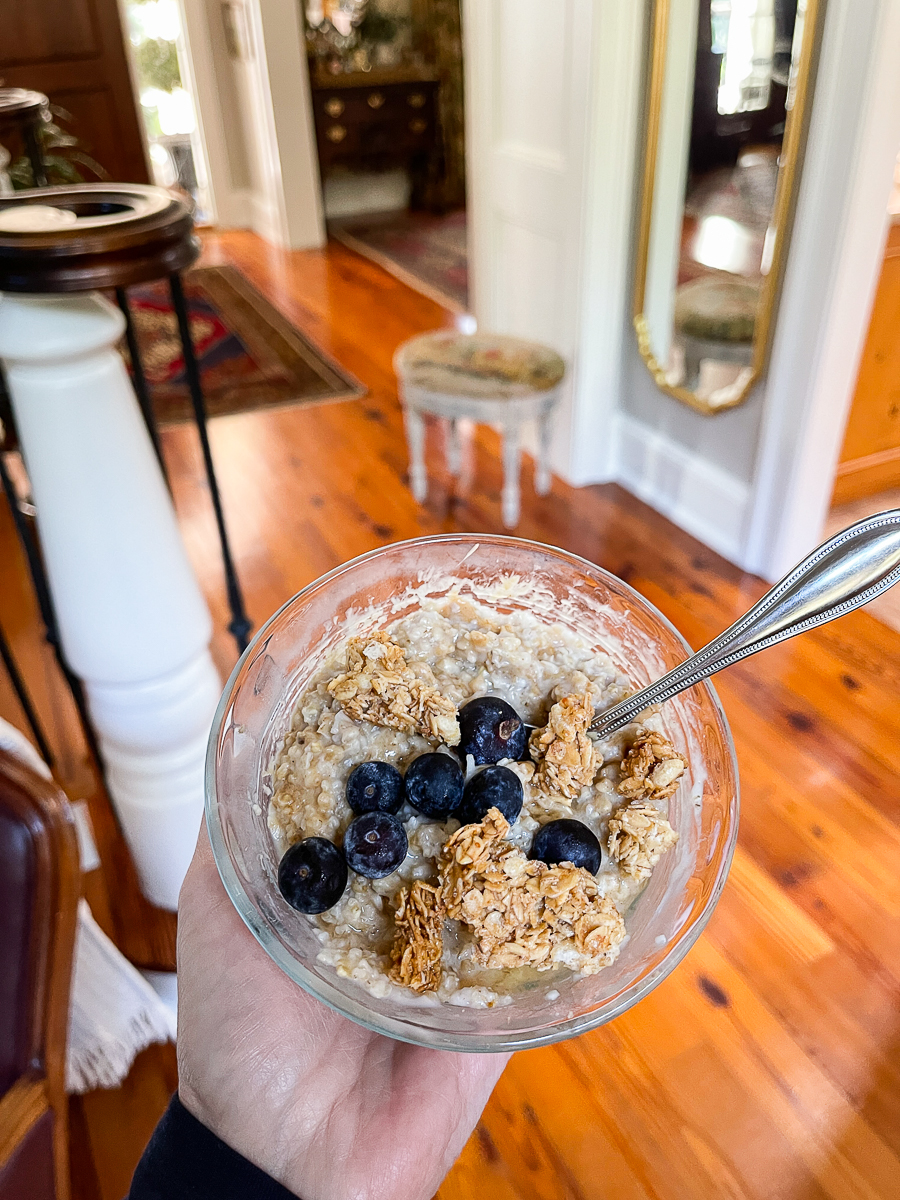 Thursday I had my mammogram. I did a 3D one. I am embarrassed to say that my last one was in 2011. I got the results back yesterday and all was great. No significant changes in the last 10 years. I am going to get back on a yearly schedule.
I have an irrational fear of going to the doctor. I get tremendous anxiety and literally make myself sick. That's why I never go.
The surgeon that did my MOHS surgery on my face last August, called me in 2 valium to take before and during the procedure. It did help.
I am doing a colonoscopy the first of the year. Lord help me.
When I went for my first checkup with my internist in August, she did a full blood work panel. We eat extremely healthy. I do hate to exercise, and other than walking I'm horribly inconsistent. I will need to bump that up.
I had high cholesterol, but the overall ratio was good. This was not a surprise in that my mom has this and takes medication for it.
The shocker was that I am just barely registering as prediabetic.
No medication was advised. Just going to see how things look at next year's appointment. I take no prescription medications and don't want to start.
Sooooo…….I'll be working really hard the next year with diet, but really bumping up exercise.
One thing that I am doing is adding in some instant steel-cut oatmeal. I am eating that at noon to break my fast. I do intermittent fasting and have for about 2 years now.
It's a small portion, but very filling! I am adding in a spoonful of natural peanut butter, blueberries, and a tiny dab of granola for crunch. I'll be substituting the granola for almond slices. I just didn't have any. This combo is so good and fills me up!
I have cooked every night this week except last night. We ran out for a quick dinner.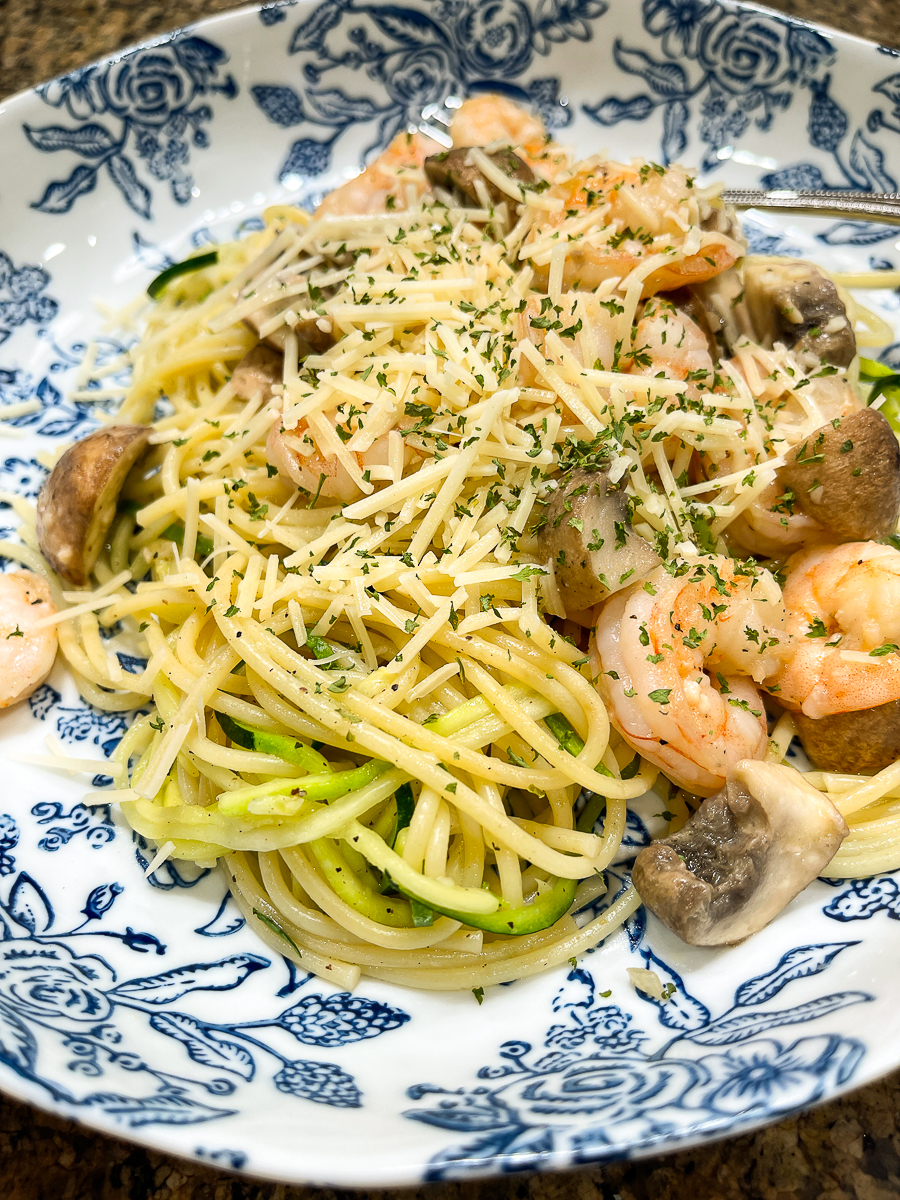 Similar Pasta Plates | Spiraizer for Zoodles | Strainer | Juicer | Cheese Grater
Pasta is one of those dishes that I typically just throw together. It is never the same twice. My family loved this one! Ashlyn said it is her new favorite. It is so light! I typically will make a side dish of zoodles for those of us that want to leave off the pasta, but here I mixed the 2 together. Woods even ate it with no complaint about the zucchini. He NEVER eats zucchini, but didn't realize it since mixed together. I plan to recreate this for the blog soon. It's just too good! Here it is in a nutshell if you like to do pasta.
This served the 4 of us with a couple of leftovers for lunch.
I used about 1-1/2 pounds of frozen shrimp. Saute them with chopped mushrooms and jar minced garlic in a pan drizzled in olive oil. NO BUTTER (remember working on the cholesterol). Salt and pepper to taste and add in the juice of 1 lemon.
While this is cooking, boil a small box of spaghetti noodles. Salt your water well. Right before you take it out, add 2 zucchinis that you've run through your zoodles maker. Stir it around and drain it with a strainer.
Place the pasta mixture in a large bowl. Drizzle with a little olive oil so the pasta will separate and not stick to each other. Salt and pepper it to taste. Add about a heaping teaspoon of the minced jar of garlic. Toss well.
Plate the pasta, spoon the shrimp mixture with pan drippings on top. Sprinkle with grated parmesan and dried parsley. It was so good!!!!!!
I'll be working on a formal recipe with actual measurements for the blog.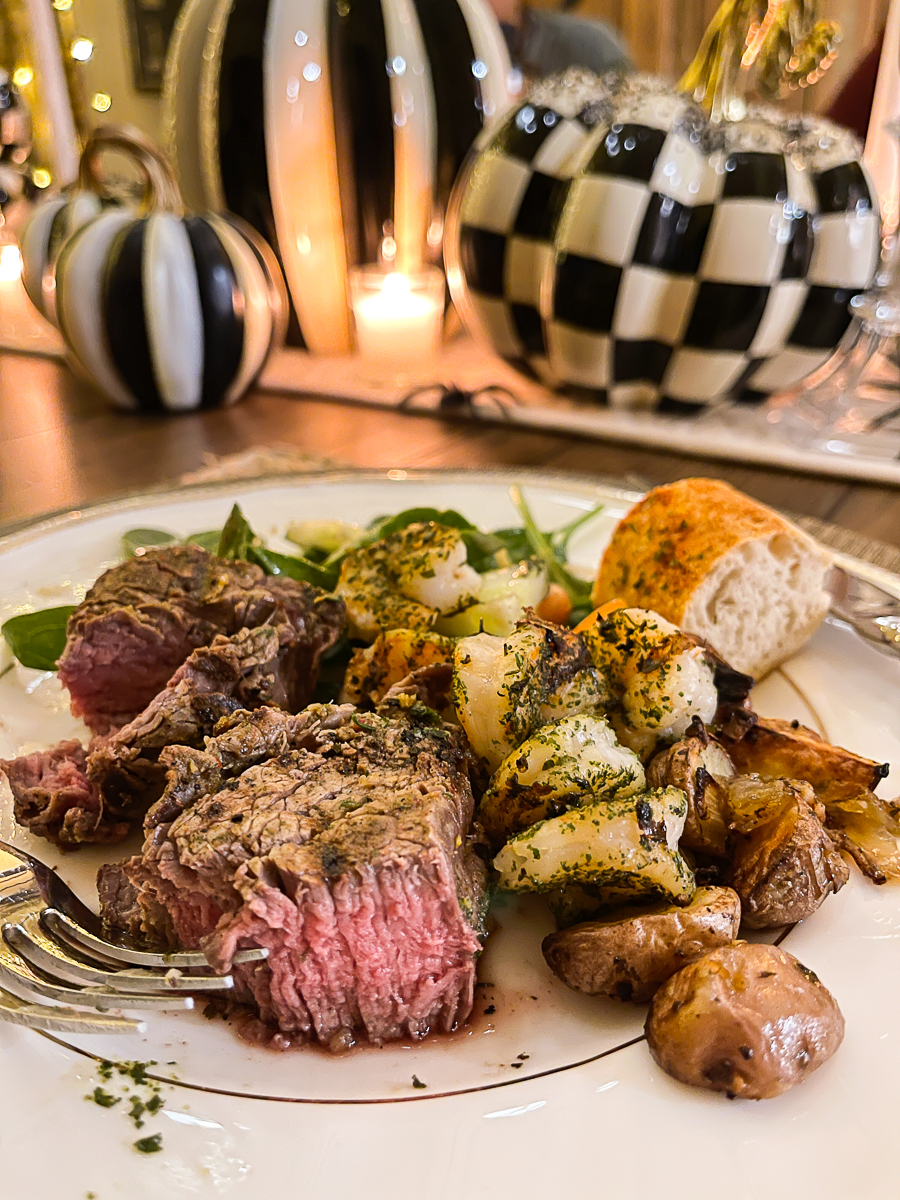 This is our typical birthday at-home dinner for the family! My hubby just celebrated his birthday. We love to get small fillets and grill those with shrimp. We serve it with roasted rosemary potatoes and a salad. Instead of buttering the garlic bread, I brushed it with a little olive oil. It was just as good!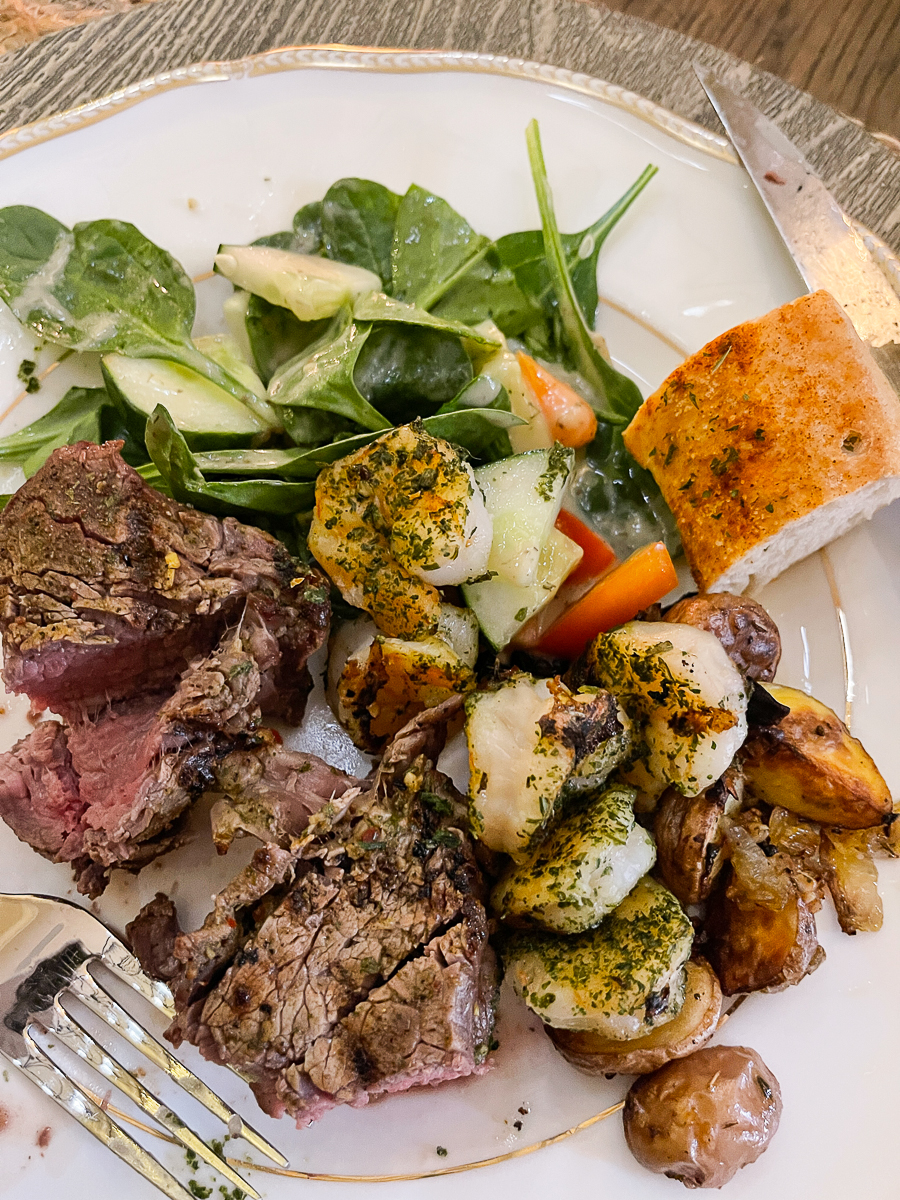 It was so yummy!!!!!
What I'm Reading
What We've Bought
What Caught My Eye
This tablescape is so pretty for fall and unexpected with the pops of color. The candlestick color is really pretty!
Dreaming of a trip to Vermont? Check out this foliage. Here is the blog post with more photos. Stunning!!!
Loving this account that I stumbled upon recently. If you love Bently, you'll enjoy this account.
I need to make these soon. They are perfect for a simple fall dessert.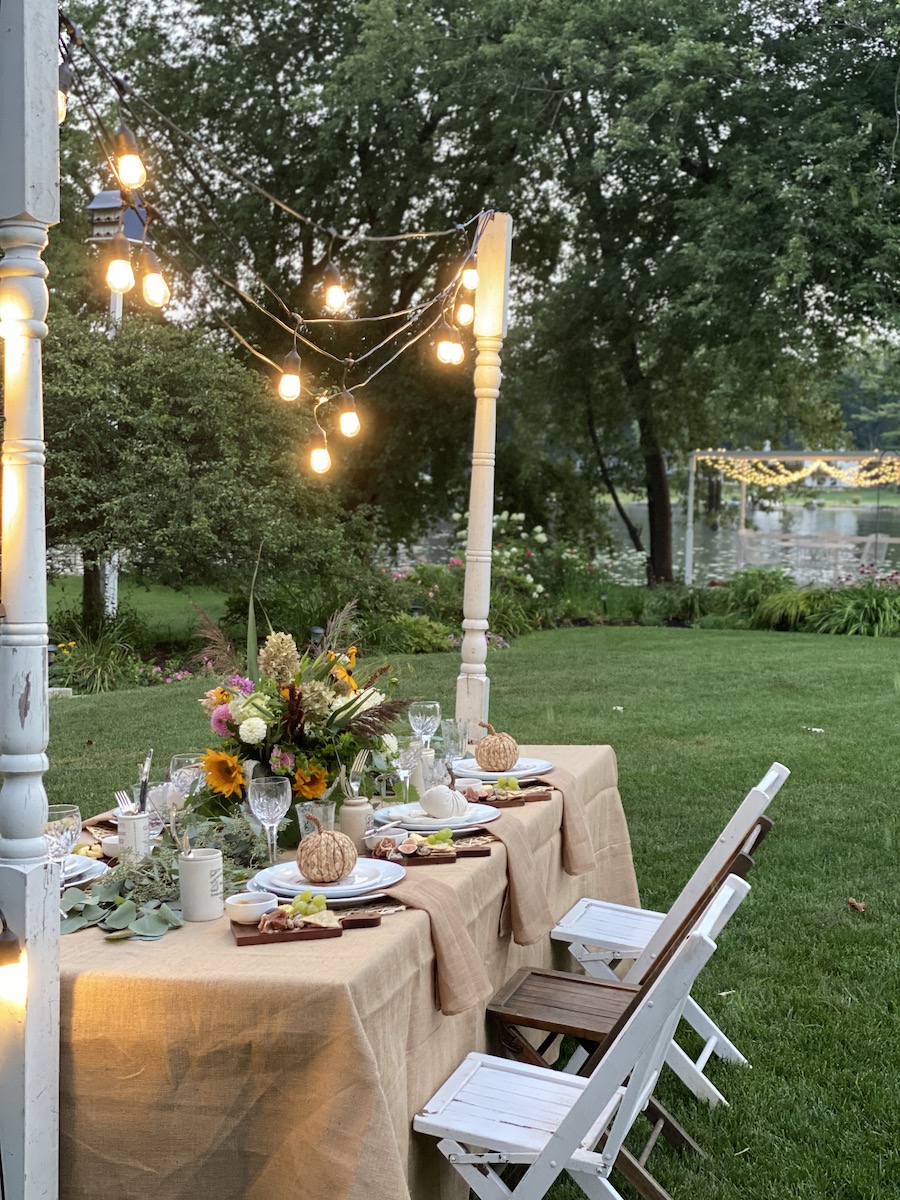 Beautiful outdoor dining ideas for fall from Living Large in a Small House.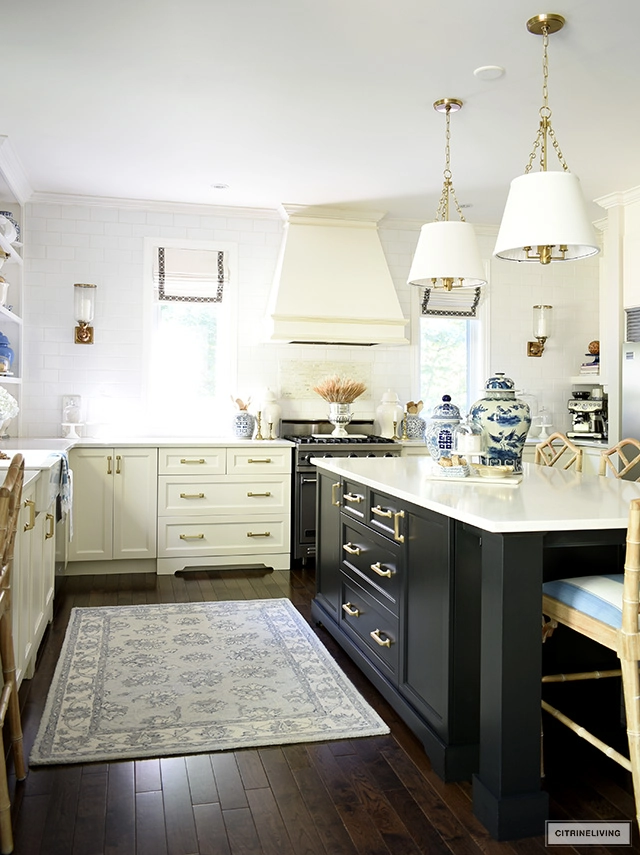 Beautiful fall kitchen from Citrine Living
Next week on the blog!
Pinterest Challenge: Fall branches vignette
Mom's Meat Sauce for Spaghetti
Home & Decor Encore
Halloween Tablescape
Have an amazing weekend!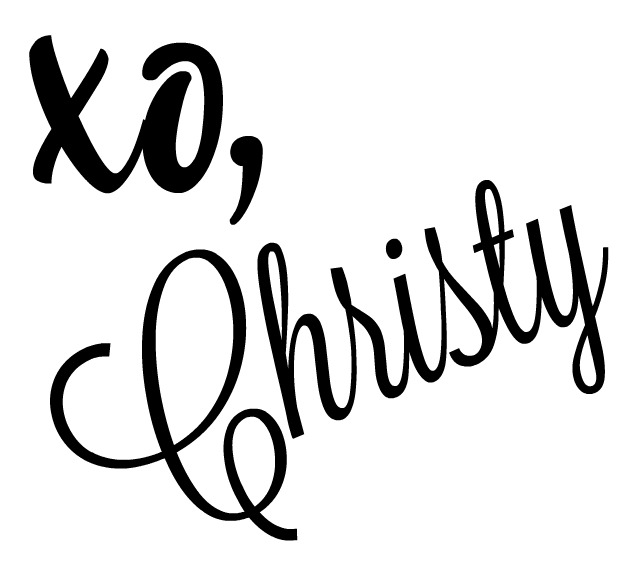 Buffer