Saturdays on the Porch #15
Saturdays on the Porch #15 featuring this colorful summer dress from a favorite boutique and a stroll around our front yard.
Latest from OSH!
Happy Saturday sweet friends! It's time for …….
Saturdays on the Porch #15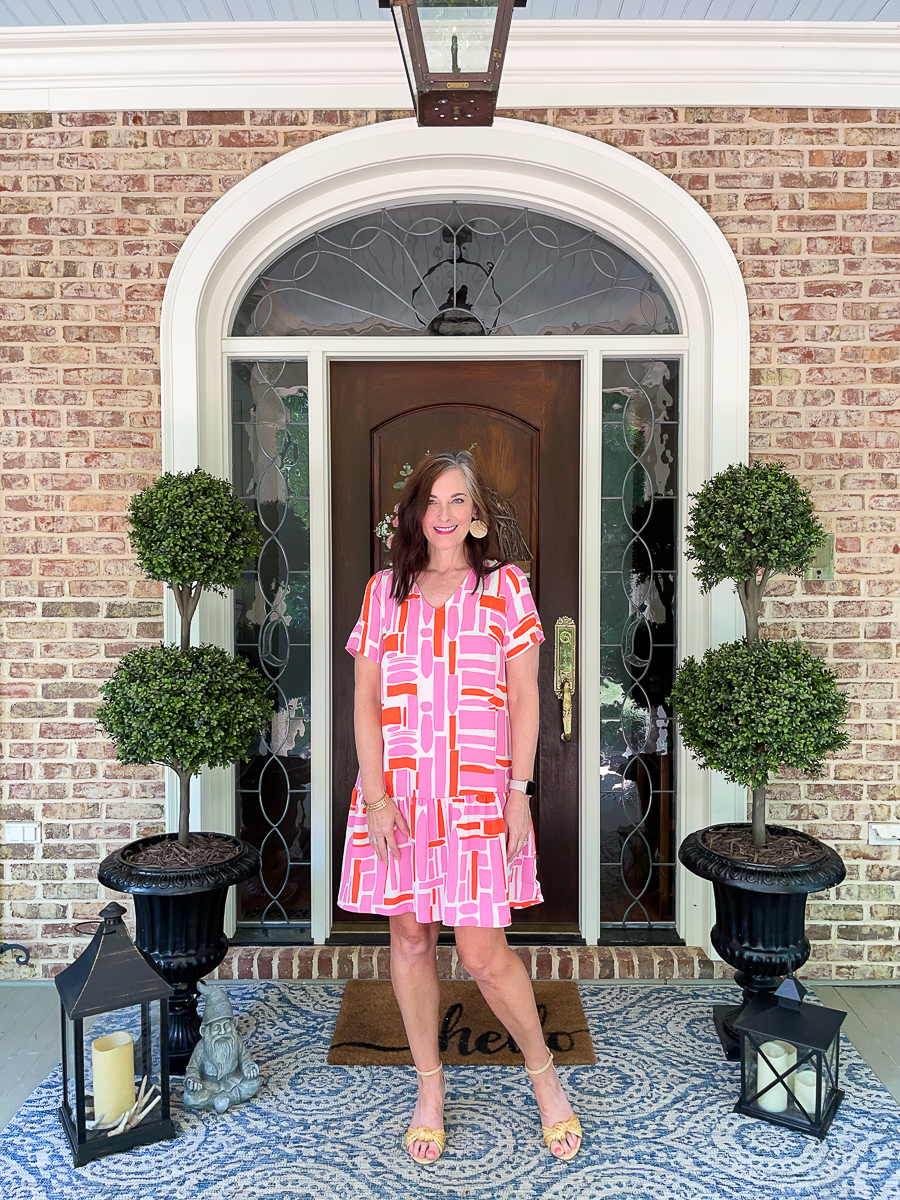 Earrings | Topiaries | Blue Rug | Similar Mat | Similar Lanterns | FARRAH Dress | Bracelet | Sandals
This dress came from one of my favorite online boutiques, Liz and Honey. They ship quickly, and I've never been disappointed. I am a definite dress girl in the warmer months over shorts. I occasionally wear shorts out especially at the beach and at home. This is the FARRAH dress which is out of stock. You can request to be notified if restocked which they frequently do with popular looks.
Get 10% off when you shop through my link.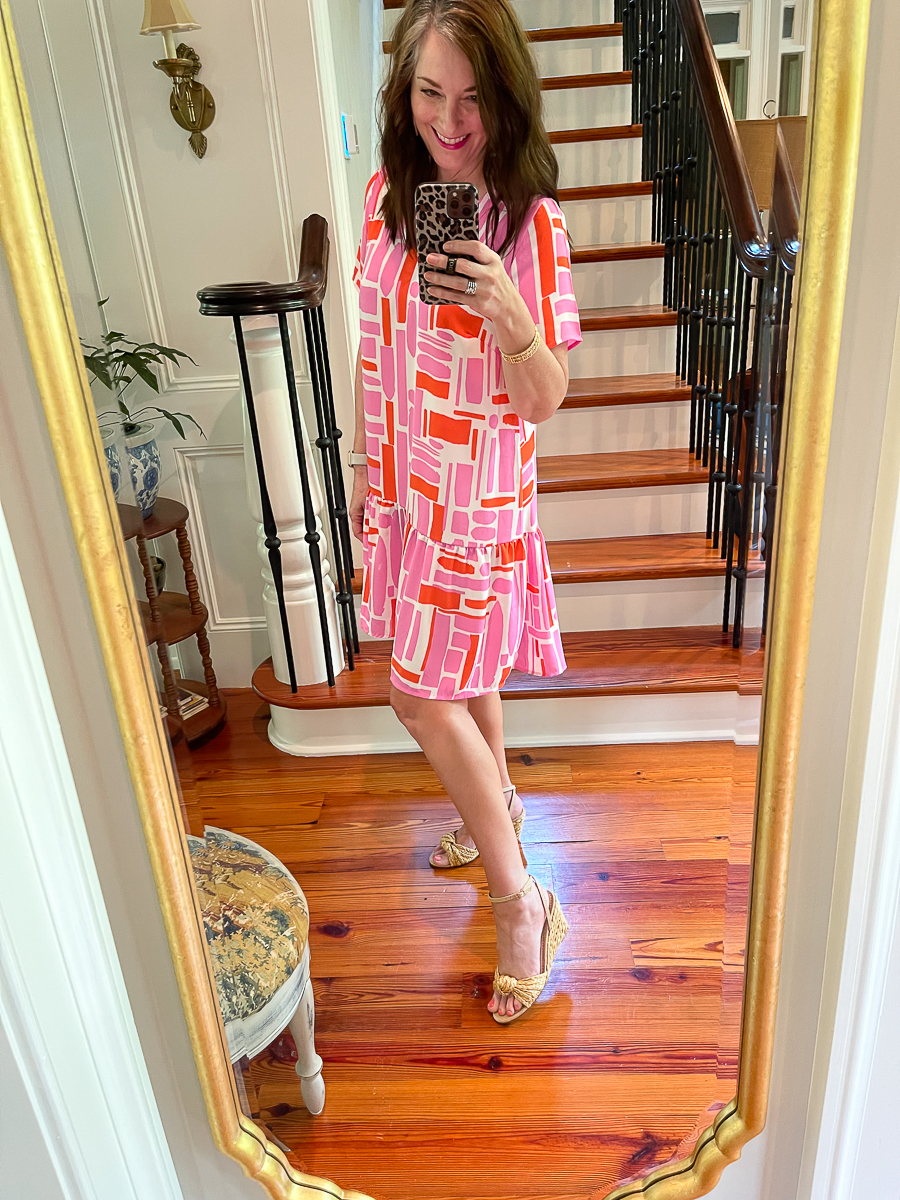 Earrings | Mirror | FARRAH Dress | Bracelet | Sandals
It's bold with fun summer colors and a loose, relaxed fit without being like a tent.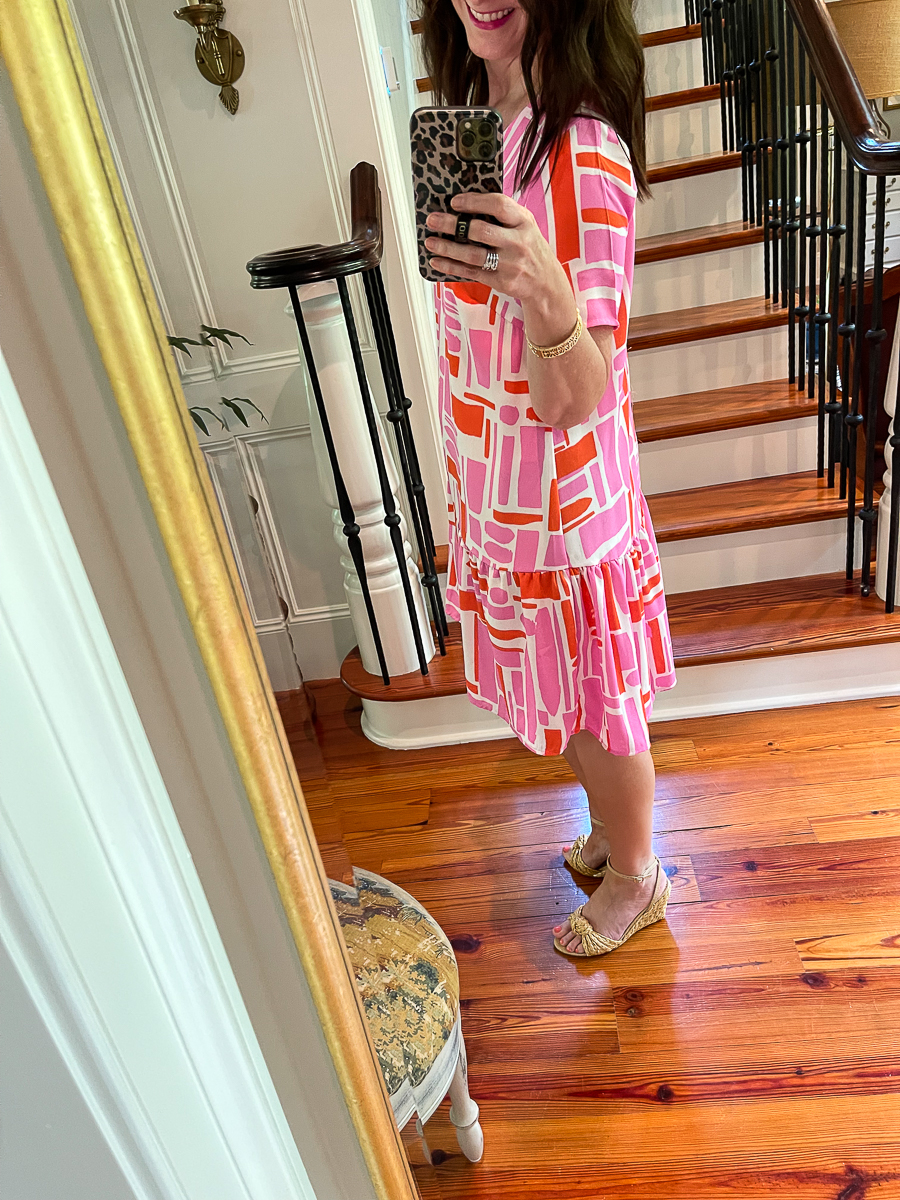 I discovered the boutique on Instagram. Being a small boutique, they do a lot of advance sales or preorders. Things do sell out. While my dress is no longer available, it will give you an idea of their offerings.
Fit Tip: I am wearing a size small.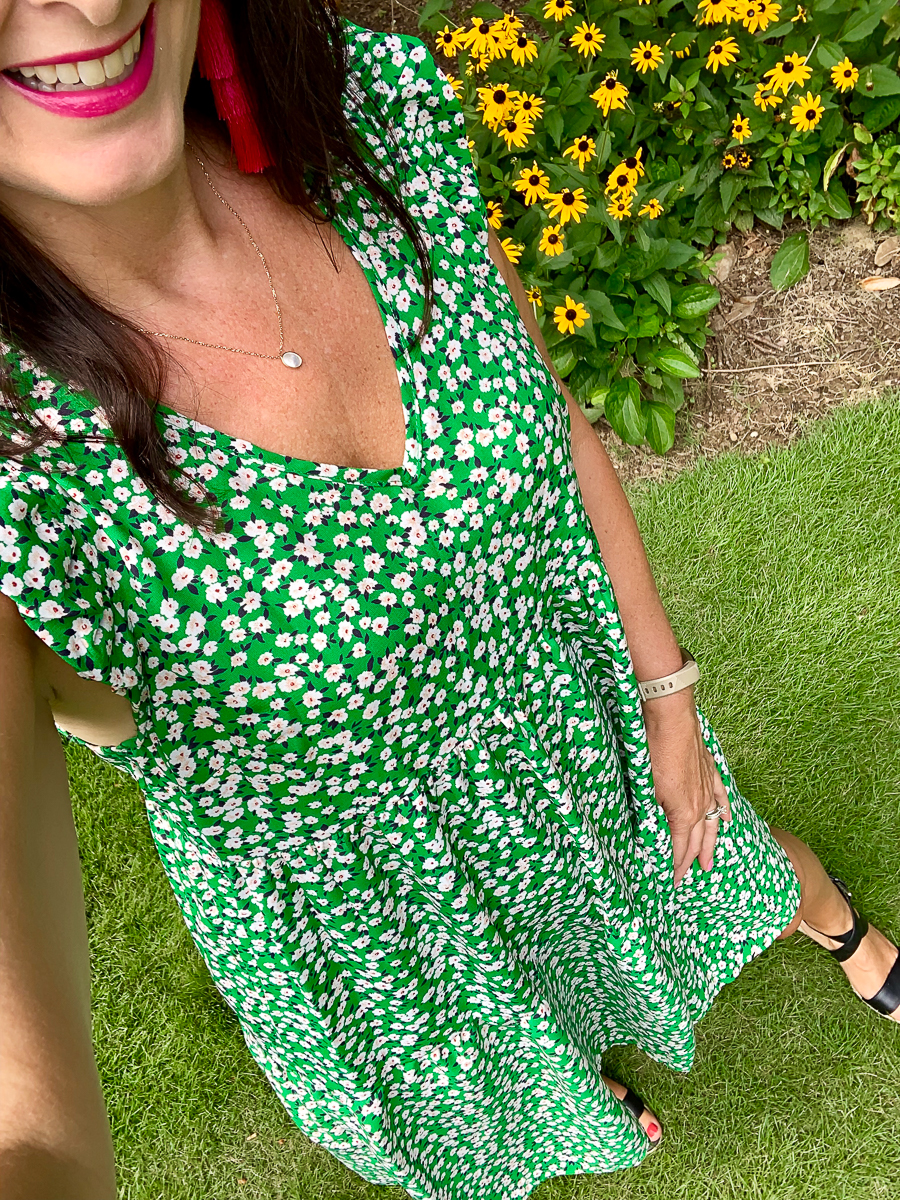 This dress is about 2 years old from them. They had this dress available in several colorways. I LOVE it! It carries me into the fall with a denim jacket and booties.
Fit Tip: This dress is a medium, but I should have ordered a small.
Here are a few current items from Liz and Honey that I love! Shop with my link and got a 10% coupon on the first order. Just type in the name of the dress in the search bar.
This adorable dress is a preorder that ships in mid-July. It is the Rory Dress.
This is the Alys Dress that ships in 2 weeks.
I really love this GRISSEN TOP!
What I Wore Father's Day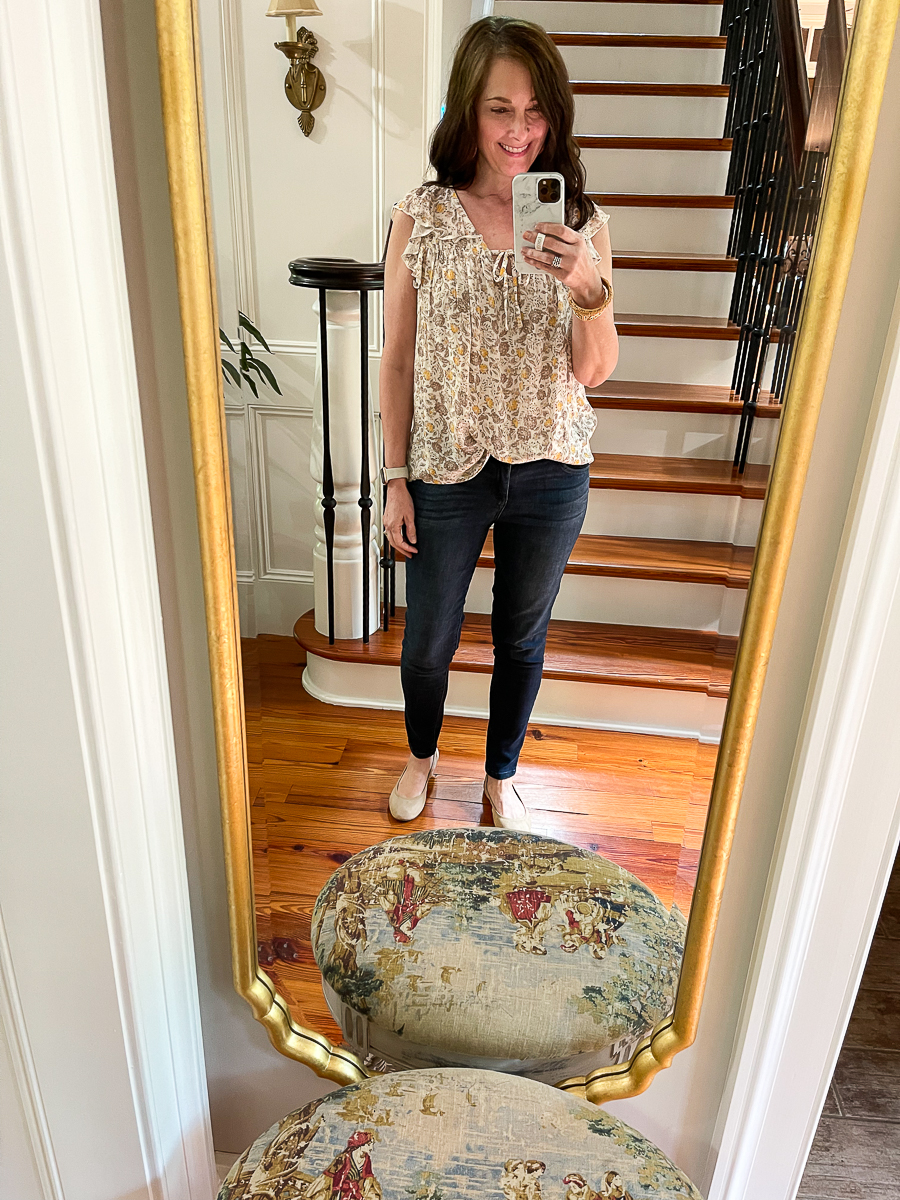 Earrings | Mirror | Jeans | Blouse | Bracelet | Ballet Flats
I cooked a huge meal. It was pretty yummy! We had marinated flank steak, skewered grilled shrimp with remoulade sauce, broccoli salad, grilled corn with our Garlic and Herb Butter, pineapple, garlic bread with the same butter, lemon meringue pie, and sopaipilla.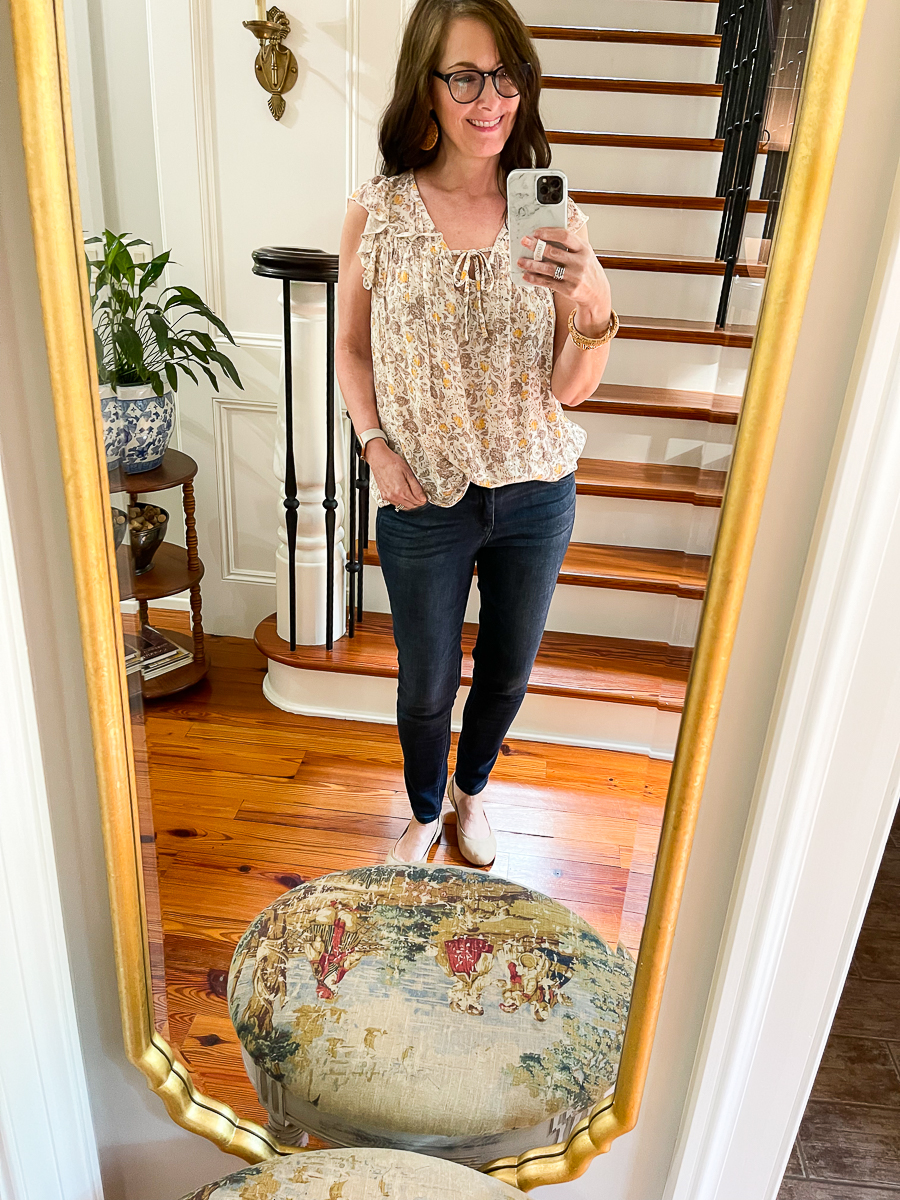 Earrings | Mirror | Jeans | Blouse | Bracelet | Ballet Flats | Glasses
I wore jeans because it rained much of the day and much cooler than normal. My new Warby Parker glasses came in, and I love them. It was my Mother's Day present. They are progressive readers with a slight correction for distance. I also added blue light lenses due to my large amount of screen time with the blog.
Fit Tip: Ballet flats- go up 1/2 a size, Jeans size 8, Old Navy blouse size medium
Front Yard Stroll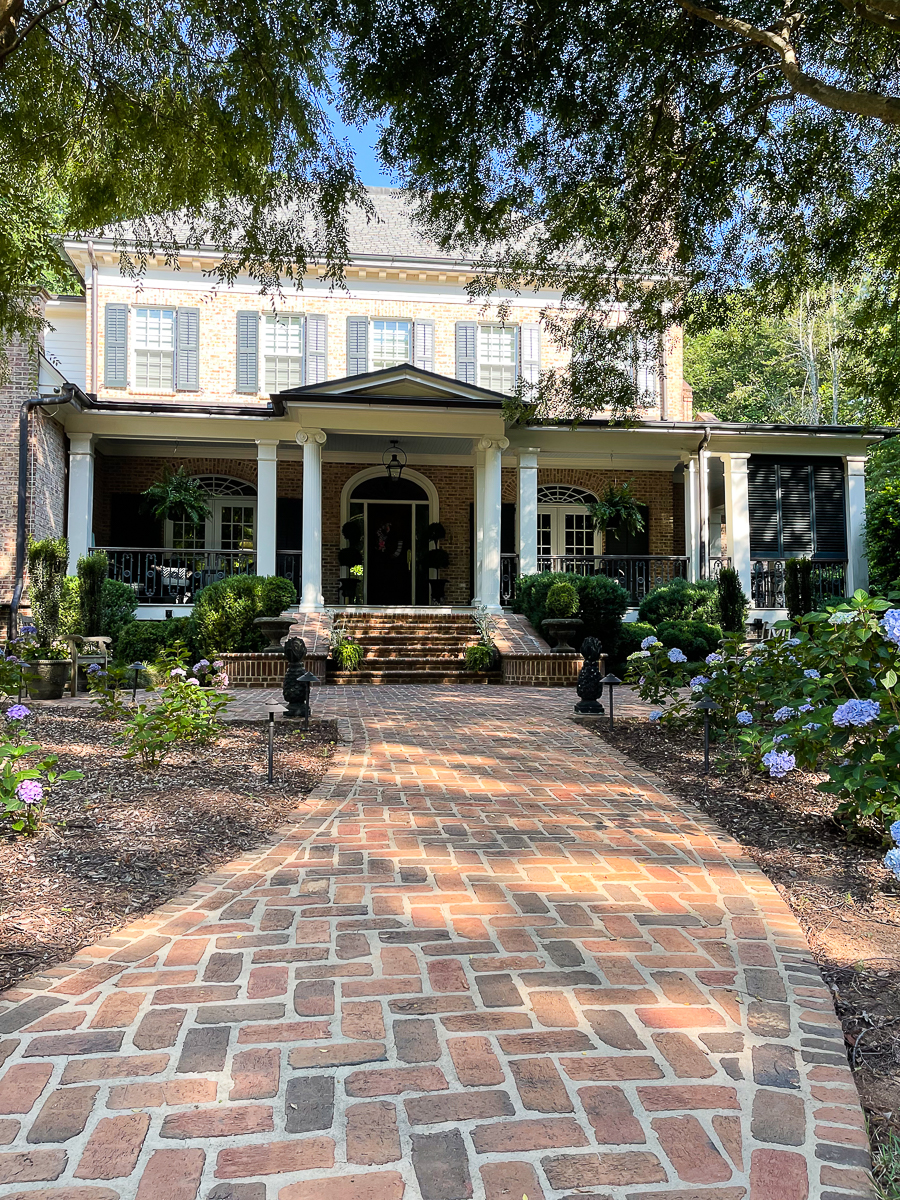 This is the start of the 4th summer I believe with the hydrangeas flanking the walkway. I love them! They are the same variety. Planted and purchased at the same time. One side has flourished more than the other. The soil is obviously different because of the color change on each side. I'm researching and trying to work on them. Let me know if you have any tips.
You can see this reel that I did on Instagram of the front.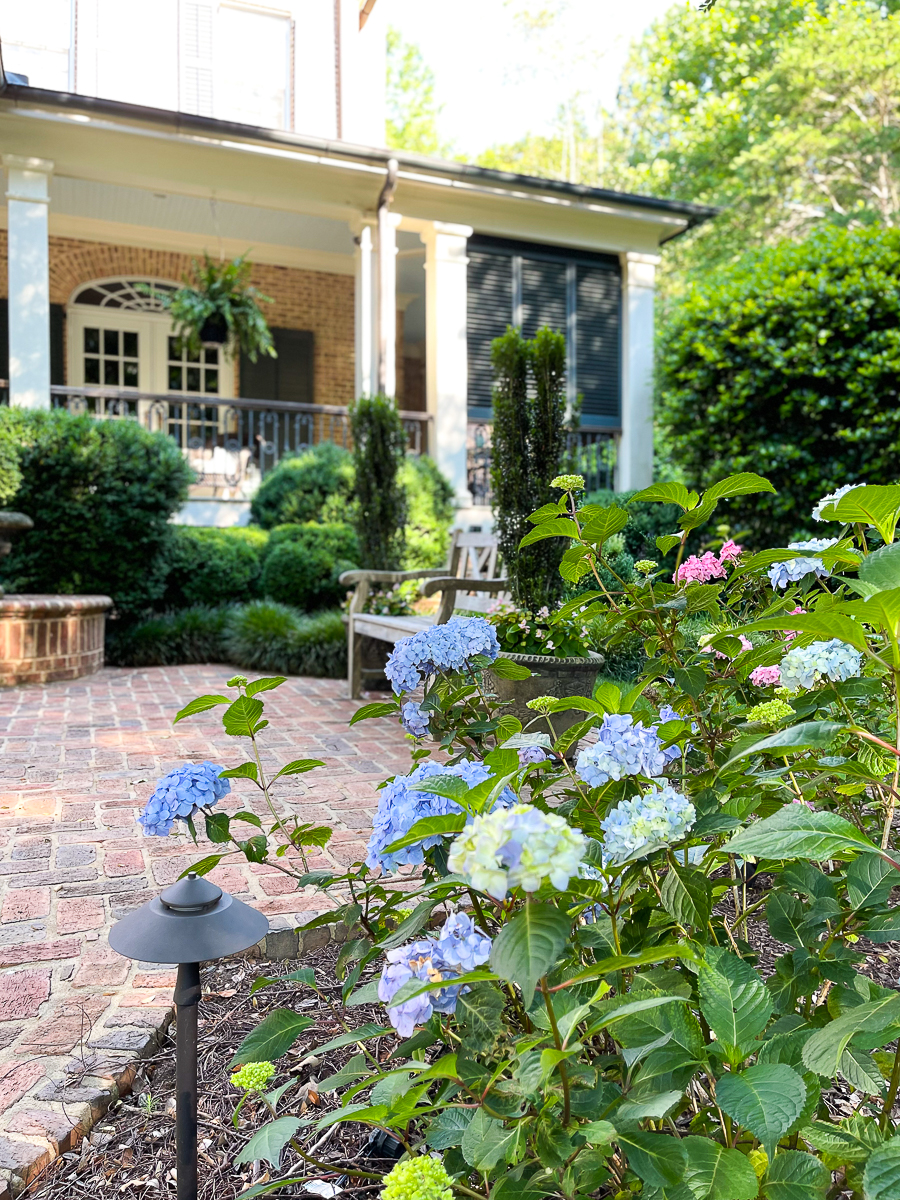 Do you notice the one lone pink plant in the back?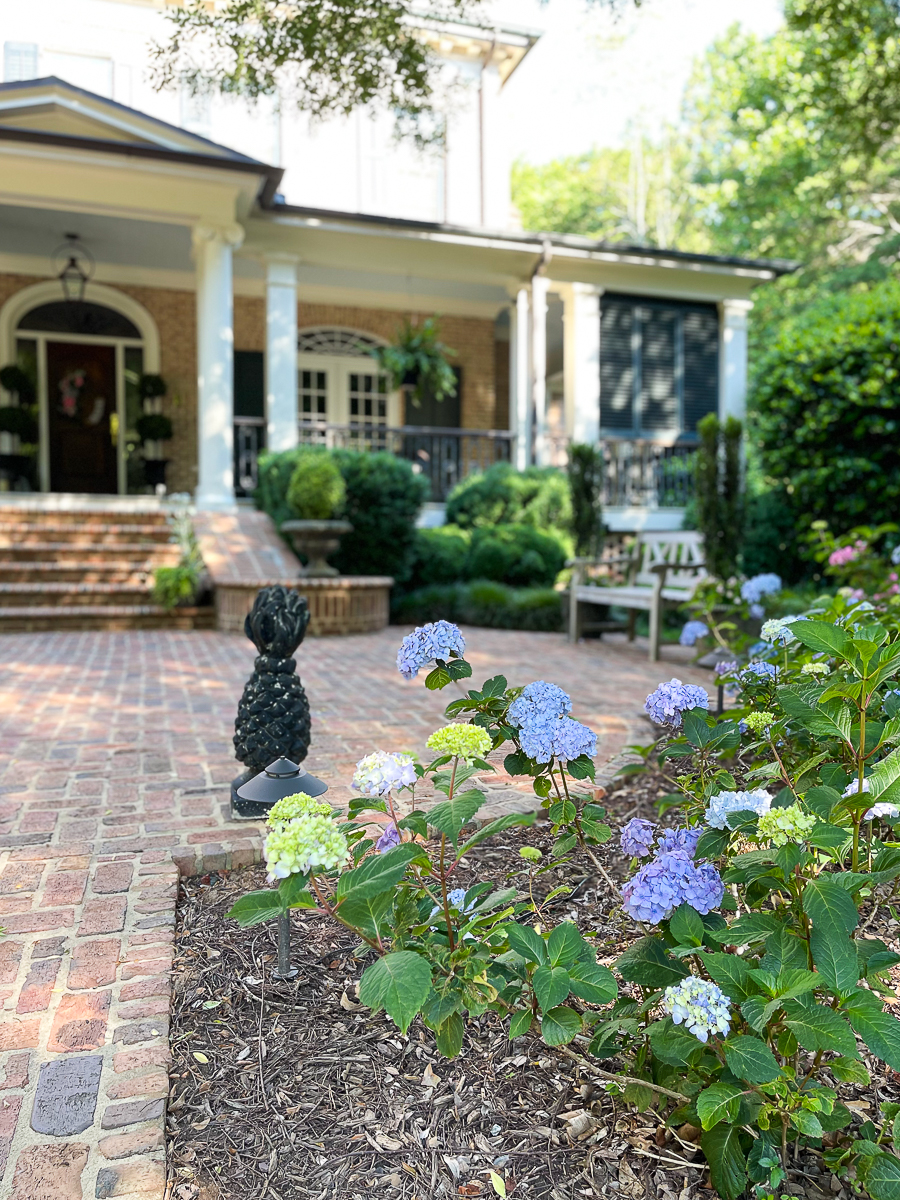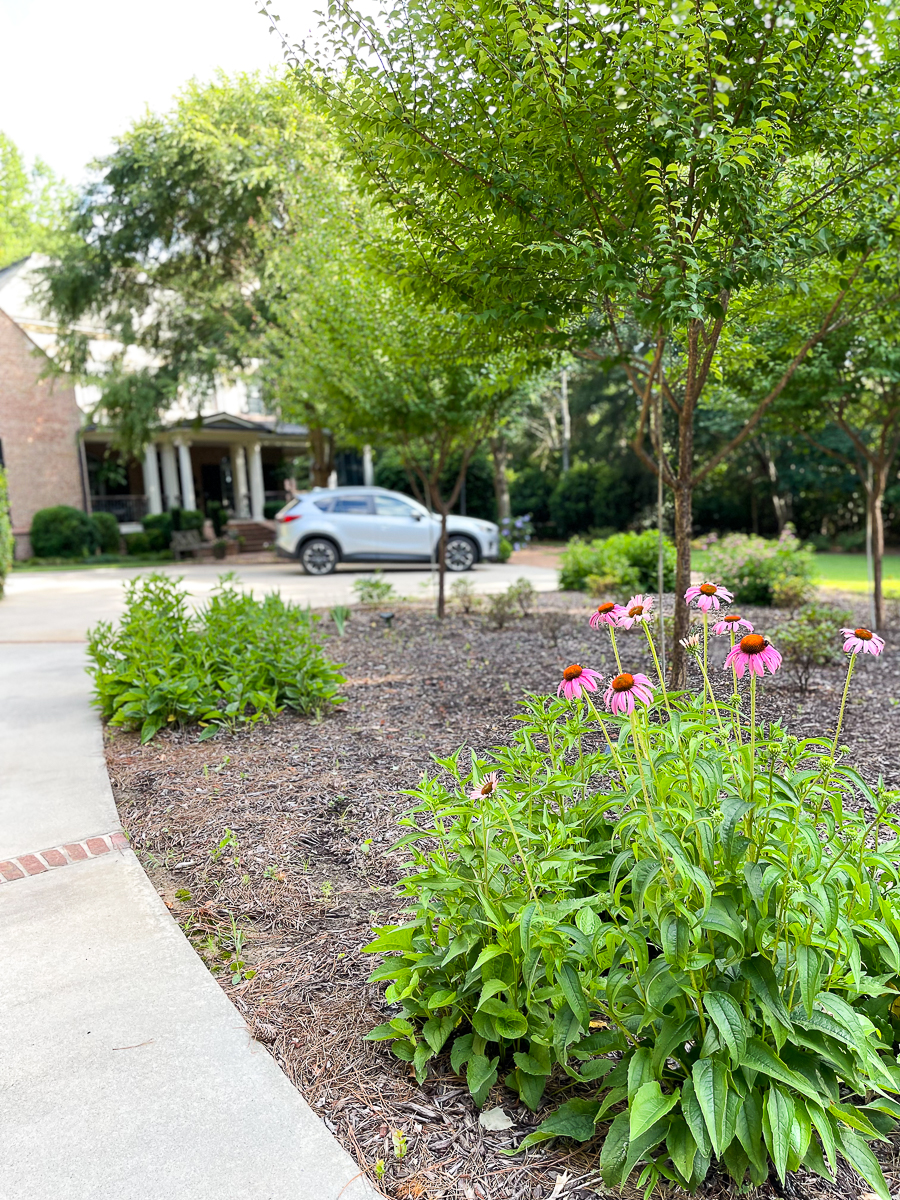 I really love coming down the driveway from my morning walk to see the kid's cars home. They are both moved back home and will be commuting their last semester at Clemson.
I really need to venture outside to weed this bed a bit. It's a newer bed that we've started. Most of the flowers around the perimeter of it are transplants from where I've divided my perennials.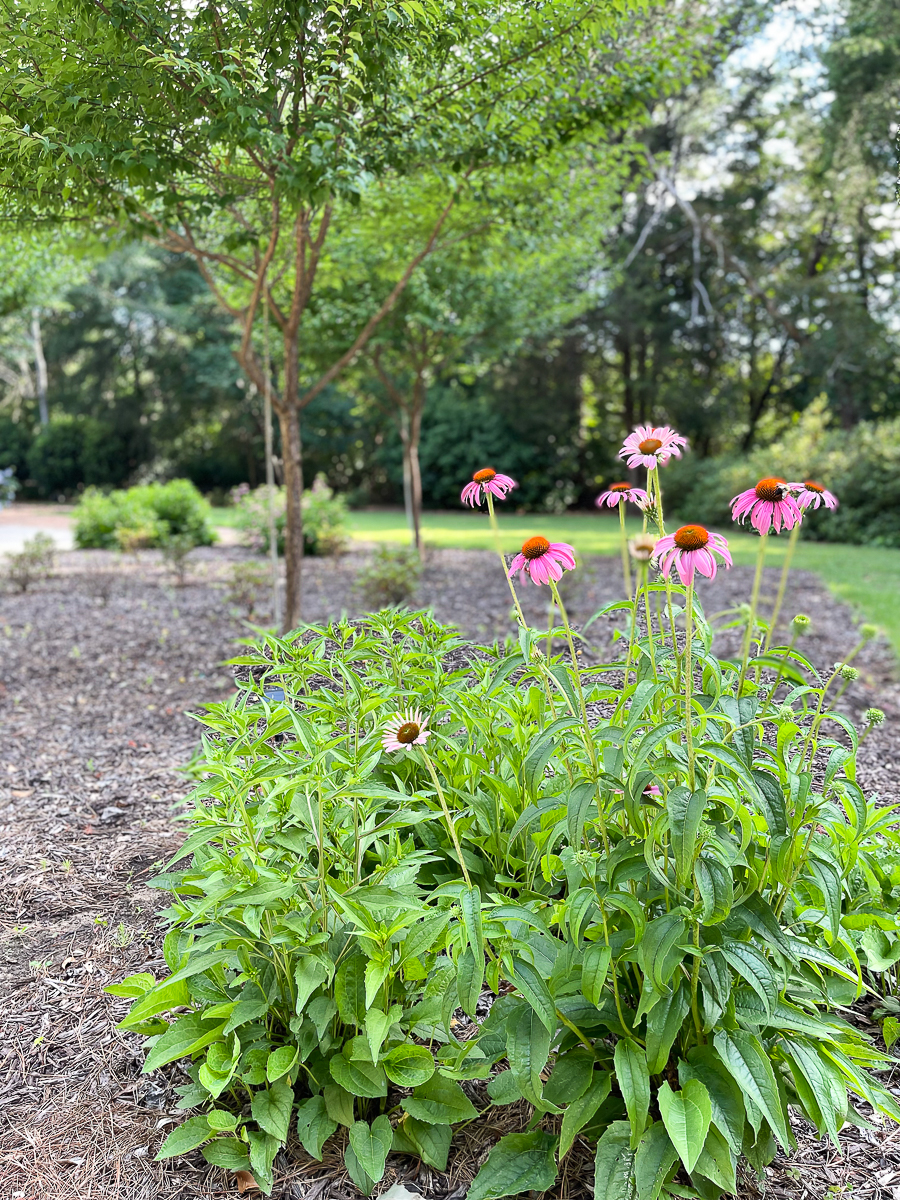 They are really thriving here with the full sun.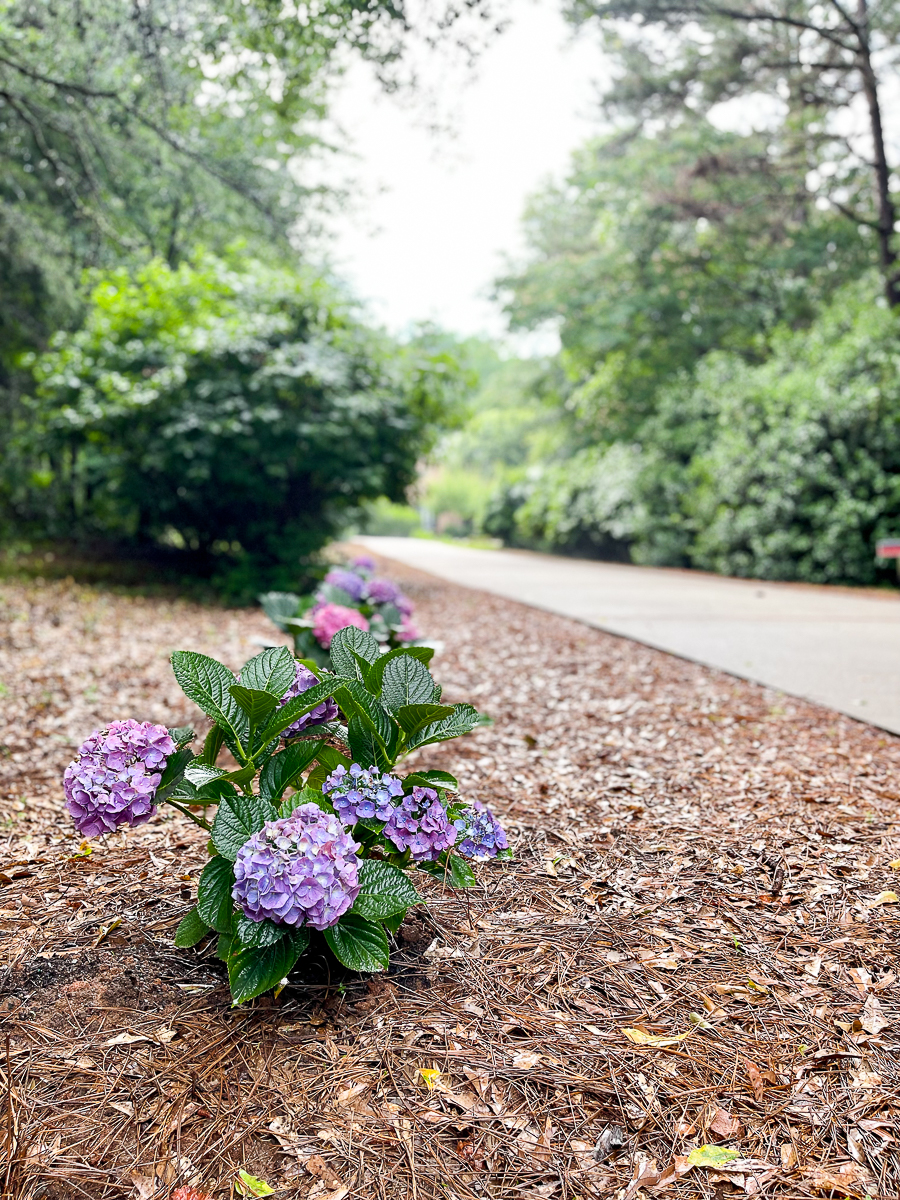 We just planted 4 new hydrangeas along the drive to fill in an area where some bushes died a long time ago. The family is totally on the hydrangea bandwagon!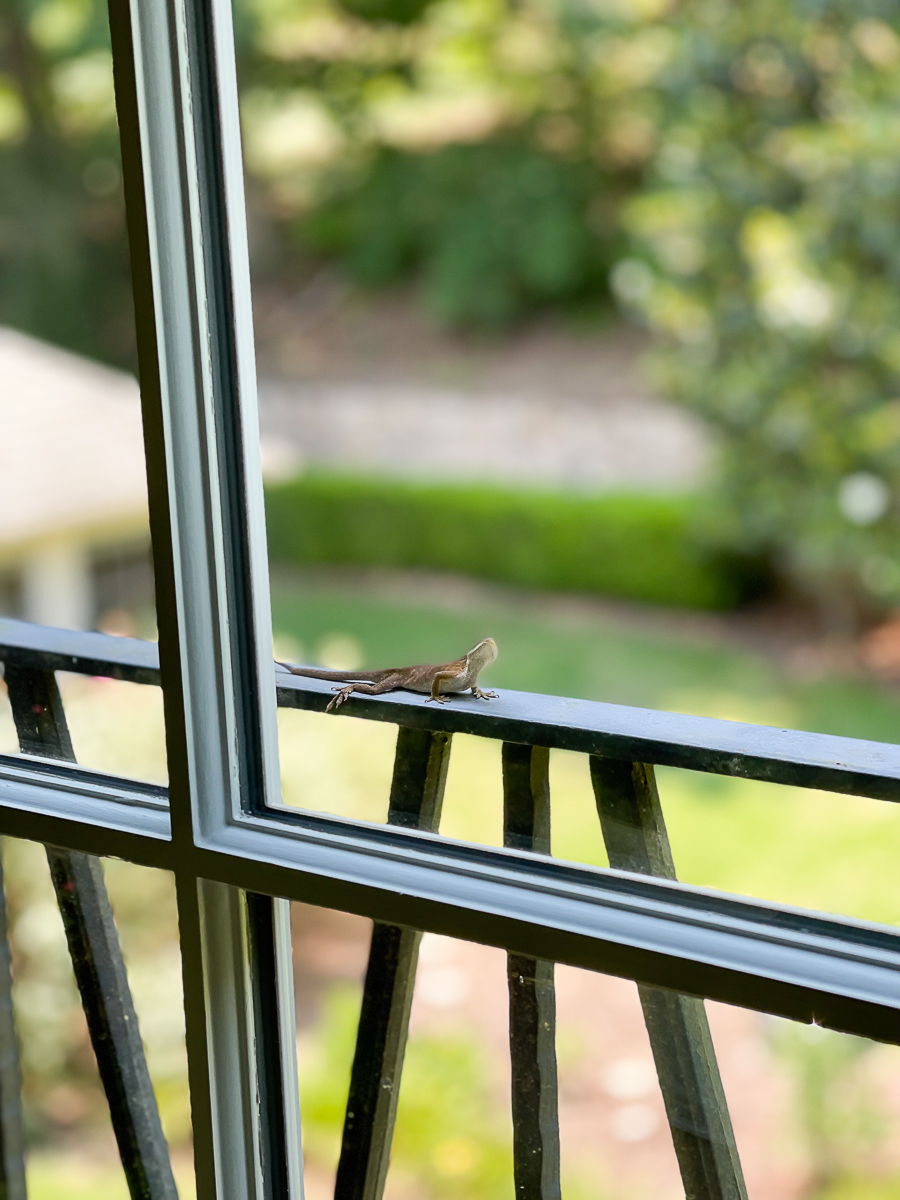 I exercise in the upstairs media/game room. When I take my minute break, I always come to look out the window. I had no idea that a gecko would climb this high! We have so many that live here.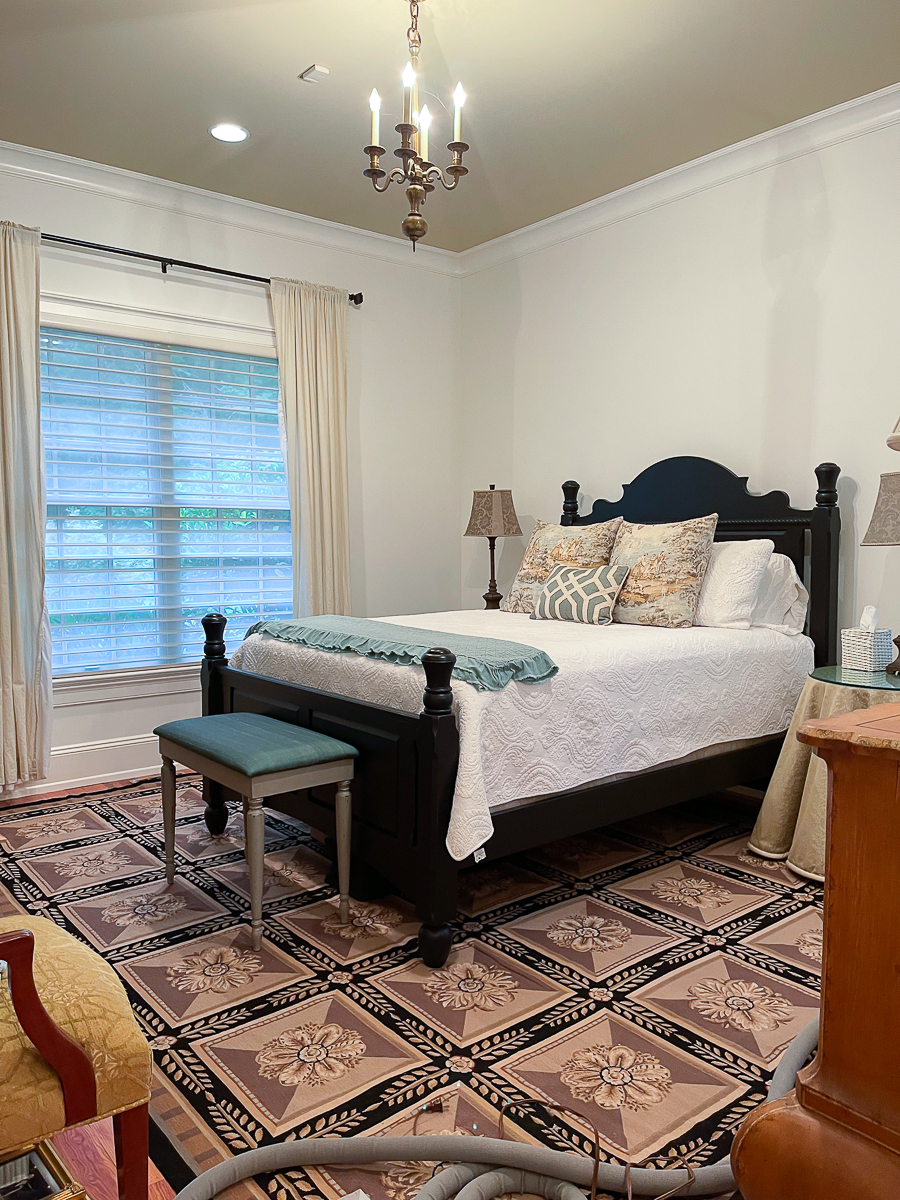 I finally finished painting the wall and the trim in the guest room! Yay! I still have the windows and doors to go, but at least I can get the room back in order. I've been looking online for decor to freshen up the space.
I hope to have it finished over the next couple of months.
I did listen to 2 audiobooks while I painted that you might enjoy!
Currently Reading & Just Ordered for my Kindle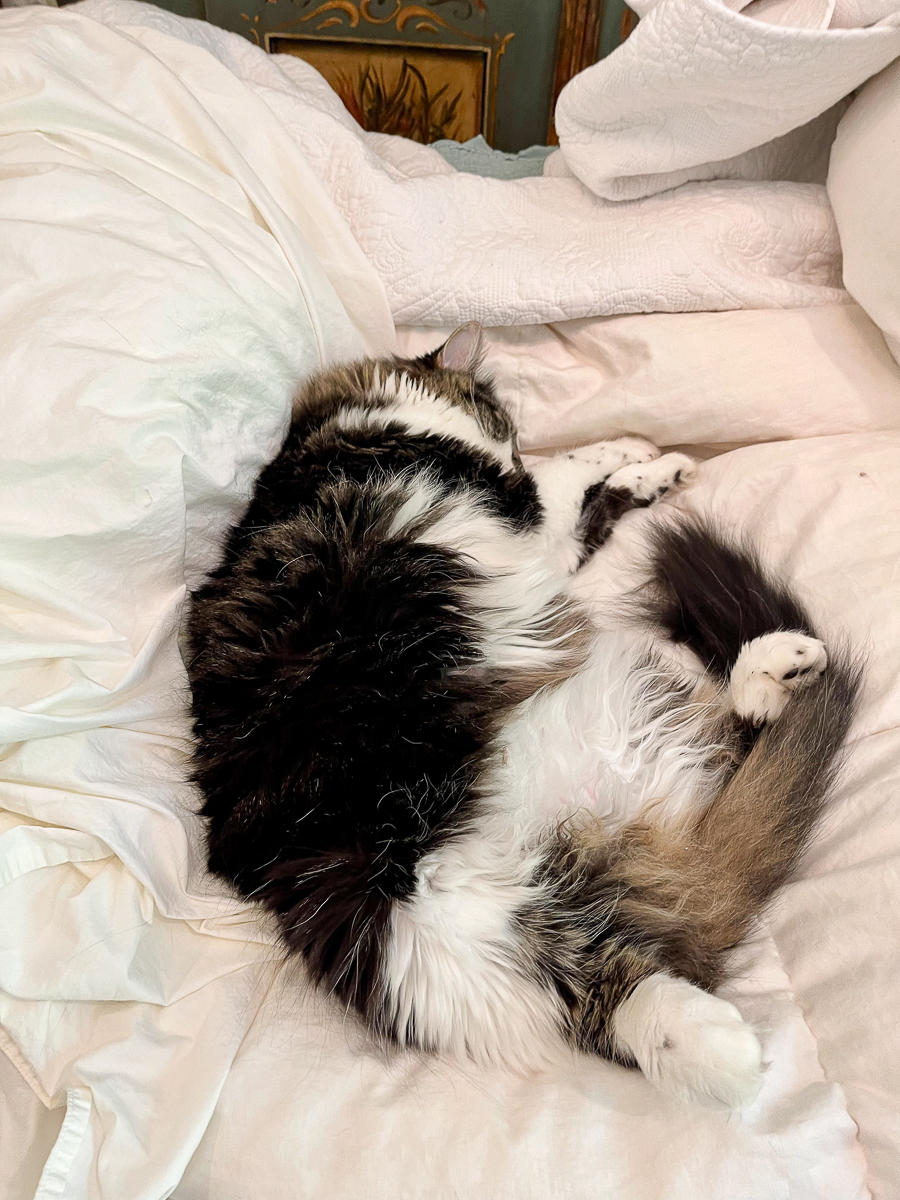 Jack hung out with my on the guest bed while I painted.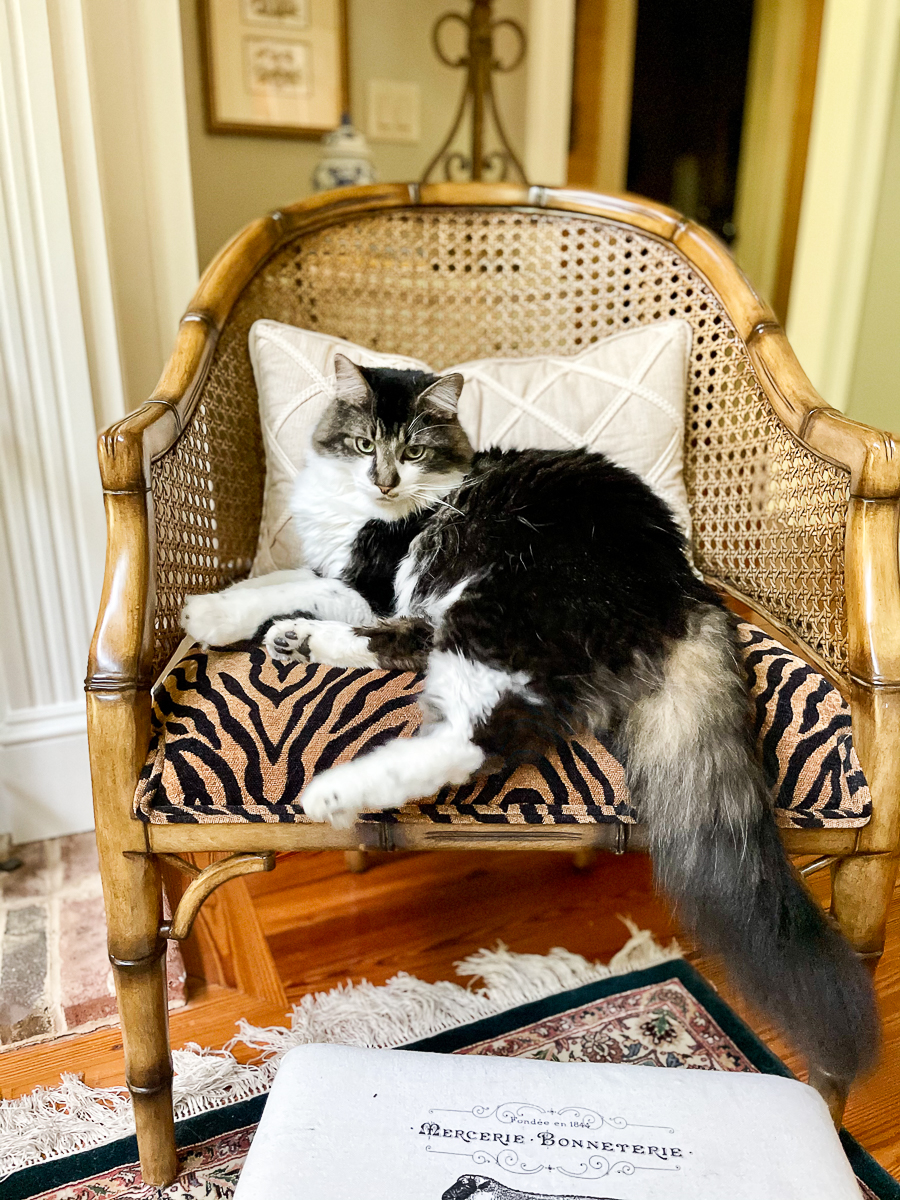 Jack is entering a season where it is too hot for him to go outside. He LOVES being outside. This time of year, he only wants out in the morning. He will go out sometimes in the evening after he eats dinner. He is not allowed to stay out at night. He is always inside at night.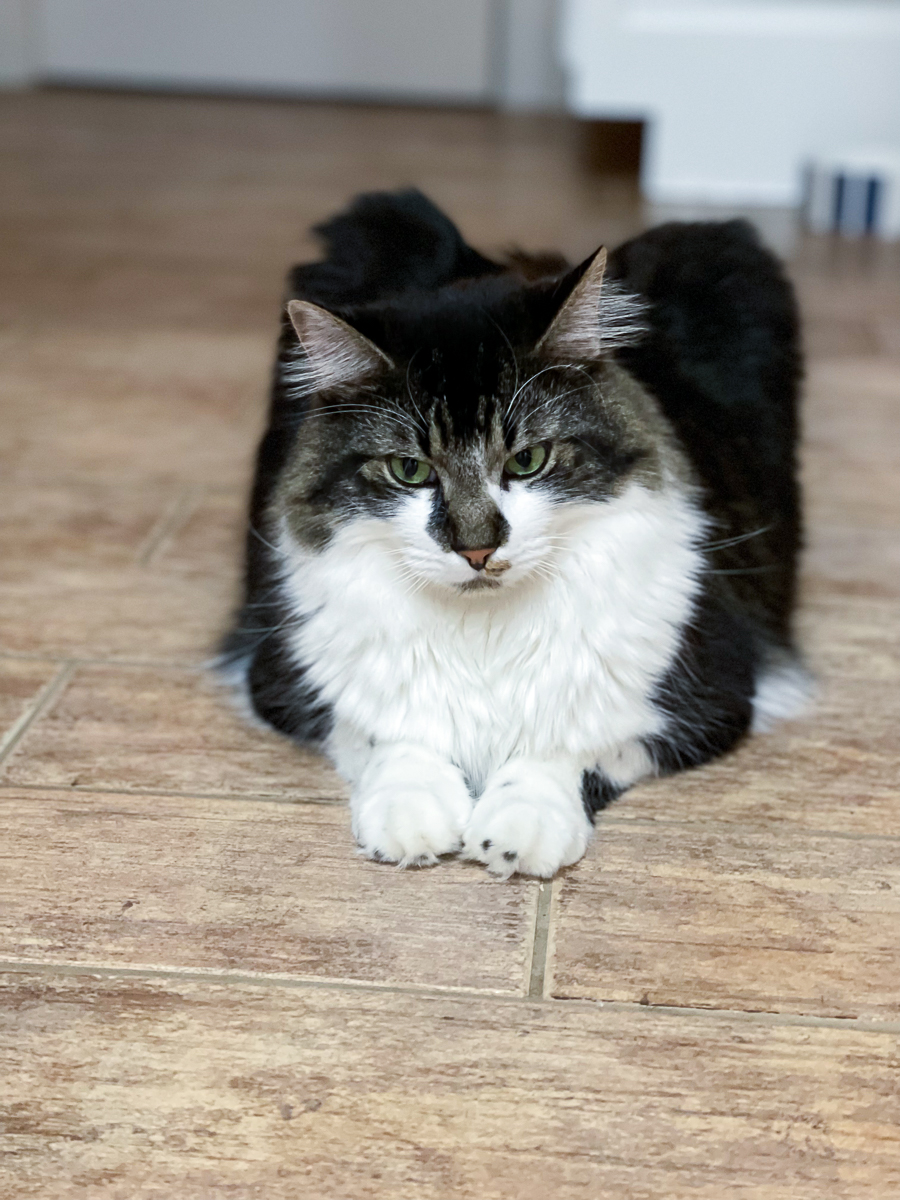 He is such a pretty cat, but rarely has a pleasant look on his face. LOL! This is his stance nightly as he starts anxiously awaiting his 6:30 dinner.
Amazon Prime Day was a fun event! Several of the items below were ordered during the sale. You can read all about my sale picks here that are still at great everyday prices.
What We've Ordered on Amazon Lately
Have an amazing weekend!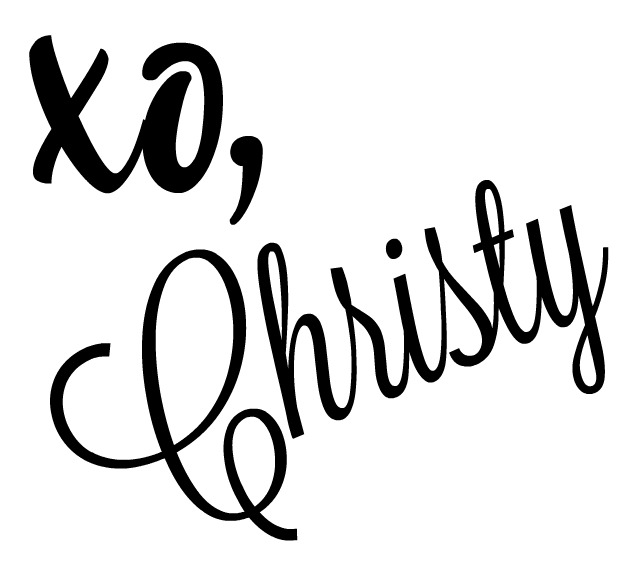 Buffer