How to Create a Cozy Fall Vignette
Learn how to create a cozy fall vignette with plaids, garden branch clippings and seasonal decor for that comfortable seasonal space.
The Latest at OSH
You will find a handy SHOP THE POST graphic at the end of this post with clickable photos.
How to Create a Cozy Fall Vignette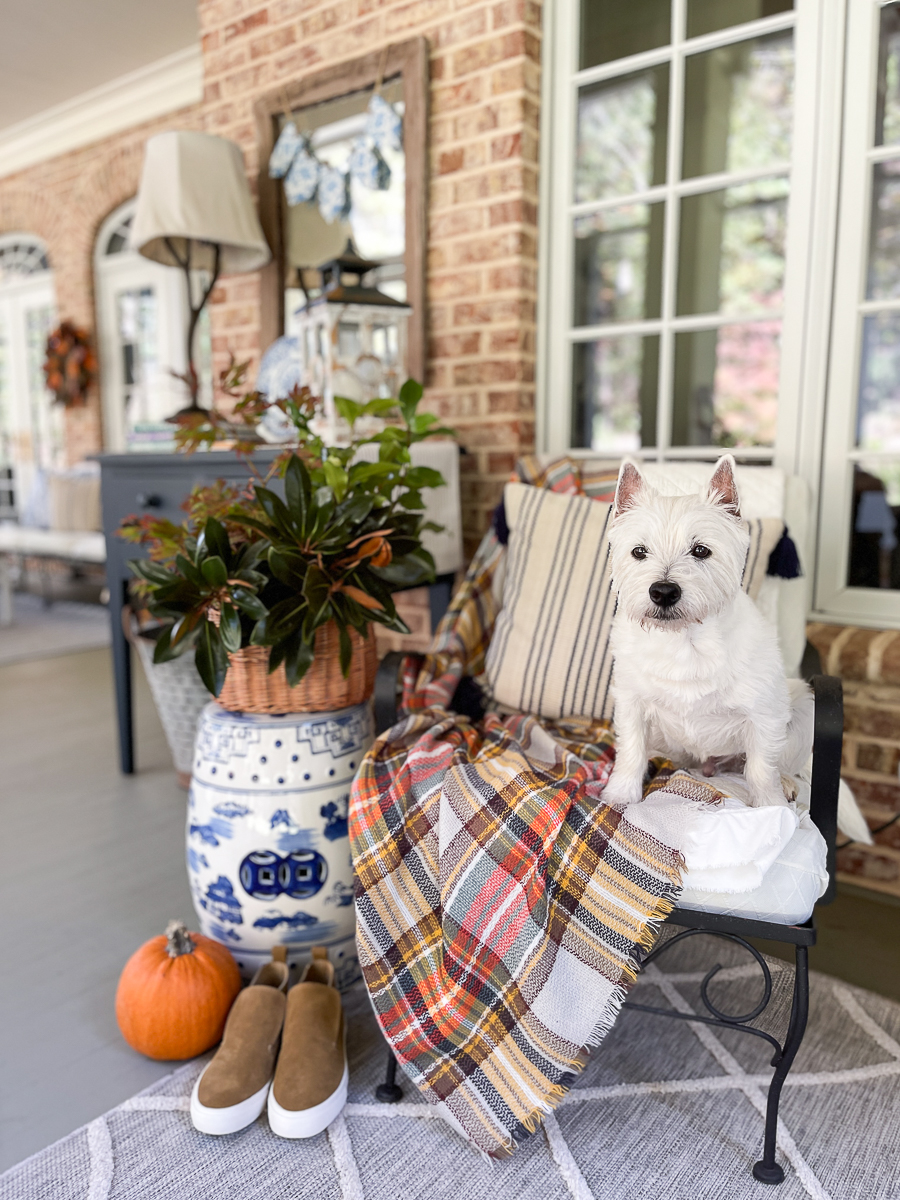 The fall season is perhaps one of the most to be enjoyed here in the south. Spring can be chilly + the yellow pollen is everywhere until mid-May.
The dog days of summer limit your outdoor lounging except in the early morning and late evening.
Fall is that one season that spans September through a lot of November where you can enjoy the porches throughout the day and some of the evening. Just take a cuddly blanket out with you, and you are set.
BE SURE TO FOLLOW TO THE END OF THE POST WHERE YOU WILL FIND A LIST OF ALL THE BLOGS ON TODAY'S TOUR AS WELL AS MY SHOP THE POST FOR THIS FALL MANTEL. YOU'LL ALSO FIND ITEMS LISTED UNDER THE PHOTOS.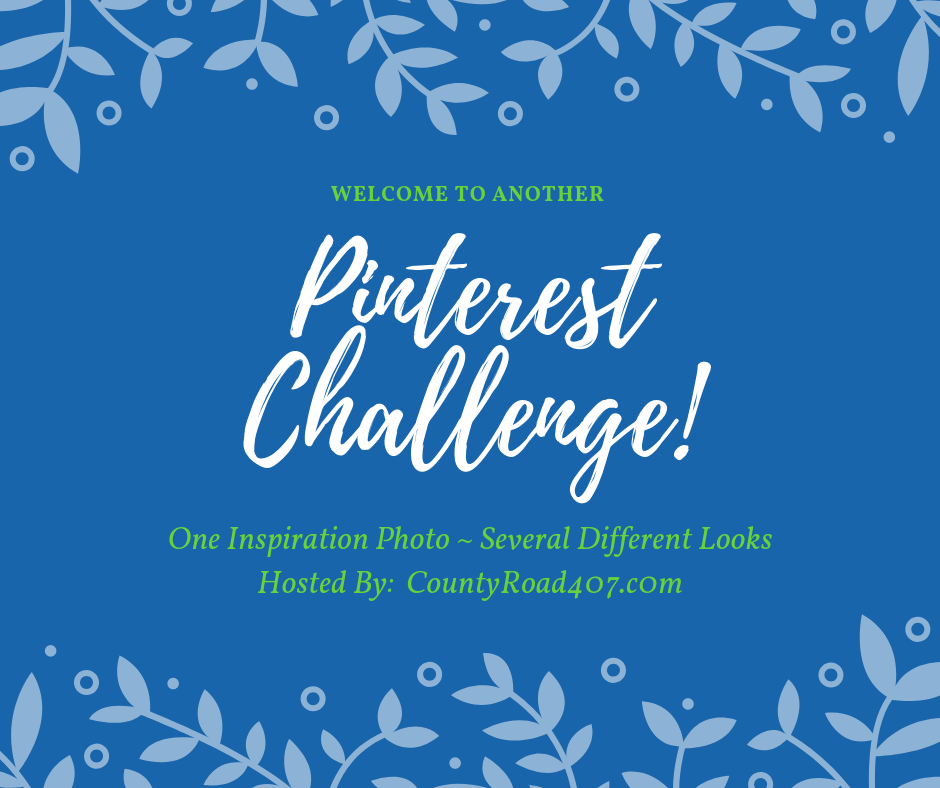 Did you see my Fall Mantel which was another Pinterest Challenge? Cindy from County Road 407 plans each month's challenge. I just love her creativity!
This month our inspiration is another stunner. Make sure you visit the post for this one. There are so many ideas not pictured here.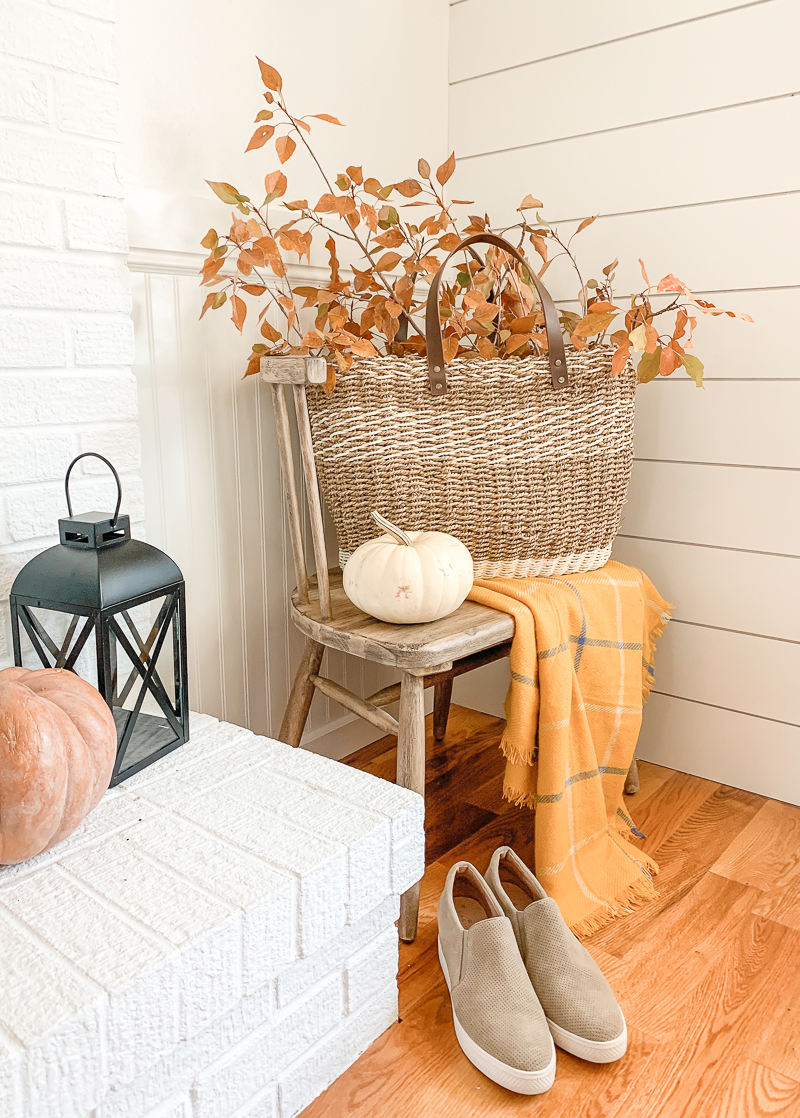 Be sure to visit Sarah Joy Blog for more inspiration on decorating with branches.
Inspiration Takeaway
chair
fall shoes
plaid blanket scarf
pumpkins
lantern
basket
seasonal branches
If you are popping over from Rachel's site, The Ponds Farmhouse, welcome! Rachel is a fellow Carolina girl living in NC while I am in SC.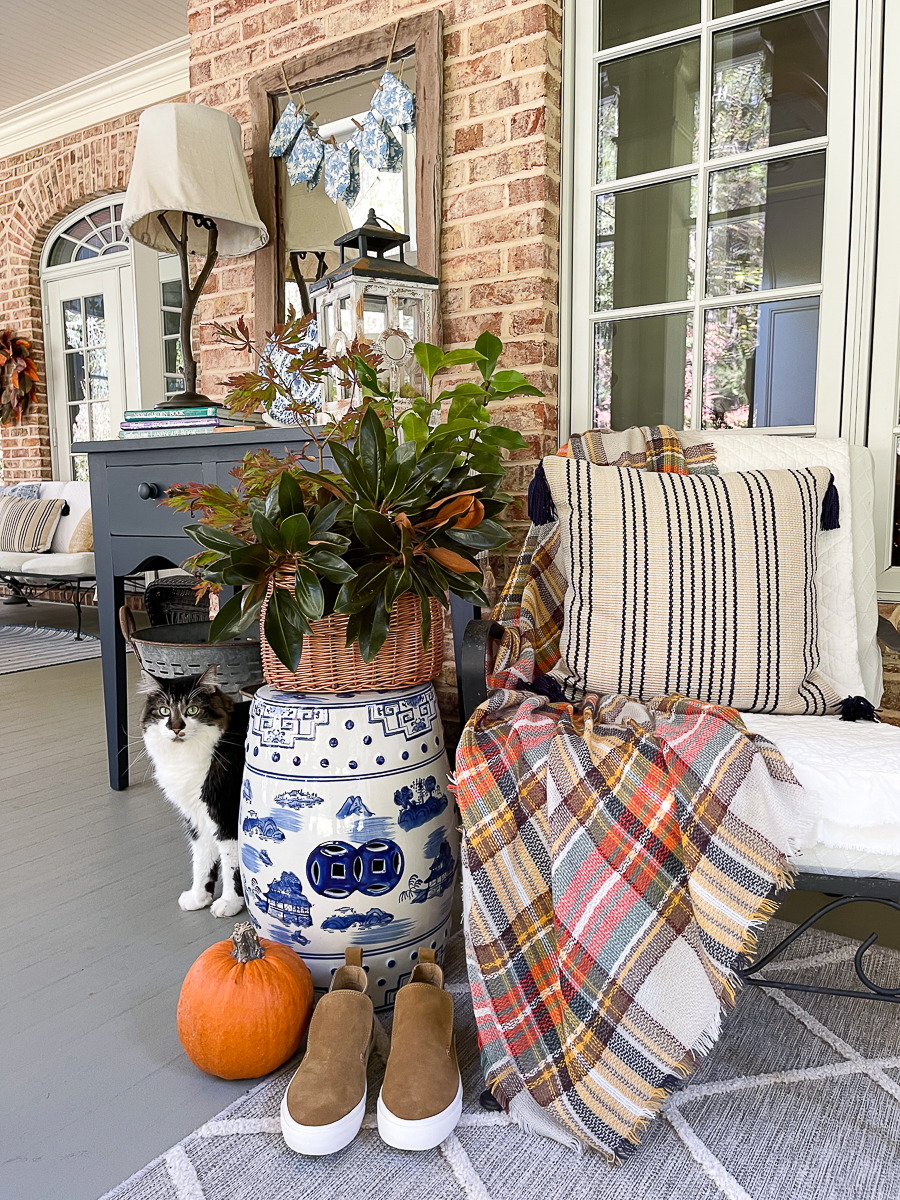 I know we have chatted about this before, but every time I bring out the camera Jack and Bentley show up!
It's quite comical.
Bentley will pose like a champ. Jack not so much. Jack just happened to be weaving all around the new vignette when I snapped this. He started out all under the chair, then in the chair and smelling the greenery. I'll post a Jack slideshow at the end. He gets in the way, but does not pose!
This time of the year our screened porch stays much cleaner. Go figure?
It's fabulous to fluff this area for cozy fall weather.
My husband and I both work from home, so it's not uncommon for us to be found right out here working. He takes most business call out here.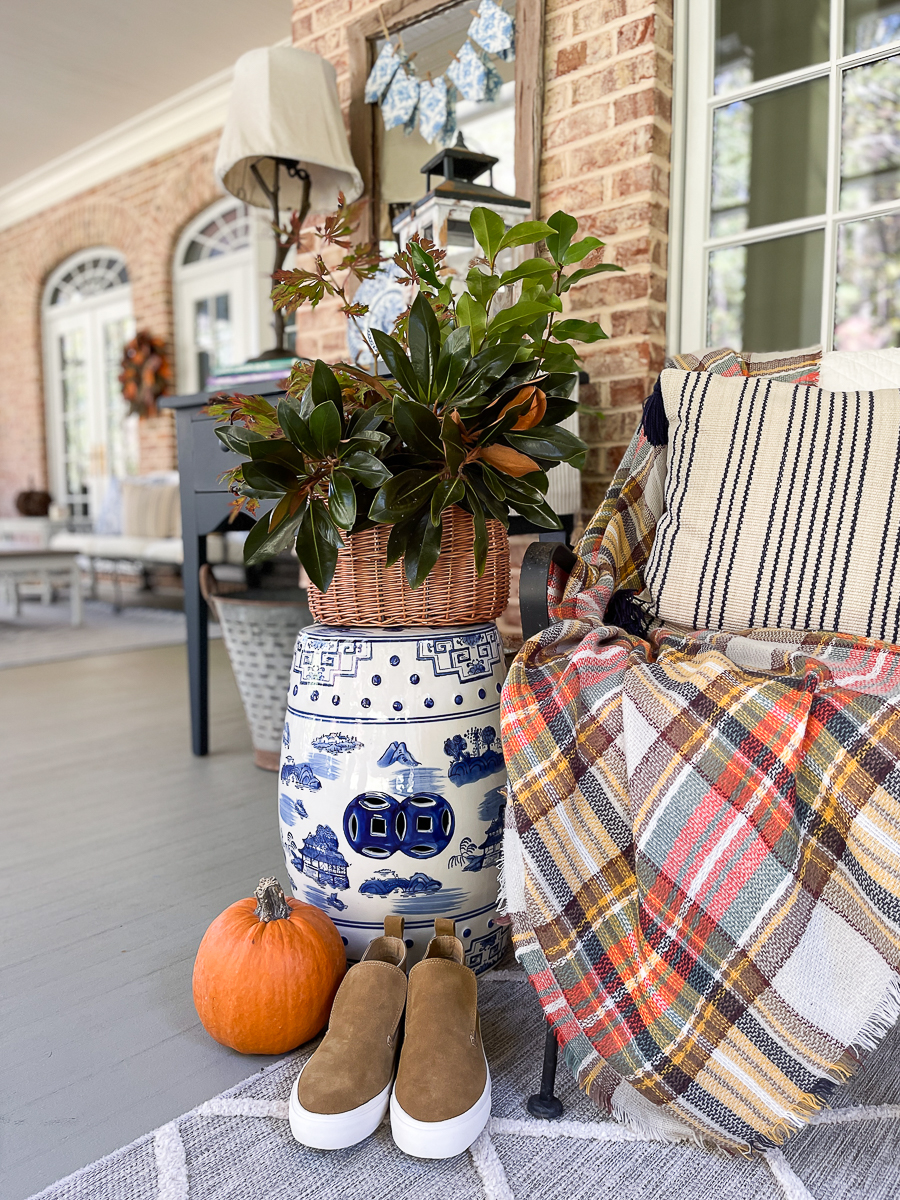 The Steps to Your Cozy Vignette
You can create a similar look in your home even if you do not have a porch!
Create a little reading nook in a corner of a landing area, in your family room, a desk workspace area, or even on one end of your dining room table.
When decorating your home, always remember that you are decorating for YOU! It's all about what you and your family love.
Pick Your Seating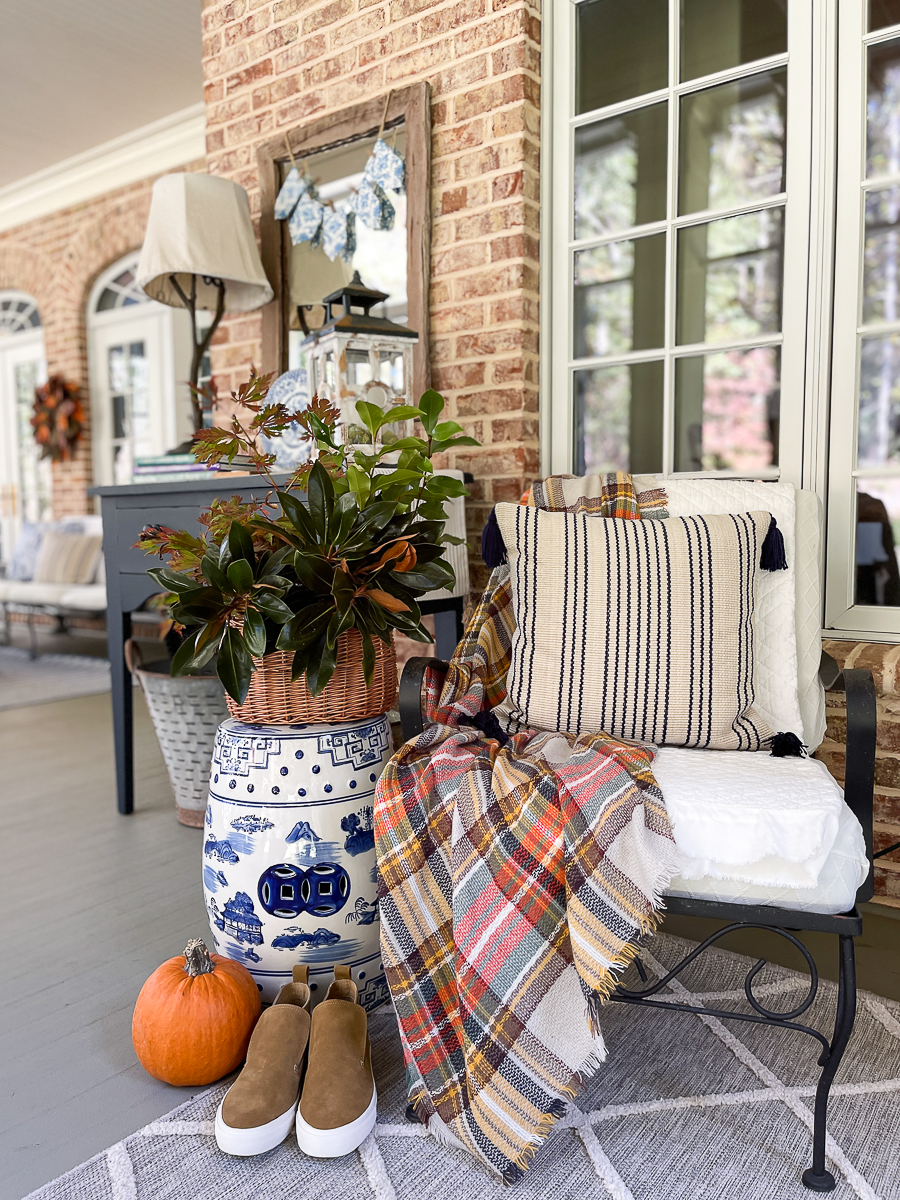 If you are creating a cozy nook to relax and read, choose accordingly. It may even be a desk area where you are actually working. This look would work for all of these. This chair is part of an antique set that we refurbished over 20 years ago. It was a Craigslist purchase.
Select a Cozy Fall Blanket
Fall doesn't have to be your traditional fall colors. You can use anything! It's all in the accessories that you add to the space. I've gone with traditional colors with my look. Imagine how the look could have changed if I simply changed out the colors for purple! My greenery would have still worked. I could have used white pumpkins instead.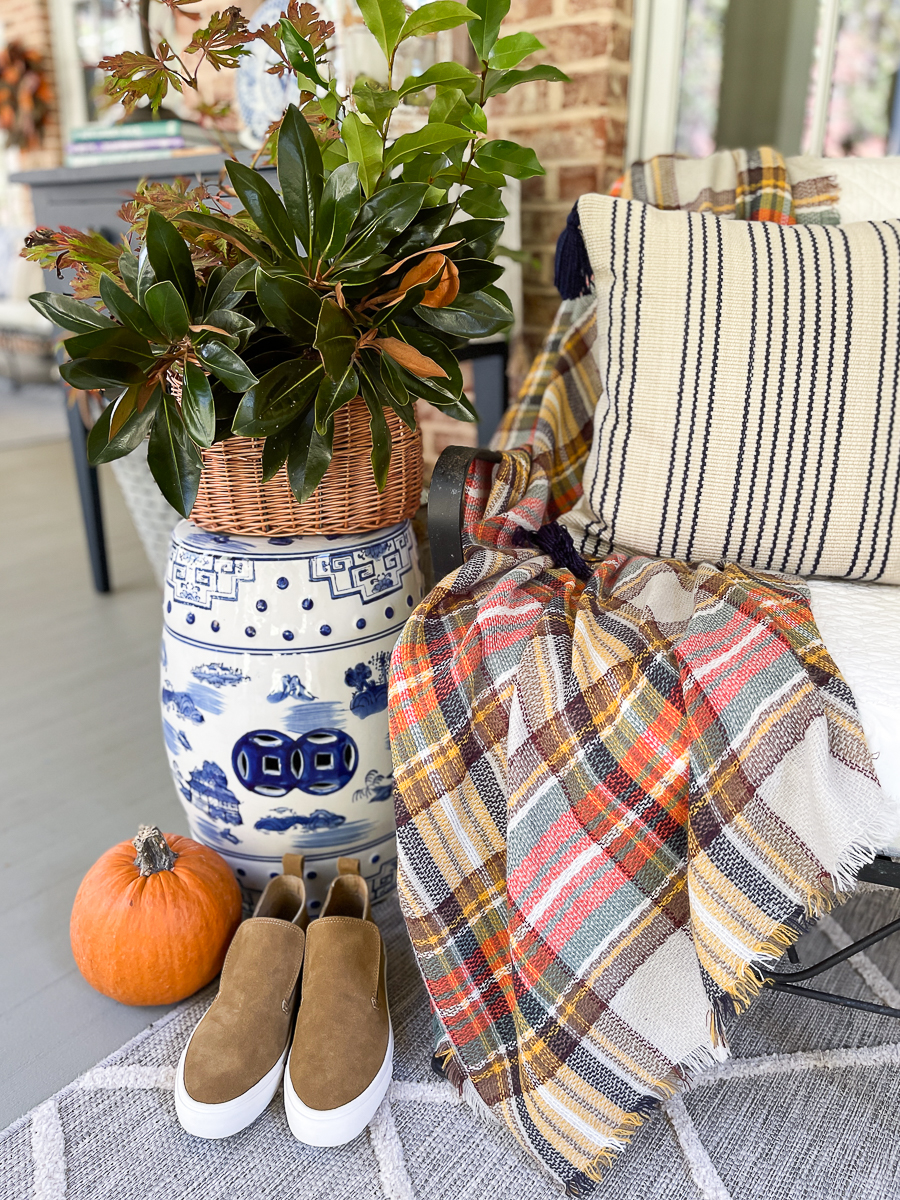 When you are creating a vignette, you do not have to use a traditional blanket. You could use gorgeous fall scarves and tablecloths to achieve the look. You are looking for something to drape and give that pop of color and possible pattern.
Selecting Your Container
I do not have a basket tote. I have been wanting one! I looked around my house for a basket with a shape that would work to hold branches in lieu of a tote. This basket with handles was a fabulous thrift store find. Thrift stores are excellent sources for baskets and totes. I've used this basket HERE and HERE.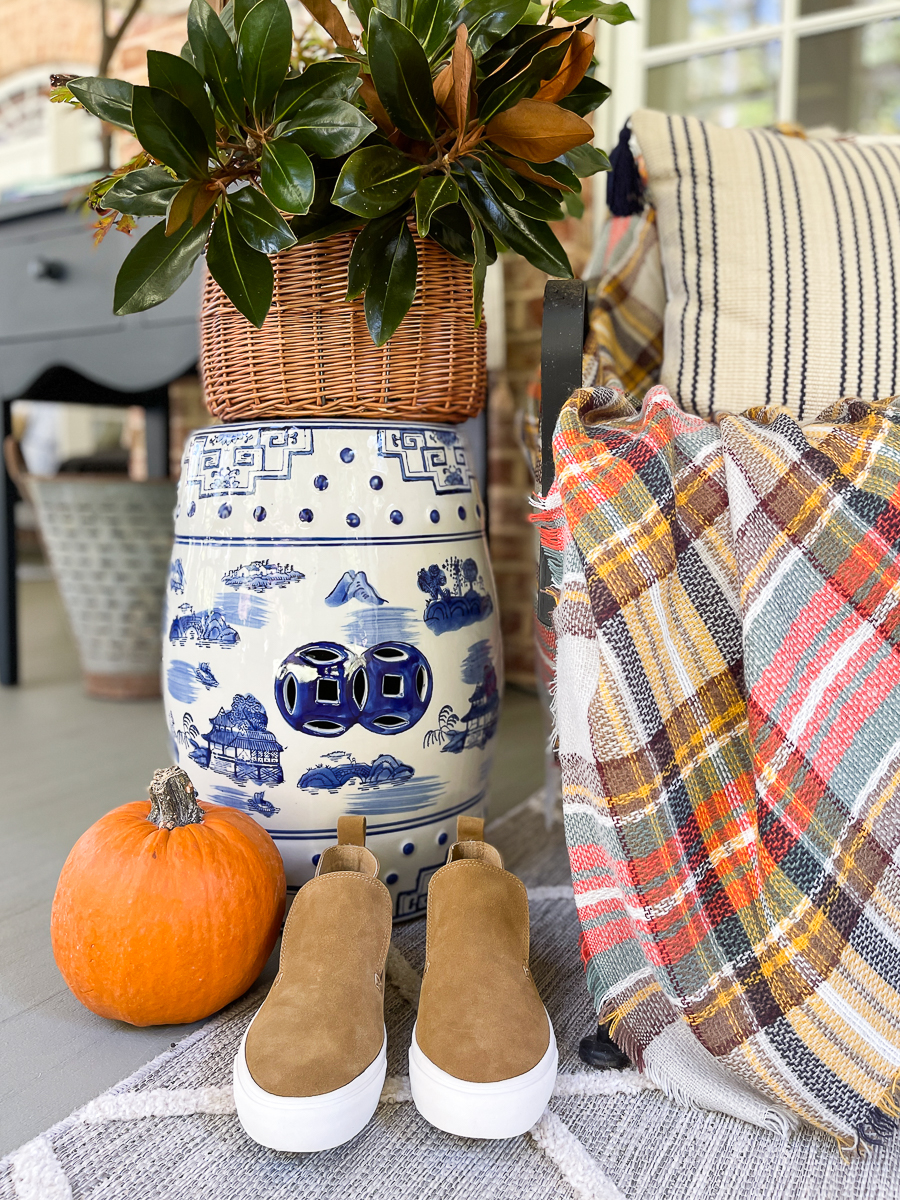 You'll want to insert a glass jar or vase to fill with water for your vase.
Collecting Branches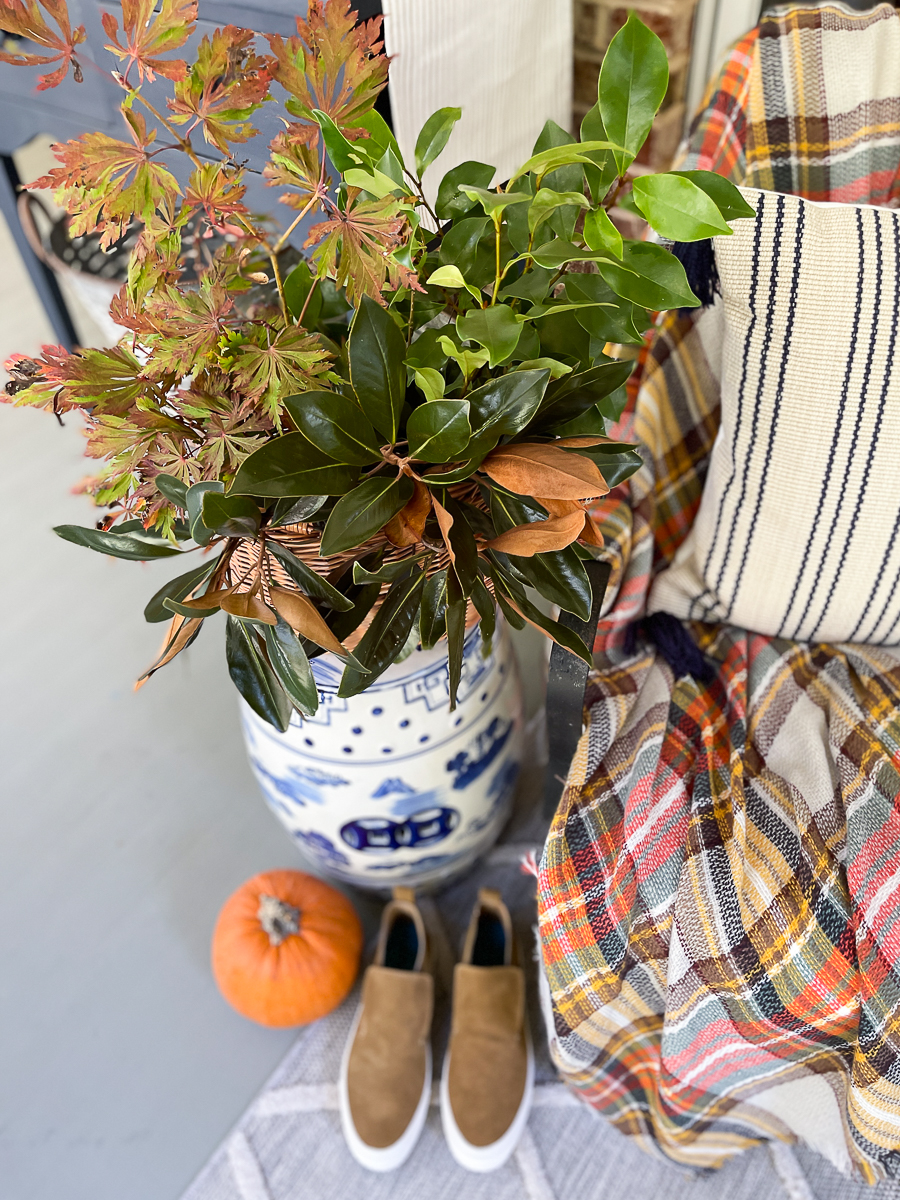 We are fortunate to have large landscaped yards which are surrounded by woods. We live on a little over 7 acres. I have a lot of areas to shop for fall branches.
I've used Little Gem Magnolia, Japanese Maple and Mystery Gardenia in my grouping.
The great thing about magnolia is that they will continue to look great as they dry. I'll continue to use throughout the entire holiday season.
If you do not have a space like this, ask a family member or friend if you can get a few cuttings on their property.
Faux are also a good option so that you have access to them year after year. There are great options at local craft stores and online.
Trader Joes has an excellent selection of cut greens.
Pumpkins
I decorate early here usually right after Labor Day so I start out with pretty faux pumpkins. Usually, in mid-October, I'll incorporate a few real pumpkins in the mix. Don't be afraid to mix the two together.
Tip: If you are using real pumpkins on precious surfaces like furniture, check your pumpkins periodically for rot. There is nothing worse than discovering a pumpkin has decided to decay early on a tabletop. Yes, I have some experience. Ha, ha! Place real pumpkins in a pretty dish or plate.
If you are looking to use something other than the traditional orange pumpkin, look for heirloom pumpkins. They typically come in softer shades of orange and green with unique shapes. They have become so popular that they are even available at your grocery store. It used to be that you could only find them at the produce stand. White pumpkins are always a win!
Looking for color out of the ordinary, you can always paint your pumpkins whether they are real or faux.
Decor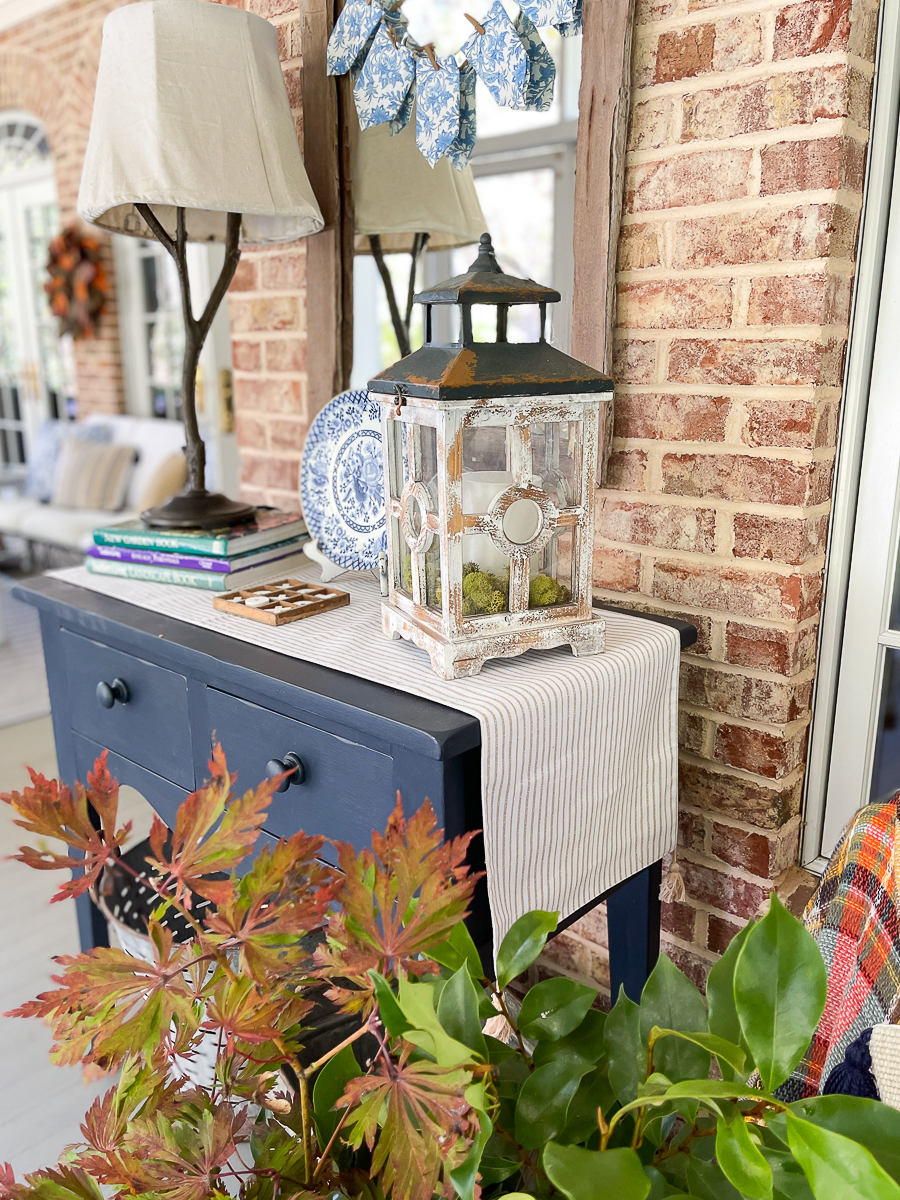 You'll want to incorporate a couple of decor items depending on the space. Lanterns, candles, and books are simple touches that work with all vignettes.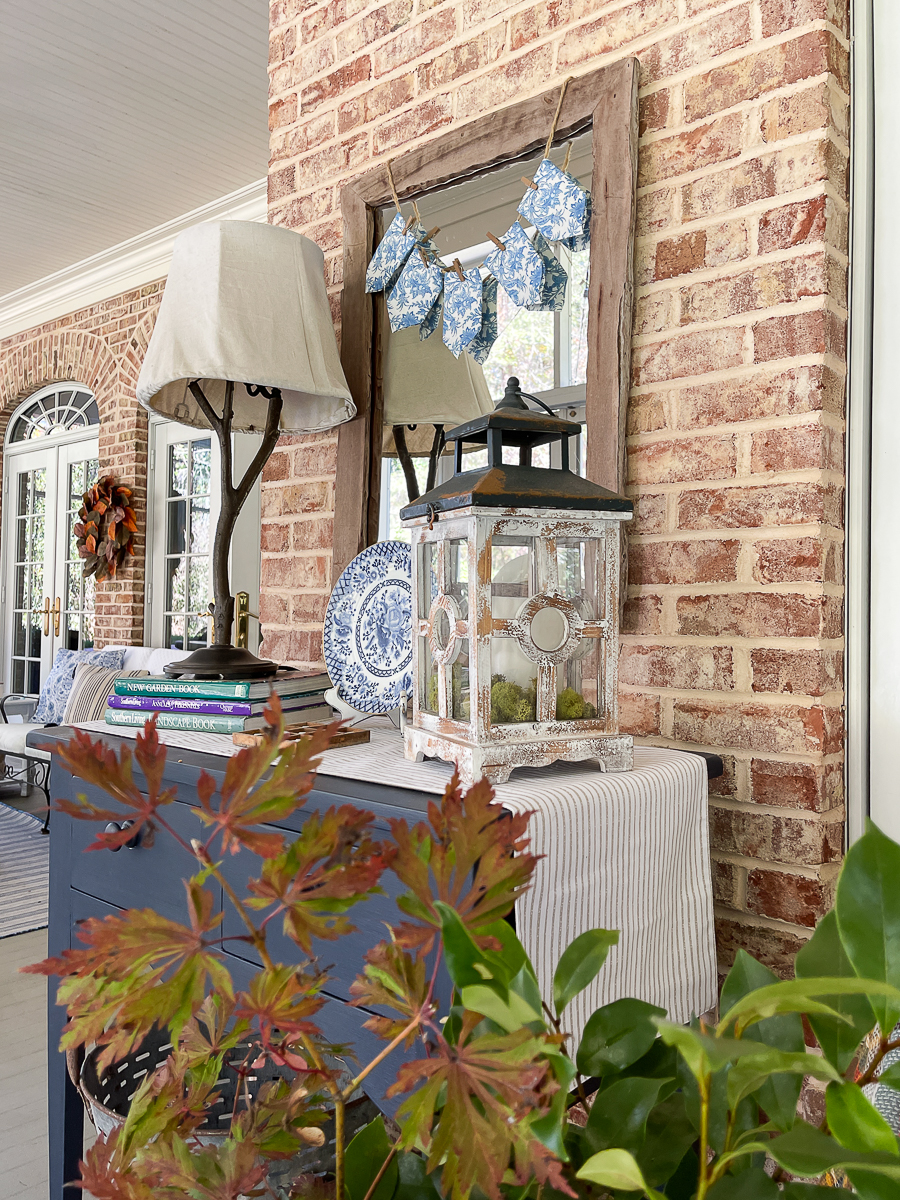 The little bunting was made a couple of years ago with paper napkins!
As promised, here are a few Jack photos! Just CLICK the arrows.
Be sure to visit Marty from A Stroll Thru Life. I love her traditional home and how she adds modern touches throughout.
11 Way to Decorate with Fall Folliage


Buffer