One Kimono with 5 Looks for All Seasons
One Kimono with 5 Looks for All Seasons with this affordable kimono from Amazon. Take it from casual to dressy in an instant!
Latest from OSH
I consider kimonos a staple in my closet.
I have quite a few from inexpensive Amazon and boutique finds to a couple from Chico's. I've got my eye on this Chico's kimono. Waiting for a sale.
Depending on the coloring, most can be worn year-round.
You can totally change the look with accessories and shoes.
They can look boho chic at a cocktail party.
One thing that I love about them is that they can be very forgiving.
I have worn them with older dresses that might be a bit shorter or snugger than I'd like.
They are perfect with leggings!
I share weekly fashion snippets in my weekly series, Saturdays on the Porch.
One Kimono with 5 Looks for All Seasons
Here are a few looks with this one Amazon kimono.
I've had it for several years now, and I've worn it for all seasons. It's all in the colorway that can make it work for all seasons.
Let me warn you, the kimono that arrived for me does NOT look like the Amazon photo. I purchased mine in 2019. The photo on the listing is still the same. Even if you get the one in the photo, it will still work. The photo just doesn't show the black in it.
This first look was taken very quickly after church on a recent Sunday.
I then changed into 2 more looks. No special lighting. Just had Ashlyn snap some quick cell photos to show how I wear it for the fall and winter.
This kimono works well with long dresses, jeans, shorter dresses, and rompers as well as leggings.
Since kimonos are loose and flowy, I like to wear them with dresses that give some waist definition.
If wearing pants, I prefer to wear something with more structure like slim-fit pants, jeans or leggings.
You will find a convenient SHOP THE LOOK shopping box below.
Look One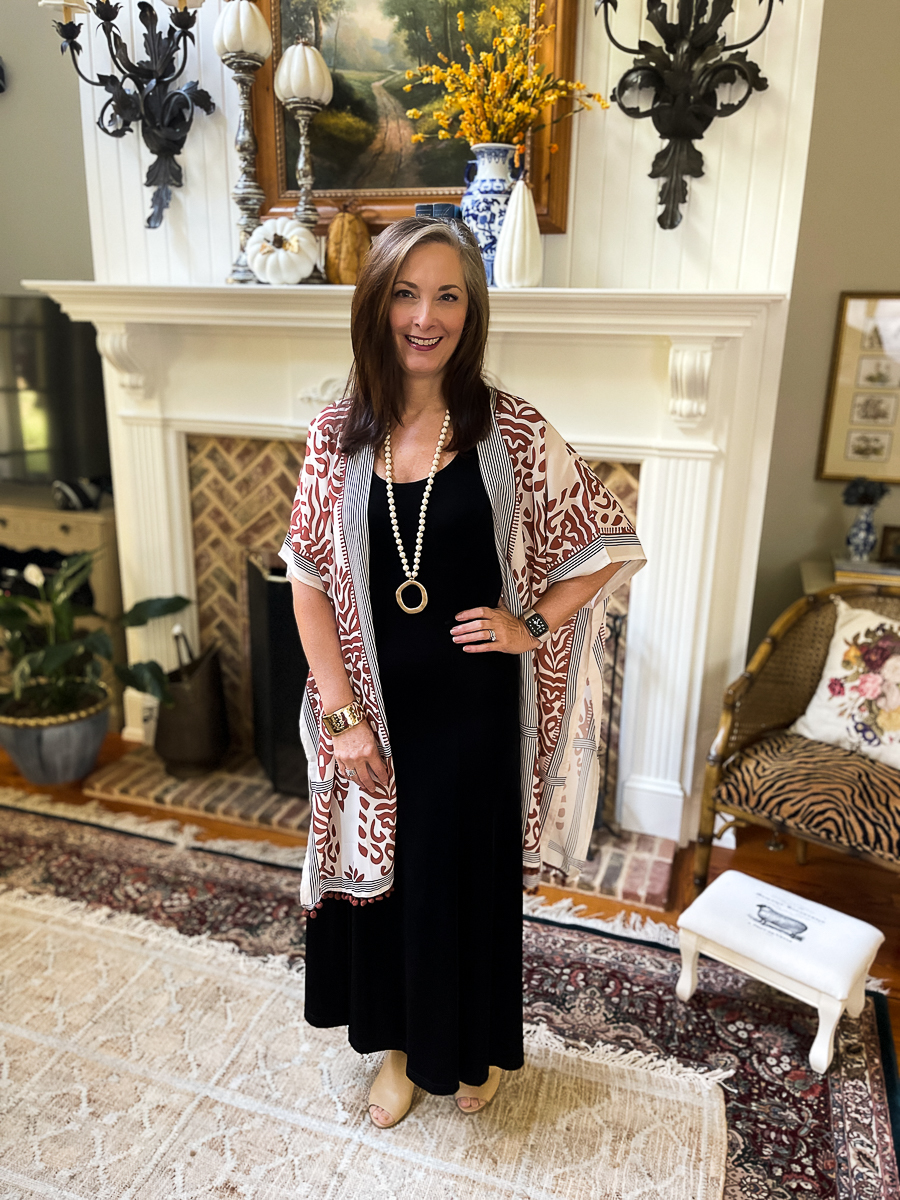 I recently wore this look to church. This dress is probably 20 years old. You know one of those dresses that's a keeper. It came from Coldwater Creek. It's that kind of slinkier knit fabric that doesn't wrinkle.
Here in the south, we can have warmer falls, so this is a great look for the temps.
In these newest photos, I had just gotten a haircut that Thursday. These were taken on Sunday after church, and my hair still looked great. Why are those salon blowouts so magical. It had been over 9 months since my last cut so I know that helped a lot. It almost makes me want to get a weekly blowout! I know people do that. I don't have the patience to plan that weekly, but love the idea of doing that if going away for the weekend or on vacation. I did put a little dry shampoo at the roots before church. I didn't have to curl it or flat iron it after the initial salaon styling. To me that is so much better on your hair. Do you get frequent blowouts? I think I'm going to check on the price.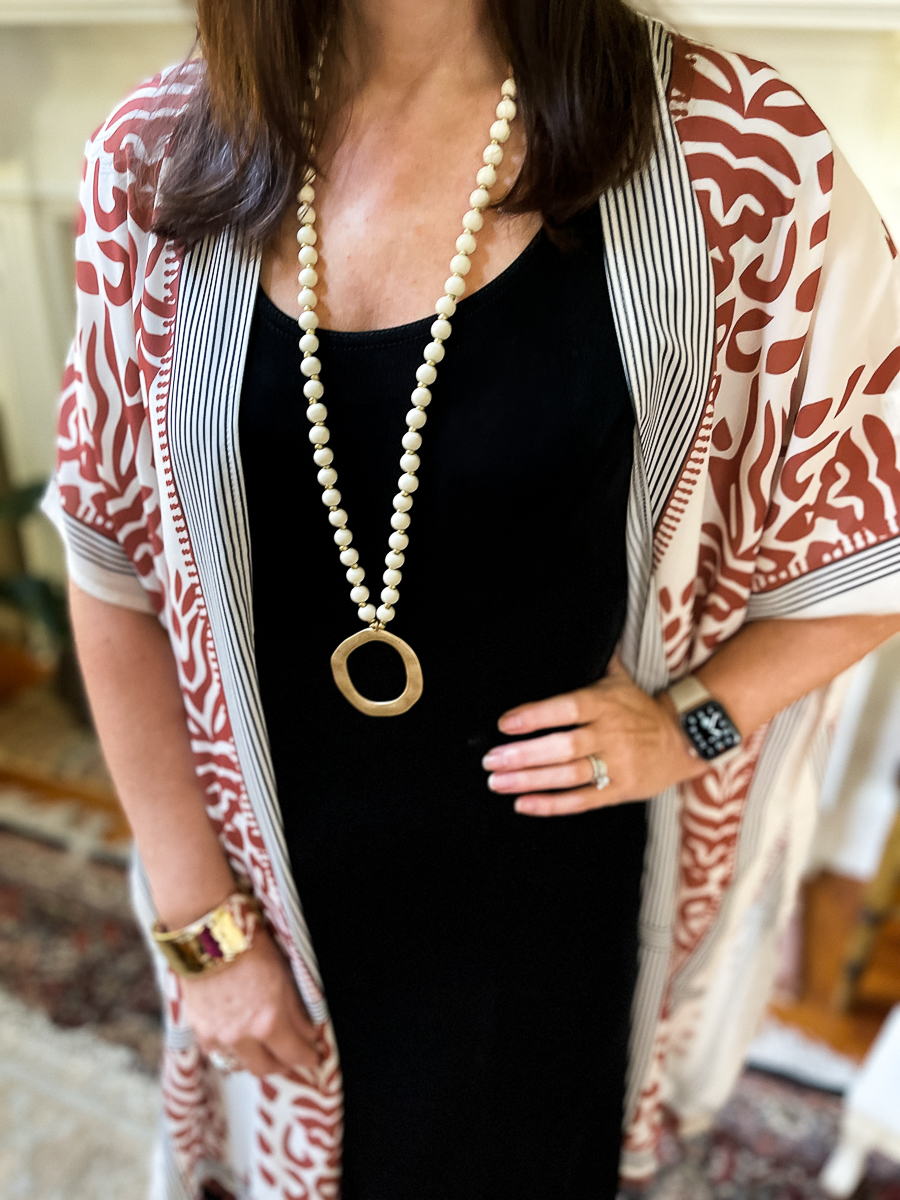 Look 2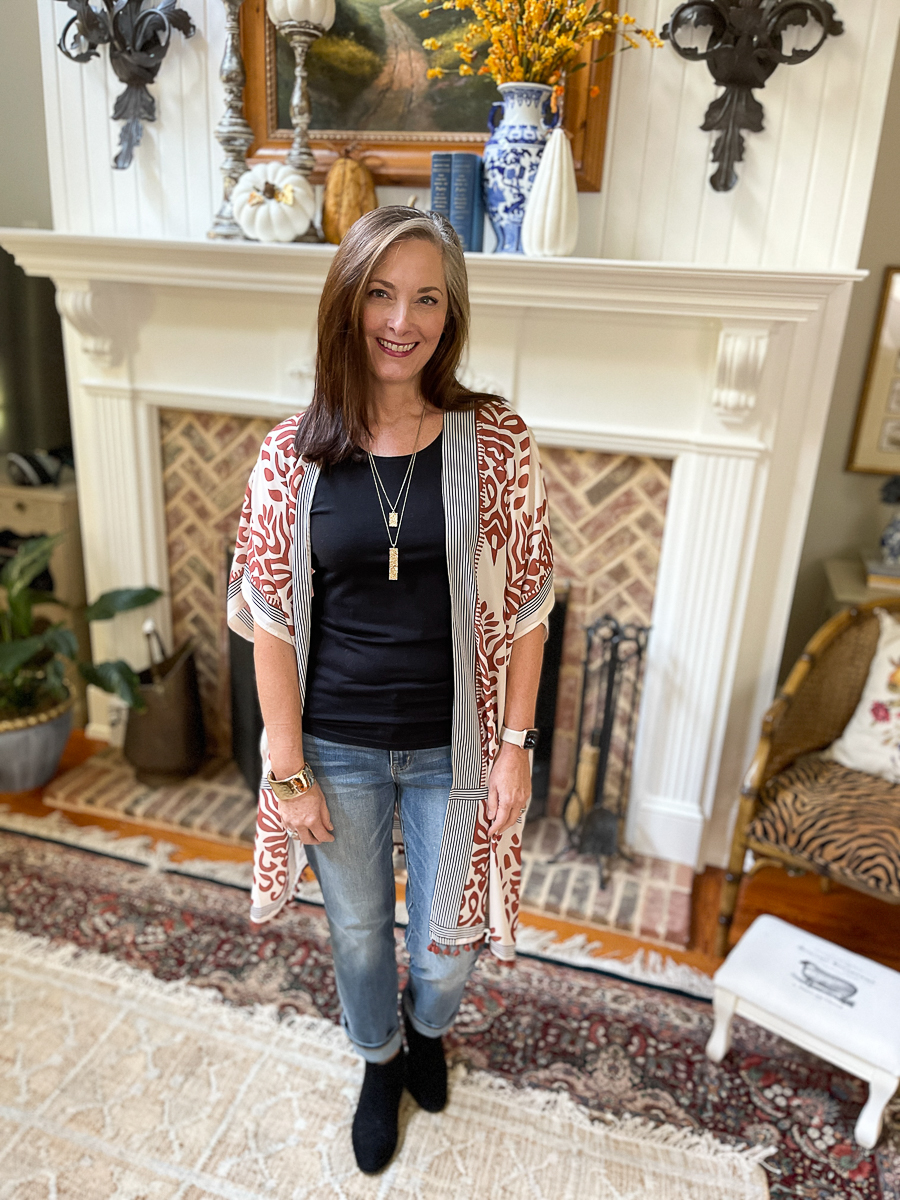 This kimono look would be a great look for errands or a casual date night out. Booties give the look an instant fall vibe. Turn it into late summer with some black sandals.
This tee from Amazon is fabulous. The brand has it in numerous colors as well as sleeve lengths from sleeveless to long-sleeved. This is a cap sleeve. It's a great layering piece in that it is fitted. I sized up to a large. As always, read reviews for sizing.
The booties are old from Macy's. They are probably 5 years old. The jeans are from Walmart about a year ago.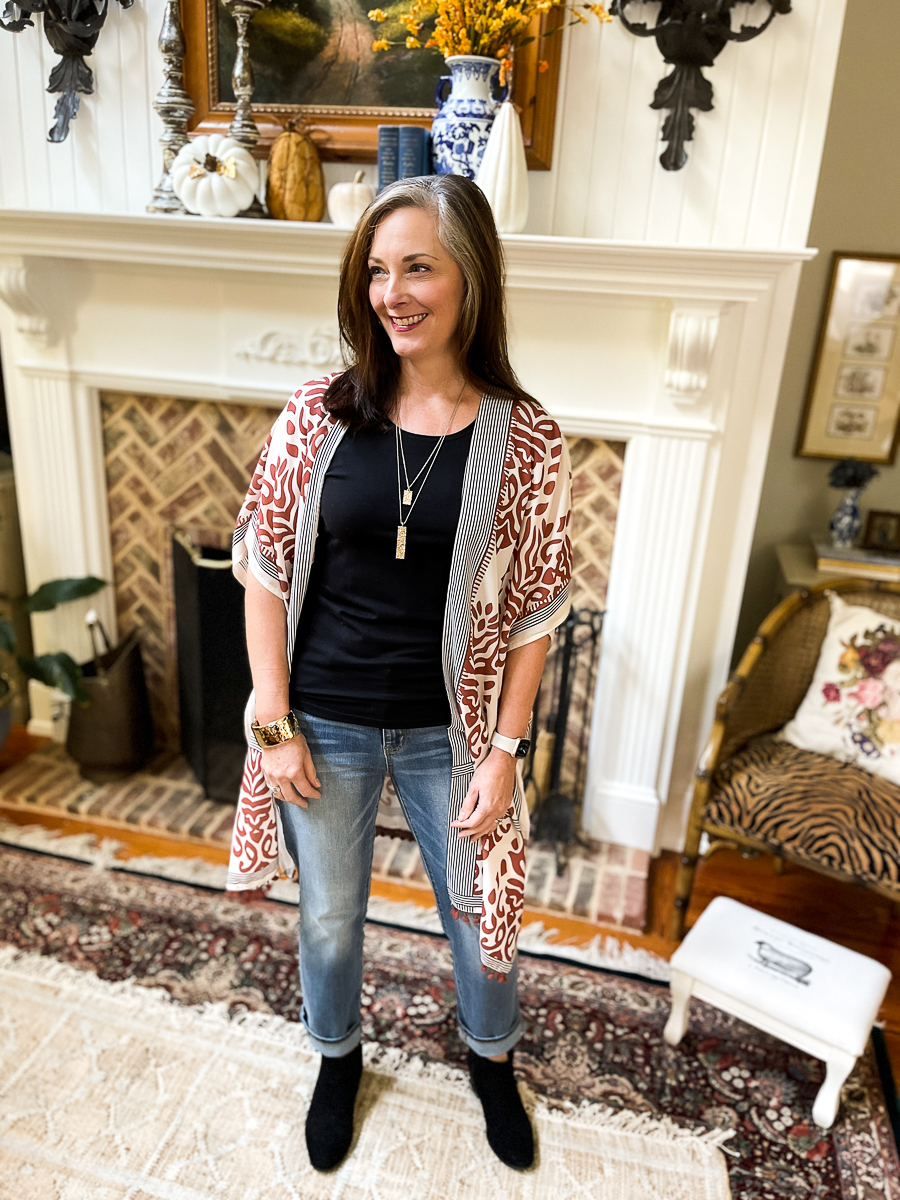 You can accommodate the weather with a long-sleeved tee.
Look 3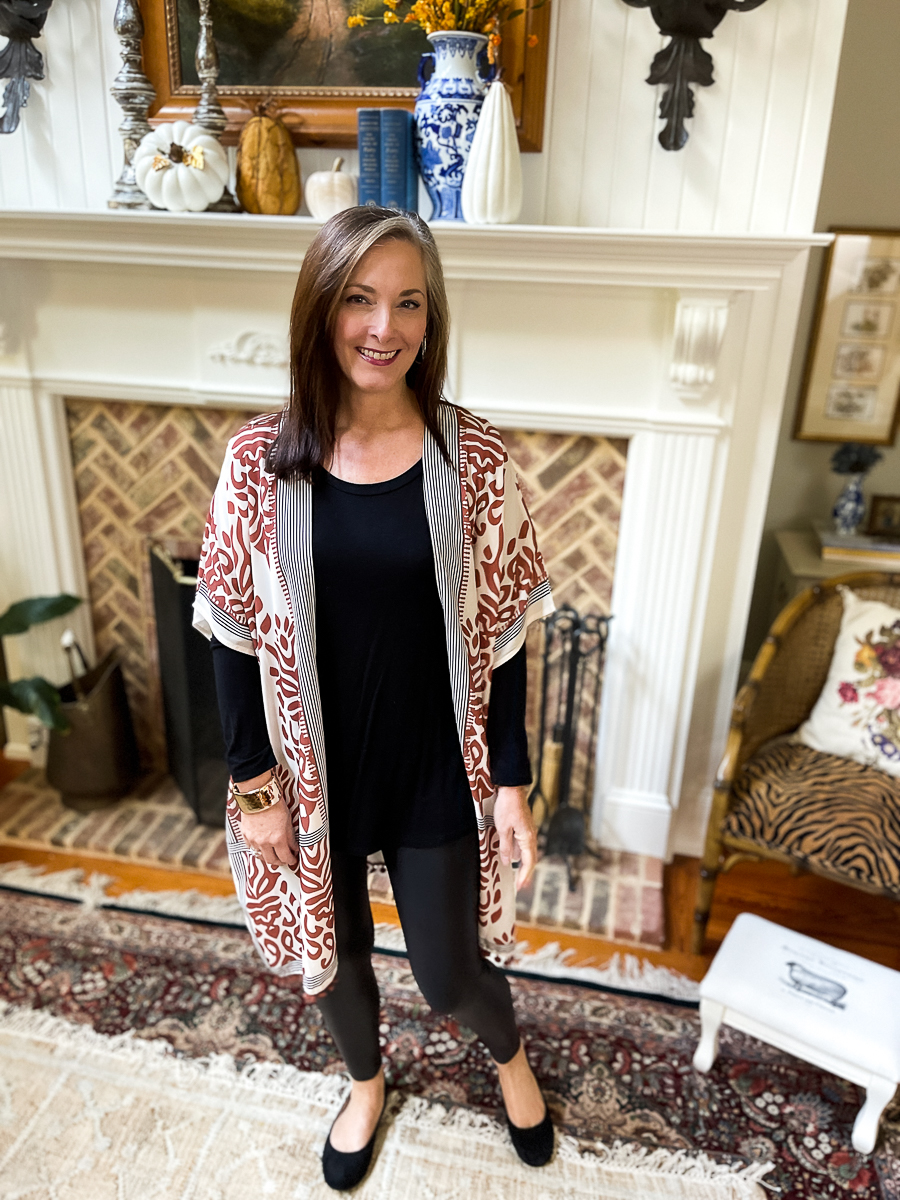 Go casual chic with this kimono look. It will be on repeat a lot this fall and winter. If it's cooler, you can wear socks and booties. I even wear this with over-the-knee boots.
If you don't have a pair of Spanx faux leggings, I highly recommend investing in a pair. I've had mine for years! Read the measurement and reviews. I sized up to a large in the faux leggings. They are a little long, but I love the look without the tight feel! You can order the leggings on Amazon, Nordstrom, Belk, and Spanx.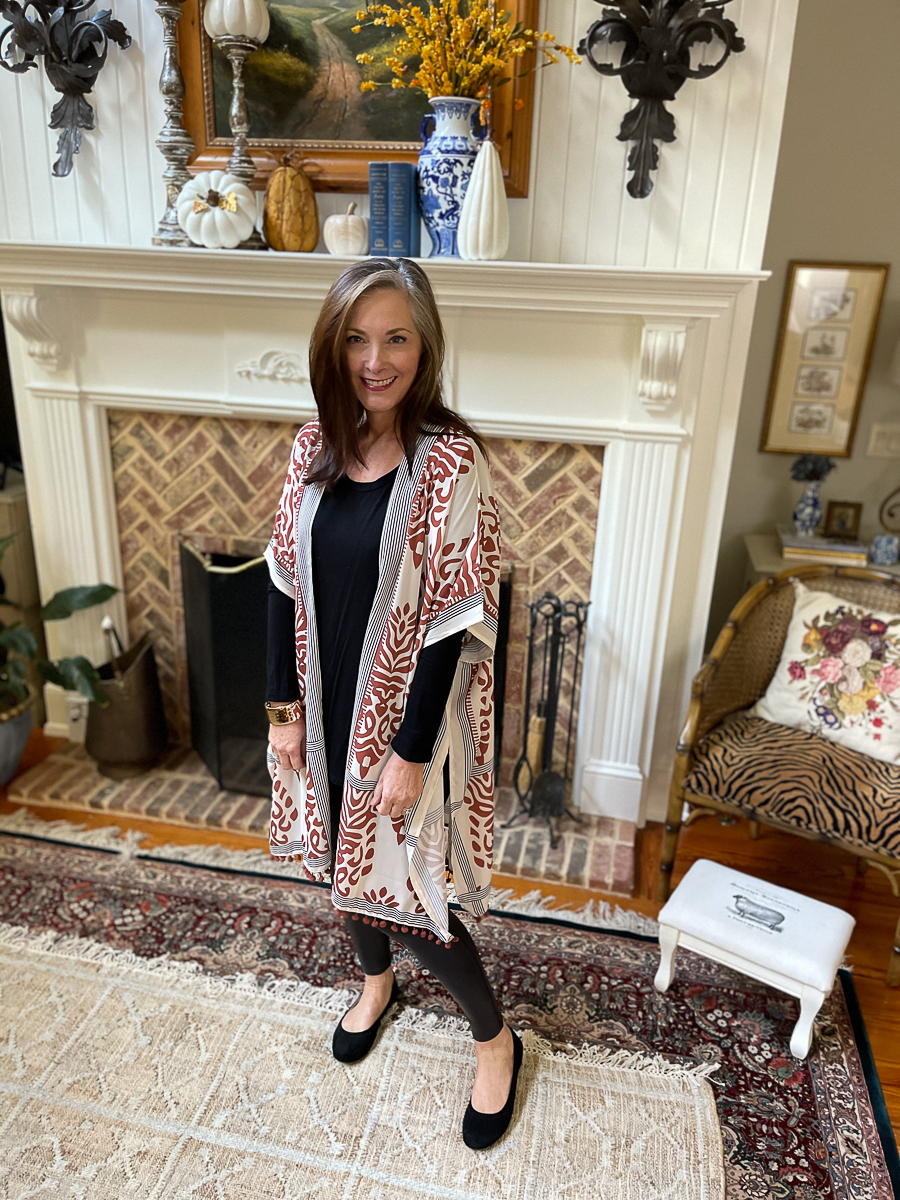 I could totally dress this up with a long necklace and some heels. The older I get the less I like to wear heels. These ballet flats from Amazon are a favorite. They are inexpensive and not for tons of walking unless you add a comfort insert. For dinner, church and some light shopping….they are a winner. I have them in several colors. At home I fake a ballet flat with these slippers.
Look 4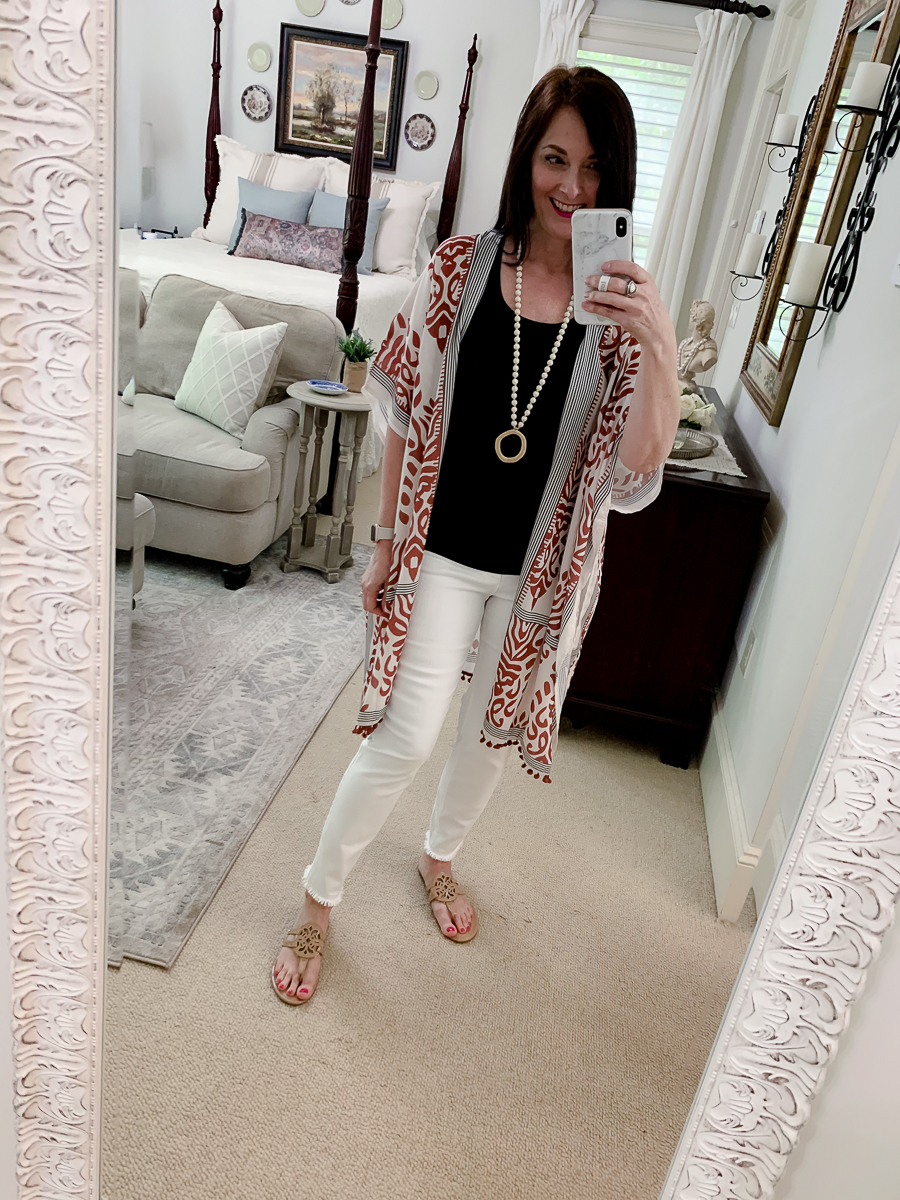 This kimono look was from summer 2020. It looks great with white jeans. I'd even wear this into early fall.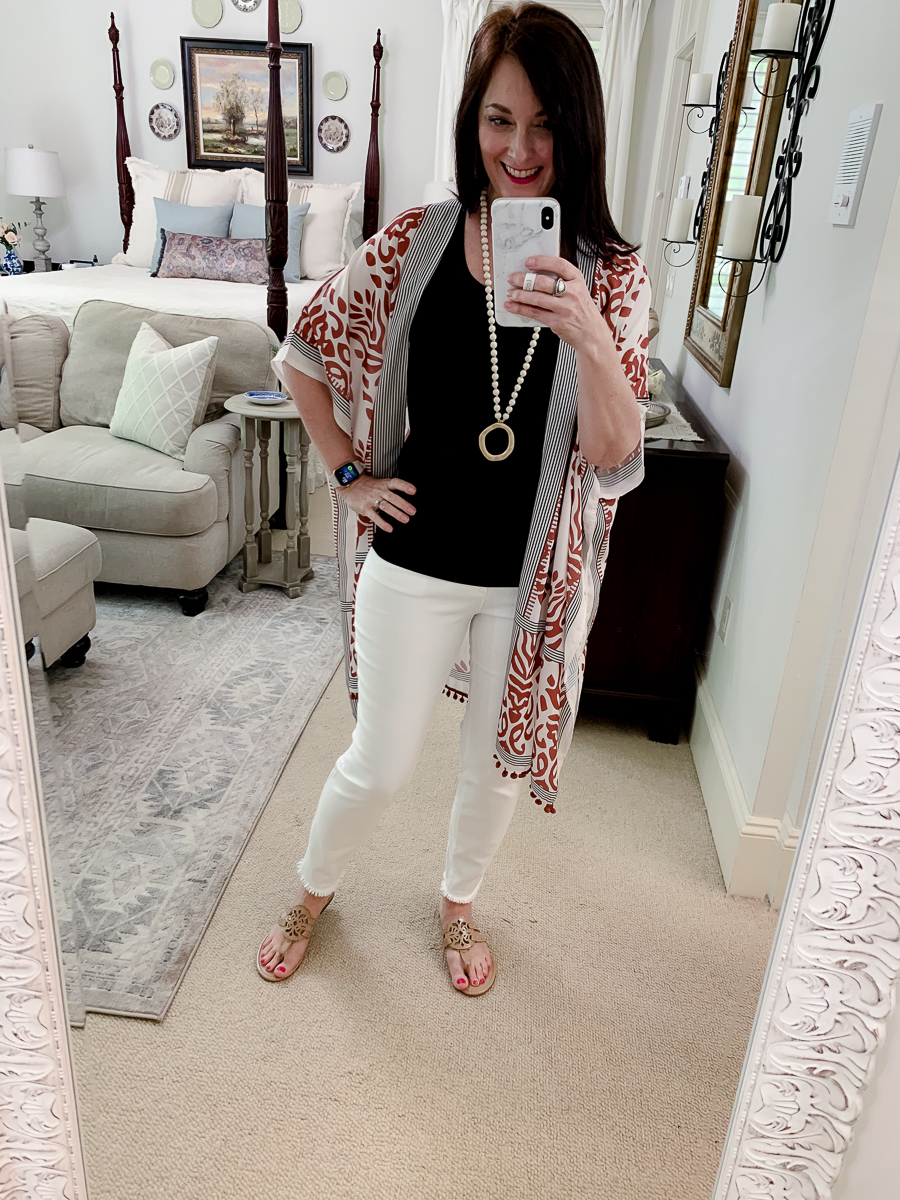 Perfect example with a more fitted look with the flowy kimono on top.
Look 5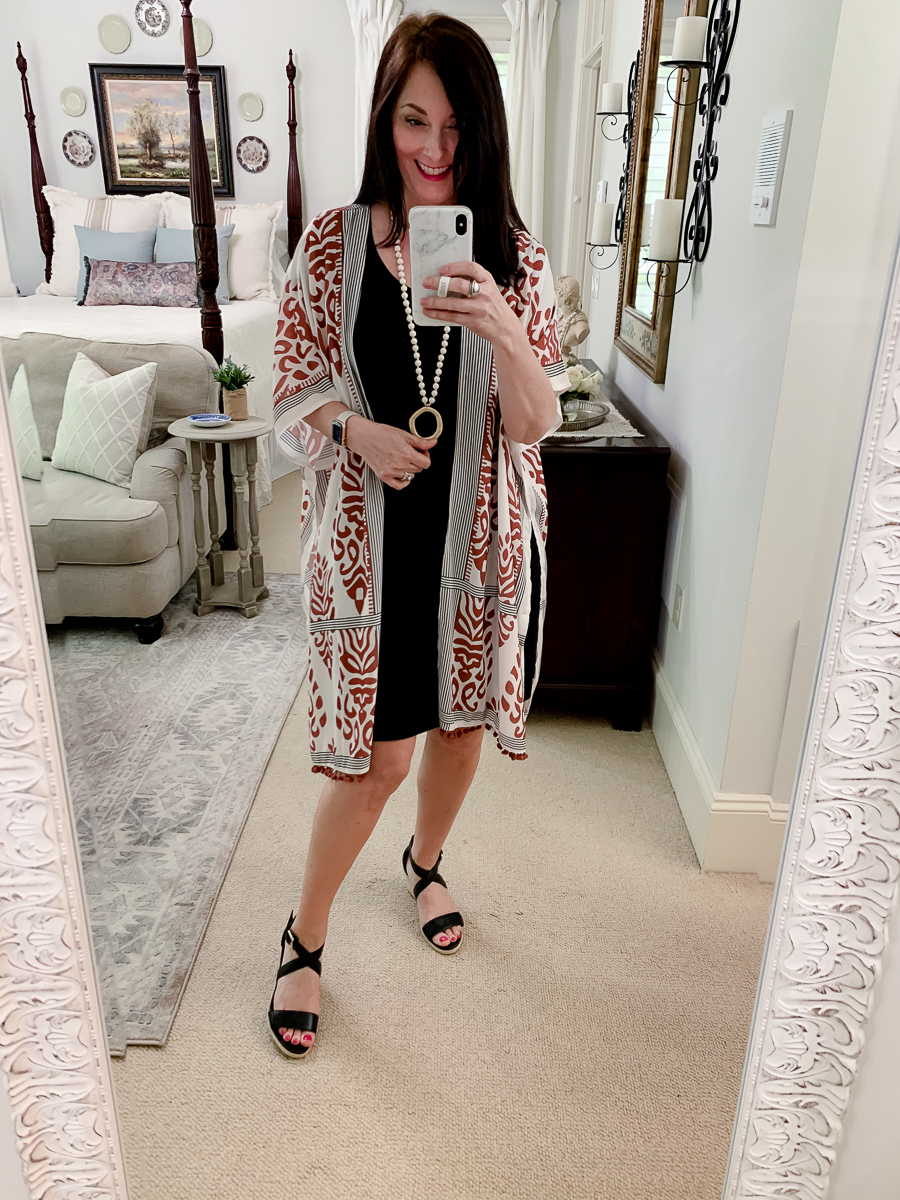 This kimono look is with a tank dress and heels for church or dinner out.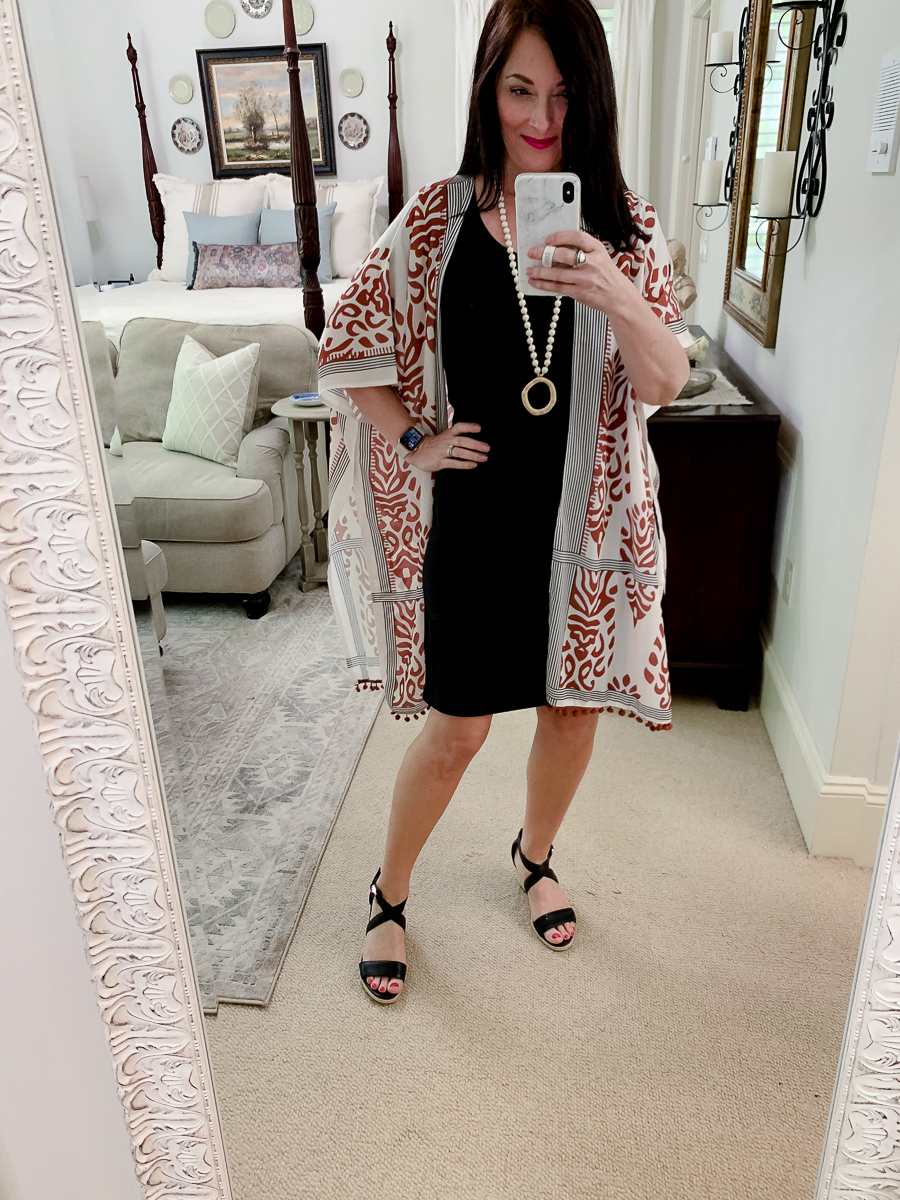 I'd love for you to follow along by signing up for newsletter!


Buffer